Sony has come to grips with the fact that you're probably not going to buy its smartphones.
The Japanese giant has steadily stripped down its Xperia line of phones over the past few years, effectively conceding that its dreams of reaching Apple and Samsung are over. But Sony has brought its mobile business back to profitability in the process.
The company is now trying to keep that going by mainly selling expensive devices, the kind guaranteed to bring some sort of return, that bank on standing out to reel people in.
And so we have the Xperia XZ Premium, Sony's latest top-of-the-line phone, which feels like an experiment in excess. An ultra-sharp 4K display? Sure. With HDR support? Of course. A camera mode that shoots at an absurdly slow 960 frames per second? Now we're talking. High-res audio support, a 19-megapixel camera, gigabit LTE, a chrome finish? Why not! And priced all at US$800? Whatever!
Five luxury phones that rival Samsung S8
I can respect Sony for taking the "premium" thing seriously; if you're shelling out a ton for a new gadget, it's good for that gadget to be differentiated. The Xperia XZ Premium is that, technically. But not all of its indulgences are practical, and some of its fundamentals fall short. Here's what I mean:
The Xperia XZ Premium is classic Sony design, but I'm conflicted about it. On one hand, Sony has been recycling this boxy rectangular look, with its hard angles and rounded sides, for half a decade. Compared to the new-age designs from Samsung or LG, the Xperia XZ Premium is a dinosaur. The borders around its screen are massive, making the phone nigh-impossible to use with one hand, and the whole thing is fairly heavy (195g).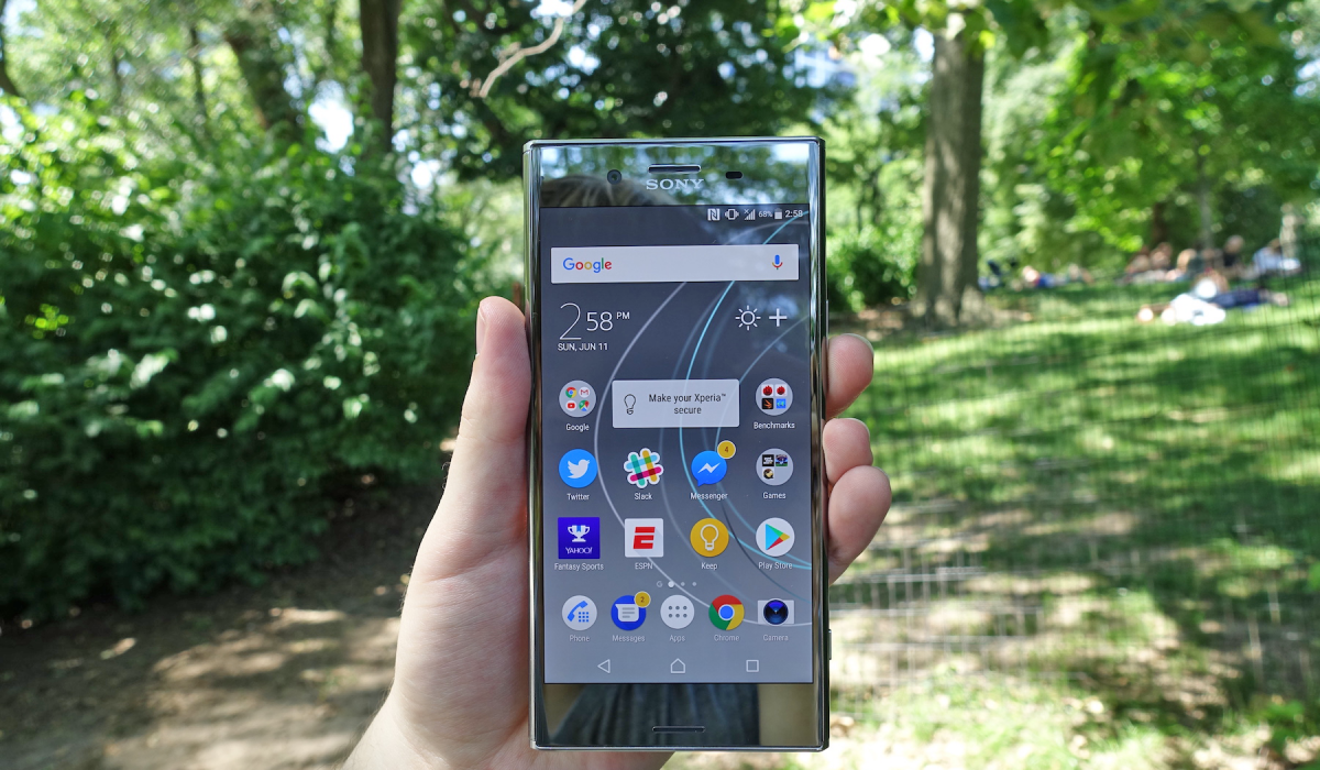 At the same time, it's clear the Xperia XZ Premium is more concerned with being distinct than chasing trends. Part of me likes that. Its borders are huge, but they're perfectly symmetrical. The brushed metal on the phone's top and bottom is chilly and solid. The chrome finish on my test unit is like looking into a mirror. It's all fused together tightly. Put together, it's like holding a cut of glass. Everything about the phone contributes to that aesthetic.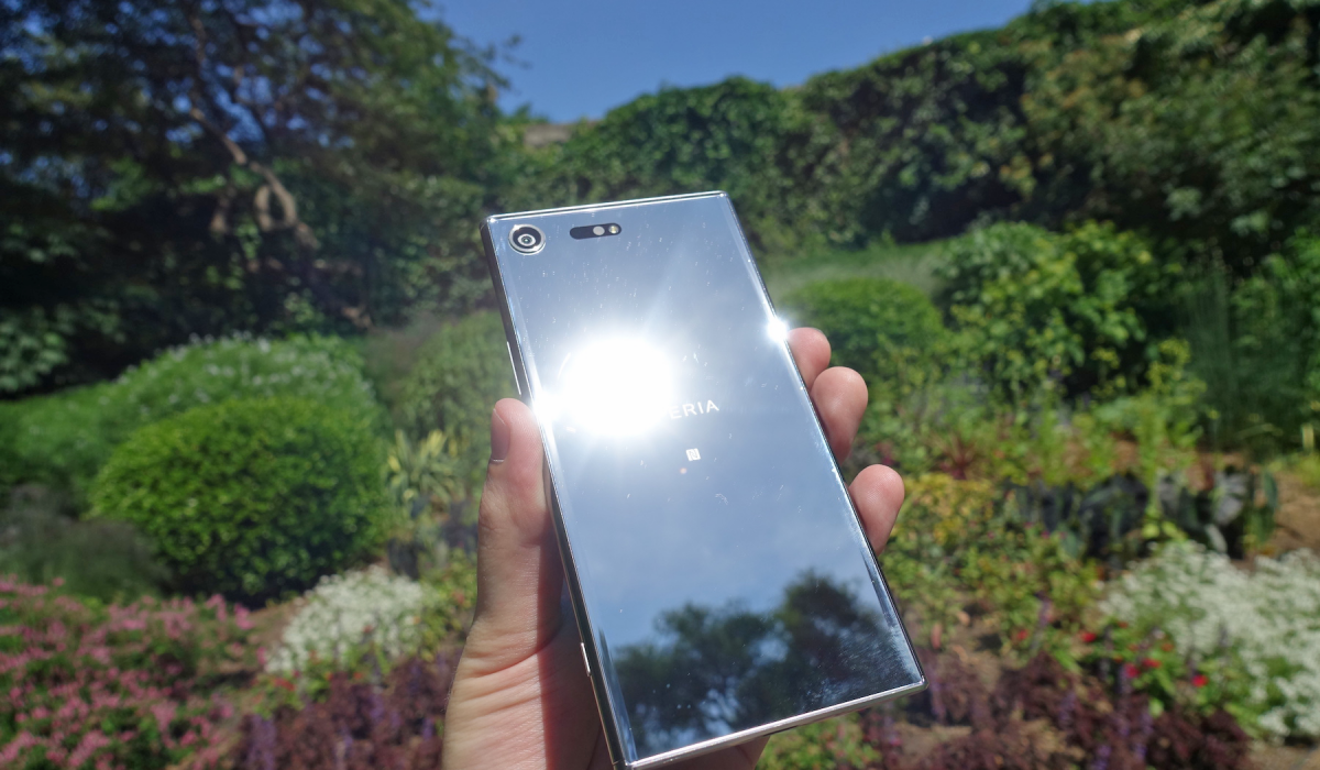 The problem is that it doesn't feel as nice as it looks. Apart from the difficulty of actually holding it, its sides are made of a warm, glossy plastic that comes off as too cheap for an US$800 device. The glass back is smooth, but perpetually slippery; put it on anything other than a flat surface and it'll fall to the floor. It's also an immense fingerprint magnet. It takes effort to make the phone look its best.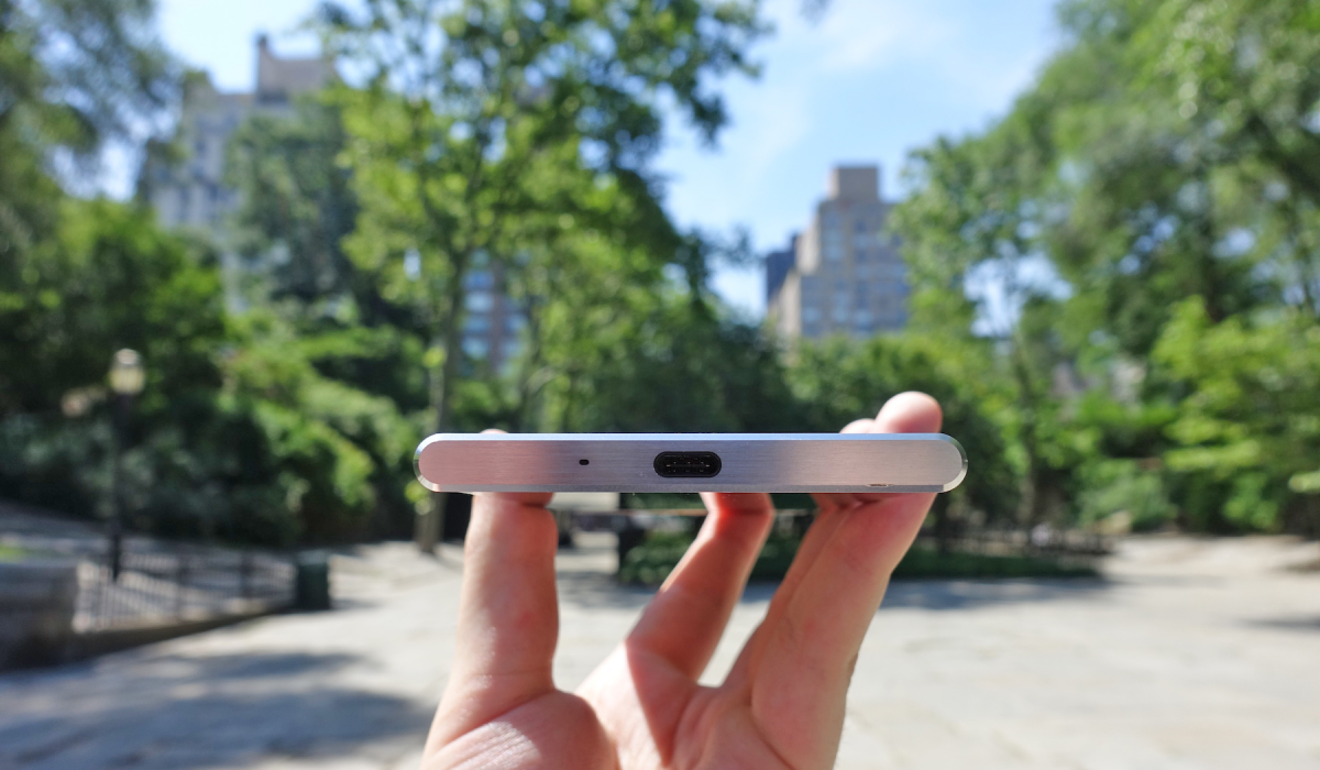 Sony's continued inability to put fingerprint scanners on the US versions of its phones doesn't help. Nor does the oddly huge SIM and microSD tray cutout on its side.
On the plus side, the existence of a microSD slot in the first place is nice, and having a dedicated shutter button on the side is always handy for snapping photos while keeping the phone steady. The device is also fully waterproof, so you don't have to worry about dropping it in the pool.
Also, its dual speakers are placed in an ideal spot right on the phone's front, making audio louder than usual — though not as rich as, say, the HTC U11.
Samsung S8 gold and platinum frames add a luxury edge
The Xperia XZ Premium's 5.5-inch display is the first smartphone screen to support both 4K and HDR tech. (Other phones have had one or the other, but not both.) The 4K support means it has a resolution of 3840 x 2160, which equates to a whopping 807 pixels per inch. It is the single sharpest smartphone screen in existence. This is great for marketing copy, but it's also utter overkill.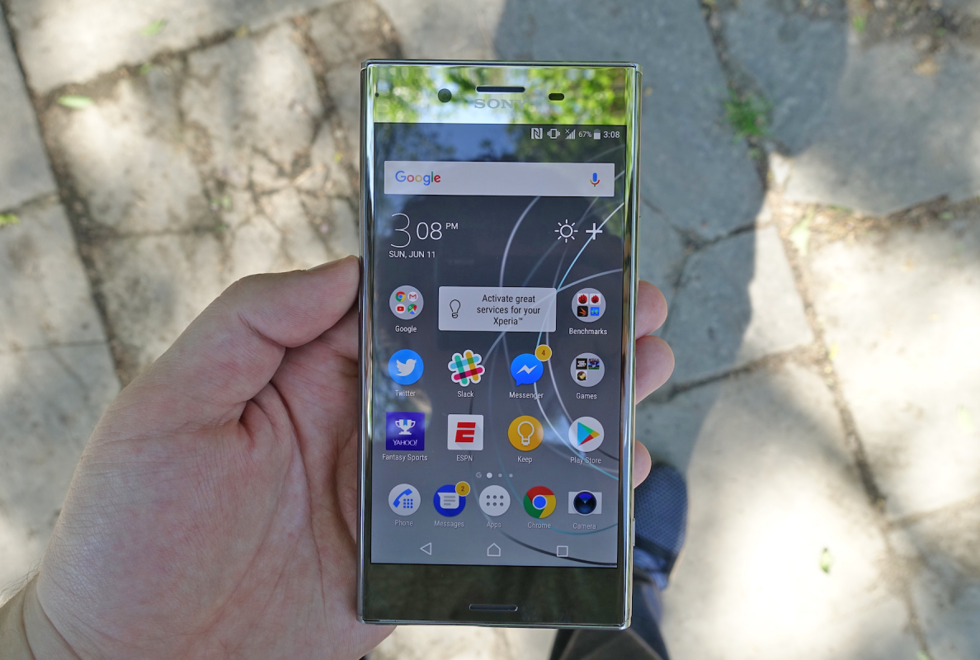 Though the amount of 4K content is increasing, it's still far from the norm. Most apps run at a traditional 1080p.
But even if 4K were standard, the visible difference between the 1440p resolutions found on other high-end phones and the 4K resolution here is negligible on a display this small. Switch videos between the two and your eyes will not perceive any change in precision.
To be clear, this screen is still incredibly sharp, and that's great. But other phones are just as good.
The one area where Sony could play up 4K's benefits is virtual reality: When a phone's screen is pressed up against your face, those pixels become much more visible. Sony doesn't have a Gear VR-style headset like Samsung, though, and 4K content is even rarer in VR than it is elsewhere.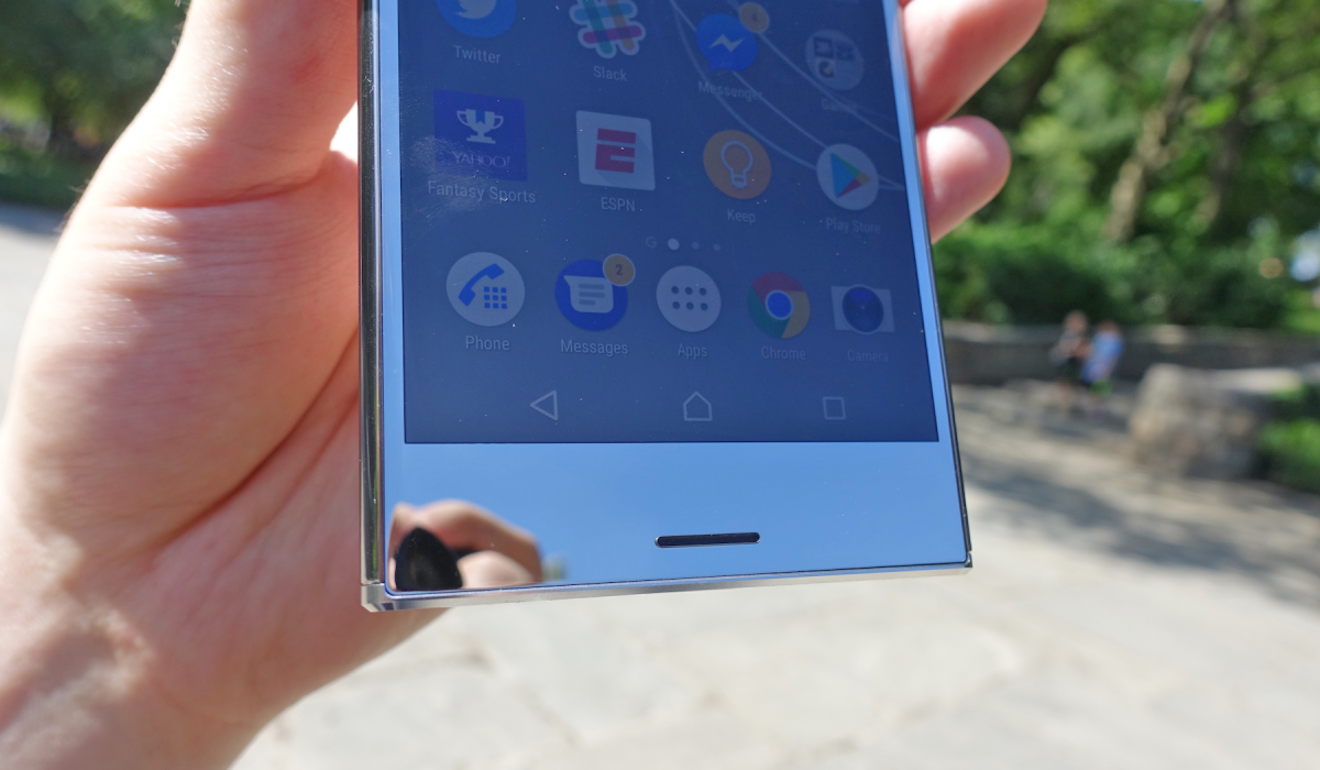 The Xperia XZ Premium's display isn't optimized for VR regardless — it's an LCD panel, so it struggles with motion blur more than an OLED screen of, say, the Samsung Galaxy S8 does. Swing your head around and things will lose focus and appear more nauseating than they should.
But 4K is not worthless, and it's quickly becoming table stakes for TVs. But unless mobile VR becomes a thing, there isn't a compelling reason for phone makers to adopt it today. That many mobile carriers now limit the resolution of video streams only slows the process.
'Smart' lifestyle gadgets are set to digitise daily life
The addition of HDR, or high-dynamic range, is more immediately beneficial. This expands a video's contrast, boosting how bright and dark it can get, which in turn produces more lifelike images. It's gorgeous. But finding HDR-compatible content is even harder than finding 4K content: Services like Netflix, Amazon, and YouTube are growing their HDR libraries, but things are scarce. Not all HDR videos work here, either, since the phone supports only those that use the HDR10 standard, not the competing Dolby Vision protocol.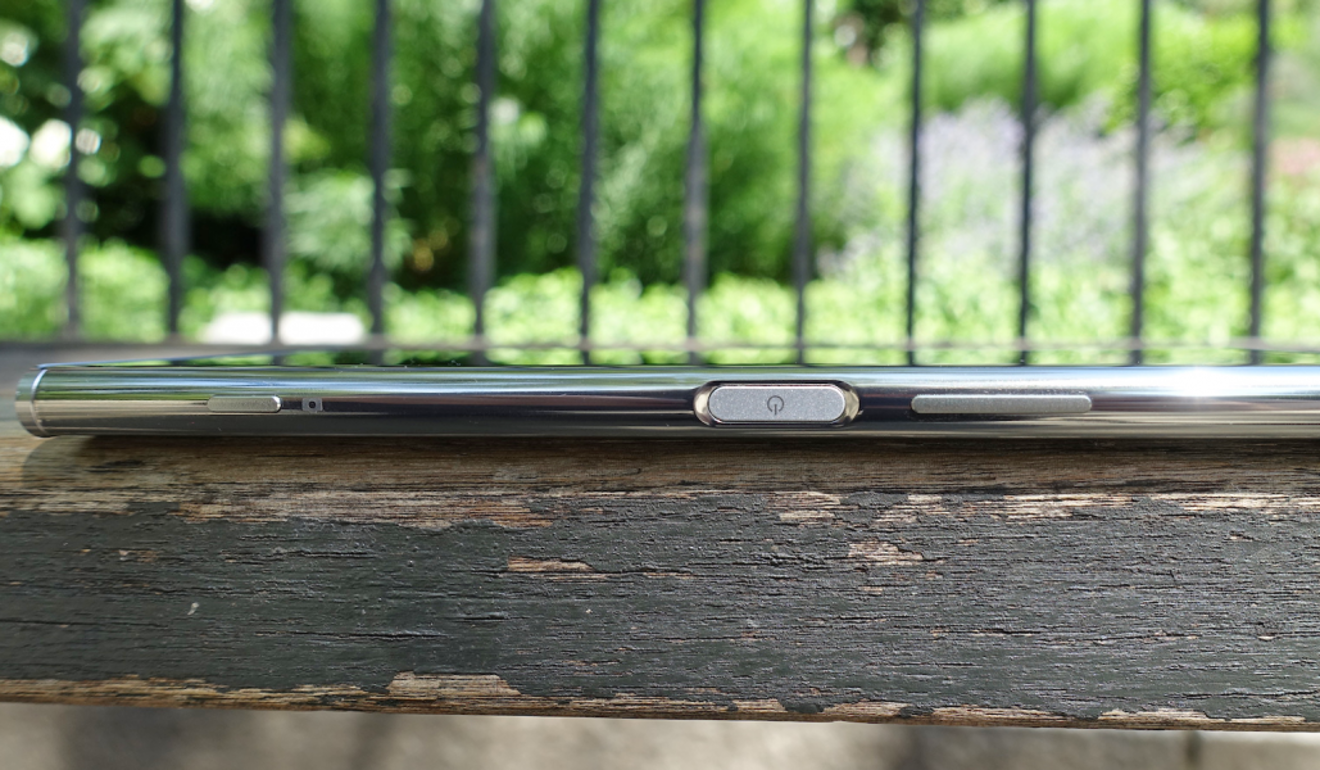 What's most important in all of this is that beyond the fancy future-facing tech, the Xperia XZ Premium's screen is great. It doesn't have the vibrant colors and contrast of an OLED display, but it's strong for what it is. Everything can get nice and bright, and it never washes when viewed at an angle. It does enough right to feel worthy of being on an US$800 phone.
Like most new flagships, the Xperia XZ Premium is a powerhouse with performance. It comes with Qualcomm's strongest chip, the Snapdragon 835, 4 GB of RAM for multitasking, and 64 GB of expandable storage — that's more than enough to breeze through anything you're likely to do with a smartphone. Apps load fast, web browsing is as smooth as you're going to get, and even the most graphically intense games run without issue. Provided you don't have that glass back out in the sun, you won't have to deal with overheating either. It's near the top of the heap.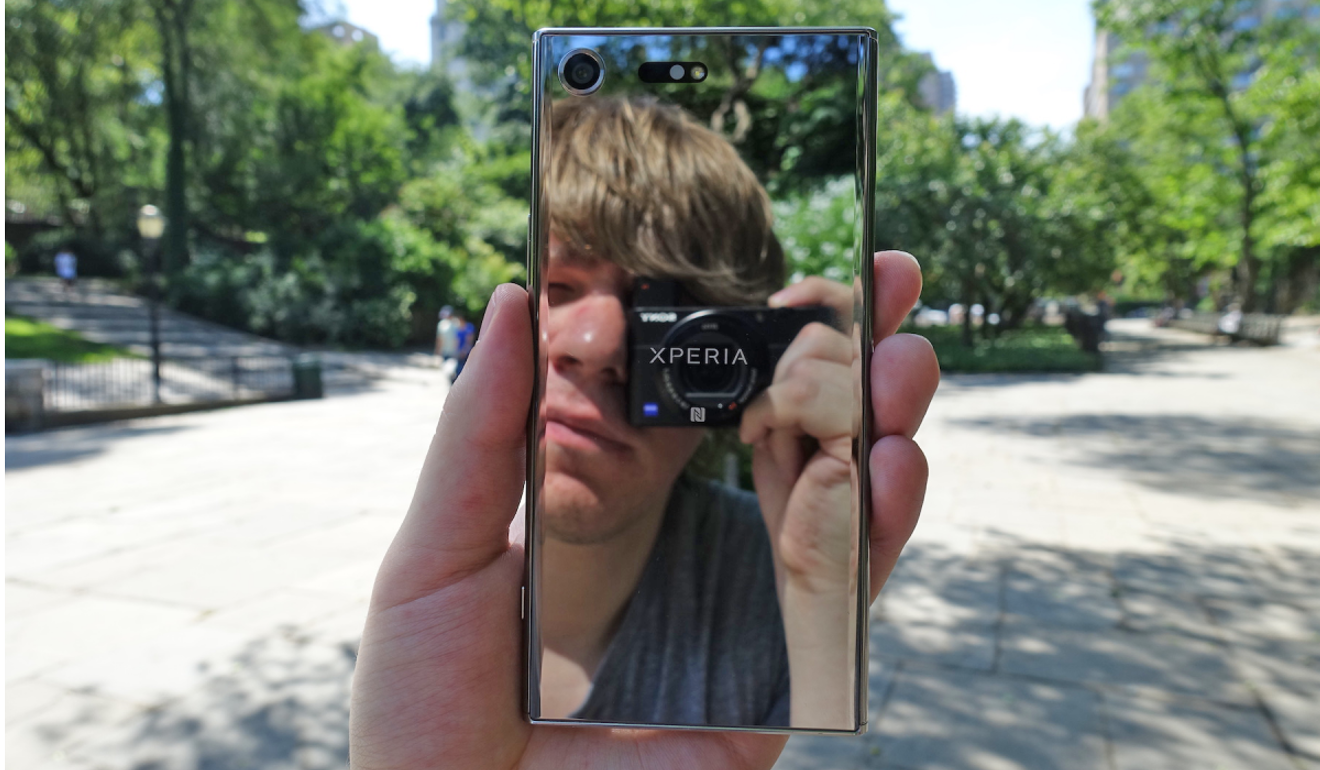 Beyond its pure power, the Xperia XZ Premium also has a few worthwhile perks for audiophiles. It supports the new Bluetooth 5 standard, for one, which means you'll eventually be able to stream music from the phone to multiple speakers or headphones simultaneously. It also supports several high-resolution audio codecs and file formats that bring out more detail in your music. You'd need to be the kind of person who goes out of their way to use such files, but it's better to have the option.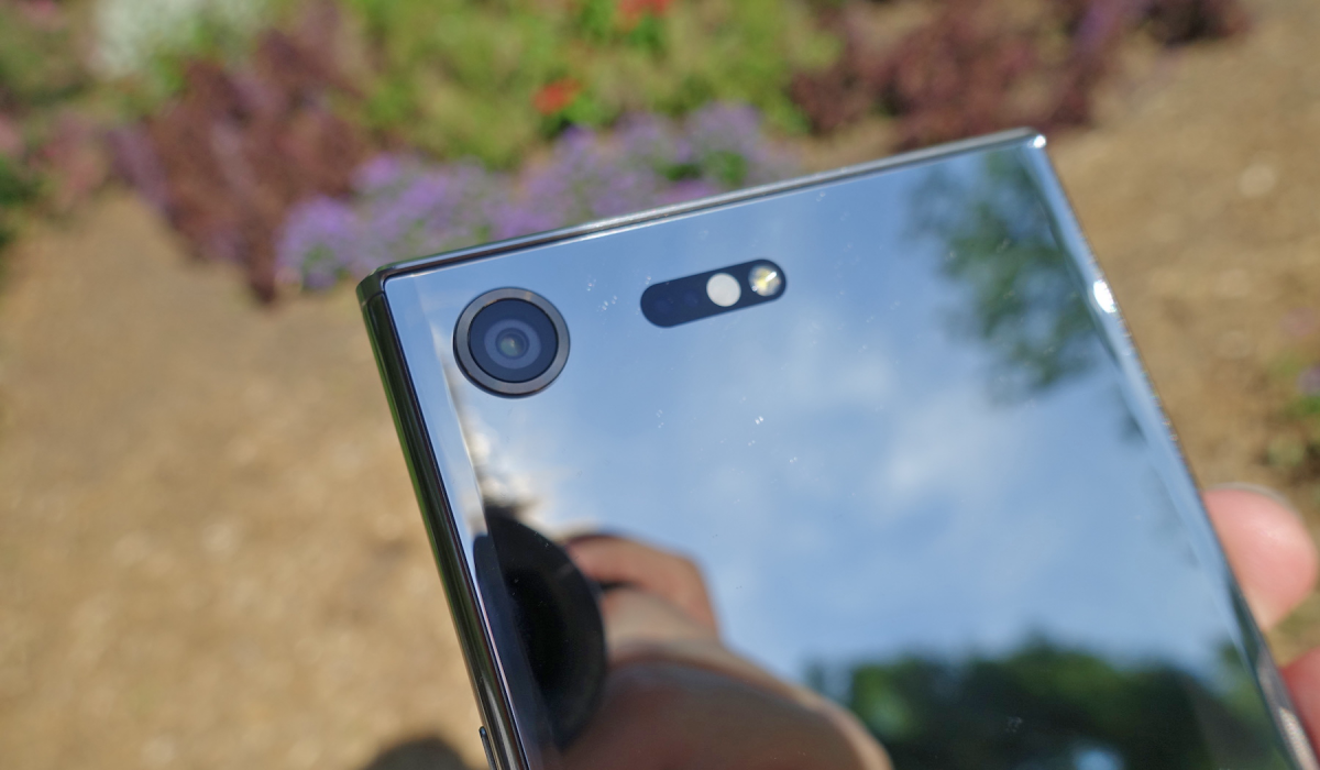 There's also a headphone jack, which is, sadly, refreshing — even if it is awkwardly placed at the top of the phone instead of at the bottom.
Where the Xperia XZ Premium's guts fall short is battery life. It's not bad — you can get through a day with a full charge if you don't push it too hard. But for a screen this large and pixel-dense, the 3,230-mAh battery here is a bit conservative. Android runs at 1080p most of the time, so the higher resolution isn't a huge drain, but it's not uncommon for the device to die by late afternoon with regular use. A day is about your maximum, and that's without using the 4K tech Sony is touting.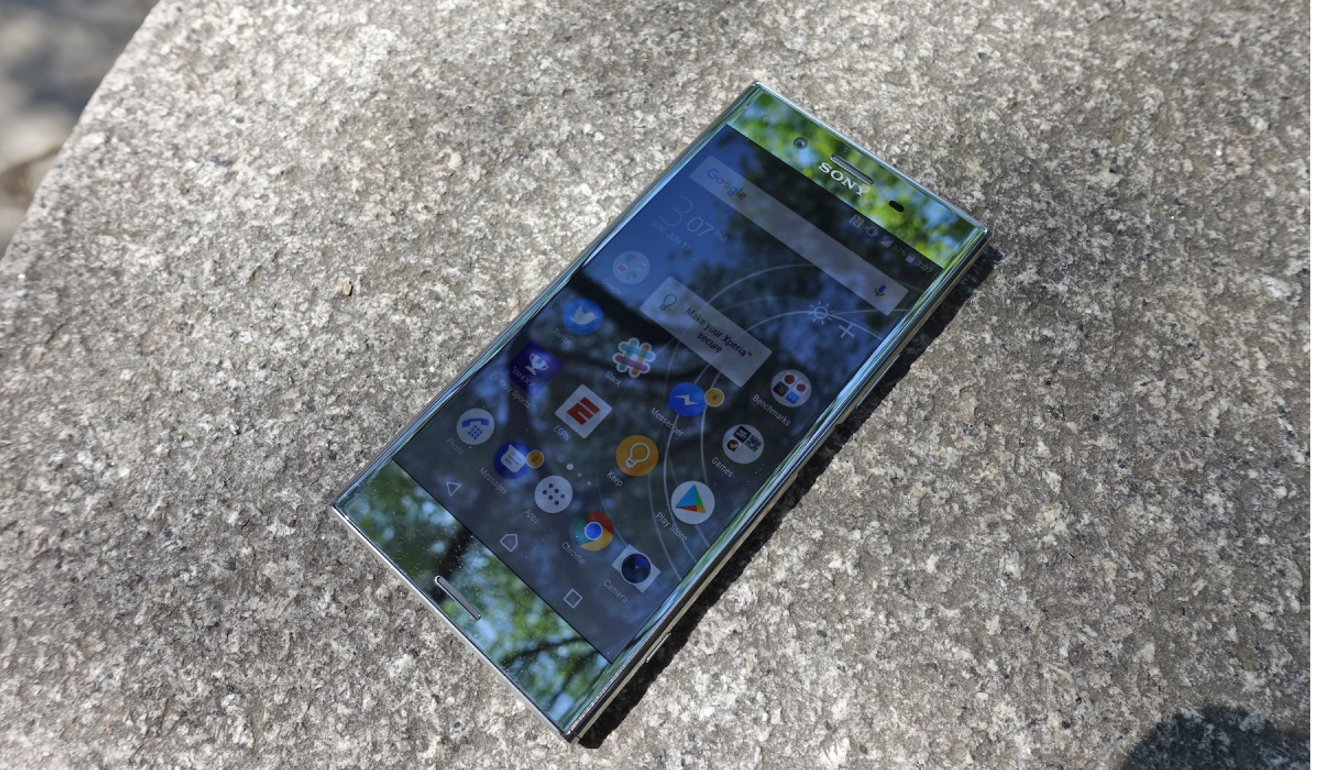 Competing devices like the Galaxy S8 and OnePlus 5 have a bigger cushion. The phone does support Qualcomm's Quick Charge 3.0 tech, though, so it doesn't take too long to recharge.
There isn't much to say about the Xperia XZ Premium's software. That's a good thing. The device runs on the relatively recent Android 7.1.1 update — apart from a different default keyboard, Sony's interface is light on unnecessary customization and aimless features. The result is a fast, lightweight skin that's easy to understand. If you use Android, you'll feel right at home.
The one black mark is the number of preloaded apps Sony packs into the phone by default. It's not the worst offender I've seen — many people will download the likes of Amazon, Facebook, and Spotify anyway — but there's still no need to throw a dozen apps onto someone's phone without their permission. Many of those apps will go ignored, and worse, none of them can be uninstalled, only disabled.
The more existential problem is that, like every Android phone maker not named Google, Sony isn't particularly speedy about issuing Android updates. It's not the slowest, and my test unit came with the latest version of Google's monthly security patches. But as always, if you want the latest Android features first, you need a Google Pixel.
Still, within the context of the wider Android market, Sony's software situation isn't as mediocre as it could be.
Despite its impressive pedigree as a camera manufacturer, Sony has saddled its last few Xperia phones with surprisingly underwhelming shooters. The Xperia XZ Premium's 19-megapixel camera reverses that — though not enough to reach parity with the best smartphone cameras (Galaxy S8, Pixel, HTC U11). In good lighting, it's more than capable, with mostly accurate colors and tons of detail. It's all fast to focus, too.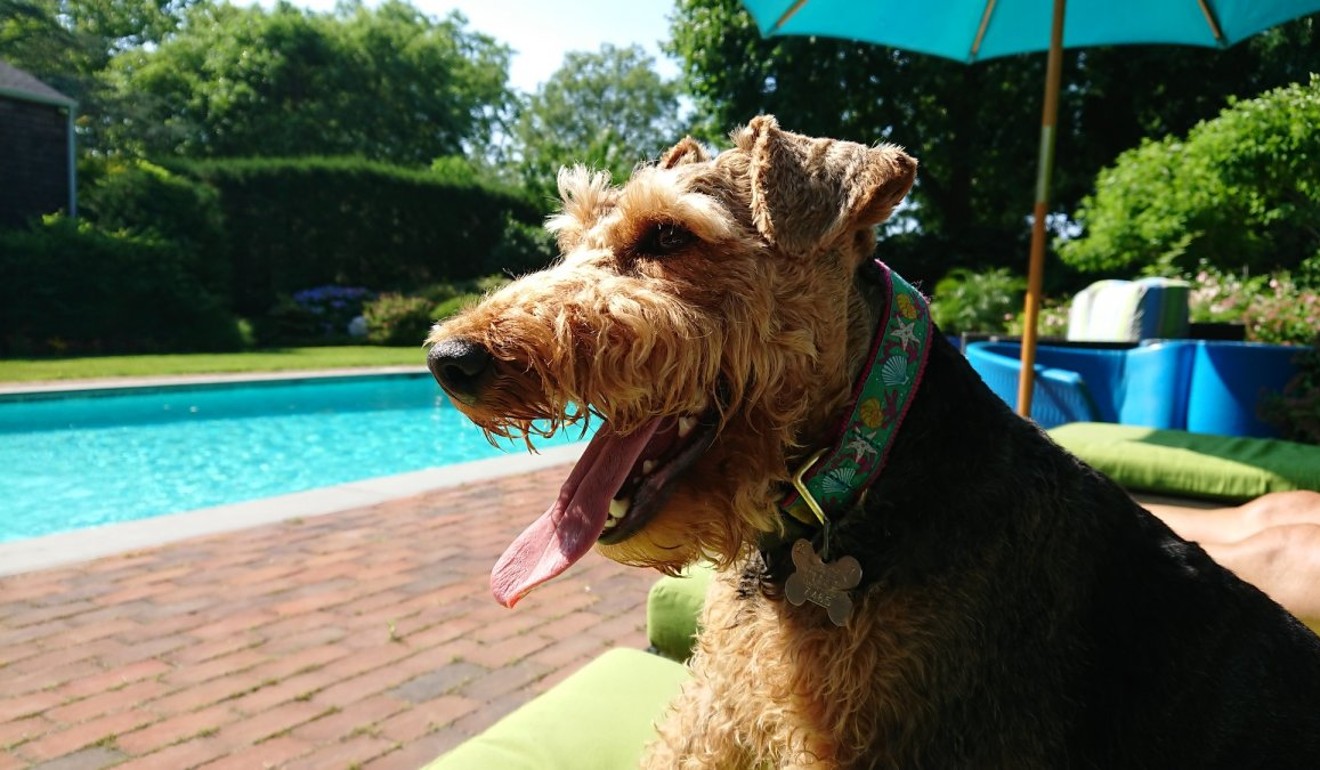 The problem is that you may have to fiddle a bit to get things at their best. It isn't uncommon for Sony's default automatic shooting mode to go haywire while processing images, which can lead to misshapen textures, a loss of focus, and uneven details in shadows. Switching to manual mode lets you tidy things up — but the point of a smartphone camera ostensibly is to be simpler than your everyday point-and-shoot. In either case, there's no optical-image stabilization, which makes it hard to avoid blurring if anything in your shot is moving.
Sony's camera app, meanwhile, is easy enough to use but frequently slow to render photos in their full resolution. That can get annoying.
Sony also includes a machine-learning feature that presents you with multiple versions of a complicated shot and has you choose the best one. How it goes about deciding which shots are "tricky," though, is unclear. There were times I took multiple shots of the same thing but would have only one presented with alternate options.
With manual shooting mode, the Xperia XZ Premium's camera does an above-average job in less lighting. It's still not in that upper echelon, but it keeps the noise down to respectable levels and doesn't totally distort colors. In its standard automatic mode, photos in less-than-ideal lighting are fine — but often skewed a bit too dark for my liking.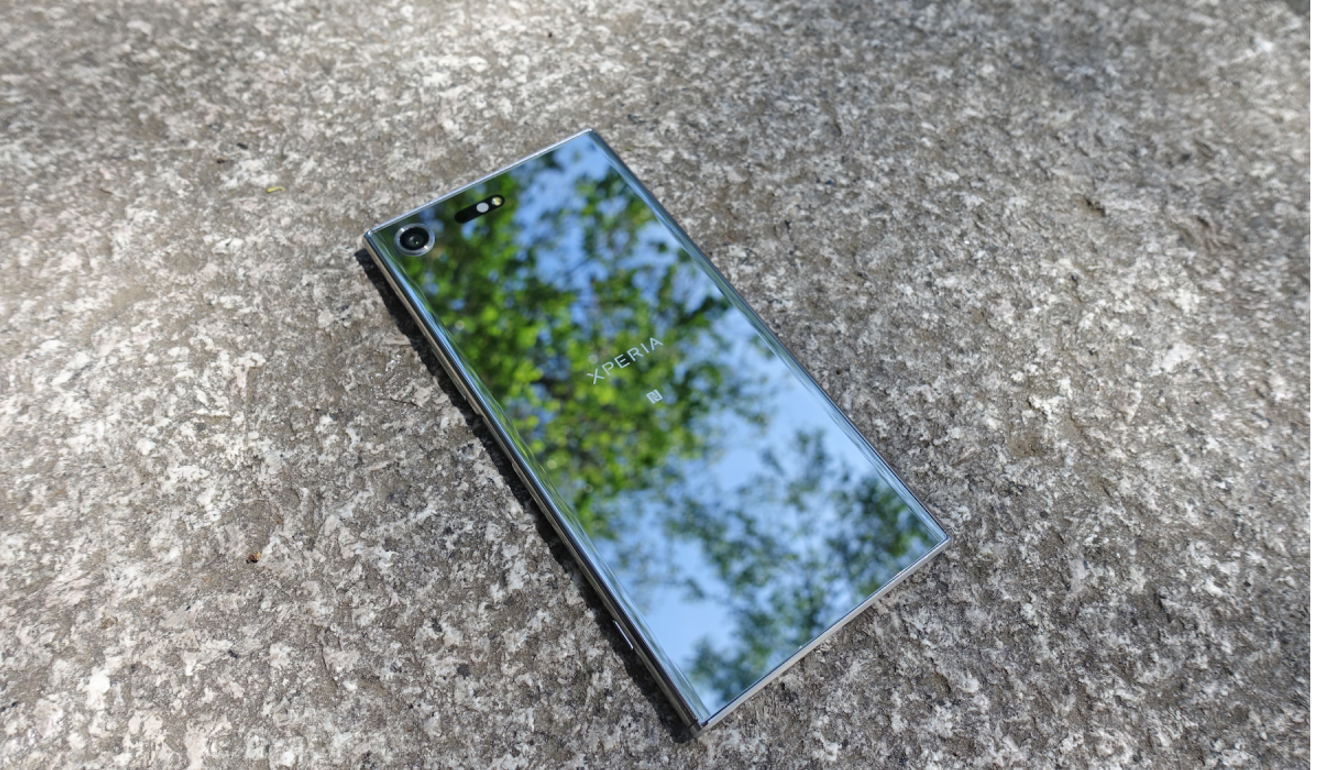 The camera's sexiest feature is its "super slow-mo" mode, which lets you shoot video at an insanely slow 960 frames per second. By comparison, the iPhone 7's slow-mo maxes out at 240 fps (more frames per second equals slower motion during playback). This is impressive tech and a fun party trick — but that's about the extent of it. You can shoot in super slow-mo for only a couple of seconds at a time, and capturing that perfect moment can be difficult. Activating the mode also lowers you to a 720p resolution, so the clips won't be as sharp as your standard videos.
The 13-megapixel selfie camera, meanwhile, isn't as deft with exposure and colors as the main camera, but it's detailed enough to do the job for Instagram.
You can choose to use the super slow-mo mode within a larger video or as its own little clip.
The Xperia XZ Premium is only sold unlocked, meaning it's not available to buy through one of the four major carriers. That all but guarantees it won't be a sales hit in the US. Nevertheless, if you're interested, it'll work on T-Mobile and AT&T, and their respective sub-brands — Cricket Wireless, MetroPCS, etc. My test unit's LTE speeds were solid on T-Mobile in the Manhattan area. Call quality was perfectly fine as well.
It's also worth noting that this is one of the few phones that supports gigabit LTE connections, which provide far faster speeds than usual. That tech isn't widely available yet, but it is a nice measure of future-proofing.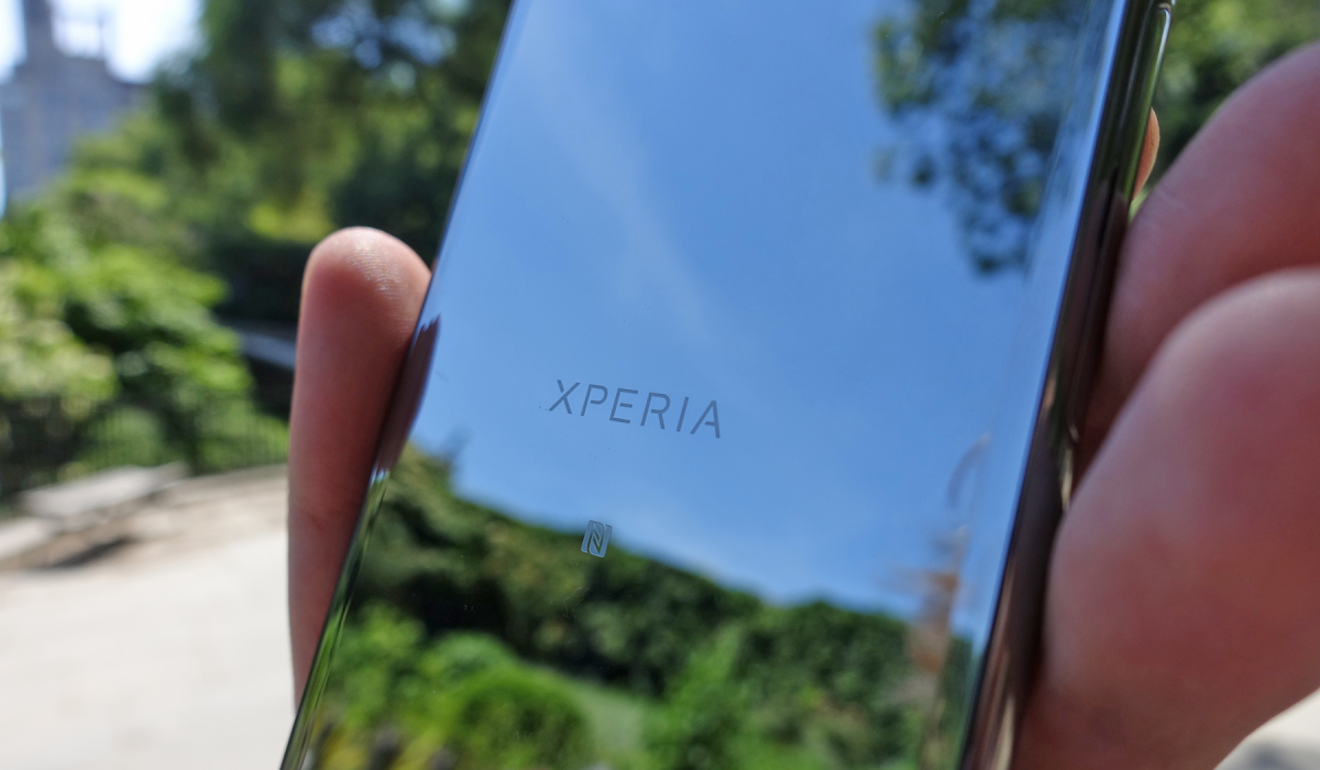 The Xperia XZ Premium has plenty of ideas, but many aren't fully baked. In some cases, that's not totally Sony's fault — it'll be a bit until HDR becomes the norm. But the benefits of 4K are difficult to grok without proper VR support, the slow-motion mode is limited, and the camera can't quite match other phones in this high-end range.
This is a good phone. The screen is great, the software is clean, and the whole thing is superfast. But good isn't enough for $800. With its underwhelming battery and slippery, sometimes uncomfortable design, it's not the device that should reverse Sony's fortunes.
Unless you're struck by the chrome, go with the Galaxy S8, Google Pixel, or, for the more budget-conscious, the new OnePlus 5 instead.
Read the original story on Business Insider