How new furniture materials are transforming home interiors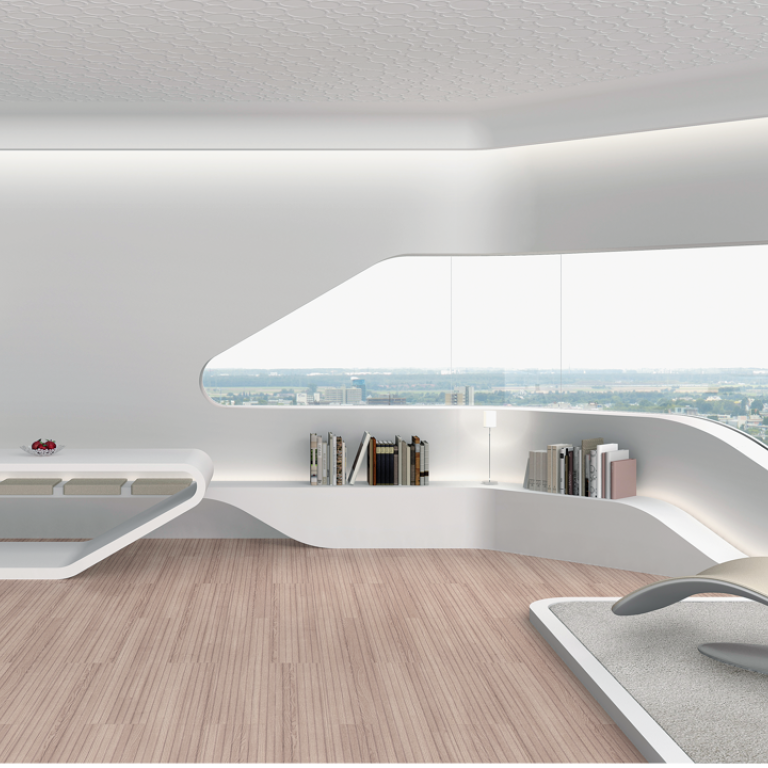 Designers with an eye on the future often take their cue from the past. With technological advances enabling materials to be used in ways not previously possible, architects and interior decorators are putting a modern twist on old favourites – and introducing concepts that push the boundaries of the most fertile imaginations.
Lighting is ripe for innovation. While Philips has put mood lighting in the palm of our hands – courtesy of the Hue range of smart lighting controlled by mobile app – local design duo Lo Yat-ming and Stephanie To Wan-yi have opted for hi-tech with a vintage bent.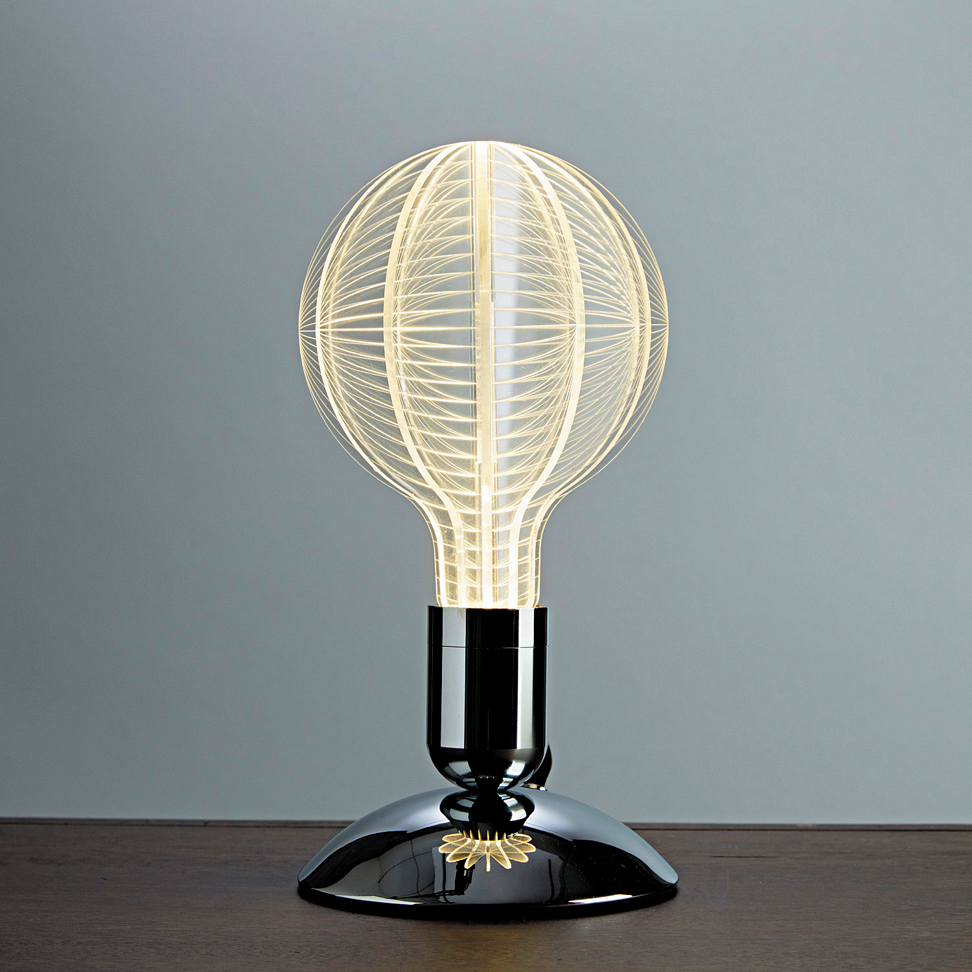 The co-founders of online lighting start-up NAP brought the original Edison light bulb into the 21st century by using LED technology. In their next collection, the URI light, laser-cut machining is used to cut acrylic glass into fine strands, which are woven into intricate patterns. You turn the lamp on by touching it anywhere on the shade or casing. In collaboration with a Hong Kong Science Park-based technical expert, the young designers are now developing a magnetic levitation feature, so that a future Uri lamp will appear to "float" in mid-air.
Hong Kong-based designer and textile experimentalist Elaine Yan Ling Ng is using nature-inspired biomimicry and digital weaving technology to create new materials. At the same time Yan, founder of The Fabrick Lab in Kwai Chung, is attempting to create a socially sustainable materials ecosystem by empowering women, using local materials and harnessing heritage craft techniques. For Sensus, a project commissioned by Hong Kong Design Centre in 2017 and exhibited at the influential Salone del Mobile design fair in Milan, The Fabrick Lab brought together designers, robot engineers and knitted textile programmers to showcase cutting edge technologies in three living prototypes.
More than 50 years after Charles and Ray Eames revolutionalised furniture-making with their technique for moulding plywood – which earned Time magazine's Best Design of the 20th Century for the much-copied Eames chair – new techniques such as Computer-Numerical-Control (CNC) milling are bringing the Eames' pioneering production process into the digital age.
Swiss designer Jorg Boner is using it to generate complicated furniture forms – such as his light, comfortable and stackable Wogg 50 chair. The chair's core element is a piece of moulded wood which has been pressed into place underneath the seat. The connection with this core, and the way it is moulded, gives the backrest an elastic bounce.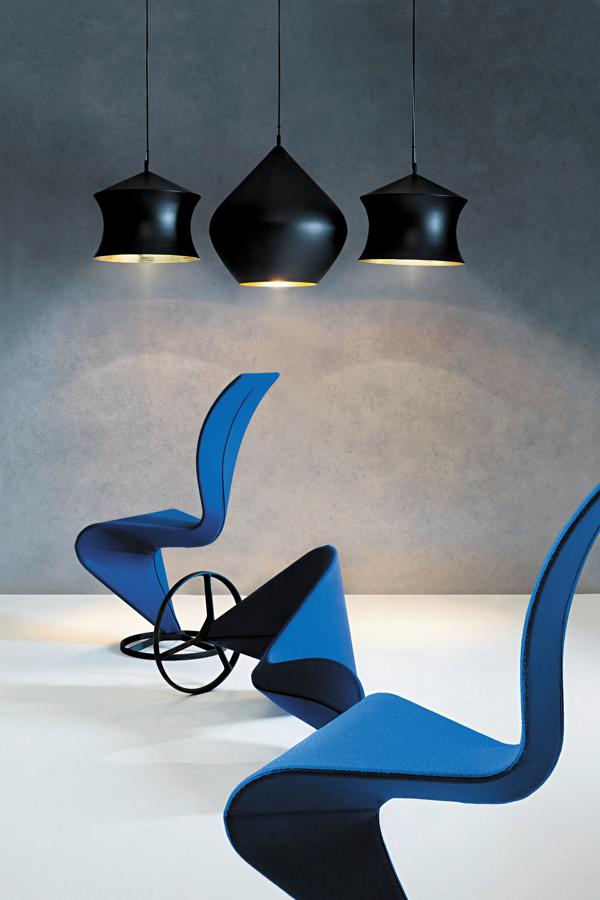 In his London workshop, British designer Tom Dixon continuously updates the three-dimensional form of his iconic S chair, a highly engineered serpentine form which debuted in the 1980s, as new technologies emerge.
In his book Dixionary, Dixon describes digitalised manufacturing as "a dream" for designers and makers alike, because "products can now be made, adapted and reinvented to suit individual needs with simple software that is common between designers and industry". Dixon's latest S chair, moulded in industrial hard/soft foam with a pure wool cover in royal blue is available at the Tom Dixon Hong Kong store.
3D designs can turn ordinary floors into artworks. The process, as perfected by German company Glamour Décor, involves printing out a photo and covering it with many transparent layers, self-levelling screed, finished with a protective lacquer. Installed over a concrete base, ornamental 3D floors can be customised and personalised, even embedded with elements of wood, metal and stone which remain visible for textural effect. Glamour Decor Australia, the brand's Sydney franchise, says popular designs for the home include underwater scenes for bathroom floors, and a "carpet" of flowers in a living area. The company also supplies 3D-effect wallpaper.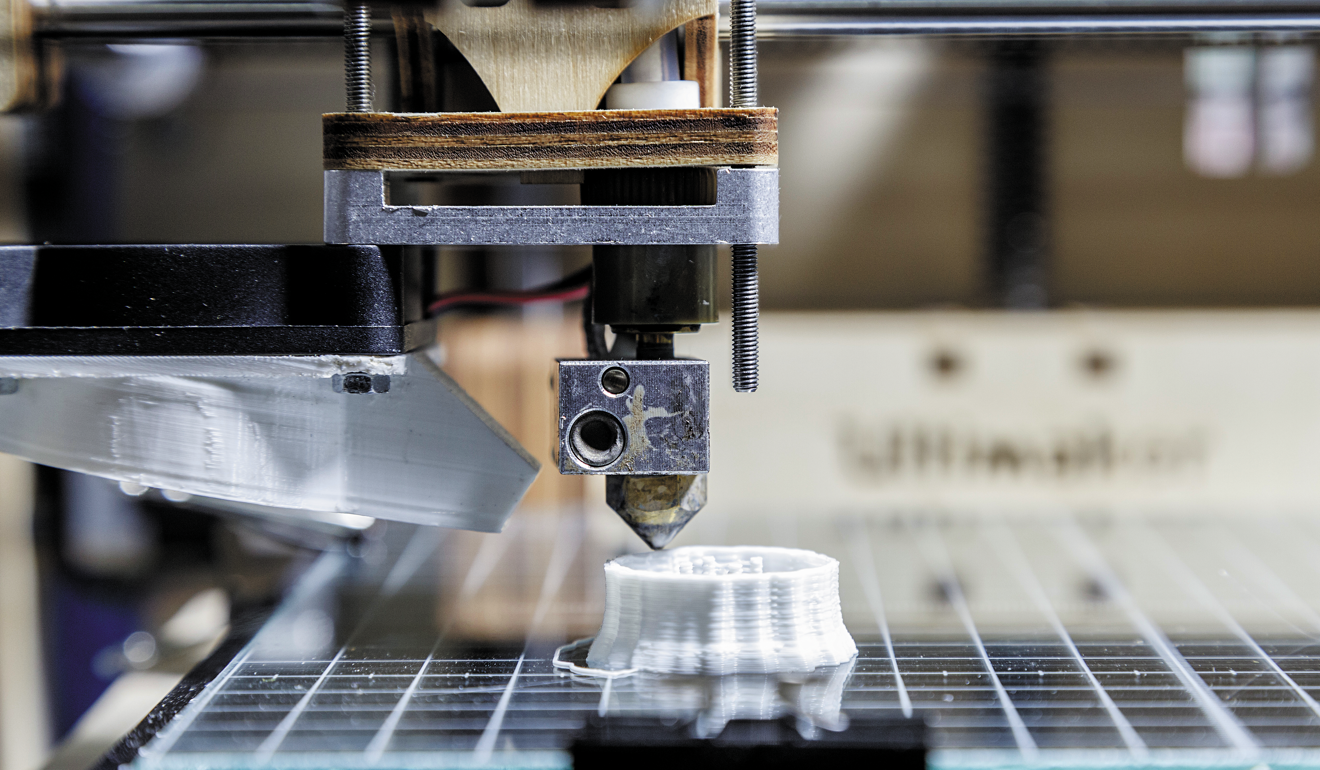 Opting for a more contemporary look, Austrian brand Mafi uses 3D technology to create a series of wooden cracked floors where the splits are filled with colour. Stocked in Hong Kong by Equal Plus, the range features thin lines of silver, green or gold, subtly running through the wooden grounds, adding whimsical visual depth and a tactile massaging sensation underfoot.
Cutting-edge kitchen materials are making life easier with appliances such as the latest cooker from Swiss brand V-ZUG. As displayed in the company's Hong Kong showroom, the hob is finished with hi-tech OptiGlass, a long-lasting coating that is almost as scratch-resistant as a diamond, while its companion rangehood has its ventilation technology concealed in the floor unit. These new generation appliances are made from easy-to-clean materials with seamless surfaces, reducing the time and labour spent on cleaning up.
How hi-tech materials benefit the environment
Hi-tech home interior materials of the future will have a strong focus on environmental benefits.
The potential uses of graphene – a 2D nanotechnology made from carbon atoms arranged in a honeycomb layer – could improve the thermal regulation of buildings. When added to paint on interior surfaces, the graphene "captures" heat and prevents it being radiated through walls, reducing the need for air conditioning.
Hydrogel is another innovative material intended to more naturally control indoor climate. Developed by architects from the Institute for Advanced Architecture of Catalonia in Barcelona, hydrogel can absorb water and then "sweat" like human skin to reduce the room temperature.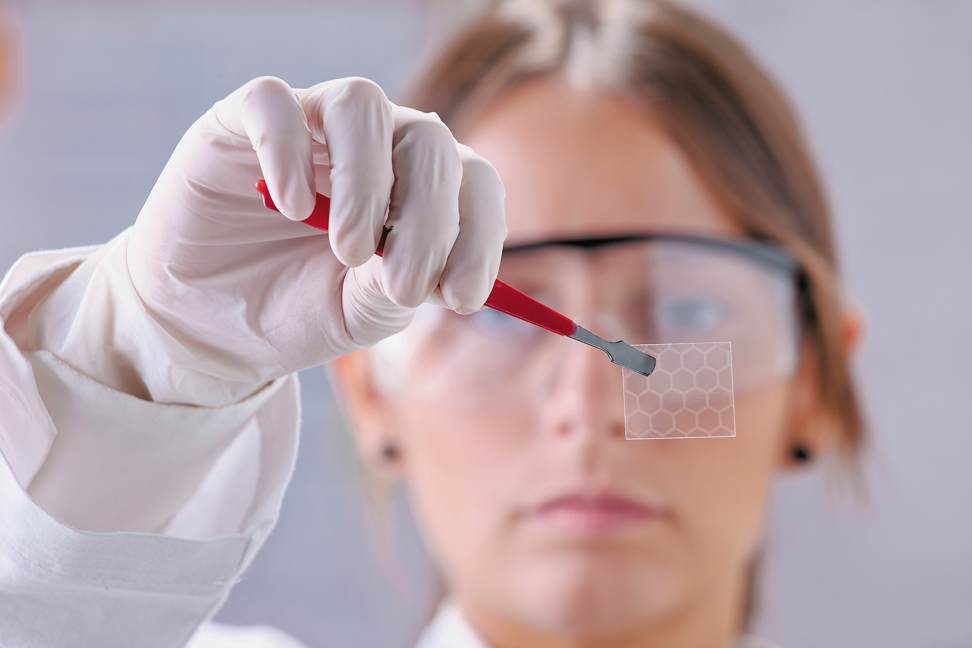 "Programmable cement", a technique that may lead to stronger structures that require less concrete, is also a hot topic. Scientists at Rice University in Houston, Texas have developed a way to change the mechanical properties of cement (the material that holds concrete together), aiming to reduce the greenhouse gas emissions of concrete, one of the built environment's greatest polluters.
Solar generating textiles could be next. Scientists at the Georgia Institute of Technology in Atlanta have developed a fabric that harvests energy from sunshine and motion, to power devices such as smartphones. Wang Zhonglin, a regents professor at the Georgia Tech School of Materials Science and Engineering, believes that the new fabric, which is 320 micrometres thick woven together with strands of wool, could be integrated into tents, curtains or wearable garments.
This article was originally published in Home Essentials

3D printing, graphene and hydrogel are changing the face of furniture