Last month, Michael Jackson, the venture capitalist and former Skype executive, spent US$400,000 on a 10-foot-long neon sign consisting of 42 yellow letters and numbers that make up the blockchain contract address of a crypto-themed work of art called "Yellow Lambo".
Artist Kevin Abosch conceived it as a symbol of success, a way to physically manifest the wealth a digital coin can represent. Jackson doesn't know whether the work is, or ever will be, worth the money. And yet this Yellow Lambo went for more than many real Lamborghinis.
Crypto craze meets 'art': bitcoins used to buy Mandela's golden hands
"Crypto assets – they are so difficult to understand," Jackson says. "A Lambo in real life is something the guys want to look up to. They are only doing it to show off, it symbolises wealth. But a token – no one can see it."
Crytpocurrencies boast a market cap of US$430 billion, leading people to question the actual worth of invisible assets unconnected to any traditional store of value. So while Bitcoin appreciated 14-fold last year, billionaire investor Warren Buffett is still calling the currency "rat poison squared". Now artists are weighing in, raising their own questions about value, ownership and crypto's underlying technology.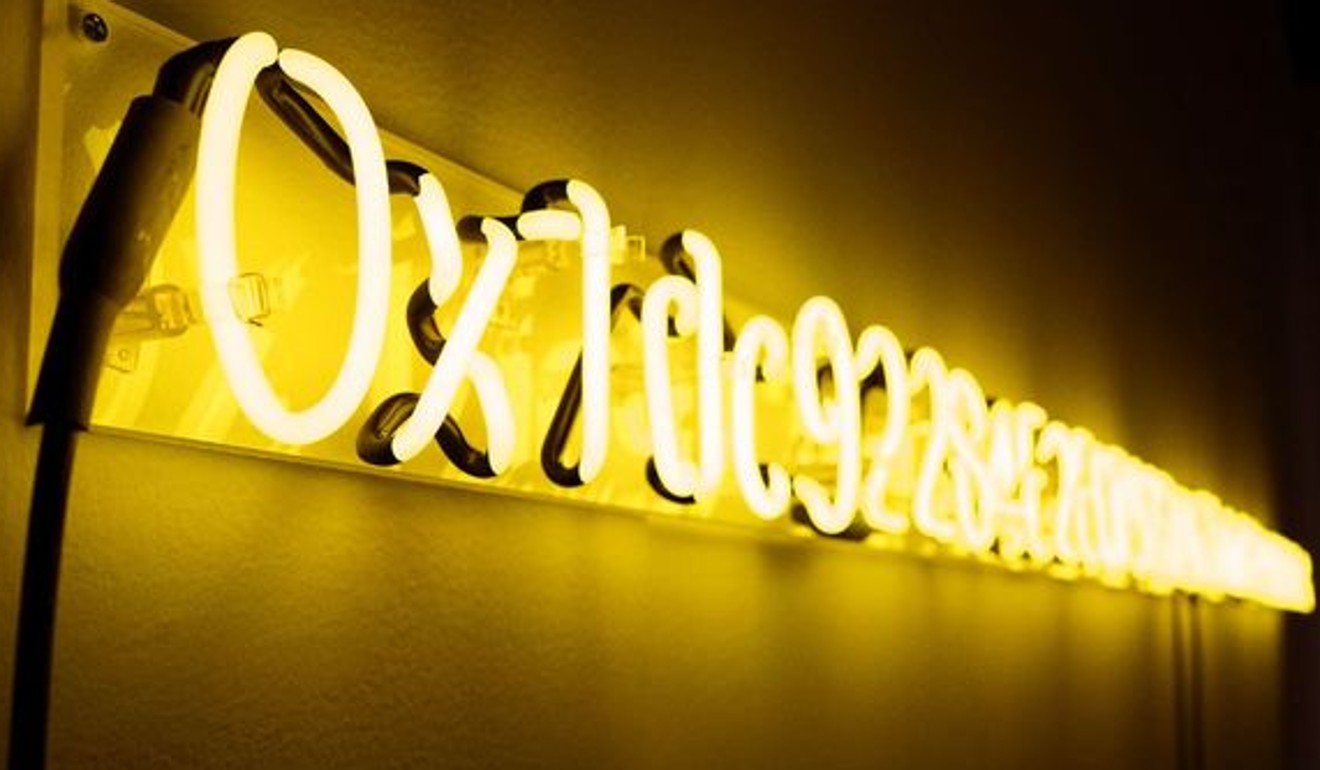 When JPMorgan Chase chairman Jamie Dimon called crypto a "terrible store of value", artist "cryptograffiti" responded with a piece with the same name. "Terrible Store of Value" is a portrait of a "disintegrating" Dimon – "mirroring the public's trust toward traditional banking institutions", according to cryptograffiti's website – executed on a bank deposit box that's connected to a Bitcoin wallet.
The piece sold for US$33,000 at auction this year. More works will go up for bid May 12 in a charity art auction at the Ethereal Summit in Maspeth, New York.
Blockchain, the ledger technology underlying many cryptocurrencies, has "huge potential" and is attracting dozens of established artists, says Christiane Paul, director of the Sheila C. Johnson Design Center at the New School's Parsons School of Design in New York.
Art Basel 2018: How many ways can a Lady Dior bag be recreated?
"Artists have always been engaging with the latest technologies," says Paul, who is also adjunct curator of digital art the Whitney Museum of American Art. "It's important that artists capture a certain kind of moment in cultural and technological evolution."
In June, the Whitney's website will start showing a three-minute film by Jennifer and Kevin McCoy that offers clues to a Bitcoin address where the first 50 people can claim part-ownership of the piece, which the artists plan to donate to the museum. The owners will be able to resell their shares in the work, allowing other people to get their names associated with the piece – in the museum world, donors typically can't be added after the fact.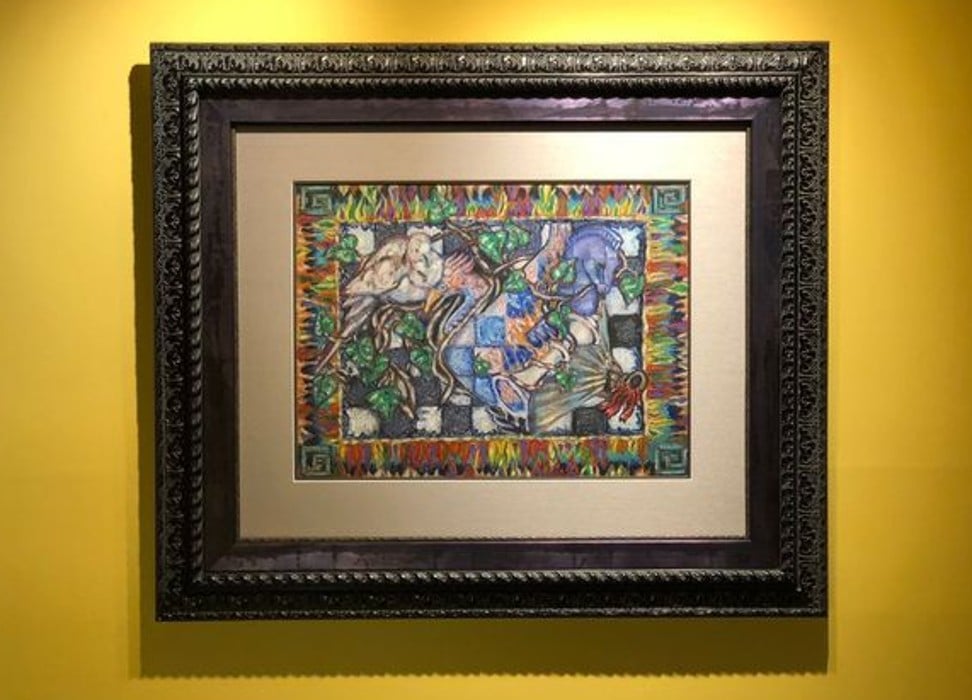 "This piece rips the existing infrastructure apart, and that to me was incredibly interesting," Paul says.
Abosch, of the Yellow Lambo, has put himself into his work, selling more than 2.5 million tokens for as much as US$10 a throw as part of his "IAMA Coin" project. Each IAMA coin represents a piece of the artist, he says.
"I imagined if I were a coin, how would I distribute myself to the masses?" Abosch says.
Using his own blood and a rubber stamp, he imprinted 100 physical artworks with the contract address on the Ethereum blockchain "corresponding to the creation" of 10 million virtual works titled "IAMA Coin."
Art Basel Hong Kong 2018 inspires menus and cocktails
Abosch is also behind what may be the highest-priced crypto art sale. Ten buyers paid a total of US$1 million for a blockchain-registered share of "The Forever Rose", a digital photo of a flower. Starting May 24 at the State Hermitage Museum in St Petersburg, he'll exhibit canvas sacks imprinted with wallet addresses – but without the private keys needed to unlock the wallets.
Online art dealers are also cashing in on the trend. Cryptoart.com, which sells limited-edition prints, saw sales more than double in the first quarter year-over-year, according to owner Troy Fearnow. Lynx Art Collection also offers physical artworks with crypto themes ("Bitcoin's White Paper, On Wood!").
"A lot of people were looking for ways to spend their cryptocurrencies," Lynx co-founder Frank McKeever says. "They want something cool to buy that can also represent what they like and what they believe in. It's our most popular category."
Some items, costing between US$80 and US$900, have sold out within hours, McKeever says. He figures that as many as 10 per cent of the 822,000 subscribers to Reddit's Bitcoin page may be interested in something they can put on a wall, "and it can appreciate".
A Lambo in real life is something the guys want to look up to... But a token – no one can see it
McKeever is also partnering with Rare Bits, a marketplace for digital assets, to sell ownership to digitised artworks through tokens that go for US$200 to US$600.
Entrepreneurs are already using blockchain to verify the authenticity of artworks. And according to Bryce Bladon, communications manager at Axiom Zen, crypto could help resurrect the digital art market, which collapsed when the internet made it possible to endlessly reproduce and distribute files. Digital art could regain value if ownership is recorded on distributed ledgers, he says.
"There are serious problems with art that the blockchain could solve," says Bladon, whose company makes the popular blockchain game CryptoKitties.
11 Instagrammable displays at Art Basel Hong Kong 2018
In CryptoKitties, players breed and trade virtual cats. There are about 700,000 different digital kitties, some of which have sold for more than US$100,000. Guilherme Twardowski, art director at CryptoKitties, calls the game "procedural art".
Crypto art got its start thanks to incentive-driven puzzles by figures including Marguerite deCourcelle, creator of "The Legend of Satoshi Nakamoto", named for Bitcoin's pseudonymous mastermind.
Three years ago, she posted a photo of the abstract oil pastel, which contained clues to unlocking about five Bitcoins. By the time a winner finally claimed the funds this February – guessing that the flames on the painting's border contained a code – the Bitcoins were worth about US$45,470. The winner called the puzzle "a breathtaking and dramatic experience".
There are serious problems with art that the blockchain could solve
"It was exactly how I wanted it to be solved," deCourcelle says. She hasn't sold the actual painting, she says, though she's received offers.
Just how much this art will appreciate in the coming years remains an open question.
"I'm no expert on Bitcoin but I'm a little wary of it," Bob Banks, who offers art appraiser services, said in an email. "Limited-edition prints have gone down over the last 20-30 years and combining the two does not seem like a good combination to me. You will not find me investing in it."
Art Basel Hong Kong 2018: provocative discussions and installations
But many collectors are like Jackson, the buyer of Yellow Lambo: long-time crypto fans who admire the concepts but don't dwell on long-term appreciation.
"It's going to provoke a lot of questions, and I like that," Jackson says.
Besides, he adds, it will look great above his indoor pool in Luxembourg.
Want more stories like this? Sign up here. Follow STYLE on Facebook, Instagram and Twitter