Meet the Microsoft Surface Go, a tiny new 1.15-pound (0.5-kg) laptop/tablet hybrid with a 10-inch screen that can fit in a handbag, bumbag, or a particularly deep pocket.
Surface Go's pricing starts at US$400, but do not be fooled: Just as with the bigger, more powerful Surface Pro, you are going to want Microsoft's US$99 keyboard cover to get the most out of the Surface Go. In other words, you're looking at US$500, all-in, for the Surface Go set-up you really want. You will be able to buy it on August 2.
I got to play with one, briefly, a few weeks ago, and my first impression is that Microsoft has done a good job shrinking its Surface Pro form factor into something more portable, but still incredibly usable and comfortable to type on.
Apple AirPods will soon let you hear conversations in noisy places
Under the hood, Microsoft says Surface Go owners can expect about as much computing power as 2014's Surface Pro 3. This means it will be good enough for browsing the web, watching Netflix, and putting together a PowerPoint presentation. "But do not expect to play "Fortnite" with the graphics settings cranked way up.
It runs an Intel Pentium processor. The base model has 4GB of RAM and 128GB of hard drive space, while a more expensive model, starting at US$549, will have 8GB of RAM and 256GB of hard drive space.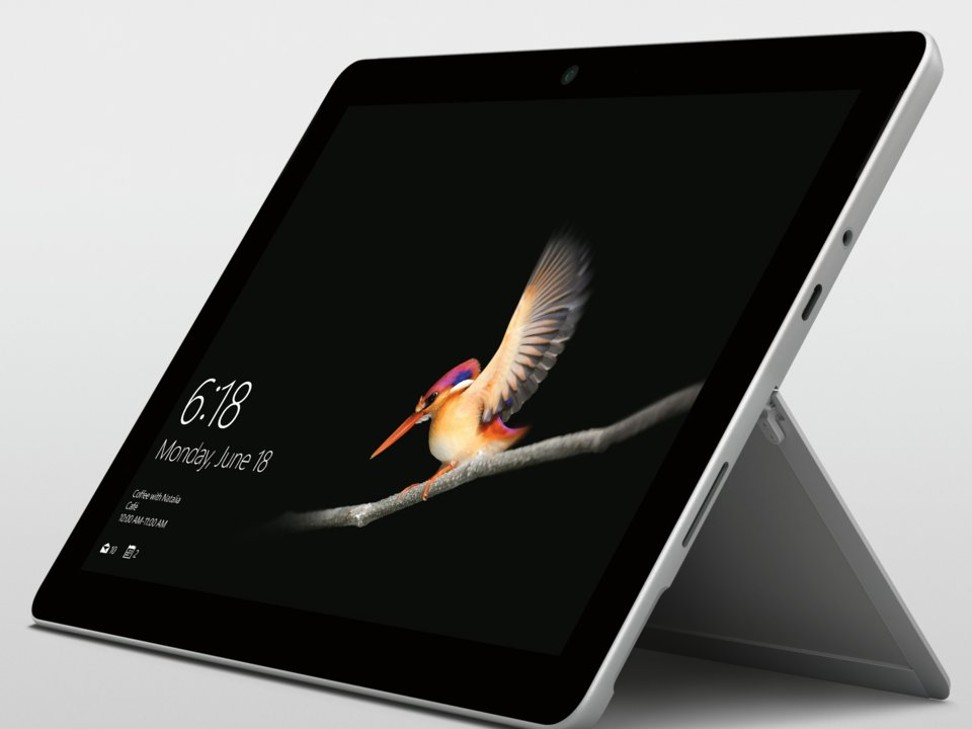 Microsoft claims that the Surface Go gets nine hours of battery life, which comes with the caveat that this was tested by playing a video file that was stored on the device. It includes facial login by way of Microsoft's Windows Hello system, similar to Apple's FaceID, as well as a microSD card slot to expand its storage.
The Surface Go port is more limited than its larger brethren. It includes Microsoft's proprietary Surface Connect port, which is mostly used for charging but can also be used to plug it in to a docking station. Otherwise, you get a single port for USB-C — a new universal standard that replaces the USB slot you might be familiar with.
What you should know about Apple's new iPhones
The USB-C port can be used for plugging in monitors and other accessories, as well as for charging the Surface Go itself in a pinch. The vast majority of devices, including most smartphones, still rely on regular old USB to work, meaning that Surface Go owners might need to get in the habit of carrying around some adaptors. It does have a headphone jack, though.
The Surface Go will ship with Windows 10's "S Mode" enabled, which means you can only install apps from the Microsoft Store – a trade-off for better battery life and smoother performance. It is easy to disable "S Mode" and go back to regular old Windows, which is good if you want Google Chrome as your browser.
Microsoft says that a model with LTE cellular connectivity will not be ready until later this year.
Go against Apple
Microsoft is using the Surface Go and its price point to take aim at two Apple devices at once.
As a tablet, the Surface Go will square up against Apple's productivity-focused iPad Pro, which starts at US$649 for a 10.5-inch model. As a fully-functional Windows 10 laptop, The Surface Go will try to eke some share away from Apple's MacBook laptops, which start at US$999 for the cheapest MacBook Air.
Apple launches red iPhone 8 and 8 Plus to help combat Aids
In both cases, Microsoft is employing the same sales pitch as the rest of the Surface line-up.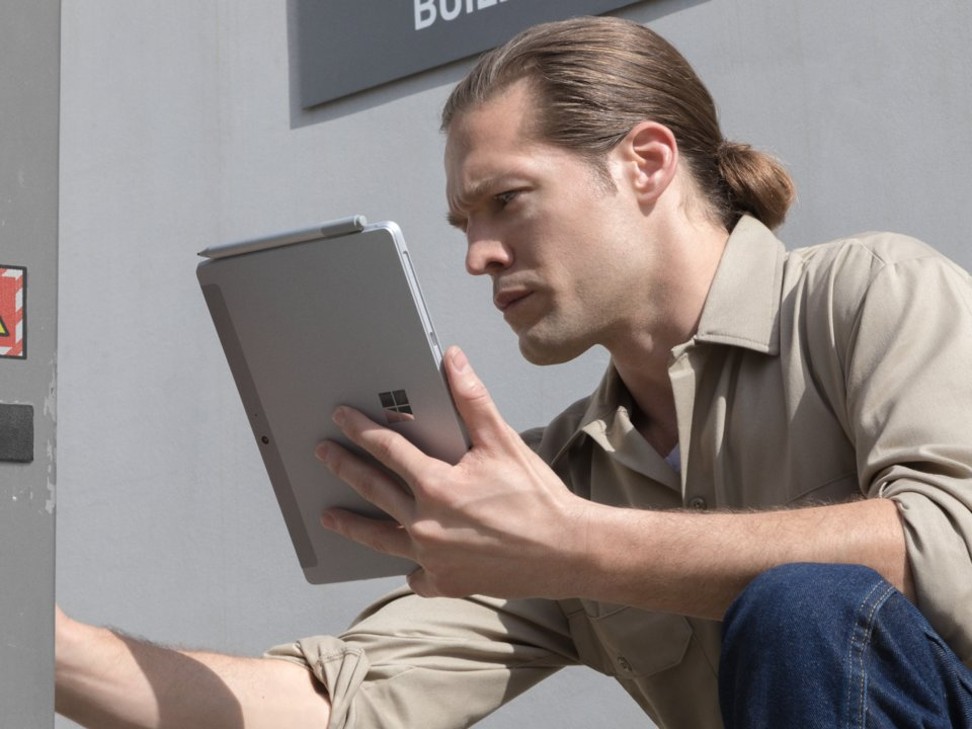 Because the Surface Go runs a full version of Windows 10, you can run almost every piece of Windows software, past or present. That is especially clutch in schools and corporations, both of which often rely on specialised software. And because the Surface Go is a tablet, it is more portable than any Mac, plus it has a touch screen.
Microsoft's Surface business is still a fraction of Apple's enormous hardware revenues. And while the Surface has its diehard fans, myself included, it's still a relatively niche product for Windows power users.
Still, at US$399, the Surface Go costs far less than the US$699 starting price for the larger Surface Pro. That could open up some doors for Microsoft's hardware business, especially among budget-conscious consumers.
History lesson
Some Microsoft fans are sure to be disappointed by the reveal of the Surface Go.
It has been rumoured for a long time that Microsoft was working on a tinier Surface: Microsoft released the 10.8-inch Surface 3 back in 2015, but there has not been anything like it since. The announcement of the slightly smaller Surface Go is just picking up where the Surface 3 left off.
Is the iPhone X living up to the hype? This user doesn't think so
However, in recent weeks, it has been rumoured that Microsoft was closer to revealing Andromeda, a new pocketable Windows device with two screens. While ZDnet reported that the Andromeda project was unlikely to ever come to market, Microsoft enthusiasts were optimistic.
It is certainly possible that Andromeda is still in the works. But while the Surface Go is pocketable, it only has one screen, meaning that this is not it.
Want more stories like this? Sign up here. Follow STYLE on Facebook, Instagram and Twitter
This article originally appeared on Business Insider.