WHO: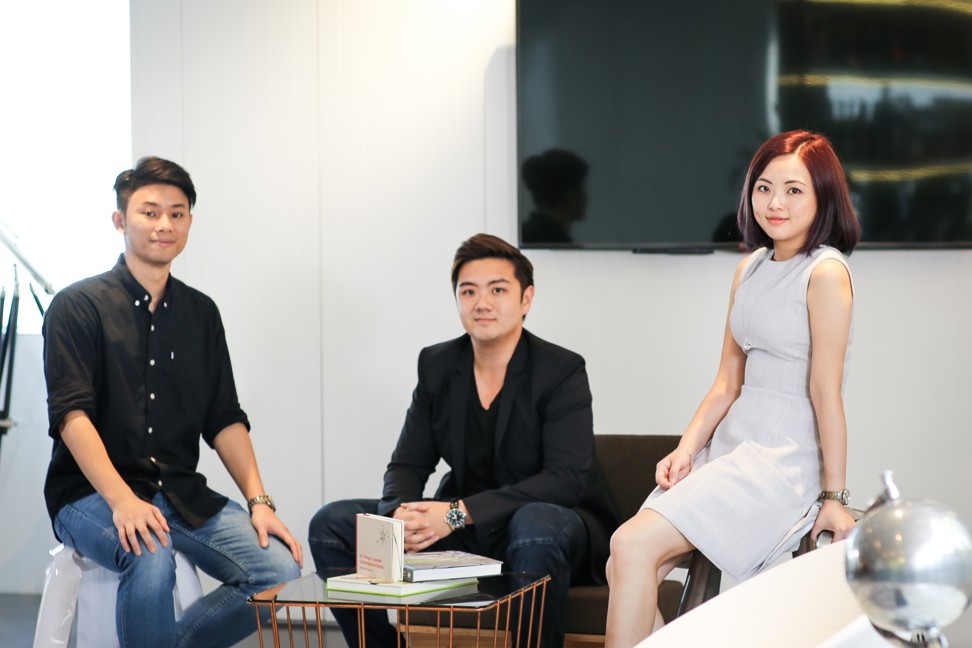 Arthur Tang is the founder of ARTTA Concept Studio, an interior architectural design firm based in Hong Kong. The philosophy behind ARTTA comes from art "that defines our soul" with architecture "being our intelligence", combining these to bring "ART To Architecture". The company is known for innovative projects that show craftsmanship, timelessness and endless possibilities.
Drinking coffee, for many of us in Hong Kong, has become part of our daily routine. And with this has come coffee education – the ability to distinguish between a good and a bad coffee – and an increase in the number of artisanal coffee options on offer.
Additionally, for a growing number of coffee connoisseurs, discovering that perfect brew – and learning about the origins of the beans and the brewing methods used – has become part of the enjoyment.
5 new cafes and restaurants spice up Kuala Lumpur's food scene
It is for serious coffee lovers – those who want to be able to enjoy a quality, cafe-style coffee at home whenever they choose – that Arthur Tang and design co-creators Natalie Chan and Rio Law (pictured) have come up with the Rotary Station – a seed-to-cup in-house cafe installation for creating, brewing and enjoying that perfect cup of joe.
"Having a cup of coffee has become a lifestyle for many," Tang says.
"With the growth of speciality gourmet coffees, coffee has come to touch our lives in a lot of new and different ways, and people have become more concerned about the origins of coffee beans and brewing methods. More people have also joined barista workshops to learn how to make a perfect cup."
It is this wave of enthusiasm for coffee that sparked the idea for an "in-house cafe", where coffee-lovers can grow, roast and grind their own beans, and make a stellar cup of coffee.
"One can enjoy this unique coffee time as a retreat on one's own, and also with friends and relatives, all in a pleasant ambience," Tang says.
T Galleria Beauty opens pop-up lips café in Hysan Place
He says a groundbreaking feature of the cafe is its shape and functionality.
"We have designed a cylindrical installation, called the Rotary Station, for growing coffee and coffee-bean processing. The Rotary Station is inspired by coffee capsules, and is where the home barista can complete all the processes from seed to cup."
The stunning Rotary Station is composed of two parts, and is entirely enclosed in glass to ensure the perfect growing environment.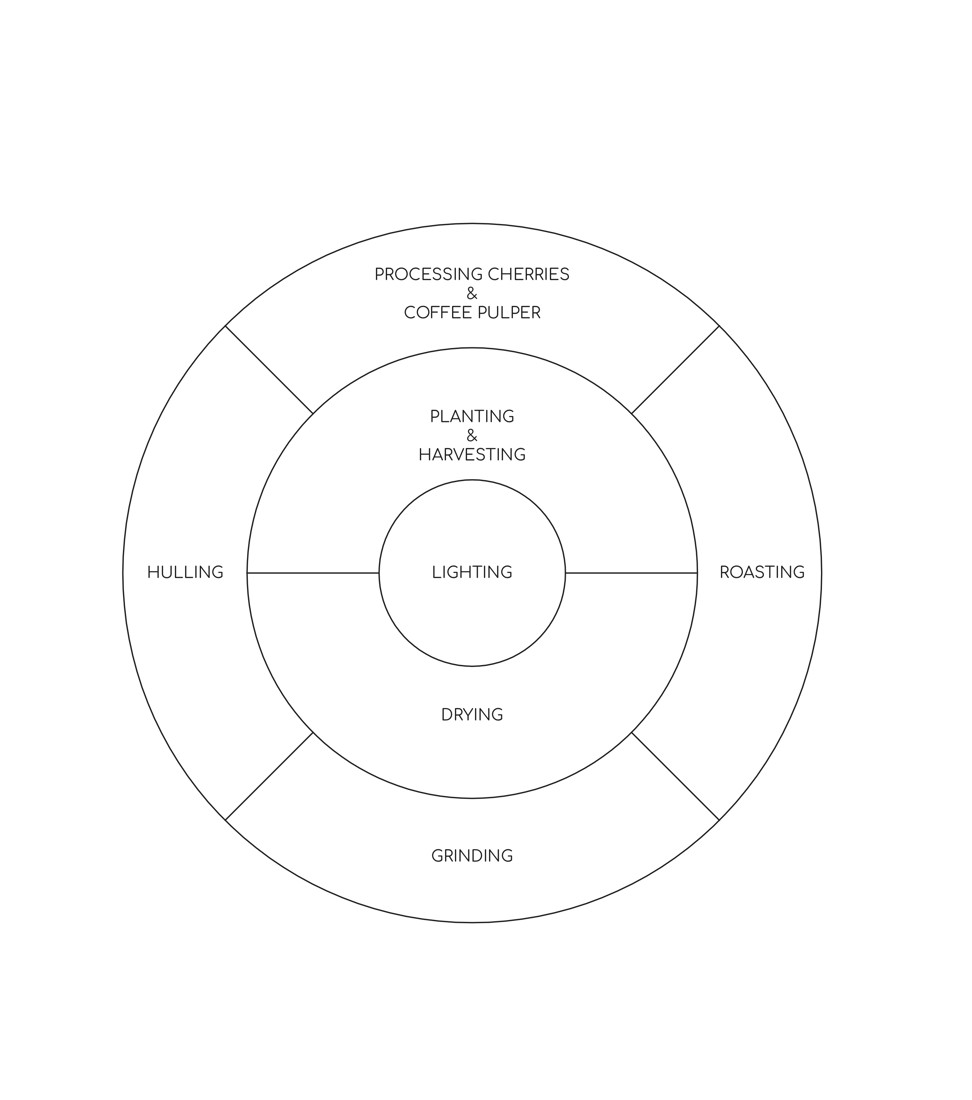 In the inner central part, half is used for planting and harvesting coffee cherries. The other half is used for drying coffee beans. The most challenging aspect of the design was to create an environment for the Rotary Station in which to grow coffee.
The company decided to use diffuse glass for the roof, with a ventilation system for air circulation. A pipe is connected for water diffusion into the soil to help the growing coffee plants along.
"Both the central part and circular part of the installation are rotational so the home user can easily access each section to handle and process the coffee fruits and beans," Tang says.
It is equipped with an artificial heating system to moderate environmental conditions when the climate is not suitable for the coffee plants' growth. It is also controlled by a computer programme.
Art-deco jewellery steal scenes and set gem trends in Woody Allen's Café Society
The outer circular ring is divided into four parts – for coffee processing, pulping coffee cherries, milling, and roasting and grinding the beans.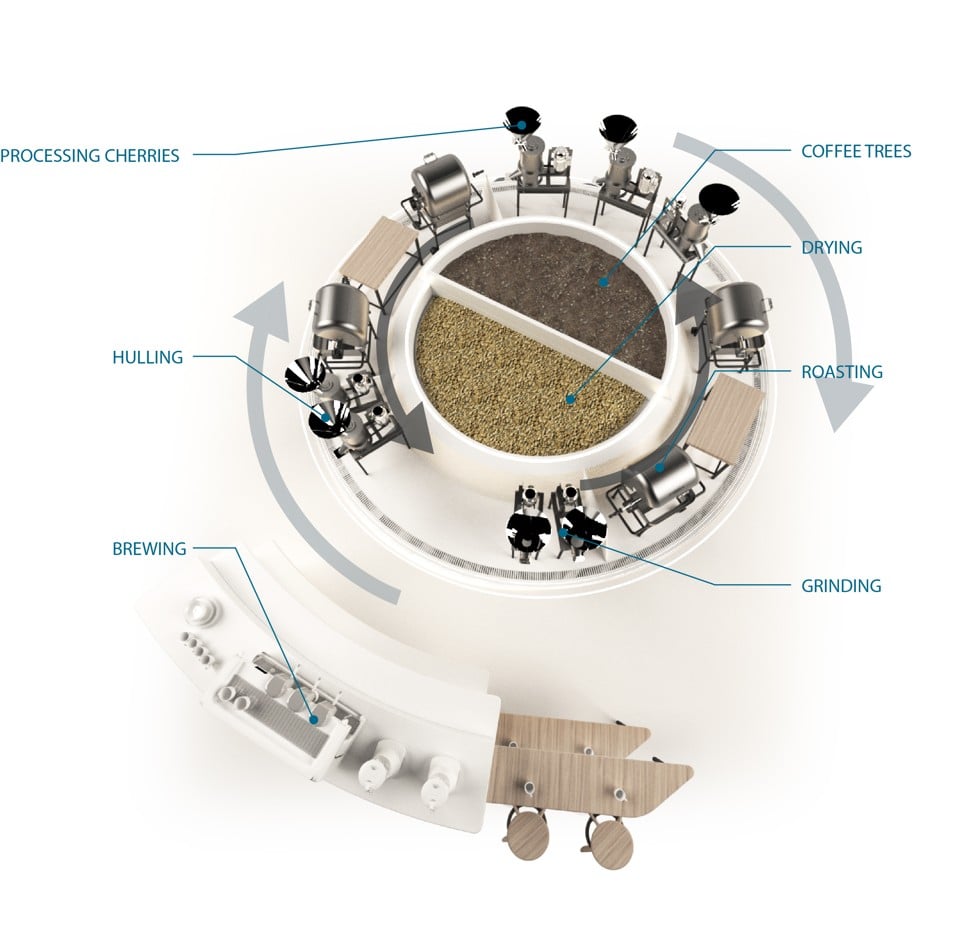 Tang says the design of the private cafe, with its Rotary Station, is minimal to create a relaxing ambience, with bar tables and sofa.
With the Rotary Station, Tang says, "The home barista can brew the perfect coffee, one that is truly tailor-made."
BREAKDOWN OF COSTS

Design and consultation fee: HK$5 million
Technology and system: HK$10 million
Construction and installation cost: HK$8 million
Coffee processing equipment: HK$1 million
Coffee plants: HK$500,000
Total: HK$24.5 million
Want more stories like this? Sign up here. Follow STYLE on Facebook, Instagram and Twitter