I have finally found a smartphone that can keep up with the Pixel 2's camera in a real way – and it is called the Galaxy Note 9 by Samsung.
Take it easy, there, I tell myself. The Pixel 2 is still the undefeated champion, winning round after round of camera comparisons.
Samsung's Galaxy Note 9: What can we expect?
Some have come close with valiant efforts, but none as close as the Galaxy Note 9.
This is not to say that the Galaxy Note 9 takes nearly identical photos as the Pixel 2 XL.
Samsung adds its own flair to the Galaxy Note 9's camera that makes photos look good in different ways.
For transparency's sake, I actually used the Pixel 2 XL for the photo shoot, as it's the model I had with me at the time.
Yet both the Pixel 2 and Pixel 2 XL have exactly the same camera, so it is fair to say that the Pixel 2 XL represents Google's latest line-up of smartphones.
Samsung keen to claim 'world's first' with foldable phone launch
Note that some of these photos may look blurry or pretty bad on some standard 1080p resolution screens because of the high resolution of the images.
Compare the photos taken with cameras on the Pixel 2 XL and Galaxy Note 9: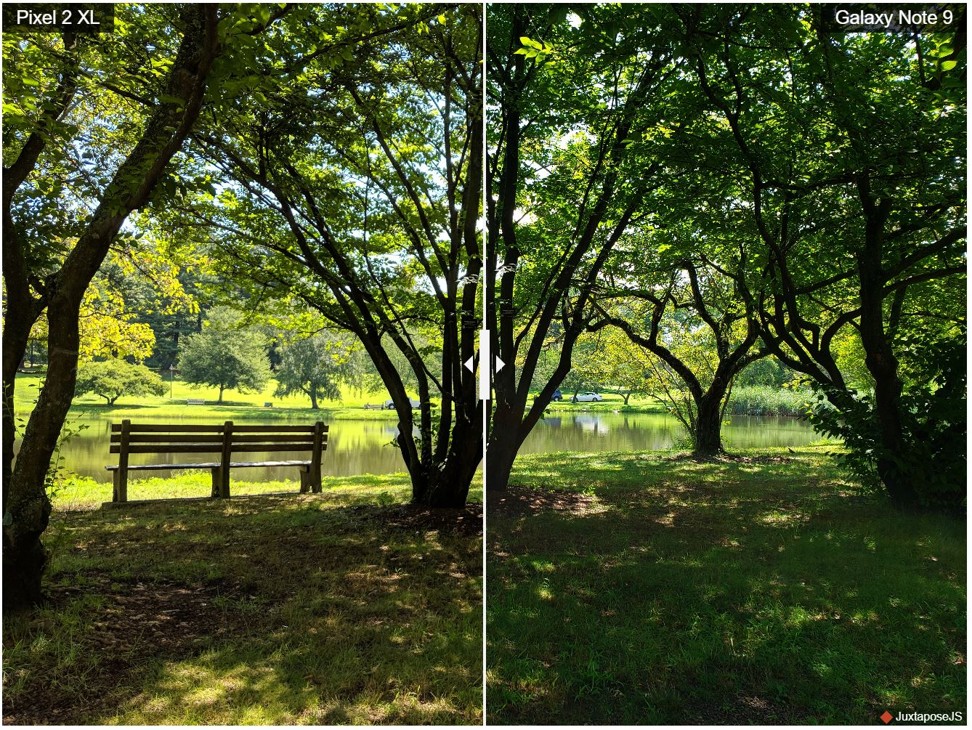 Both phones took similar photos where the details in the shadows are pretty much lost, which is fine, but it would have been nice to see a little more detail in the trees.
Samsung's early Galaxy Note 9 launch is a challenge to Apple in the premium smartphone market
Something to note is the Note 9 photo is razor sharp compared with the Pixel 2 XL's slightly softer shot.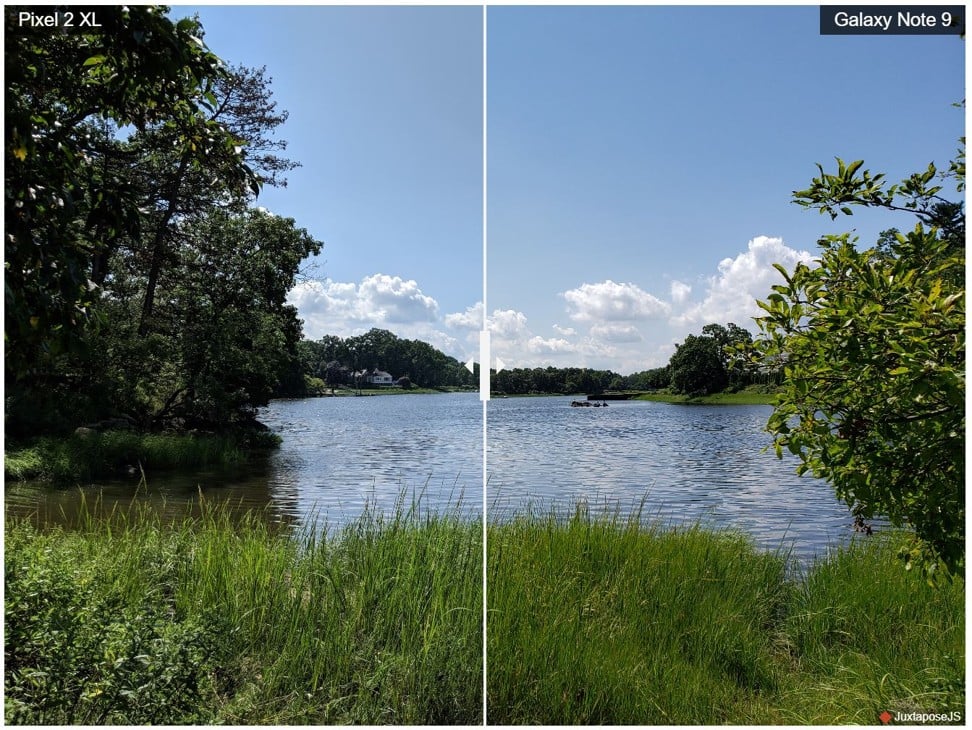 Both phones took pretty similar shots of the sound, too. The Galaxy Note 9 is keeping up with the Pixel 2 XL.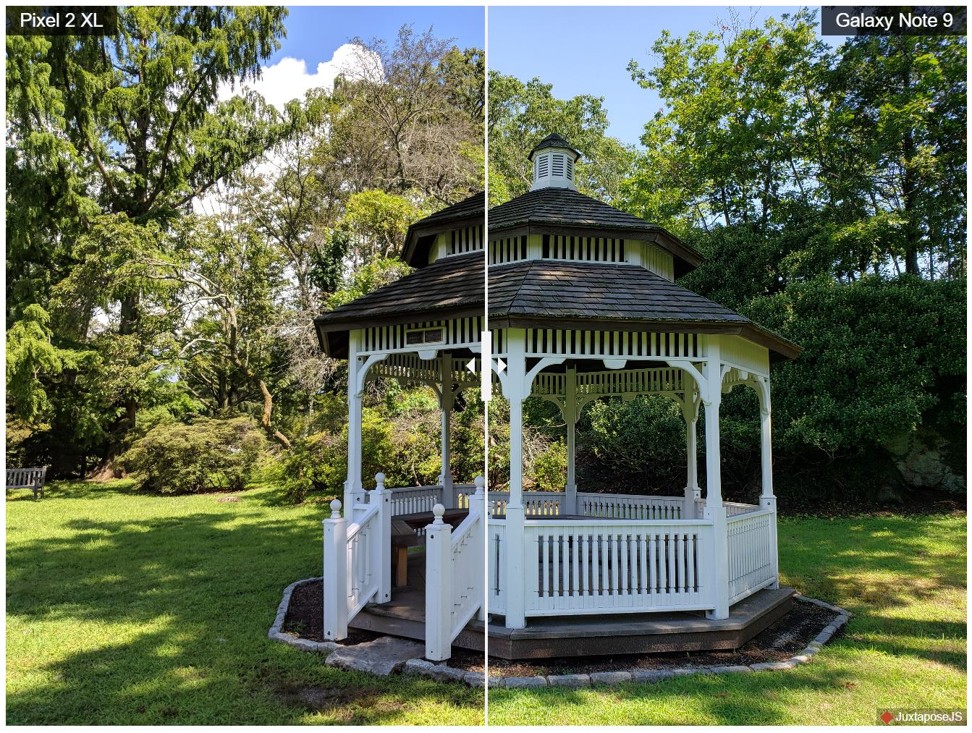 Here, the Galaxy Note 9 brightens up some of the darker shaded areas a little too much, resulting in a flatter-looking photo compared with the Pixel 2 XL's image.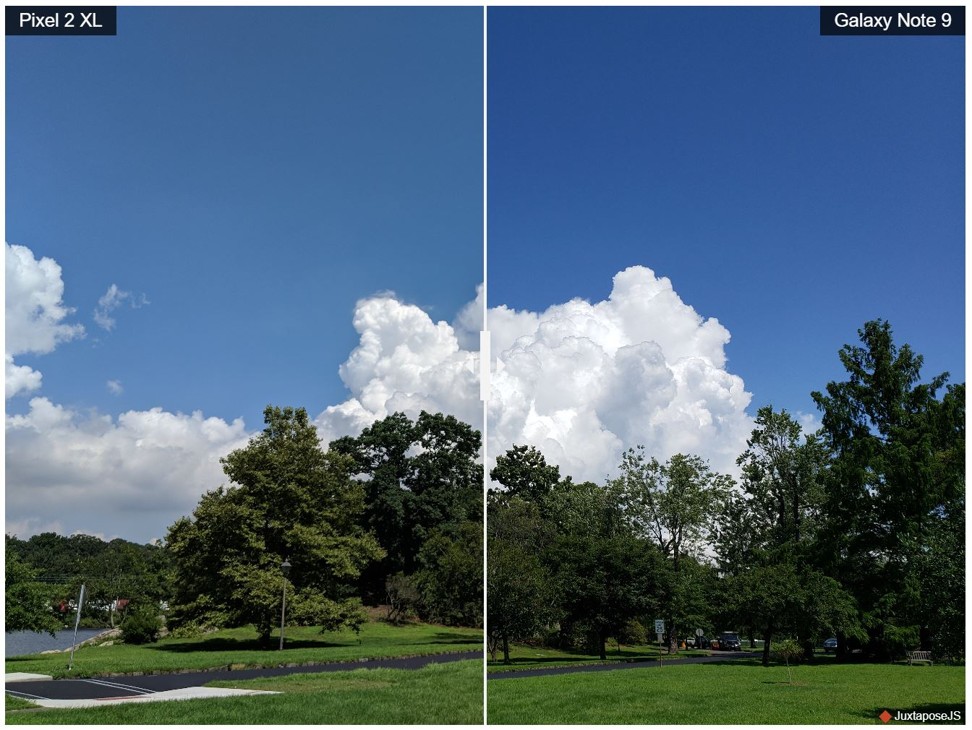 The Galaxy Note 9 delivers an extra-sharp photo once again, which makes the cloud look great.
However, the Pixel 2 XL's image has more depth and contrast, and you can see more detail as a result.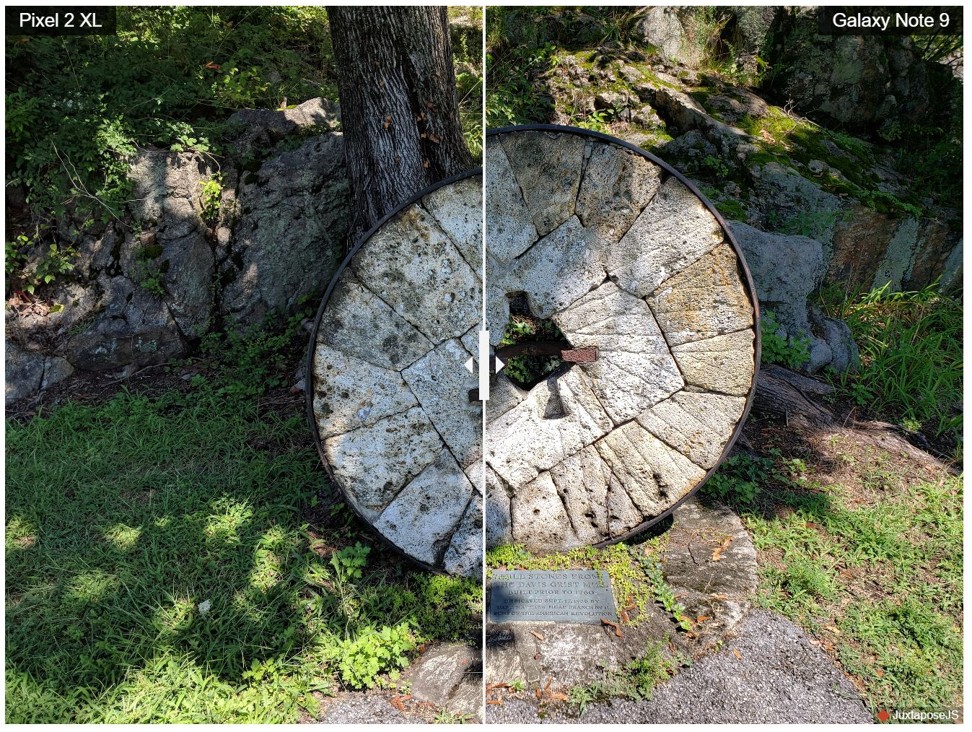 These two images shows how the Pixel 2 XL's camera really accentuates darker spots.
Its photos are more dynamic with more depth and contrast than the picture taken by the Galaxy Note 9's camera.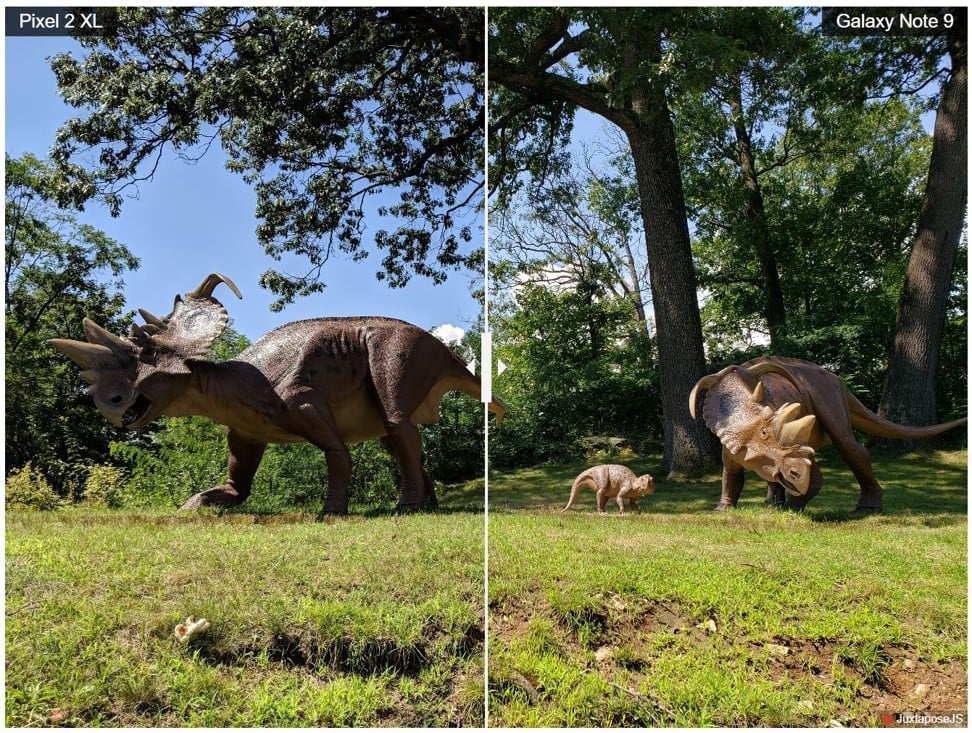 There is no doubt here that the Galaxy Note 9 reveals more details in the shadowy areas, especially towards the right of this photo of the local fauna.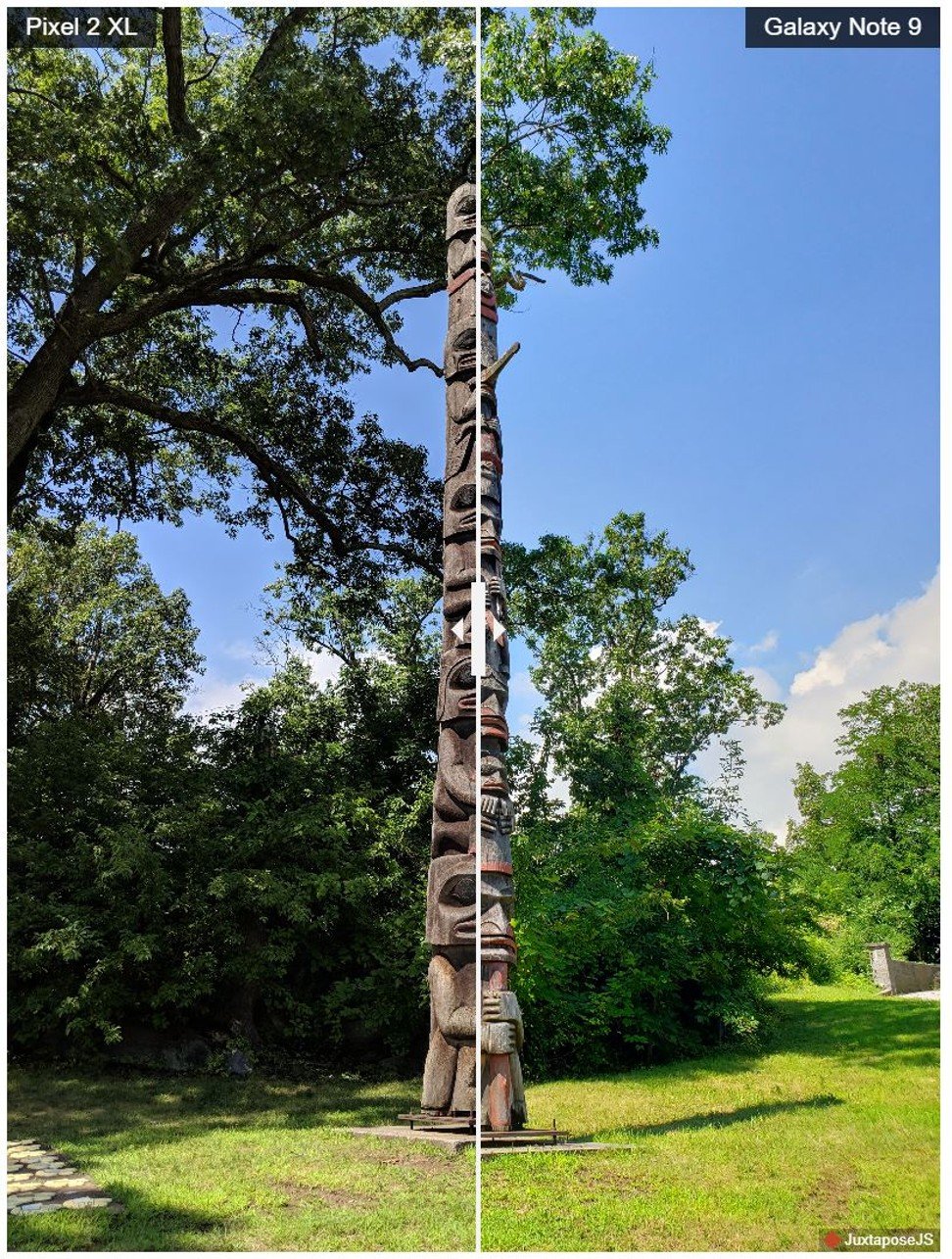 I understand why some people might prefer the Galaxy Note 9's photo here, but its lighting and colours looks heavily altered, and it does not look natural.
The Pixel 2 XL delivers a photo that is much closer to real life.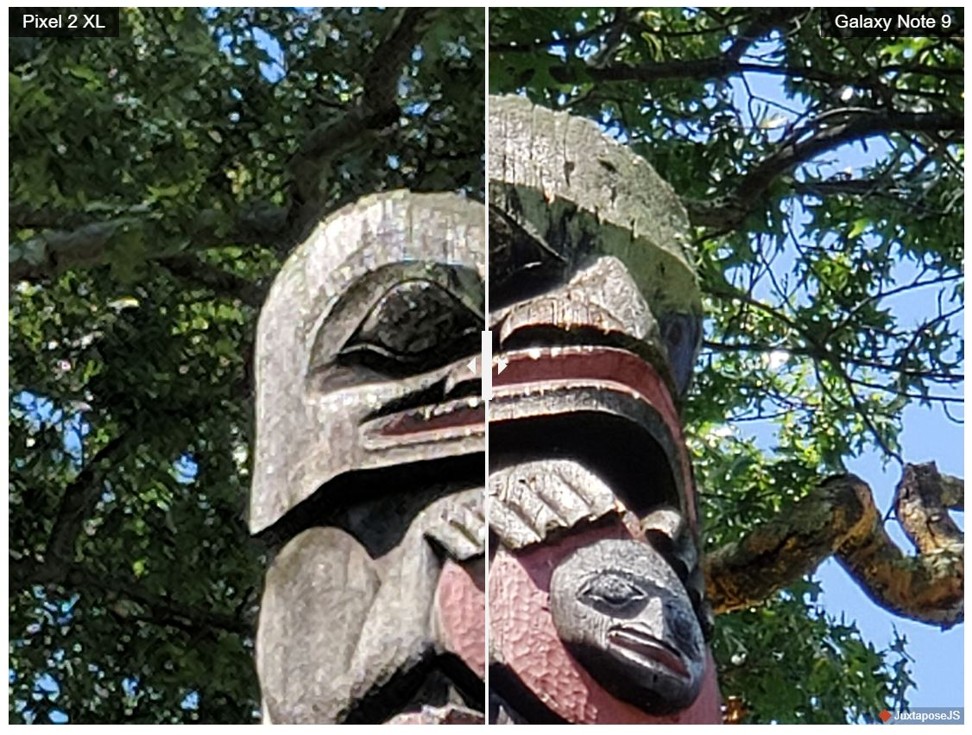 One thing the Pixel 2 XL does not have is a 2x optical zoom lens.
The Galaxy Note 9's second 2x zoom lens lets you take better shots of subjects further away.
The camera's 2x zoom lens also lets you take much better shots when fully zooming in.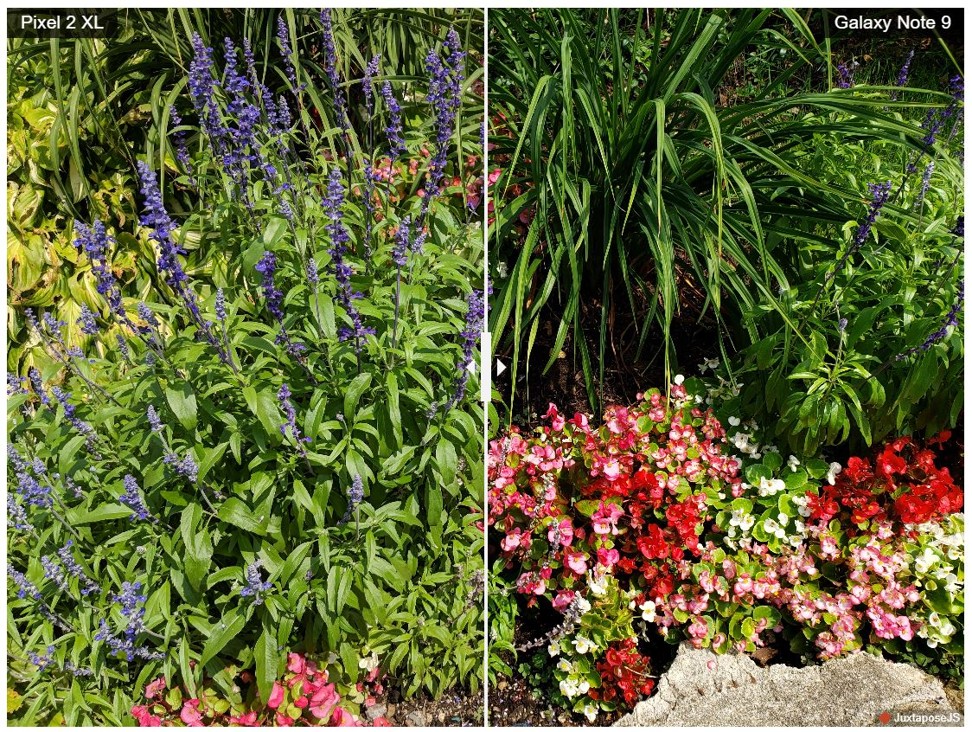 Here, the Galaxy Note 9's sharpness actually works against it.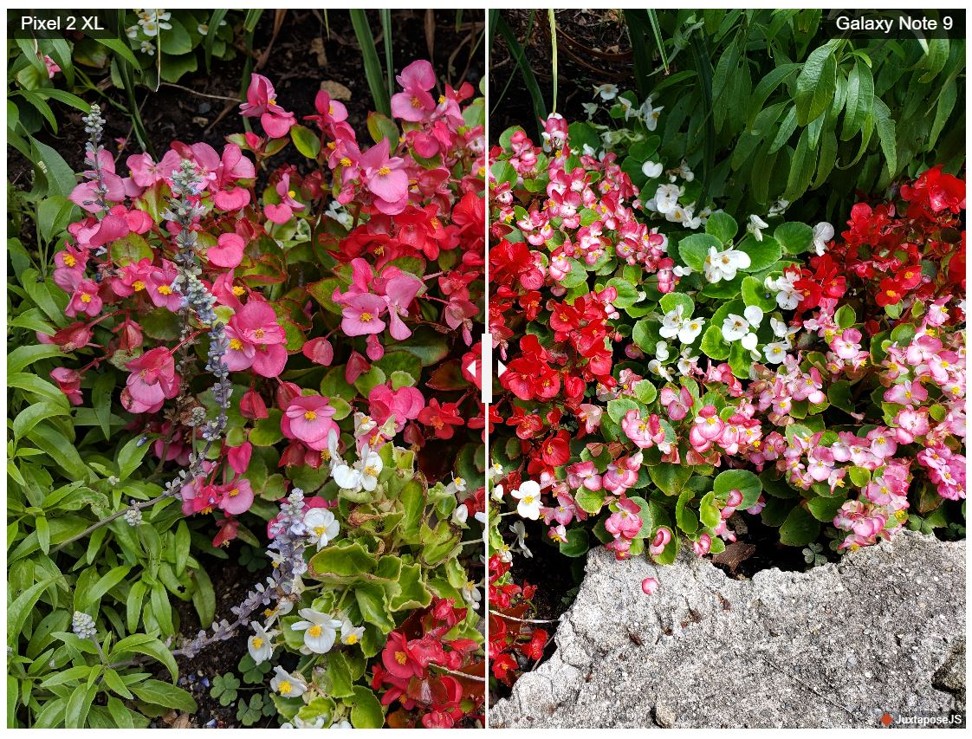 Up close, the Pixel 2 XL takes a softer photo with better colours.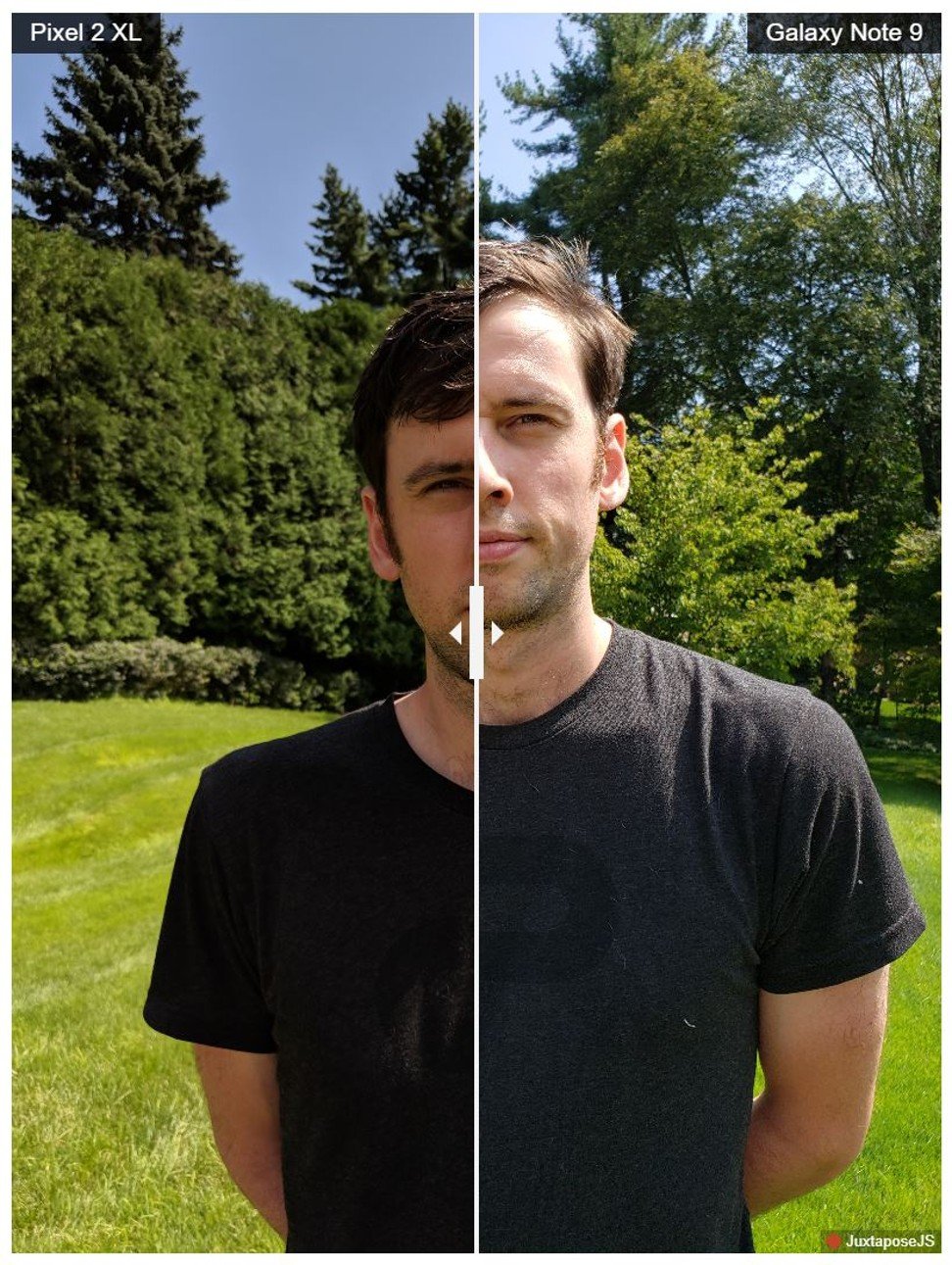 This one is interesting, as both phones clearly handle humans differently, at least in this sunny outdoor situation.
Both phones take great photos here, so it is up to you which one takes the kind of photo you prefer.
Personally, I prefer the Pixel 2 XL's image.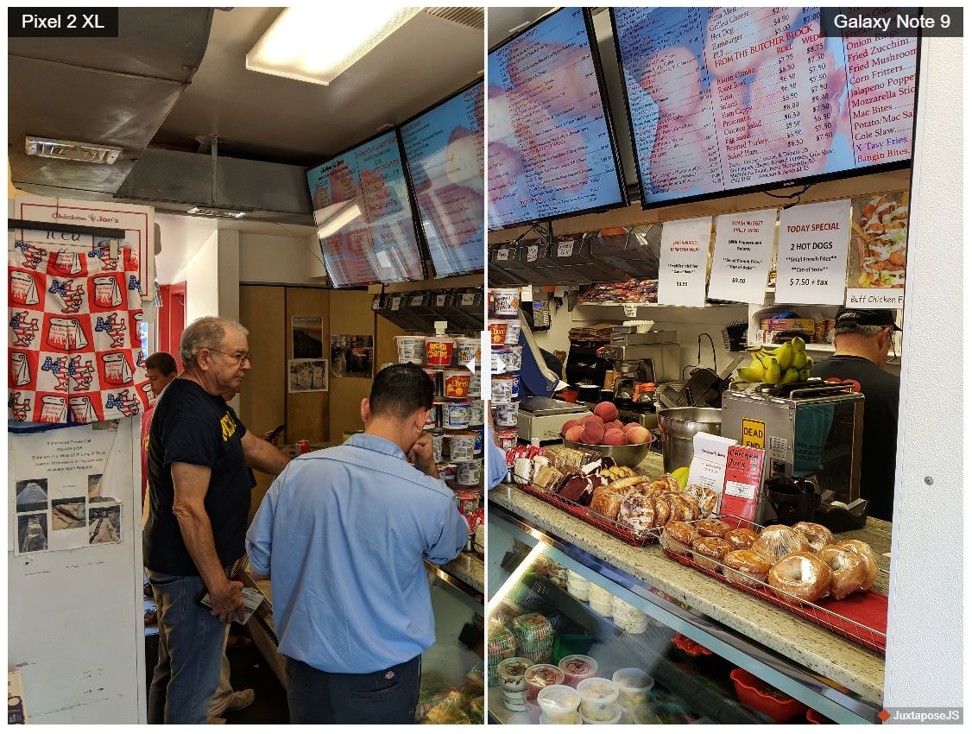 Taking things indoors, the Galaxy Note 9 takes a brighter shot.
It looks good, but the Pixel 2 XL captures a better sense of what this chicken shop looks like inside.
And when the light gets a little too dim or the subject is dark, the Galaxy Note 9 can use its variable aperture to allow more light to hit the camera sensor. It leads to better lowlight photos as a result.
My cat Wally's face and coat are more visible in the Galaxy Note 9 photo because of its variable aperture.
Some call it a gimmick, but it seems to make a difference.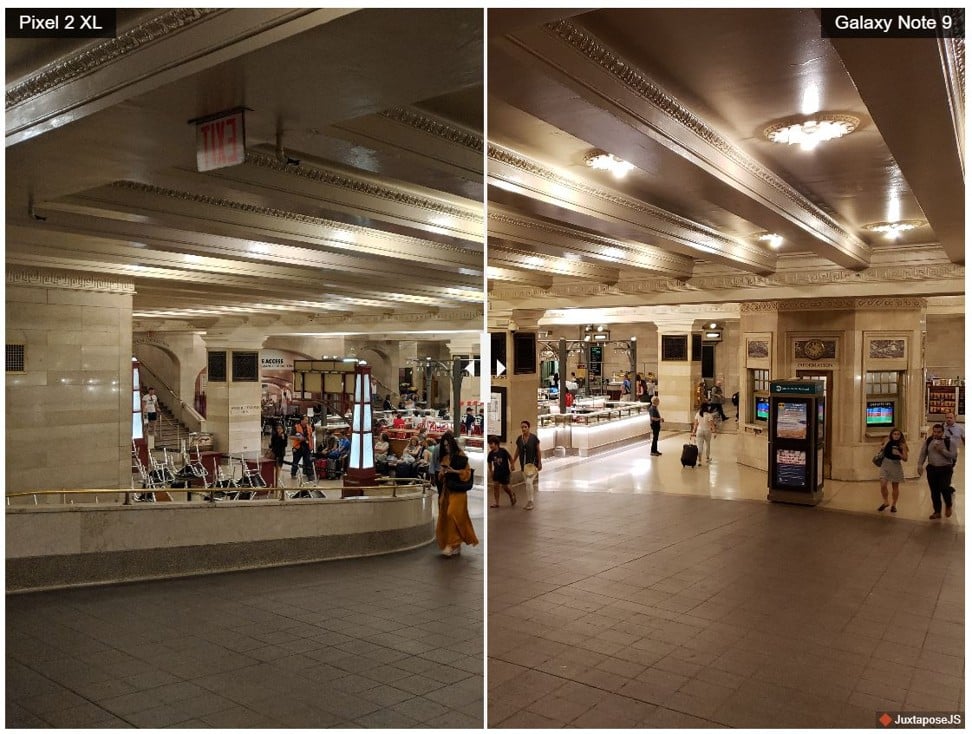 This is a good example of Samsung adding extra flair to photos – and it can really work out well sometimes.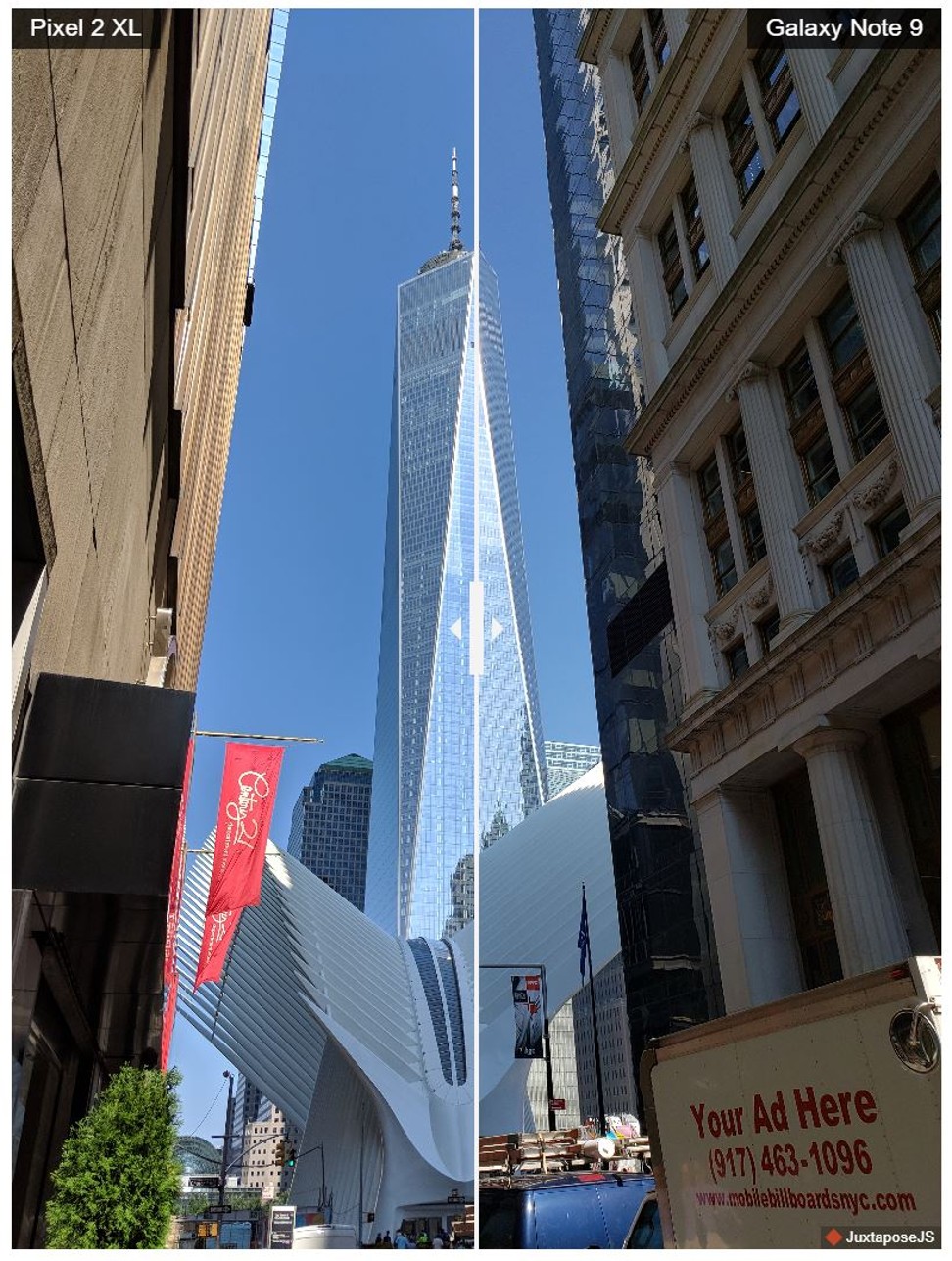 And if you are not into the natural world, then both smartphone cameras handle the colours, straight lines, and sharp angles of cities extremely well.
So, is there a winner here?
I am not going to sit here and tell you which phone has the best camera – not when they are so close in terms of photo quality.
The best thing you can do is see what camera you think takes better photographs.
Some people prefer the more natural look that the Pixel 2 delivers, while others like a little bit of extra flair and image processing that makes their photos pop, such as the Galaxy Note 9 (and the Galaxy S9, for that matter).
Want more stories like this? Sign up here. Follow STYLE on Facebook, Instagram and Twitter
This article, written by Antonio Villas-Boas, originally appeared on Business Insider .