This month's Maison & Objet Paris show explores the ethical production of interior design and lifestyle products. STYLE selects the cutting-edge designs and talents to watch
1. SALVAGED TIMBER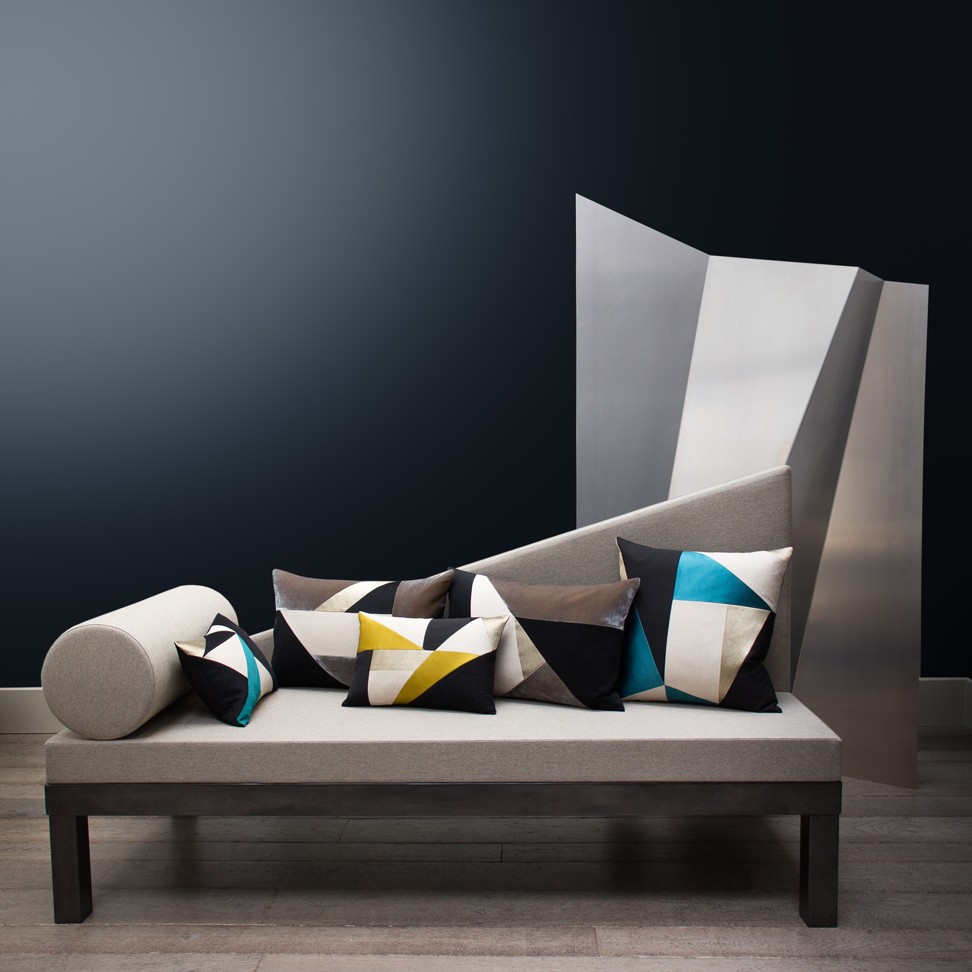 The Maison & Objet (M&O) show is held in Paris every January and September, and is one of the world's most influential lifestyle and interior design events. The latest event, from September 7 to 11, is themed "Virtuous" to reflect how new-era consumers increasingly question the origin, ethical production and sustainability of interior materials.
One of the most original exhibitors in this sector is the Netherlands' Wonderwall Studios (wonderwallstudios.com), which creates unique panelling from salvaged woods. Its distinctive approach has earned it acclaim from many corners with clients including the Hard Rock Hotel in Palm Springs. "We scour the land for woods that can be salvaged and upcycled, giving discarded timber a second lease on life.It's a reincarnation of sorts," they say.
Maison Popineau (maisonpopineau.com) produces-limited edition cushions and daybeds, the newest of which is its Belle de Jour daybed (pictured) with an original geometric pattern. All the brand's products are made in France and the raw materials come from textile end-of-series, vintage remnants or reserves for haute couture.
Maison & Objet Asia provides an intimate yet international offering to the interior, property development, F&B and hotel industry
2. LEBANON RISING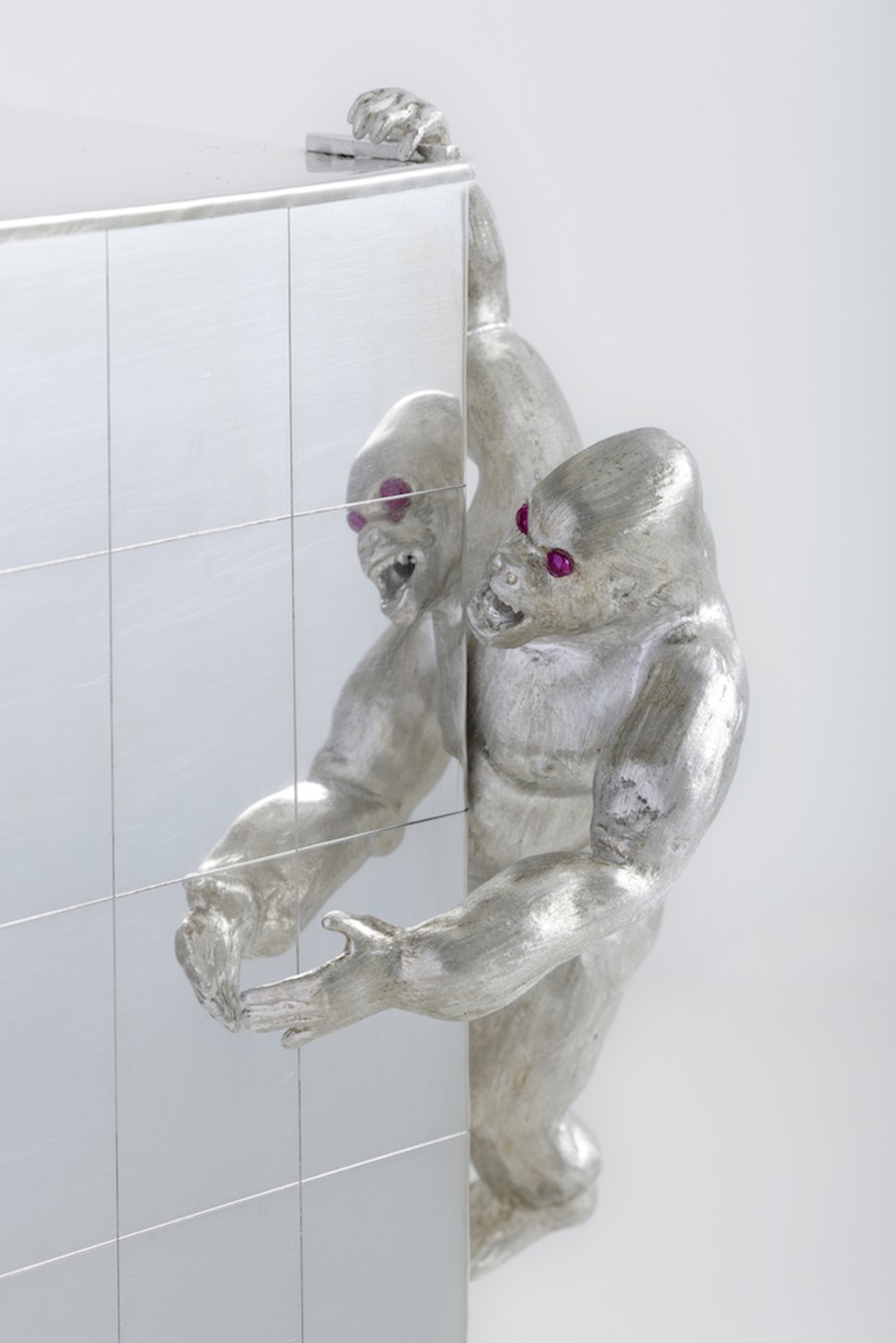 Beirut might not seem on the cutting-edge of design, but this iteration of M&O is seeking to raise the profile of the city's most talented designers by putting the spotlight on six of them for its Rising Talents award. Carlo Massoud's (carlomassoud.com) work often incorporates the social and political: African fertility dolls inspired his Autopsy project, and he designed a collection of stools with his sister Mary-Lynn Massoud. His work is also richly imaginative and unexpected, such as Mar Mikhayel (pictured), a model of a Beirut neighbourhood with a pink-eyed gorilla climbing the walls of a building.
Lebanese-Finnish designer Anastasia Nysten (anastasianysten.com) has come up with a new take on the beanbag, the Troll Chair: two structured pillows housed in a wooden chair structure that earned her a talent award at the first Beirut Design Fair last year.
Having worked for Vivienne Westwood and Zaha Hadid, Carla Baz (carlabaz.com) is another designer to watch, with mirrors in oxidised, wax casted bronze. Equally arresting is the Borgia chandelier, designed exclusively for Bonadea as part of its luxury tableware collection.
Marc Dibeh (marcdibeh.com) established his own studio in 2009, and his work plays on the notion of narrative, as exemplified by the five mirrors from his "Please, Don't Tell Mom" range, specially designed for the Art Factum Gallery after he broke one there by mistake.
Having showcased at Milan Design Week this year, Paola Sakr (paolasakr.design) innovates by making trays and holders from coffee grounds and newspaper waste, while a collection of seven concrete vases made from abandoned materials and scraps is similarly eco-friendly. Her creation, Balance, is an artistic expression of the right and left sides of the brain, and how they're intricately linked and mutually reliant.
In addition to its Mirage music box, another striking item by Studio Caramel (studio-caramel.com) is its walnut Baron bar cart – a throwback to the 1970s hostess trolleys – with hi-tech yellow wheels keeping it contemporary.
Shanghai Tang ventures into new territory at Maison & Objet Paris show
3. ASIAN INFLUENCE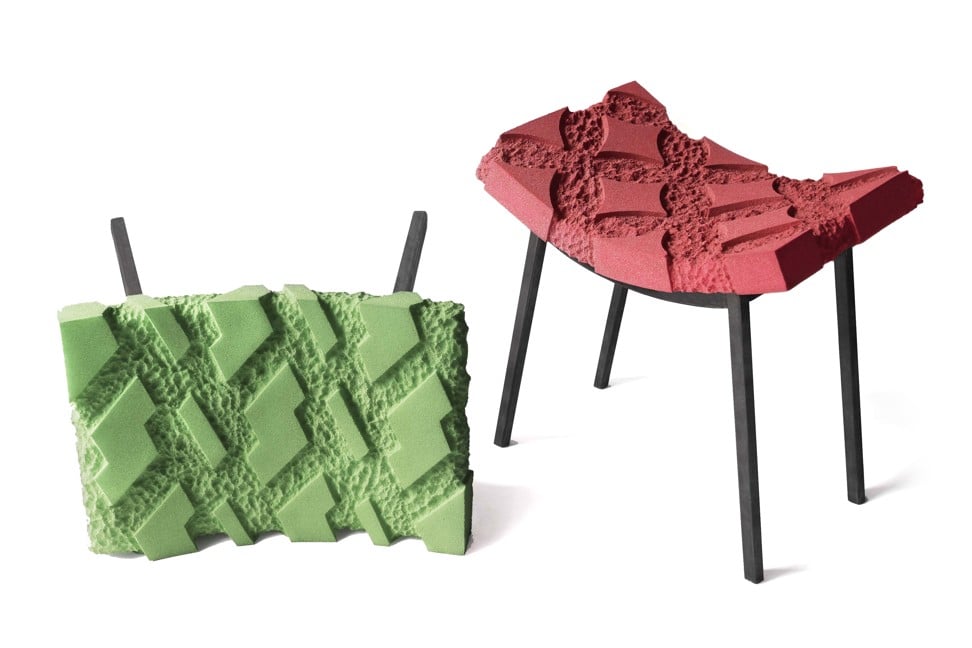 Indonesian product designer Denny R. Priyatna (aievl.com) is no stranger to M&O, as he was singled out as a Rising Talent at the fair's Asian iteration in 2014. The Central Saint Martins graduate is inspired by the duality of nature, experimenting with materials and manufacturing techniques to create conceptual products such as his EUM chair, which accentuates two contrasting textures by engraving traditional Indonesian patterns onto the surface of upholstered foam. The engraved foam is also presented as a wall decoration by the designer.
In a similar vein, the designer explores the inner and outer parts of rattan with his Cirva collection, carving it so it can hold or store objects such as watches, pens and keys.
4. CINEMA SUPERSTAR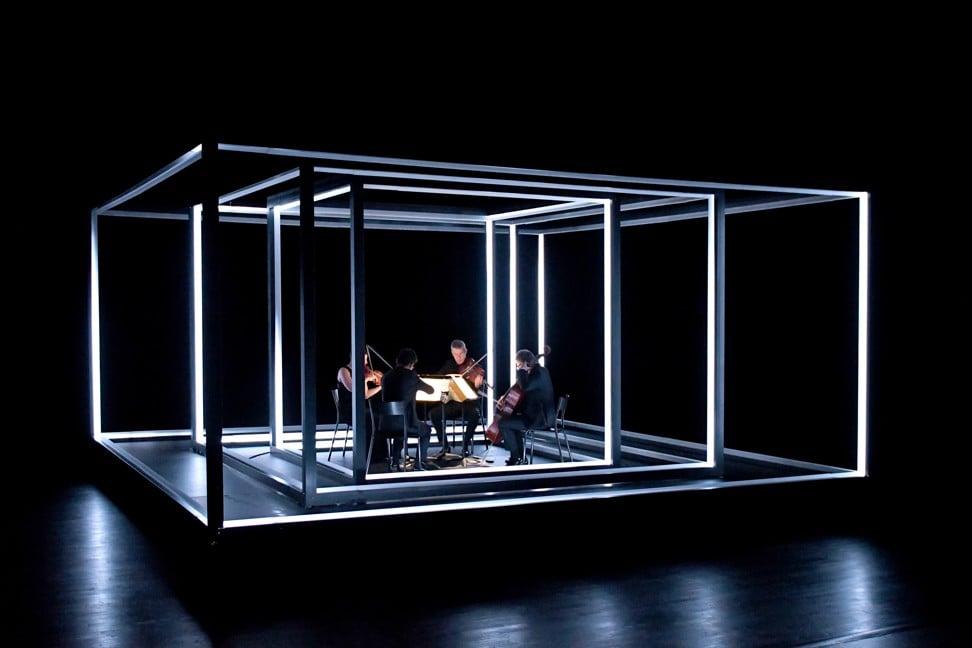 Paris M&O's Designer of the Year Ramy Fischler (rfstudio.fr) takes his creative cues from cinematography, professing to practise design in the same way a director makes a film. The Belgian began exploring the connection between design and cinema as a professor at Le Fresnoy with a project entitled L'Image Éclaire. With Visual Exformation (pictured), he entered the world of music with an interactive luminous installation developed for a composition by Jesper Nordin. Combining musical, luminous and colorimetric scores, the concert art piece has three aluminium-edged cubes with LEDs that angle the light based on the intensity, spectrum and timbre of the music.
His installation "Heterotopia", is a study characterised by minimal and sophisticated forms including a marble desk suspended from the ceiling by leather cords and a triptych mirror that broadcasts music.
Chinese artist Ai Wei Wei designs LA art space
5. RETRO SOUND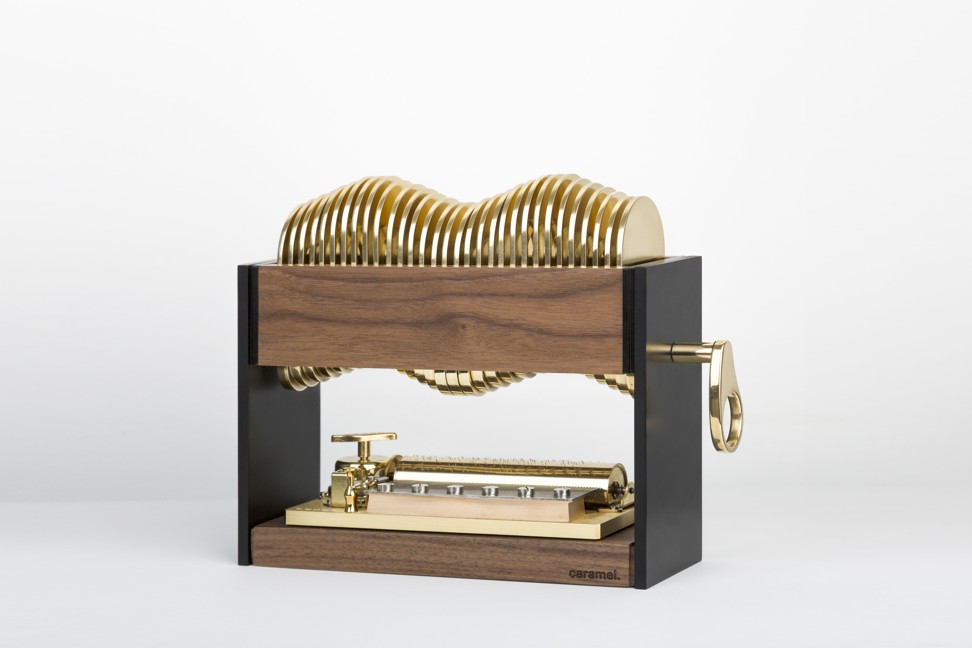 The analogue trend is very much in evidence at the Paris M&O, one smart example being Turkey's Acoustibox (ipoint-art.com). On first glance, it appears to be a high-end gramophone (it's available in marble) but it's actually a smart device that enables you to enjoy music through the gramophone's iconic horn shape. Place your mobile on the wooden dock for a warm, resonant musical delivery – and create a talking point in the living room in the process.
Music lovers with a penchant for retro styling will be impressed by Muzen Audio's (muzenaudio.com) radio/speaker handmade from rosewood with a vintage dial and Bluetooth capability. Featuring a built-in FM radio, it offers up to 10 hours of playtime with one charge and comes with a duffel case so it can easily accompany you on hikes or trips to the beach. The US-based brand is headed by the designer of the first tube amplifier to go on sale in China.
Lebanon's Studio Caramel (studio-caramel.com) takes things even more retro with its Mirage music box. Created in collaboration with Swiss craftsmen at the Reuge Manufacture, it can play three melodies on its 72-blade piece.
6. FANTASTIC FEATHERS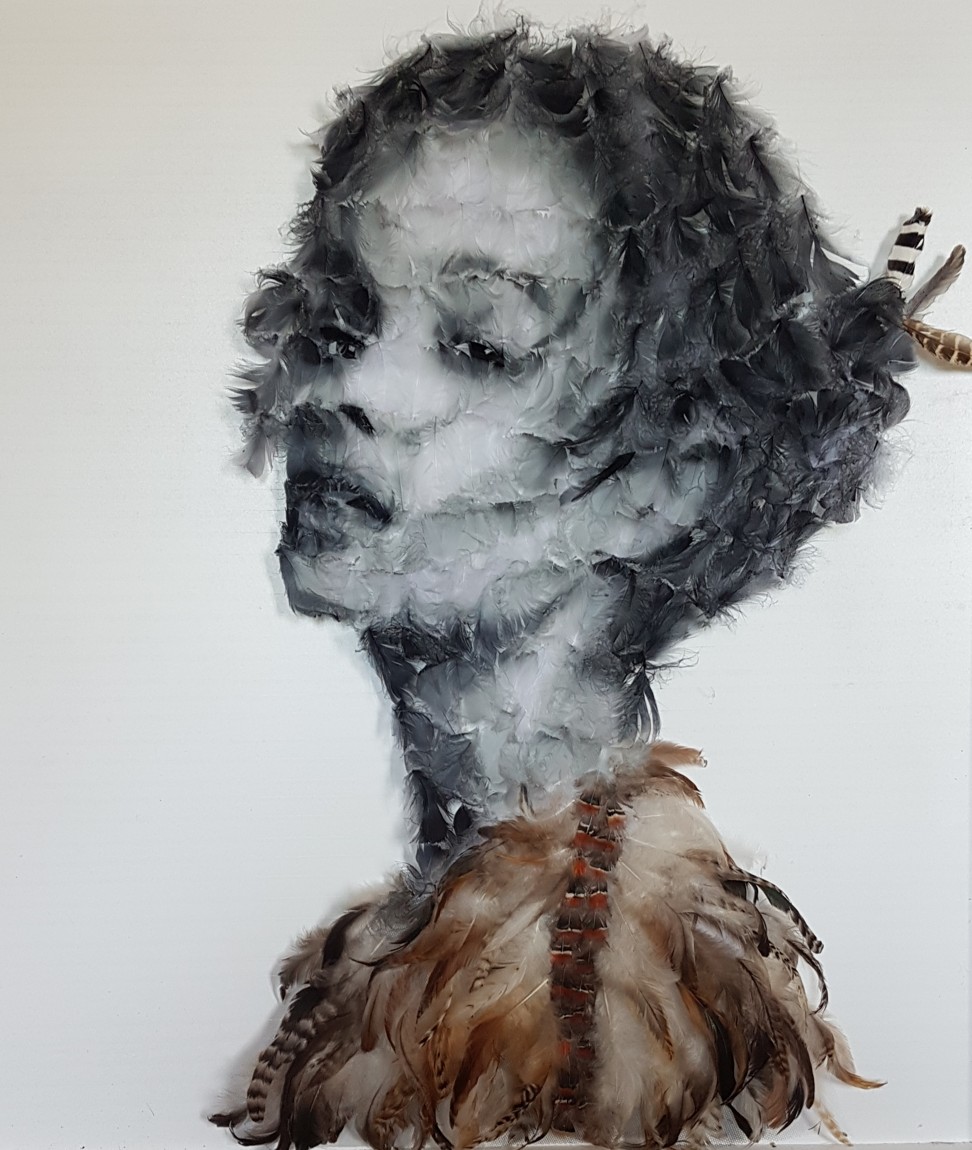 Echoing the trend seen on last season's catwalk, feathers are in full flounce at the Paris M&O this September, but the dodgy feather fashions of old – fluffy mules and frothy boas – have thankfully been replaced by something more tasteful, and nowhere is this more evident than A Modern Grand Tour's (amoderngrandtour.com) fabulous feather lamp and decadent ostrich chandelier. The Britain-based brand has curated an exclusive collection of artwork, furniture, lighting and curiosities available to invest in, on view at Aynhoe Park in Oxfordshire, a 17th century home to myriad intriguing curiosities, from bronze minotaur sculptures to abstract landscape paintings.
Marie Ange Daud's feather portraits (pictured) are stunning in their fragility and melancholy. Using only feathers, staples, pins and thread, the delicacy of her works emphasises more than ever the ethereal nature of her subjects.
Young Iranian artists offer glimpses into the country's history
Elsewhere, Plume de Panache (plumedepanache.com) arranges striking feathers from birds including ostriches, pheasants and peacocks, into tasteful frames that are instant works of art – make your own mini gallery by curating a selection on a wall.
The feather trend flounces its way into the world of jewellery at the show, too, with brightly-coloured feathers fashioned into earrings and necklaces at AnaGold (anagold.fr).
Want more stories like this? Sign up here. Follow STYLE on Facebook, Instagram and Twitter