German luxury car brand Audi on Monday staged the global launch of a new electric sport utility vehicle (SUV) on the home turf of rival Tesla Inc, and highlighted a deal with Amazon.com Inc to make recharging its forthcoming e-tron models easier.
The Audi e-tron mid-sized SUV will be offered in the United States next year at a starting price of US$75,795 before a US$7,500 tax credit. It is one of a volley of electric vehicles coming from Volkswagen AG brands, as well as other European premium brands including Daimler-owned Mercedes-Benz, BMW, Volvo Cars and Jaguar Land Rover.
How do Asians react to 'Crazy Rich Asians'?
All aim to expand the market for premium electric vehicles and also to grab a share of that market from Palo Alto, California-based Tesla, which has had the niche largely to itself.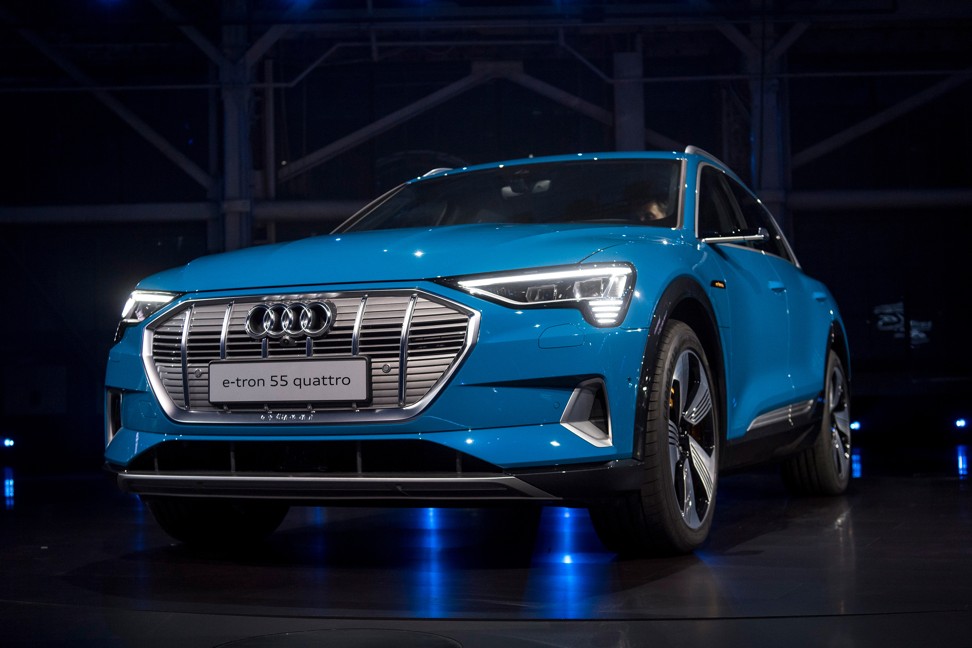 "I want Audi to be the number-one electric vehicle seller in America over the long term," Audi of America president Scott Keogh said on Monday.
Audi dealers, particularly those from California where Tesla has made significant inroads, cheered the e-tron at Monday night's crowded event. Analysts on Tuesday expressed concern that the vehicle's driving range may not measure up to the Tesla Model X.
Audi officials said they do not have official range estimates for the e-tron SUV under US testing procedures. They said the vehicle should achieve a range under less rigorous European testing standards of roughly 250 miles or 400km.
Audi's electric supercar sparks interest in Pebble Beach
Keogh told attendees at Monday's event that an e-tron had made a 175-mile journey over the mountains east of San Francisco with range to spare. He also emphasised that the e-tron is designed to recharge more rapidly than rival electric vehicles.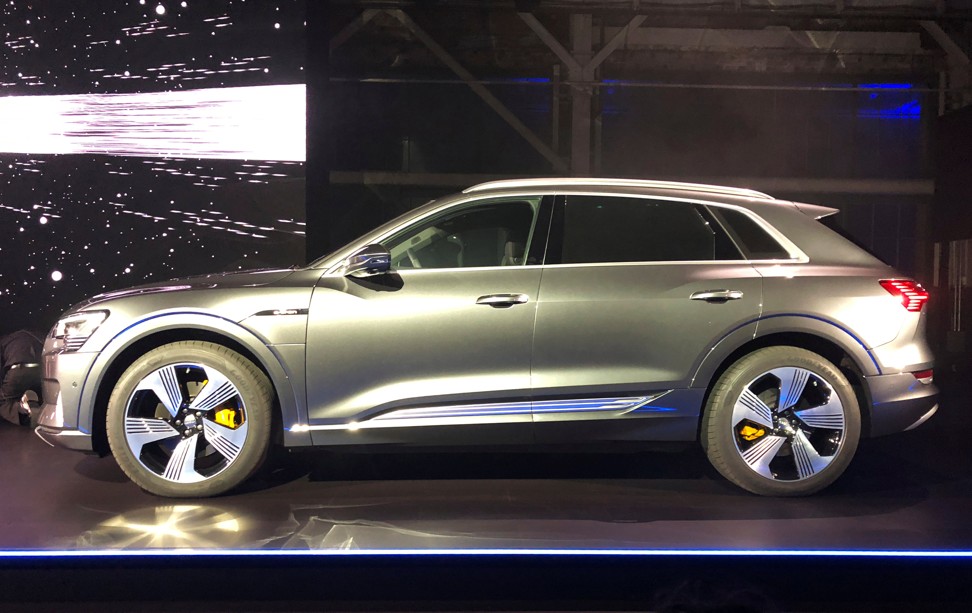 UBS analyst Patrick Hummel said on Tuesday that the e-tron "fails to set new benchmarks in the premium EV segment, even though we consider it better than the Mercedes EQC". The EQC is a rival electric SUV the Daimler AG brand plans to launch in 2020.
The e-tron's 95kWh battery has less capacity than the 100kWh battery used in the Tesla Model X 100D model, but more than the base Model X 75D.
The Model X 100D is rated at 295 miles (475km) of range by the US government.
Tesla CEO Elon Musk, who is also head of rocket company SpaceX, marked the e-tron launch by staging a SpaceX event in Los Angeles at roughly the same time on Monday evening as Audi's unveiling. At the SpaceX event, the company named its first private passenger on a planned voyage around the moon in 2023.
Recharging
Audi and parent Volkswagen are using the US launch of the e-tron SUV in mid-2019 to take aim at one obstacle to expanding electric vehicle sales – the lack of convenient ways to recharge their batteries.
Audi will partner with online retailer Amazon to sell and install home electric vehicle charging systems to buyers of the e-tron, the companies said on Monday. Amazon will deliver the hardware and hire electricians to install them through its Amazon Home Services operation.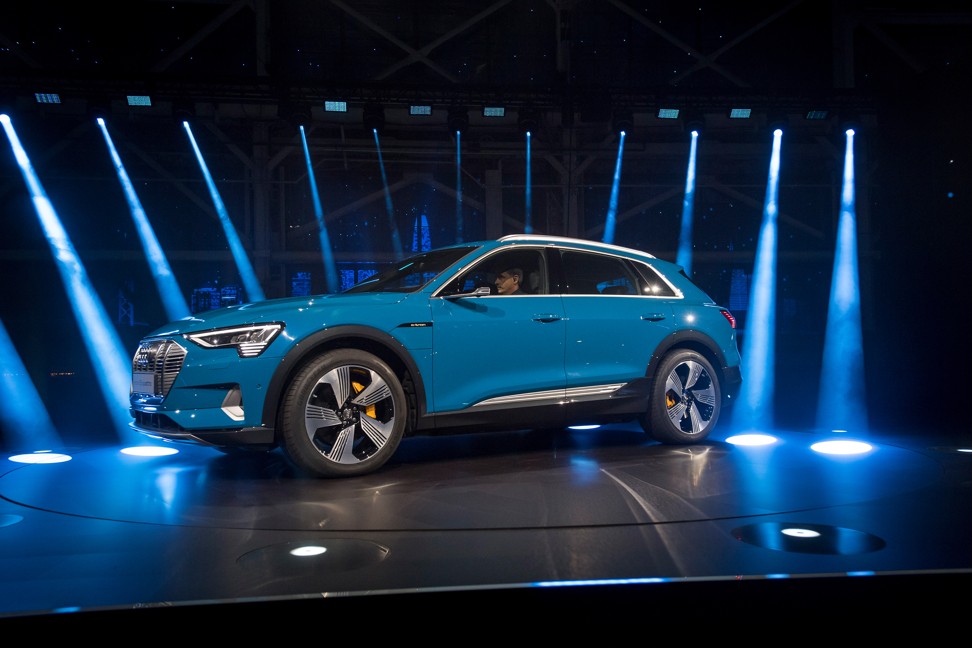 Amazon's partnership with Audi to provide home charging systems is the first time the online retailer has struck such a deal with an carmaker, and signals a new front in Amazon's drive to expand its reach into consumers' homes beyond the presence of its Alexa smart speakers in living rooms and kitchens.
Like to buy Prince Harry and Meghan Markle's Audi for US$93,000?
"We see charging installation as a very important business," Pat Bigatel, director of Amazon Home Services, said at Audi's launch event in San Francisco's Bill Graham Civic Center.
Audi executives said home charging stations would cost about US$1,000, depending on the home's electrical system.
Tesla offers wall connectors for home charging at a US$500 list price, and will arrange for installation, according to the company.
At the same time, Electrify America, a company funded by Volkswagen as part of its settlement of US diesel emission cheating litigation, plans to launch next year the next round of installations of public charging stations, Electrify America executives said.
Tesla has developed its own network of Supercharger charging stations with more than 11,000 chargers in North America. Electrify America plans to have 2,000 chargers installed by mid-June next year. Those will be open to any vehicle, and customers can swipe a credit card to recharge.
"We want to work with all" automotive brands, said Giovanni Palazzo, Electrify America's chief executive.
Lifting the curtain
Audi has been heralding the launch of the e-tron SUV for some time, but until Monday it had not shared many details of the vehicle.
The e-tron is electric, and has two electric motors – one in the front and one in the rear – driving all four wheels. The Hungarian factory building motors for the e-tron will start with a production pace equivalent to 200 vehicles a day, Audi officials said.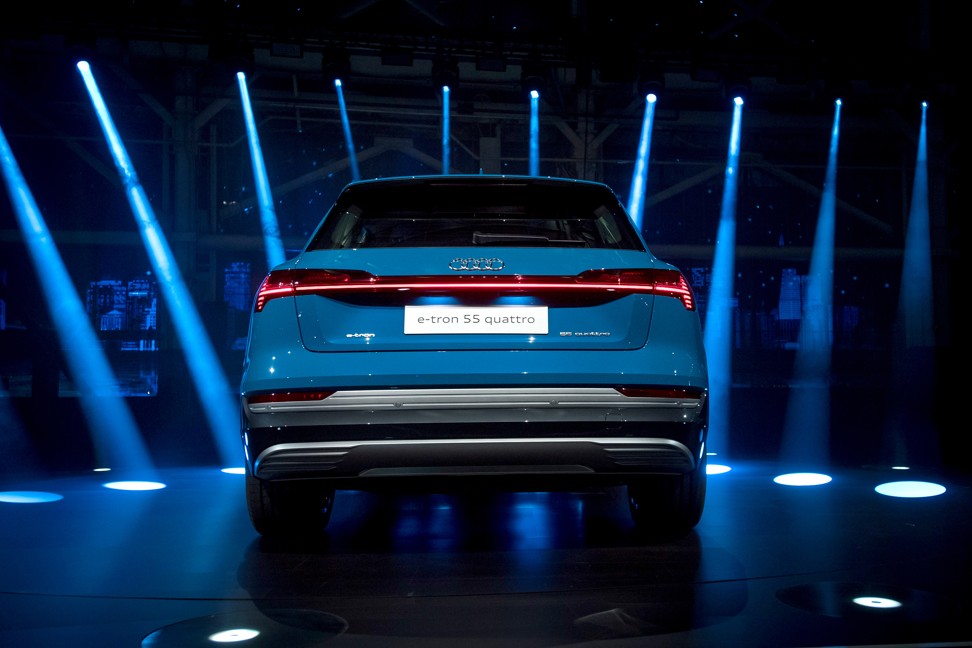 In Europe, the vehicle will use cameras instead of conventional mirrors to give drivers a view to the rear. That feature is still not approved by US regulators.
Saudi prince invests US$250 million in Snapchat's parent company
However, in many other respects the e-tron is a conventional, mainstream luxury SUV. It offers seating for five, and its length and wheelbase position it in the centre of the market for mid-sized, five-passenger luxury SUVs such as the BMW X5. The e-tron is 5 inches (13cm) shorter than the Tesla Model X, and it has conventional doors. The Model X uses vertically opening "falcon wing" doors.
The e-tron will have an advanced cruise-control system that can keep the car within a lane and maintain a set distance behind another vehicle, but the system will be designed so that drivers must keep hands on the wheel.
Want more stories like this? Sign up here. Follow STYLE on Facebook, Instagram and Twitter