WHAT: Japanese whisky room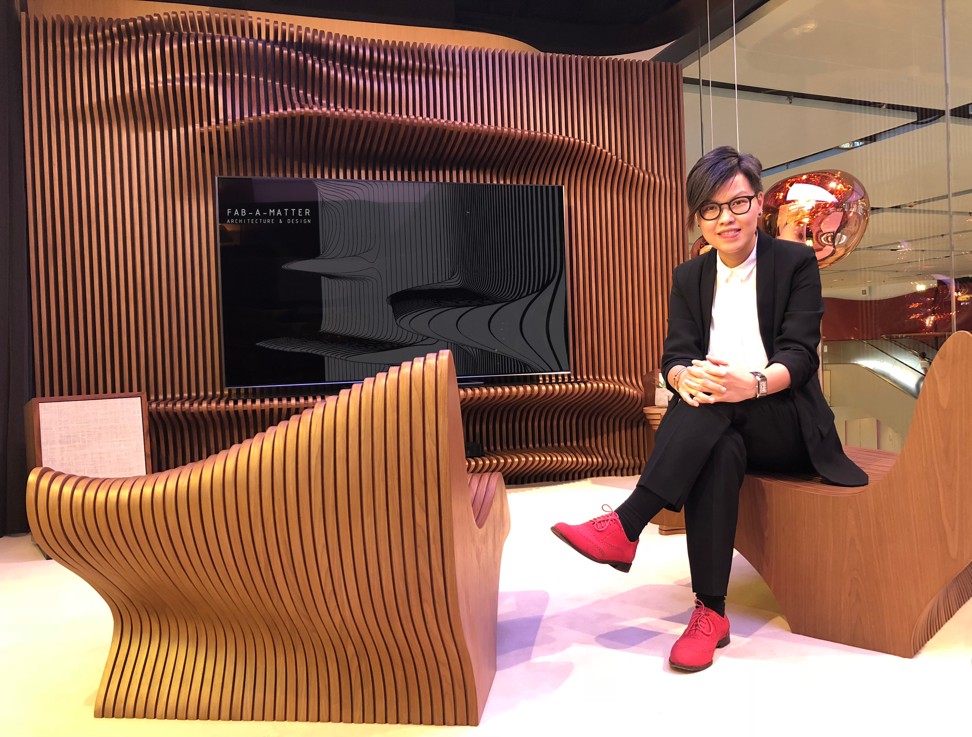 WHO: Architect Florence Kong founded award-winning FAB-A‐MATTER architecture and multidisciplinary design studio in 2015, after working for renowned architects such as Zaha Hadid, KPF and Foster + Partners. She is best known for her modern interpretation of traditional Asian elements and home automation design that seamlessly integrates IoT elements into luxury residence interiors. She is the recipient of the "Women Icons Asia Award 2018", and has been nominated for the prestigious "Royal Institute of British Architects (RIBA) President's Medals Awards". Kong is also devoted to education, lecturing in architecture and interior design at universities in London and Hong Kong.
Would you pay US$1.1 million over the phone for a bottle of whisky?
Interest in Japanese whisky, according to a recent report in Forbes, is still peaking, especially in the craft segment, with new distilleries opening monthly. To many, including award-winning architect Florence Kong, Japanese whisky is more than just an expensive indulgence, it is art.
"For me, Japanese whisky is a form of art, from malting to drinking, even the ice carving itself is an art performance not to be missed," Kong says.
Her respect for this art is one reason that she has designed this Japanese whisky room for the home.
"The Japanese whisky room is designed for a big fan and collector of Japanese whisky, who enjoys sharing the collection with family and friends, and regularly hosts whisky appreciation gatherings," Kong says.
A well-designed room is exactly what is needed for such events to happen, according to this aficionado.
"It's the secret chamber in the house that caters up to 15 guests and provides a different experience than other entertainment rooms."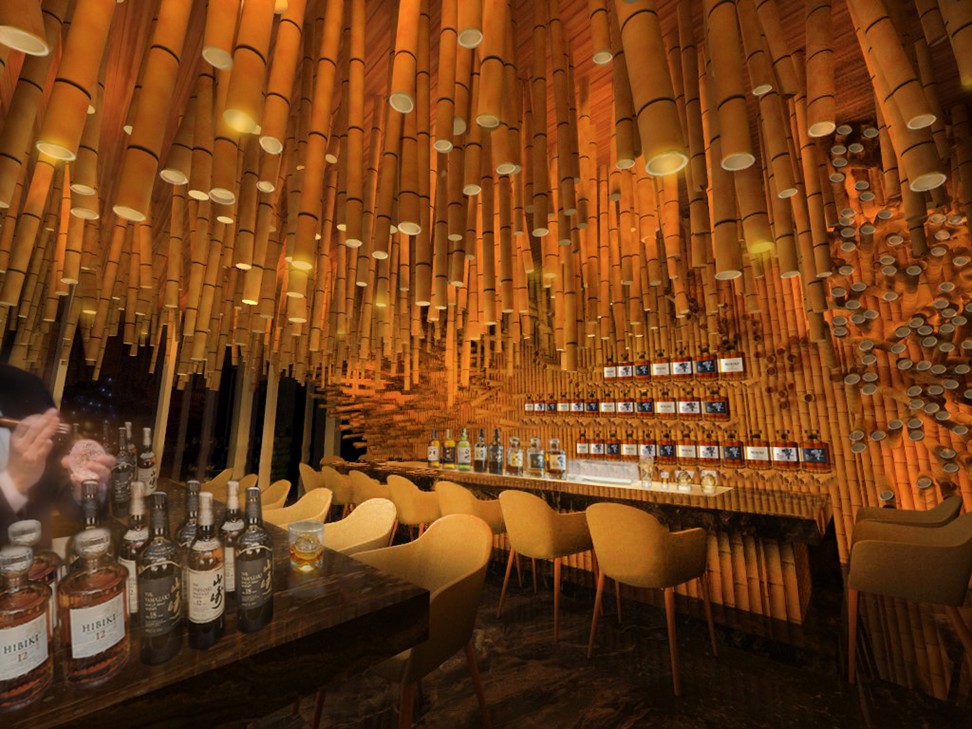 The materials chosen pay homage to Japan. Kong explains, "To design a Japanese whisky room, we must understand the root of where and how Japanese whisky is produced. Japanese whisky distilleries are mostly situated close to natural scenery with mountains, rivers and ponds, and some within forests. Our design was inspired by nature, we want to connect people and nature, both body and soul."
Before entering the room, there is a narrow, elongated hallway with both sides fitted with full height bamboo poles; a gentle stream and natural bamboo sounds fade in from the background, you can almost hear the shishi-odoshi (bamboo water fountain), Kong says. "The entrance also heightens suspense before entering the comparatively vast and open whisky room."
Johnnie Walker's White Walker 'Game of Thrones' whisky is here
The room is also dramatic, again a tribute to Japanese distilleries. Kong says the most impressive spatial experience within a Japanese whisky distillery is the ageing hall, with hundreds of gigantic barrels. Each barrel is laid horizontally and stacked up to four layers.
"The impact looking up to these mountains of barrels is stunning," Kong says. "We wanted to recreate the overwhelming experience of these barrels upon barrels surrounding you when you walk through or within the room. Using much more delicate and refined bamboo poles instead of robust barrels resulted in smaller and articulated circular forms within a home setting."
The bamboo poles are fitted to the wall as well as the ceiling to create this dramatic effect.
Our design was inspired by nature, we want to connect people and nature, both body and soul
The bamboo is a talking point as much as the whisky. "We were thinking of young, fast-growing, sustainable, lighter palette building material that helps to create a less formal design expression. Bamboo is everything we wanted and it is rarely used in whisky bars. The bamboo features fitted organically with various angles and heights, it's like a whisky bar within a bamboo forest."
Smart lighting and recycling also plays an important role. "The design uses recycled bamboo scaffolding, which is then embedded with internet of things LED lighting. I think incorporating the latest technology into a traditional and reused material is innovative."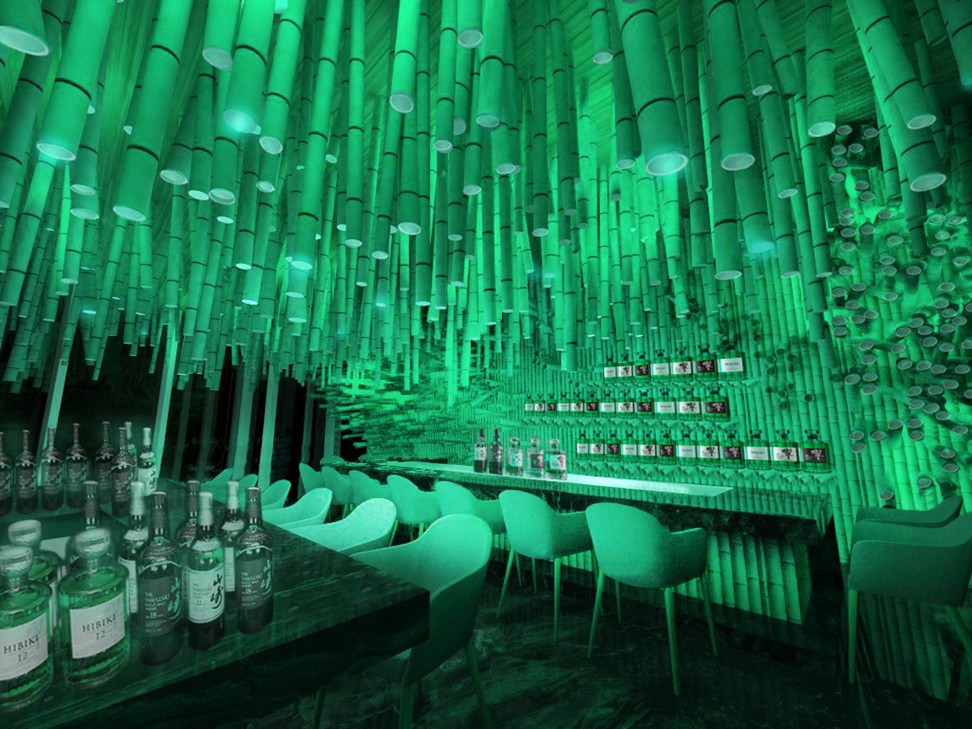 The psychology of colour is also used. "Some say that colour affects your taste buds, and different colours may make you perceive the whisky [or wine] differently. I believe taste is strongly affected by place and mood, including lighting, music, temperature and atmosphere. Many cellars pay attention to their spatial design for tasting areas, which could be a factor in why what you buy in that setting never tastes the same at home," Kong says.
With the use of internet of things technology, Kong is able to create a multisensual experience by incorporating automated LED lighting; embedding and disguising an audio speaker system into the ceiling; fitting smart controls for humidity, temperature, ventilation and drapery for best storage and enjoyment of the whisky.
How sherry-casking sweetens your whisky experience
Apart from providing ample natural lighting (UV shielded glazing facade panels) for tasting during the day and warm-white artificial LED lighting (close to natural daylight) for tasting evenings, Kong uses various colours for experimenting.
"This whisky room connects people, interacts with the users, and triggers different interactions among users."
"The lighting, music/sound, and temperature can be preset for different moments – from a romantic date night, to a small gathering, or a festive themed party. For instance, the red could be for Christmas and Lunar New Year gatherings."
Kong says the room stands out because: it is aesthetically pleasing, sustainable, comfortable, customisable and connecting, all of which she considers priceless. "It is not only a room to enjoy whisky; it is a space that connects nature, humans, leisure enjoyment and technology together."
BREAKDOWN OF COSTS
Construction, Fitting Out, FF&E: HK$5 million
Home Automation Control System: HK$1.5 million
E&M System: HK$1.5 million
Japanese Whisky collection: HK$2 million
Total Cost: HK$10 million
Cost excludes design fee and an ice carving bartender
Want more stories like this? Sign up here. Follow STYLE on Facebook, Instagram and Twitter