Asia's richest family, the Ambanis, is Indian – and just threw one of the most lavish wedding celebrations in recent memory, which included a private Beyoncé concert and celebrity guests including Priyanka Chopra and Nick Jonas, Hillary Clinton, and Arianna Huffington.
The Ambanis are behind the oil-to-telecom conglomerate Reliance Industries. The company's chairman and largest shareholder is Mukesh Ambani, the richest man in Asia, who is worth US$42.7 billion, according to the Bloomberg Billionaires Index.
Mukesh's daughter, 27-year-old Isha Ambani, married Anand Piramal, 33, heir to a real-estate and pharmaceutical business, in December at the Ambani family home in Mumbai, a 27-storey skyscraper that cost an estimated US$1 billion to build.
Beyoncé to sing at wedding of Indian billionaire Mukesh Ambani's daughter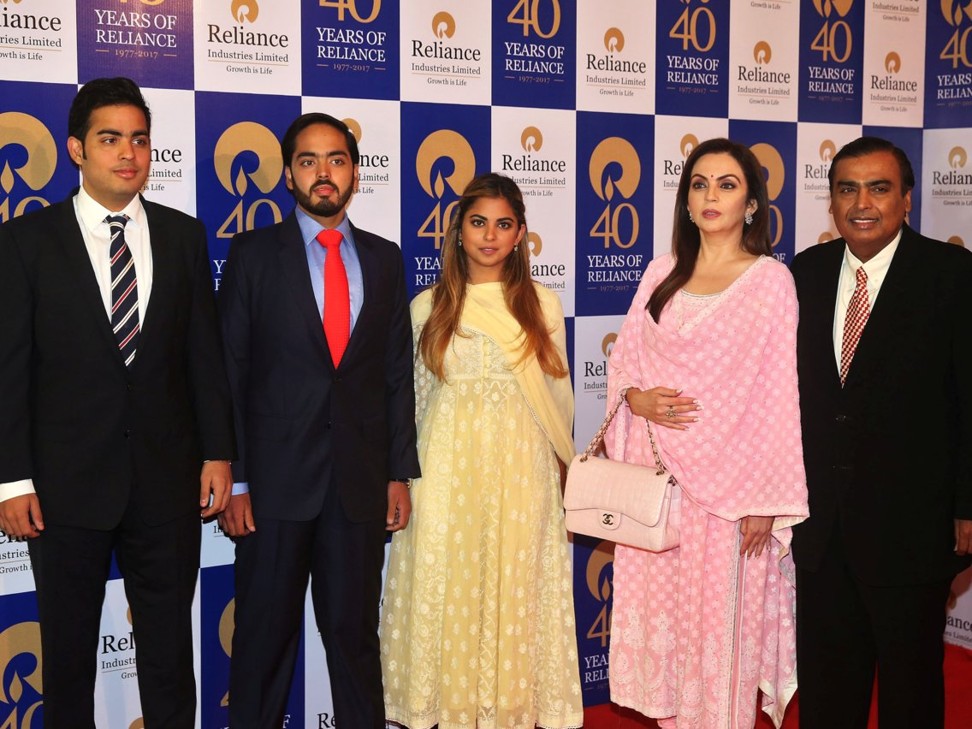 The Indian family's massive wealth began with Dhirubhai Ambani, who founded Reliance Industries to manufacture fabrics and textiles.
Here's a look at the Ambani family's fortune, relationships, high-profile friends and lavish lifestyles.
Reliance is now a Fortune 500 company worth US$100 billion.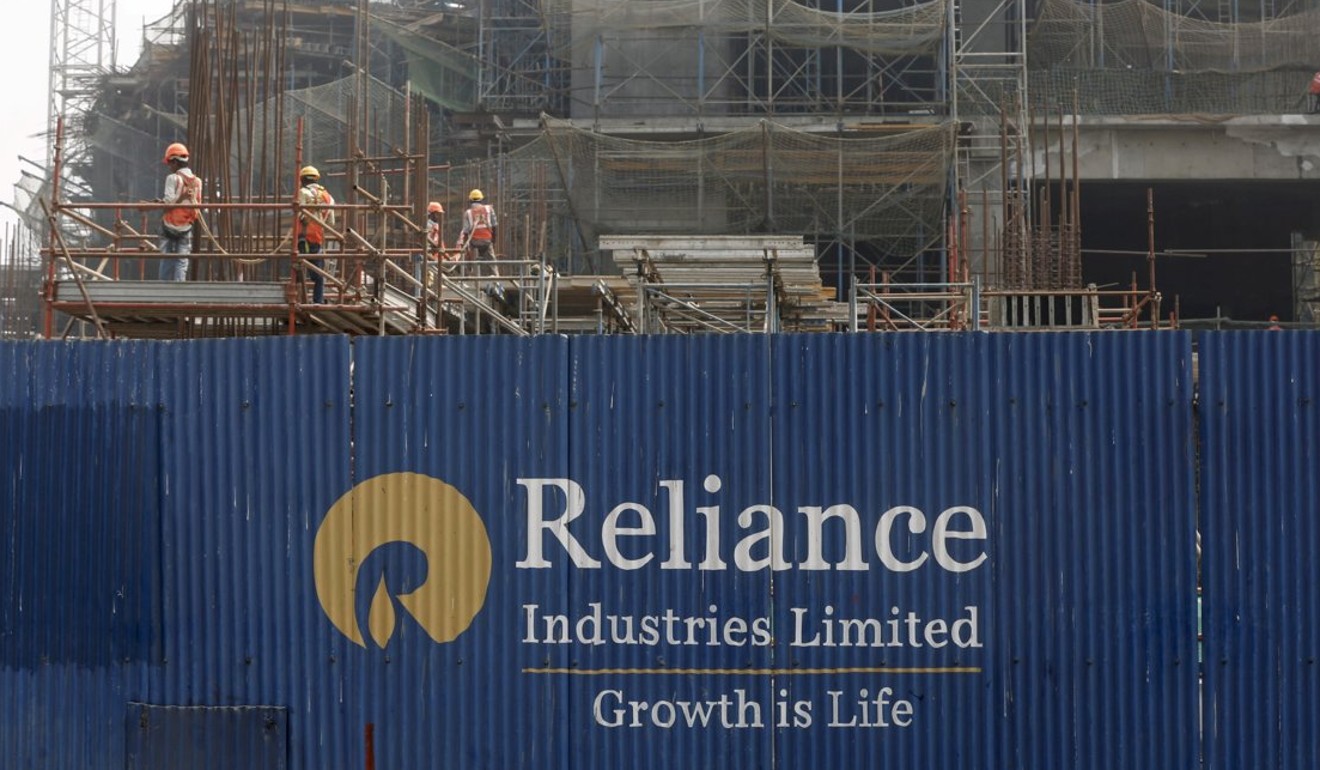 Dhirubhai died in 2002 at age 69 without a will …
… leaving his company to be run by his two sons: Mukesh and his younger brother, Anil.
A bitter succession battle between the brothers followed their father's death and resulted in a competitive relationship.

In 2005, the brothers split the company in a deal negotiated by their mother, and Mukesh was left with control of the oil, gas, petrochemicals and refining operations of the business.
Why one Ambani is making US$40 billion more than his brother
Anil took over construction, telecommunications, asset management, entertainment and power-generation businesses.

Today, 61-year-old Mukesh Ambani is worth an estimated $42.7 billion as the chairman and largest shareholder of Reliance Industries.
After a thriving year for the company during which US$4 billion was added to his fortune, Mukesh surpassed Alibaba Group founder Jack Ma in July to become the richest man in Asia.
Anil Ambani, 59, chairman of Reliance Group, is worth an estimated US$1.5 billion – more than US$40 billion less than his older brother. Bloomberg reported that 2018 saw his businesses suffer from "legal and liquidity challenges".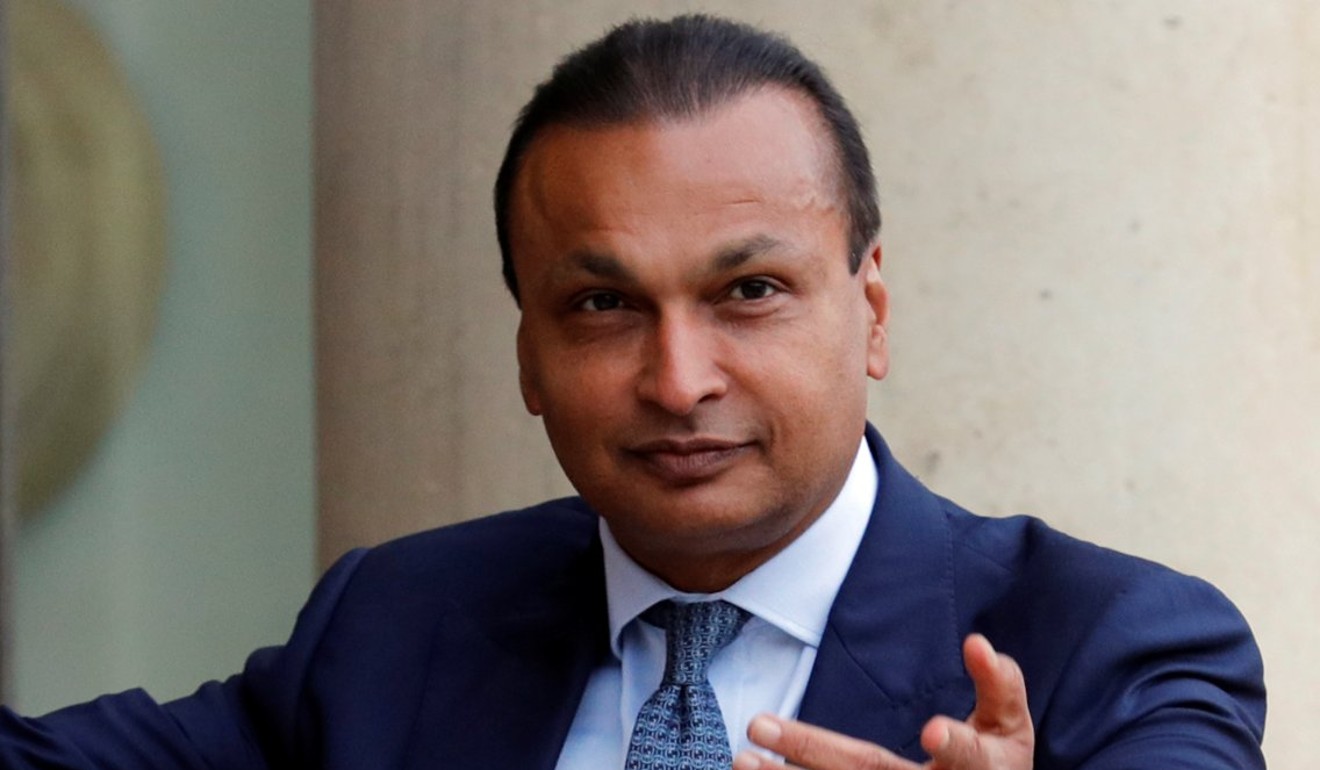 Indian media reported in September that Anil's "cash-strapped" Reliance Communications would quit the telecom business and turn to real estate.
Anil is married to Tina Ambani, a former Bollywood actress. They have two sons. Anmol, 27, works within his father's company and was named a director to the Board of Reliance Capital in 2016.
Indian business magnate Mukesh Ambani topples Jack Ma as Asia's richest person
Anil's younger son, Anshul, will also join the family business as an executive director on the board of Reliance Infrastructure.
Mukesh Ambani is married to Nita Ambani, whom Forbes called "The first lady of Indian business" in 2016.

Nita is the chair of Reliance Foundation, the company's charity organisation. She is also involved with the company's sports ventures as well as marketing and branding strategy for Reliance Jio Infocomm, Reliance's mobile network operator.
Nita and Mukesh have three children. The youngest, 23-year-old Anant, has started taking part in some of his father's company events and meetings.
Rumours have swirled about a possible engagement between Anant and Radhika Merchant, but a Reliance spokesperson said in May that "Anant Ambani is not engaged yet".
Then there are 27-year-old twins Isha and Akash Ambani.

Akash is a board member at Reliance Jio. Both he and his sister studied at Ivy League universities in the US, Akash at Brown University …
Shh! Why the name of this luxury brand loved by the rich is a secret
… and Isha at Yale and Stanford.
Akash is engaged to his high-school sweetheart, Shloka Mehta, the daughter of a well-known diamond merchant.
They're expected to be married in March 2019.
Isha is on the board of directors for India's largest retailer, Reliance Retail, a subsidiary of Reliance Industries, and serves as a co-director for the telecom arm, Jio.
She previously spent a stint working at management consulting firm McKinsey in New York.
Isha married Anand Piramal, 33, heir to a real estate and pharmaceutical business, in December 2018, following several lavish pre-wedding events.
The engagement party took place at the luxury Villa D'Este hotel on Italy's Lake Como, where singer John Legend gave a private performance.
View this post on Instagram

A post shared by Isha Ambani (@ambani.isha) on Sep 23, 2018 at 2:15am PDT
Other pre-wedding festivities were held in the western Indian city of Udaipur.
These celebrations included a private concert by Beyoncé, who reportedly sang Crazy in Love, Naughty Girl, and Perfect at the Oberoi Udaivilas hotel in Udaipur.
The wedding ceremony itself was held at the Ambani family home in Mumbai.
An estimated 600 guests attended the extravagant event, which cost an estimated US$100 million according to some reports. A Reliance spokesman, however, said it cost no more than US$15 million.
Vintage cars ferried guests during the wedding procession. Brothers Akash and Anant rode on horseback.

China's richest are loving the new Porsche washing machine
The celebration included dance performances and sightings of many high-profile guests, including former US secretary of state Hillary Clinton, with her long-time aide, Huma Abedin …
… actor Priyanka Chopra and her husband, Nick Jonas …

… and Bollywood star Shah Rukh Khan.
The wedding venue was the Ambani family home in Mumbai: a 27-storey luxury skyscraper that cost an estimated US$1 billion to build. It's called Antilia after a mythical Atlantic island.
These are 6 of Japan's richest billionaires
The building includes swimming pools, ballrooms, a garden that spans three floors, six floors of parking, three helipads, and can withstand a magnitude-8 earthquake. A staff of 600 attends to the home.
It's estimated to be the world's most expensive property, second to Buckingham Palace.
Isha will reportedly be moving out of the family home following her wedding.
She and her new husband will move into a house in Mumbai called Gulita.
The Ambani family has long mingled with high-profile global figures, including Prince Charles and Camilla, the Duchess of Cornwall …
… former British Prime Minister David Cameron, Indian Prime Minister Narendra Modi …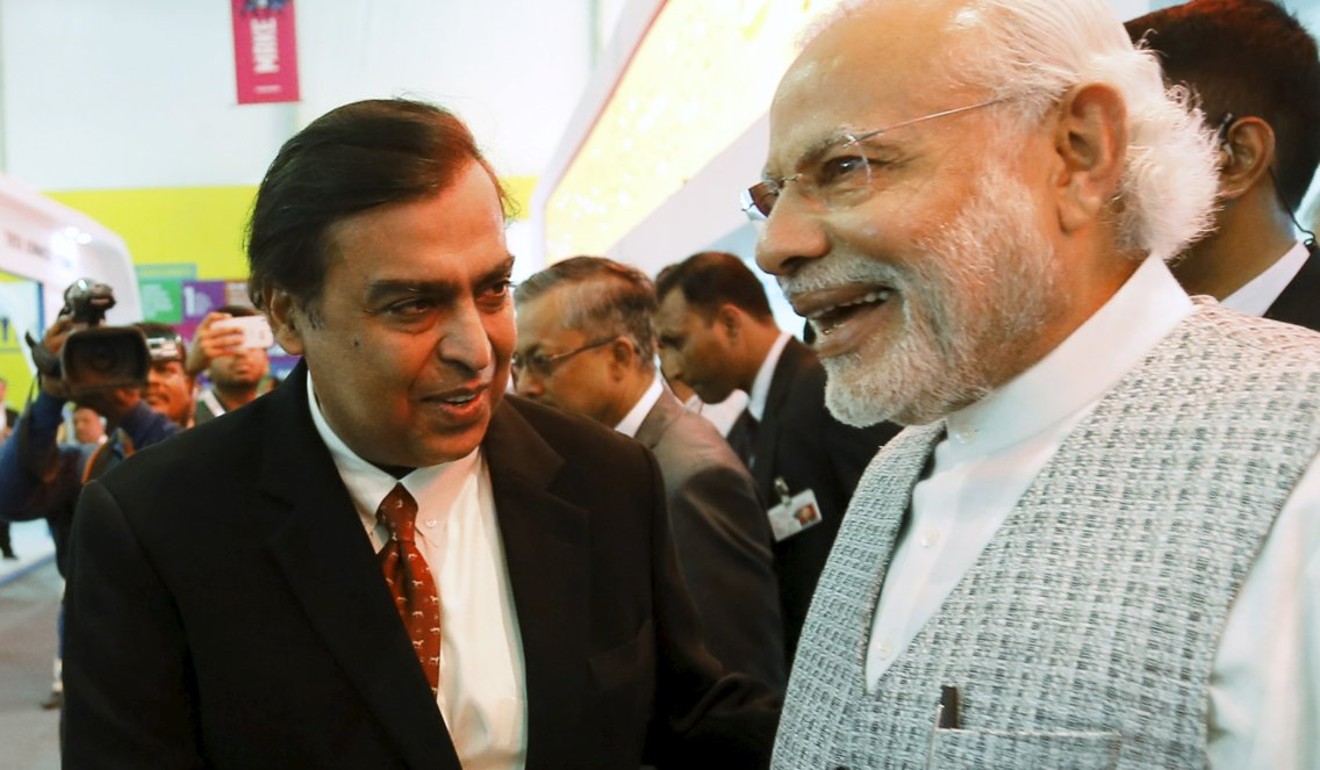 … former US president Barack Obama …
Who are the 10 richest billionaires in US finance?
… and former Secretary of State, Hillary Clinton. The Clintons and the Ambanis have reportedly known each other for nearly 20 years.
The wealth of the Ambani family seems poised to continue growing.
Ambani's telecoms company, Jio, has shaken up the industry in India, growing to 200 million subscribers in just two years.
"Jio is the biggest driver behind the surge in Reliance shares," Deven Choksey, managing director at K.R. Choksey Shares and Securities, told Bloomberg.
With all three of his children involved in the family business in some capacity, Mukesh Ambani's succession plan for the company is "unclear", according to Bloomberg. Only time will tell who will take over the US$100 billion company.
Want more stories like this? Sign up here. Follow STYLE on Facebook, Instagram and Twitter

This article originally appeared on Business Insider