Inside Singapore's Changi Airport: Jewel, a rainforest with a 40-metre indoor waterfall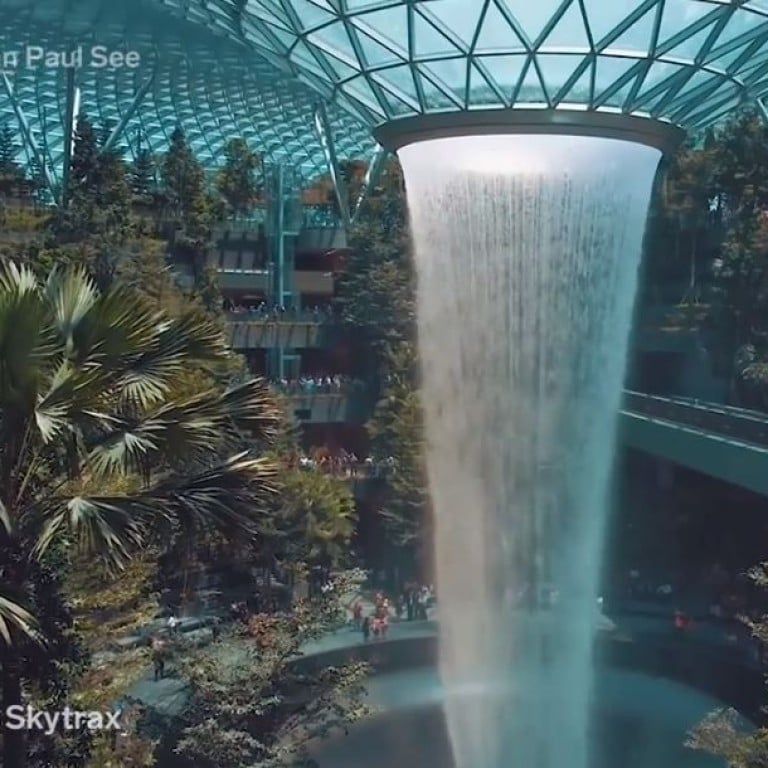 Singapore's Changi Airport has already snagged the title of world's best airport for seven years running, and its newest expansion is only tightening its grip on the title.
In April 2019, Changi opened Jewel, a lifestyle hub for the airport. The massive doughnut-shaped building sits between the control tower and Terminal 1. It took more than four years and US$1.25 billion to build the glass-and-steel dome that makes up Jewel. Part luxury mall and part indoor rainforest, here's a look inside the complex making layovers more fun.
Built on what was once a car park, Jewel now covers 1.46 million sq ft. It stands 10 stories tall with five stories below ground and five above.
"It's huge!"
Two hundred eighty shops and restaurants circle the perimeter of the glass dome. There's a multiscreen Imax theatre, a full-sized supermarket, and a hotel. In the middle of it all is the Rain Vortex. A cascading funnel of water drops seven stories through the core of the building. At 40 metres high, it's the tallest indoor waterfall in the world. All the water is harvested from rain and recirculated through the waterfall 24-7. At night, it keeps running and acts as a canvas for a 360-degree light show projected on it.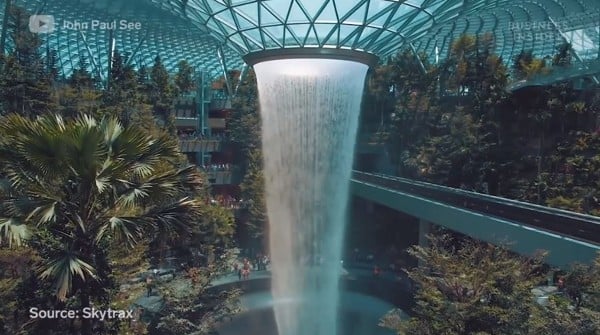 Surrounding the Rain Vortex is a four-story indoor forest. Singapore is known as a City in a Garden, and the airport wanted to capture that theme at Jewel with the Shiseido Forest Valley. More than 900 trees and 60,000 shrubs from around the world make up the tiered gardens, and, of course, there are walking trails. They're open 24-7, and they run through the gardens past waterfalls. The airport suggests allowing a half-hour for each trail, but maybe allow more time based on these crowds.
Don't feel like walking? The skytrain weaves through the forest as well. And just because it's still an airport, there are early check-in kiosks and counters. But you don't actually need an aeroplane ticket or to go through airport security to visit Jewel. Changi designed it this way to encourage Singapore residents to wander the forest trails as well. The airport expects to see 50 to 60 million visitors to Jewel this year.
But Jewel's construction isn't finished. On the building's fifth level, Canopy Park is set to open in June 2019. The recreational area will have a 50 metre-foot-long glass-bottom bridge that will hang 22 metres off the ground. Sky nets for bouncing and walking will be as high as eight metres above Canopy Park. A hedge maze, mirror maze, a topiary walk, and slides will top it all off.
But with 65.6 million travellers passing through Changi each year and seven best in the world crowns, Jewel is, well, just that: the jewel on top of an already stacked airport. So if you've got an aeroplane ticket, you can get access to the four award-winning terminals past security. There's a rooftop pool. For US$13 you can watch aeroplanes take off around you as you swim. There's also a 24-7 free cinema, mind-bending art, and lots of gardens, like the butterfly, sunflower, cactus, and orchid gardens. With all this, we're thinking we might opt for a longer layover.
Want more stories like this? Sign up here. Follow STYLE on Facebook, Instagram and Twitter
This article originally appeared on Business Insider.

Part luxury mall and part indoor rainforest, the world's best airport's new glass and steel dome, Jewel, is making Singapore layovers more fun