We review the new Sony Extra Bass SRS-XB22 speaker – cowbell and all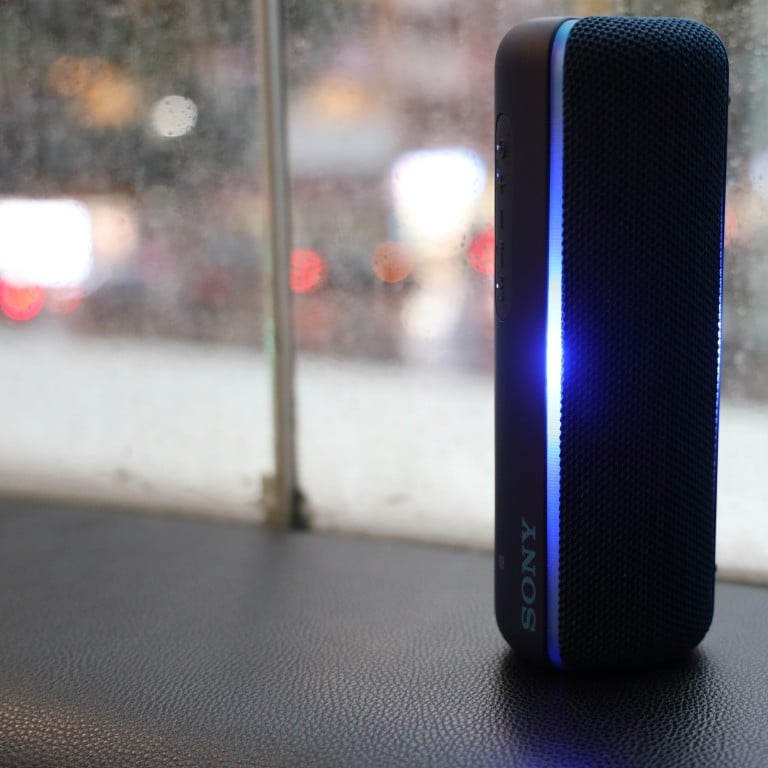 Overall: 8
Turn-ons:
- powerful sound quality and bass for the price and size;
- shockproof, dustproof and waterproof;
- you can chain up to 100 speakers together at the press of a few buttons;
- nearly 12 hours of battery life;
- ergonomically fits in your hand, or you can stand it up vertically or horizontally;
- LED lights that flash along with the beat of the music;
- priced below other competing brands like the Beats Pill;
- you can add a live cowbell to any song!
Turn-offs:
- no easy toggling between different paired smart devices;
- no simple connectivity in the way that, for example, Apple devices can pair with each other quickly and conveniently.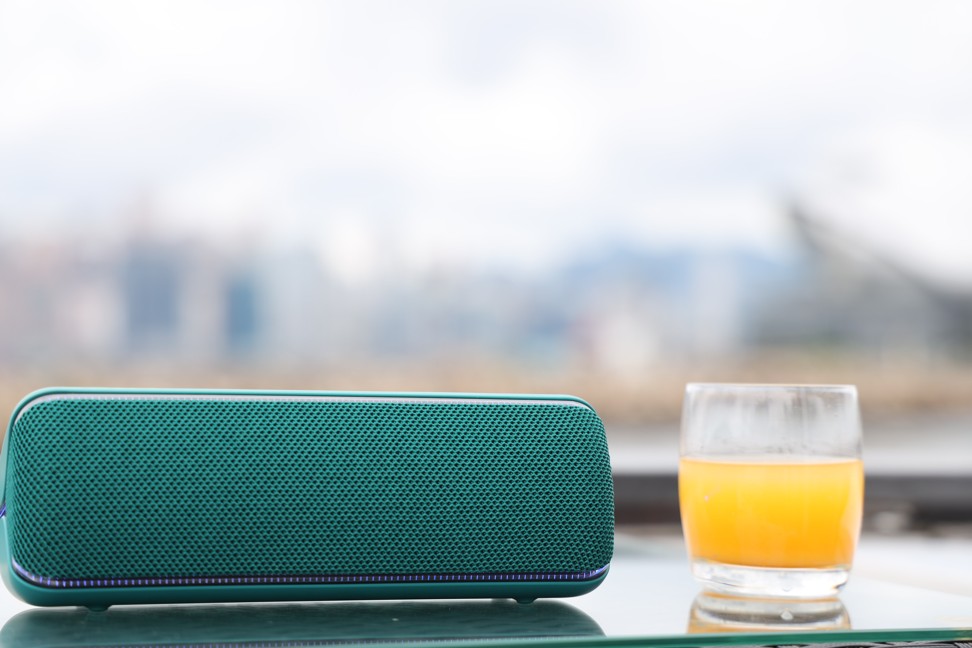 Have you ever walked into a conference room and wanted to play a video with good sound to spruce up a presentation or keynote? Though not its intended use, that was the first thing I thought of when I tested the Sony because I do it all the time with screen movies if I am trying to get feedback from investors, colleagues or friends. Speakers like the Bose Soundlink Mini (which I own) are great, but they are not the type of speakers I would just throw into my backpack. Sony has built a durable Bluetooth speaker with some "bells and whistles" that are powerful for its size and reasonable price.
How good is the sound?
Given that this speaker is designed to let you take it with you to liven up a party, it sounds great. It is certainly not the clearest or crispest sounding speaker. I wanted to see how powerful the speaker is, as it is meant for boat trips and outdoor parties where the sound can dissipate quickly. Playing it outside wouldn't help me gauge its effectiveness, so I tested it at maximum volume at VO2 Fitness gym in Causeway Bay, Hong Kong. In my YouTube video, the speaker was able to drown out all of the existing noises, like music and martial arts classes.
In addition, with Sony's live feature, the SRS series is able to project a greater surround angle of about 270 degrees versus directional speakers which might cover 150 to 170 degrees. I wouldn't say it's perfect 360 sound, but it helps so you don't have turn the speaker towards you when you are moving around.
As new forms of outdoor media and arts are popping up, I thought that it was a special feature that you can pair up to 100 of them together. Events and installations with your hottest DJ's might be thinking of creative ways to string them together. Or let's say you wanted to make a big announcement in a hall, stadium, park, beach … or out on the street? Why the 100 limit Sony?
Get all lit up?
You can change the colour LED lights via the app. I think this is pretty cool, and would love to see if somebody hacks them all together to do light installations and demonstrations. At the very least, you'll stick this somewhere, and turn Siri into Kit from Knight Rider.
Does your music need a little more cowbell?
I chuckled when I first saw the capability that this speaker also functions as your own personal drum kit, cowbell and all. I'm not sure whether this will catch on, but I commend Sony for innovating and taking risks with their products and thinking about the end user. In my gym class at VO2 Fitness, I thought that my instructor Nick would like this for the Capoeira class. Sure enough, in seeing me film the review, he came over and asked about it.
How's the battery life? The speaker boasts up to 12 hours of battery life, so you could certainly take it out for a day (or really half a day or a night). I'm too lazy to do the arithmetic, but I'm curious as to how long the batteries would last on maximum volume.
Feel free to take your abacus out as there must be some watts times volts formula, but really, the WH1000Xm3 headphones can get up to 30 hours of battery life, so why can't this with its hard candy shell?
How durable is it?
I didn't run it over with a car, but you can supposedly bang on this pretty hard and then throw it in the ocean with its dustproof, shockproof, waterproof IP67 abilities. Just make sure you attach a physical tether (not a Wi-fi one) to it if you are going to launch it into the sea.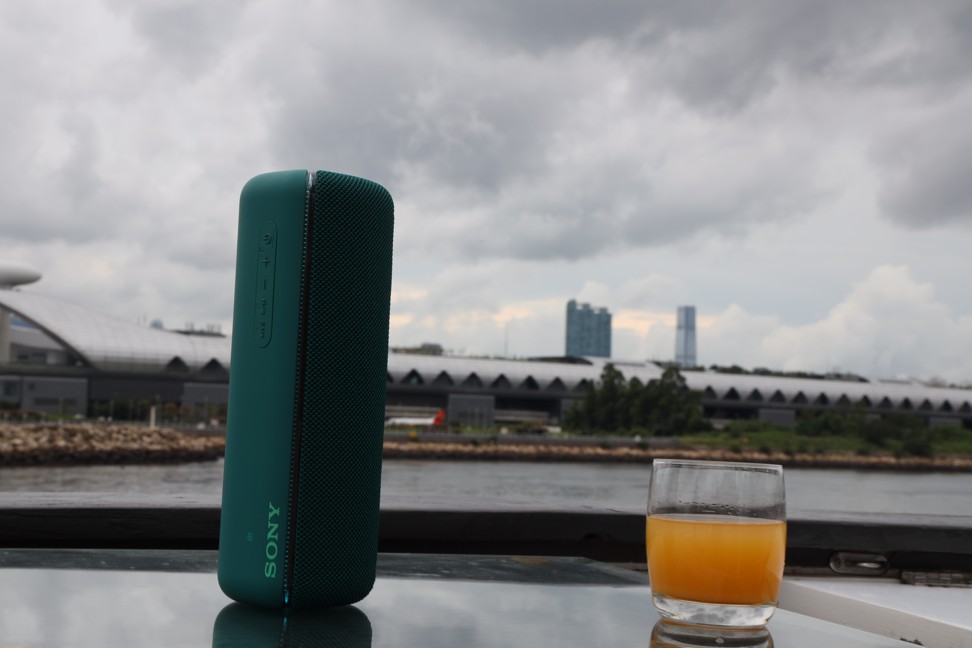 And the connectivity?
I think this is where the Sony speaker is lacking. With, let's say, Beats headphones, you press and hold a button and you are connecting super fast with an on-screen display to different Apple devices. Similarly with Bose Soundlink Mini, you can toggle through different devices with an analogue button (if you've already paired it) which I find super convenient. But, given that the current price is almost half that of its competitors and it has plenty of features, it's a lot to pay for that added connectivity.
What about panache?
I like the ergonomics of the Sony as I found myself comfortably tossing it around and back and forth – something you can't do with all speakers safely. It sits well vertically or horizontally. Finally the colours go from a sleek black to a fun navy blue.
Should it be on my wish list?
Given the affordability and value you get from this speaker I think it would make a great gift. If you enjoy picnicking or going to the beach, this speaker would come in handy to liven up the atmosphere – or at least to add some cowbell!
Want more stories like this? Sign up here. Follow STYLE on Facebook, Instagram and Twitter

The speaker boasts up to 12 hours of battery life, so you could certainly take it out for a day