How sustainability and environmental concerns will dominate bedroom design in the 2020s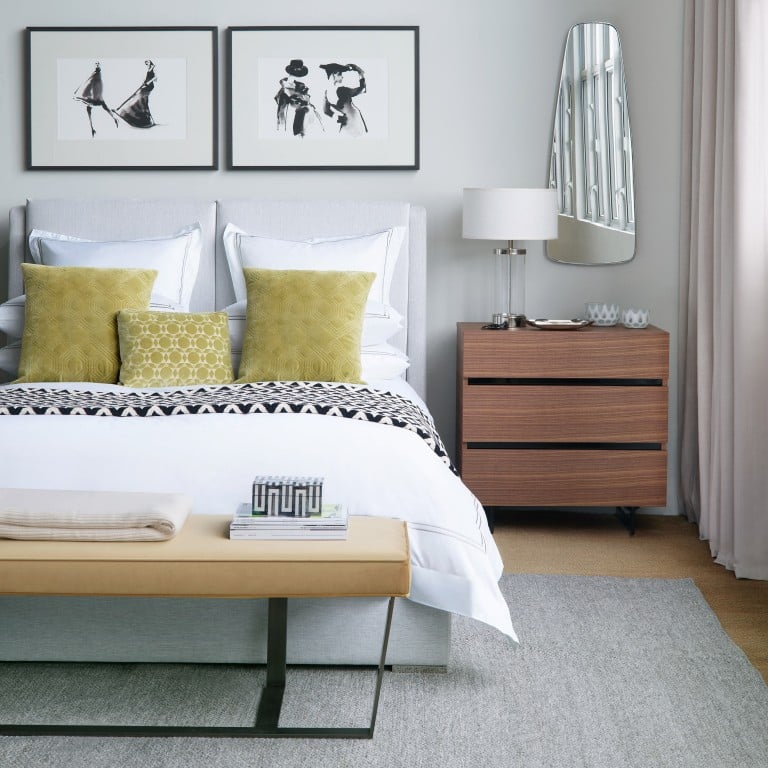 Comfort, simplicity, multifunctional furniture and eco-consciousness will be the cornerstones of bedroom design in 2020. John McLennan, founder of Indigo Living, says we'll see more padded headboards such as the brand's Whitney, and storage beds like the elegant Carlton, and expects soft greys and warm off-whites to be the dominant colours next year.
"Texture and layering will also be important, so seek out tactile, big weave throws and pile these with different-sized pillows in a relaxed, non-perfect way," he says.
Clifton Leung, of Clifton Leung Design Workshop, believes bolder, geometric-shaped headboards such as the Moon model from Savoir Beds are also now catching on.
Lately, Leung has also had clients asking for full-length mirrors, tatami flooring and elevated beds and cabinetry. "When you elevate furniture, interiors appear lighter, and you free up more floor space so the bedroom feels bigger," says the interior designer.
Dan Lee, interior designer, and co-founder and director of the OVO Group, foresees an increase in sustainable and natural materials for bedroom furniture and bedding, as well as minimalistic, modular designs such as OVO's Couleur dressing table and modular storage systems. "Evolving behavioural trends for homes around the world have spurred a demand for increasingly flexible, dynamic living spaces. With the growing need to limit waste, modular furniture is becoming more popular in modern bedrooms," he says.
With natural materials at the fore of 2020 trends, Kate Babington, managing director of Tree, says that multifunctional bed frames crafted from solid, sustainable wood will be more popular as they help conserve space, while adding a warm, grounding element. These include Tree's Circa 17, which has a pull-out bedside table, and its Nordic II bed, which has built-in storage.
Besides the environment, health is another concern for homeowners looking to create a sanctuary of rest. To encourage healthier sleep, Okooko offers 100 per cent natural organic latex mattresses that are mould, mildew and dust mite-resistant, as well as Bamboo Lyocell bedlinen that is antimicrobial, hypoallergenic, breathable and temperature regulating.
"Bamboo grows extremely fast and also has a very good fibre yield, so you can get up to 10 times more fibre from an acre of bamboo than cotton. And it takes only a tenth of the water to grow it. Not only are these sheets good for the planet, they are extremely soft and comfortable, with a smooth, feathery texture that's similar to silk," says Todd Uranga, of Okooko by European Bedding.
To liven up a simple and elegant bedroom, Ed Ng, co-founder of design studio AB Concept, suggests a lighting scheme that can be changed at different times of the day, or altered to create different moods. He also sees more homeowners using eclectic, handmade textiles. "People are beginning to really appreciate handcrafted fabrics. One of my clients used more than 10 different artisan fabrics in her bedroom, and the result was amazing," says Ng.
McLennan says that bedding is best kept fuss-free with subtle or neutral shades, colourful cushions, patterned throws, accessories, artwork and scented candles incorporated into the look to spice things up.
One way to introduce pops of colour is with eye-catching wallpaper – such as those by Zimmer + Rohde or Nobilis, available at Cetec – which can be used to create feature walls behind single-coloured headboards. Another way to add character to the bedroom is to include unexpected pieces like a bright yellow Decor8 Mellon Outdoor Lounge Chair, available through Stockroom, which can be used inside or on a balcony.
Want more stories like this? Sign up here. Follow STYLE on Facebook, Instagram, YouTube and Twitter .

Using elevated furniture makes interiors lighter and frees up more floor space to make the room seem bigger