Piaget continues the revelry, which started with last year's Sunny Side of Life collection, by celebrating the 60th anniversary of the Altiplano, its ultrathin watch that redefined the boundaries of movement and design in haute watchmaking.
This refocus of attention switches the spotlight back onto Piaget's most important collections, and continues its upbeat disposition towards business. The debut of the manual-winding 9P timepiece in 1957 revealed a movement just 2mm thin, a first that Piaget followed three years later with another, launching the 2.3mm 12P automatic movement.
These innovations spawned a flurry of activity in Swiss workshops that reaped the benefits ultrathin movements could offer in terms of design. While a handful of respected watchmakers have since excelled in thin movements, Piaget remains the master of svelte elegance.
Refinement comes with age and the anniversary collection is as stylish as its predecessors. It rekindles Piaget's passion for drama with coloured stone dials, and artistic interpretations that give a new vibrancy to a sexagenarian.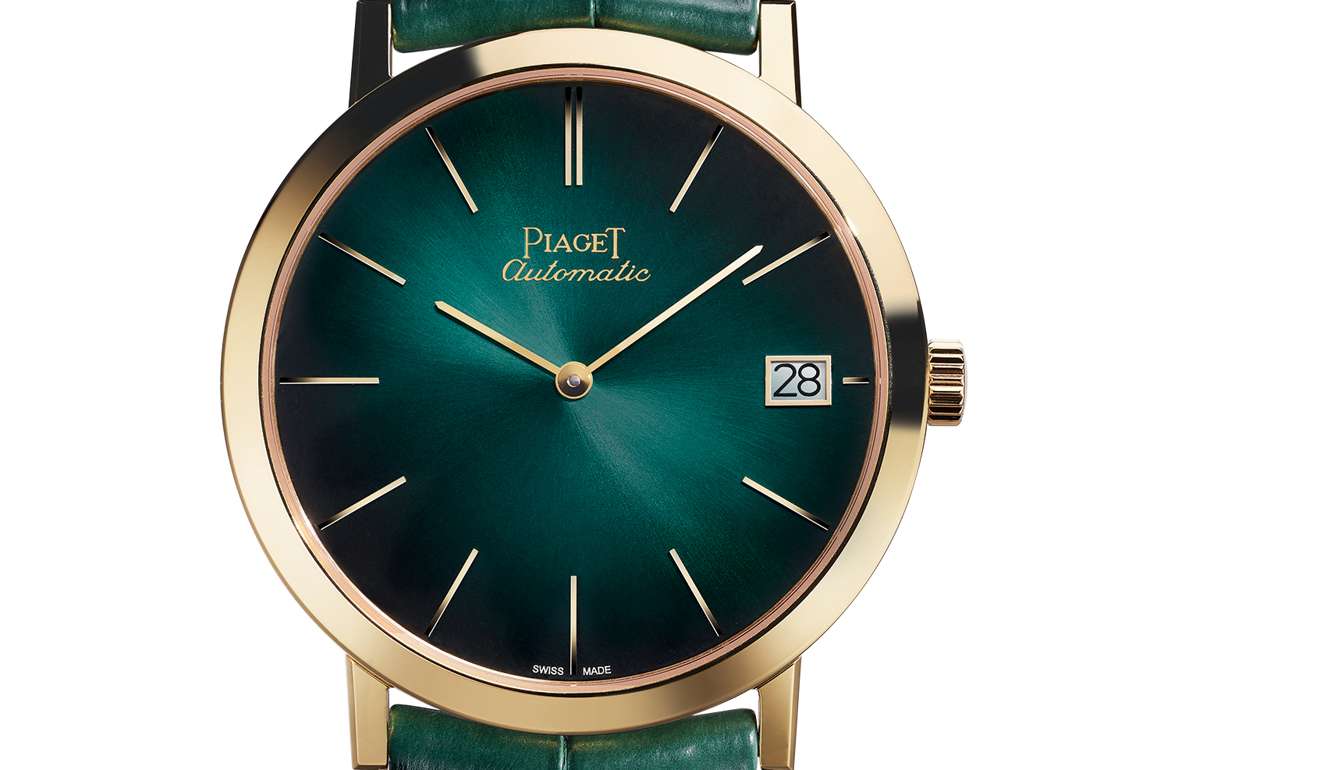 "We develop great products for great people and when people buy watches and jewellery they are in a good mood, so we need to be very positive; and colour historically is very important to Piaget," says CEO Philippe Léopold-Metzger.
"We want to look at the future in a very positive way and this is something which is important. We recognise that our business is to provide pleasure."
At the upper end of the pleasure spectrum are timepieces that befit a diamond anniversary and combine some of the rarest crafts in watchmaking: feather marquetry and gold lacework.
Piaget's relationship with feather artist Émilie Moutard-Martin began two years ago with its Secrets and Lights collection, and continues with the Altiplano Feather Marquetry. A mixture of duck, peacock and rooster feathers, brushed and cut to shape span majestically from a dial composed of the same, but much smaller feathers, creating the illusion of a peacock in haute couture.
We want to look at the future in a very positive way ... We recognise that our business is to provide pleasure
Meanwhile, the Altiplano Double Jeu Gold Lacework triumphs in a series of superthin threads of sculptured lacework achieved by a process of tracing, drilling and cutting gold. Piaget teamed up with Sara Bran,the only artist specialising in lace making on gold, to create the timepiece.
While those pieces stand out artistically, the main Altiplano anniversary additions see a return to coloured dials. Piaget began experimenting with coloured stone dials in the 1960s, a technically difficult process made possible by the extra space left by slimmer movements. Those dials in materials such as jade, lapis lazuli and onyx were an instant hit, and the new 34mm models honour those with turquoise and opal stones.
Others play with graduations of colour using a sunray technique; a 34mm white gold version with a vivid pink dial, and three 40mm versions where blues and pine greens flirt with pink and yellow gold cases respectively, in addition to a more sombre slate grey and white gold variation.
"The idea was to make the dials look very colourful … so there is life. Some people prefer classic dials, but this is the name of the game for us and we are very focused on the collection," Léopold-Metzger says.
The 40mm models are equipped with the 1203P self-winding movement with a date function, a progression of the 1205P from 2013 and heir to the original 12P.
A significant anniversary deserves a new milestone, and Piaget debuts a tourbillon movement in the Altiplano collection.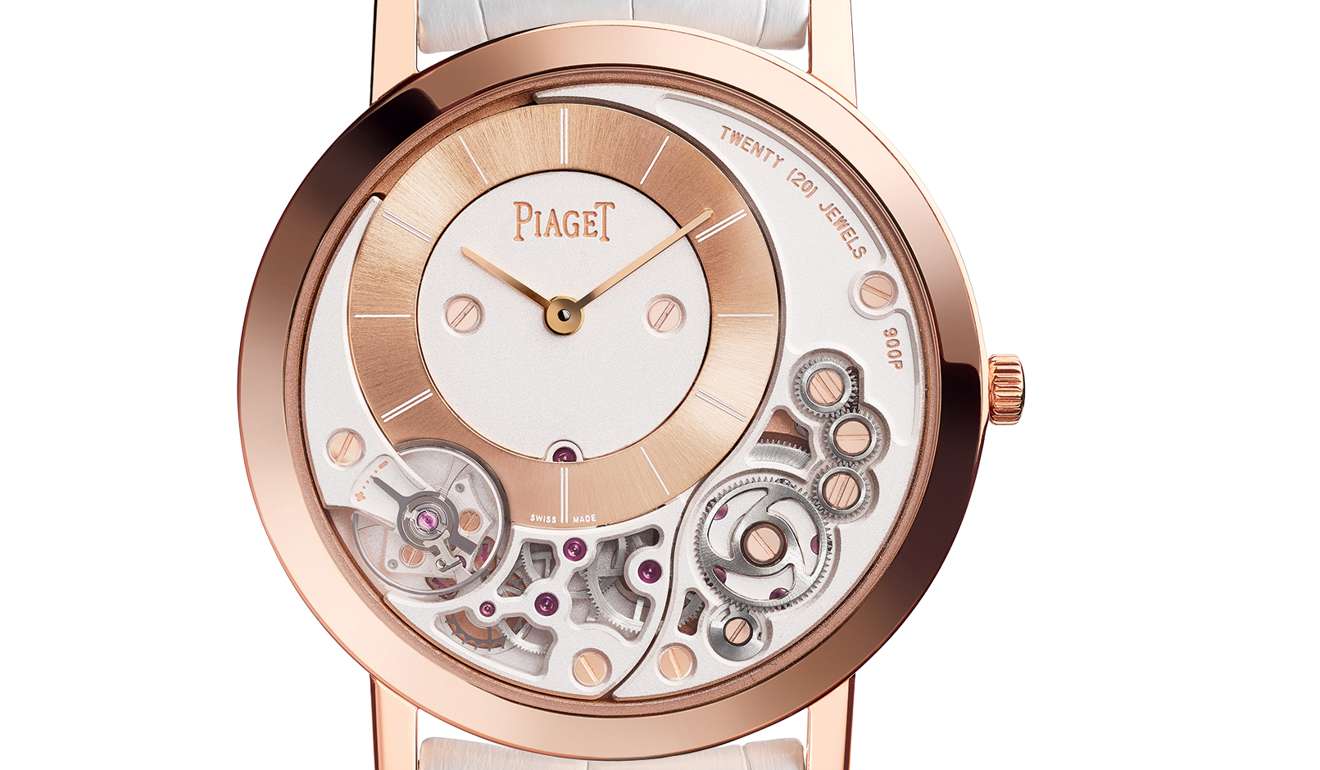 The Altiplano Tourbillon High Jewellery contains the 670P manual winding movement measuring a mere 4.6mm, an impressive achievement for such a complicated movement. The high finish of the timepiece extends to a flinque enamel dial with a guilloche pattern achieved by a complex process of layering enamel onto gold and firing it to the nearest second to achieve a transparent shine.
There are also manual and self-winding models – 38mm and 43mm respectively, in Piaget's traditional cobalt and midnight blue that draw comparisons to its earliest Altiplano models. The 43mm version is equipped with the 2.35mm calibre 1200P, developed for the 50th anniversary of the 12P.
Piaget's Polo and Limelight Gala collections are part of a bid to give more prominence to its iconic collections, especially women's timepieces. The Limelight Gala is Piaget's best-selling line, while 40 per cent of the Antiplano's sales are to women. The watchmaker is bringing smaller sizes into its main collections, leading to more aggressive pricing and access to a younger client base, 95 per cent of whom are new, Léopold-Metzger says. "People know our brand and respect it, but now they find they can afford it. It makes our brand more exciting."