Massimo Bottura – made famous by Chef's Table – blends art and food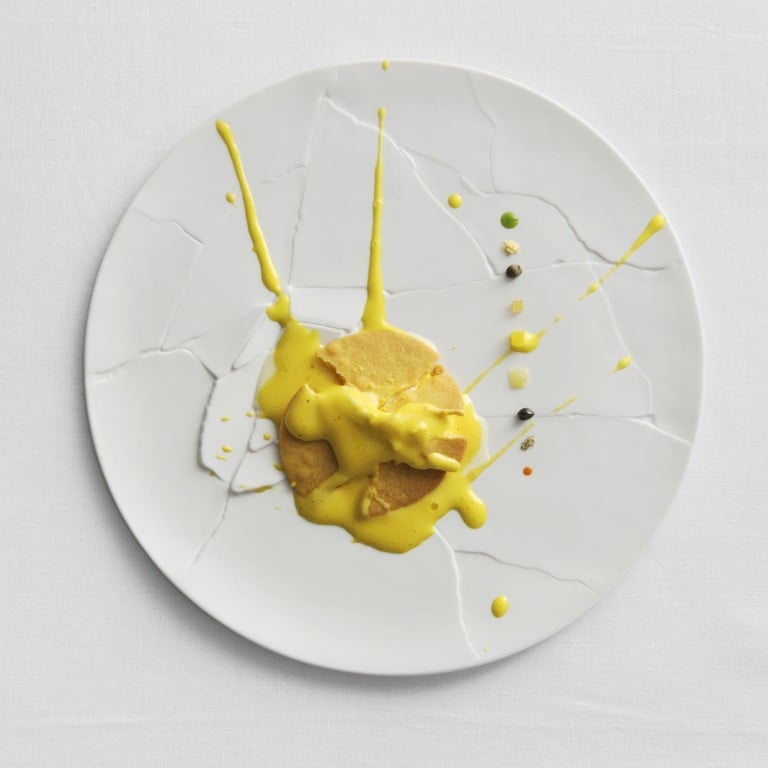 Massimo Bottura has just served a dish titled "Beautiful Psychedelic Veal, Not Flame-Grilled", inspired by the Damien Hirst psychedelic spin painting.
The ash encrusted "veal" - actually beef marinated in milk - is plated with vibrant blotches of colourful sauces, including arugula, beetroot, orange and red wine-reduced veal jus. Food or art, you ask?
Welcome to Osteria Francescana in the medieval town of Modena, Italy, the newly crowned No 1 restaurant on the World's 50 Best Restaurants 2016 list where time-honoured Italian recipes are given an avant-garde facelift and artful courses from the tasting menus are named à la contemporary art placards - think "Memories of a Mortadella Sandwich" or "An Eel Swims Up the Po River".
"After 21 years of struggle, we are finally able to show the world that the Italian kitchen can evolve and become even more than what people expect," says Bottura, teeming with national pride. "Recognition came slowly but it's a blessing in disguise because it gave us time to grow," adds Bottura, whose restaurant has held on to three Michelin stars since 2011. "All the hard work, the sacrifices, the hours I didn't spend with my family and friends, but in a hot kitchen, they were worth it."
While hard work may be the key to his success, the chef concedes to the role of art in "opening my eyes to a remarkable new world". An avid music and art lover, Bottura's restaurant in the cobblestone-paved Modena is home to works by world class contemporary artists such as Joseph Beuys, Maurizio Cattelan, Gavin Turk, Michelangelo Pistoletto and Ceal Floyer.
"When you are in the kitchen chopping onions and peeling potatoes, it is easy to lose yourself in the everyday obligation," says the lauded Italian chef, who sports a greying short-boxed beard. "Art reminds you to keep a small window open for everyday poetry and when that happens, the most mundane object turns to gold.
"A lemon tart drops and you realise that that is the next recipe," says Bottura, who presented his "Oops I Dropped the Lemon Tart" dessert during his sold-out dinner at the Jockey Club in 2015. "You are listening to a Thelonious Monk album, you catch a flash in the dark and you create a black on black dish that expresses the darkness in your soul," the bespectacled chef elaborates.
At Osteria Francescana, he is serving a dish called "Almost Better than Beluga", where pearls of black lentil arrive in a caviar tin layered over dill-flavoured sour cream. "This dish references the René Magritte picture of a pipe titled . It's about bringing value back to pulses and re-thinking what fine dining really means," Bottura explains. "When we start switching beans for caviar, we are also playing with Arte Povera, the Italian 1960s art movement that used humble materials to explore the intrinsic value of objects."
It's no wonder that this artistically prolific chef was once described as "a poet in the kitchen and an artist on the plate".
The fourth son in a family of five children (four sons and a daughter) to the late Alfio Bottura, who hailed from a landowning family outside Mantova, and the late Maria Luisa Bernardoni, the only daughter of Ancella Bernardoni who ran the family wood, coal and eventually oil business, Bottura grew up in the kitchen surrounded by his mother, nonna (grandma) and family maid. Constantly teased and chased by his older brothers, the junior Bottura would take refuge underneath the kitchen table, feasting with wide-eyed wonder the bits and pieces of tortellini dough that dropped to the floor when his nonna was busy cutting and wrapping pasta.
Growing up with food playing a central role in the family, the young Bottura would join his older brothers for gourmet travels throughout France and Italy, "dining and drinking" and "falling in love with the world of fine-dining". Although he never trained professionally as a chef, he was always assigned as the de facto cook, whipping up midnight spaghetti for friends and keeping everyone well fed during vacations.
At 24, shortly after a fall-out with his brother Andrea, who had taken over the family's heating oil business, Bottura got wind of a bijou roadside trattoria on the fringe of Modena that was up for sale. Dispirited with his lack of passion for law studies - "I studied law to please my father" - the-then undergraduate got a loan from his father - "I paid back every cent within the first year" - and opened Trattoria del Campazzo, officially becoming a law school dropout in 1986.
With his mother, aunt and then-girlfriend's mother helping him in the kitchen, Bottura slowly learned the ropes of the trade, that was, until he met his food mentor Lida Critoni, who first walked into Campazzo 30 years ago - "once a month, Critoni still teaches the restaurant staggers how to craft handmade egg pasta in the Emilian tradition". Bottura would apprentice two days a week with a French chef, Georges Coigny, whose restaurant Locanda Cantoniera was located two hours away in the Apennine Mountains. Over time, the budding chef built a foundation in French culinary techniques while enriching himself in the ways of traditional Modena cuisine.
"The first turning point in my career was meeting Alain Ducasse in the autum of 1993," Bottura says. The feted French chef had visited Campazzo for lunch with a balsamic vinegar producer and Bottura had prepared a full-course Emillian meal for them with local ingredients - think three temperatures and textures of Parmigiano Reggiano. Ducasse praised the-then young chef's contemporary yet authentic style and invited him to cook at Le Louis XV. "Three months later, I'd sold my restaurant, packed my bags and drove off to Monte Carlo."
Five years after he opened Osteria Francescana, history repeated itself - this time with Ferran Adria, who offered Bottura the opportunity to work a summer at El Bulli with his young family in tow.
"I went to El Bulli looking for techniques and I found freedom, the confidence to trust myself, my ideas, my methods and my vision," Bottura says. "I realised that cooking was not just about the quality of ingredients nor the techniques but the quality of the ideas."
Looking back on a string of accolades to his name after two decades of hard work, one can say that all of Bottura's sweat and blood has been fully accounted for. But the "skinny Italian chef" - Bottura published a book titled in 2014 - is not resting on his laurels, not with the projects he has on hand.
"The city of Rio de Janeiro has donated an empty lot to us in the Lapa neighbourhood and we will be building a soup kitchen there during the upcoming Olympics," Bottura says. "Invited chefs from South America [and around the world] will cook here as we did in Milan," he adds, referring to the Refettorio Ambrosiano project that he personally launched at the 2015 Milan Expo last year to combat food wastage and hunger.
And just when you thought that the chef is retiring for the day, he concludes with a project that is closest to his heart. "I am working on another project to help my son who has a disability - I want to create a school to teach young people with disabilities how to make egg pasta."
Want more articles like this?  Follow STYLE on Facebook
This article appeared in the South China Morning Post print edition as: Artistic fare

The world's number one chef incorporates the artworks he loves into his Italian creations