Often overlooked among a sea of flashy neighbours in the United Arab Emirates, Oman is the ultimate foil to over-the-top glitz. Whereas Dubai has its man-made skyscrapers and islands, Oman is marked by jagged peaks and white sand beaches. Instead of shopping for the latest diamond-encrusted Lamborghini or Patek Philippe, Omanis are more likely to covet a good cup of karak chai, a milky, Indian-style tea heady with cardamom, cinnamon, and ginger. And while Dubai is a well-known place to burn your budget, Oman is becoming the place to burn off some steam.
The country's dizzying range of natural backdrops has made it a growing spot for adventure seekers; you can get from the sea to the mountains to the desert in one afternoon. And now, thanks to a handful of ambitious new hotels, it's possible to enjoy these thrills from the comfort of a world-class resort.
The secret is definitely getting out: The sultanate welcomed a record 3 million visitors in 2016, a number that's up 16.2 per cent from 2015. Add a few days to your next Dubai business trip to get there before the masses arrive. Where you go depends on what type of thrill you're seeking.
Hike in Jabal Akhdar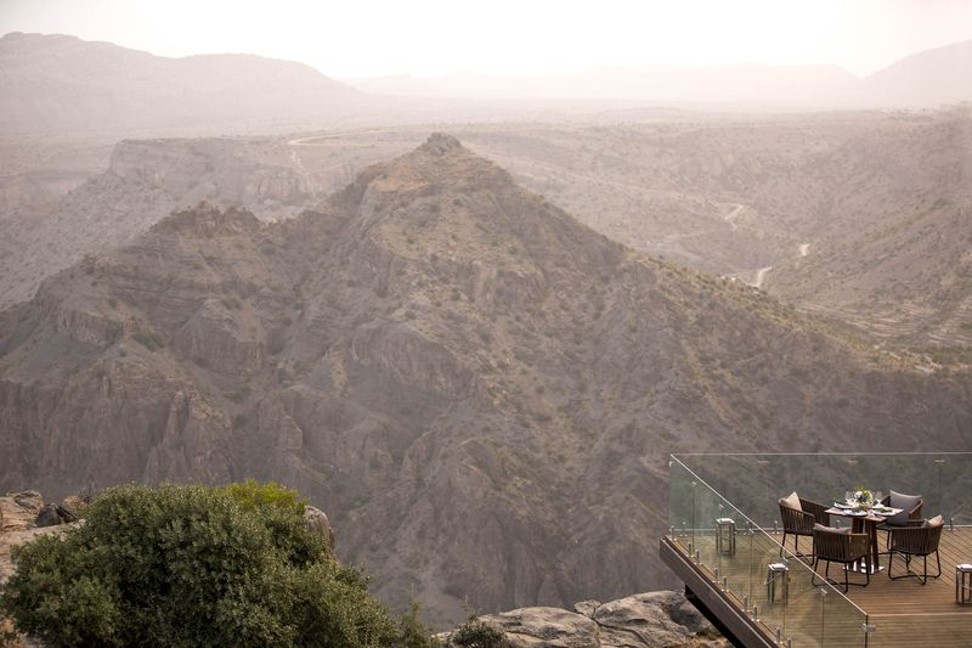 It only takes about four hours to drive a 4x4 from Dubai to Oman's craggy Jabal Akhdar mountains. The peaks and valleys are made for hiking, and heights of 1,980 metres above sea level make them prime ground for altitude training. If you plan your trip between March and May, you'll catch rose season, when the hills erupt under a blanket of crimson.
Stay at the 10-month-old Anantara Jabal Akhdar , a 115-room resort that blooms from the fertile Saiq Plateau like a sandstone fortress with canyon views. There, the resident "mountain gurus" will help you build the perfect itinerary. You can abseil deep into the canyon, hike through three ancient villages nearby, or descend into a valley called the Wadi of Waterfalls. It's not all hard work; along the way, your guru will find a scenic spot for a cup of strong, cardamom-laced Omani coffee next to one of the area's tiny rivers.
Dive Along the Musandam Peninsula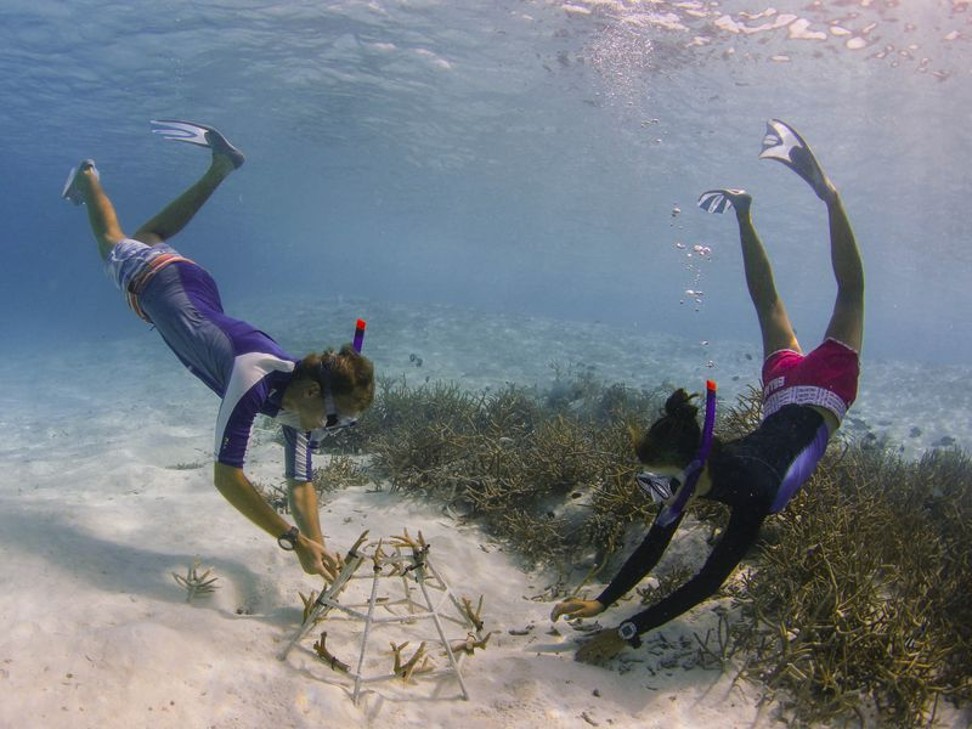 Savvy divers already know that the sea off the tip of the Arabian Peninsula claims some of the best, most underrated diving spots in the world. The coral reefs of the Daymaniyat Islands, a protected nature reserve in the Gulf of Oman, count guitar sharks, hawksbill turtles, stingrays, moray eels, and seahorses as residents. Drive an hour along the coast from Muscat, then take an hourlong boat ride — easy work for either a day trip or a weekend-long diving safari.
For a more far-flung escape, head to Six Senses Zighy Bay, which has 82 stone villas and suites on Oman's northern tip. Guests can choose to arrive by paragliding from a bluff down to the hotel's private beach — how's that for an adrenaline-fueled start to your holiday? On this spit of the Musandam Peninsula, you can search for leopard sharks amid rare purple corals and under towering cliffs. And you'll get the added bonus of having the unique, fjord-like terrain virtually all to yourself.
Dune-Bashing in the Wahiba Sands Desert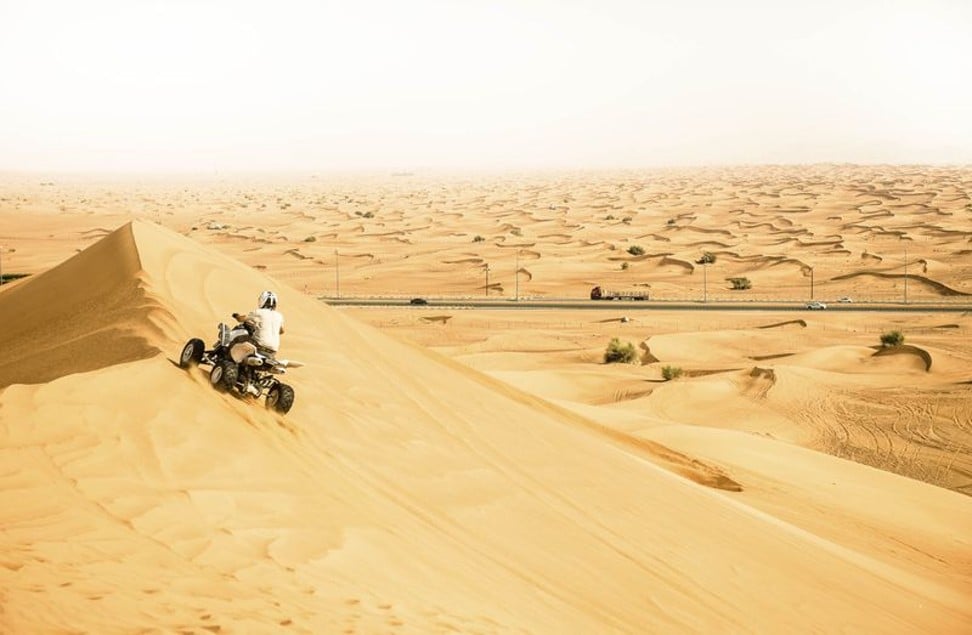 Two hours south from Muscat, you can dune-bash across Oman's Wahiba Sands desert. It's a revved-up roller-coaster ride with a skilled 4x4 driver, who'll take you gliding over the soft golden crests and diving into shallow valleys. Afterward, go glamping in the stark desert terrain with Hud Hud Travels; the company sets up plush, Bedouin-style tents that rise out of the sand like an unexpected oasis with soft mattresses, local textiles, and private showers and toilets. But it's not just about the thread counts and the multicourse meals here — deafening silence is the ultimate amenity.
A Thrilling Meditation Session in Salalah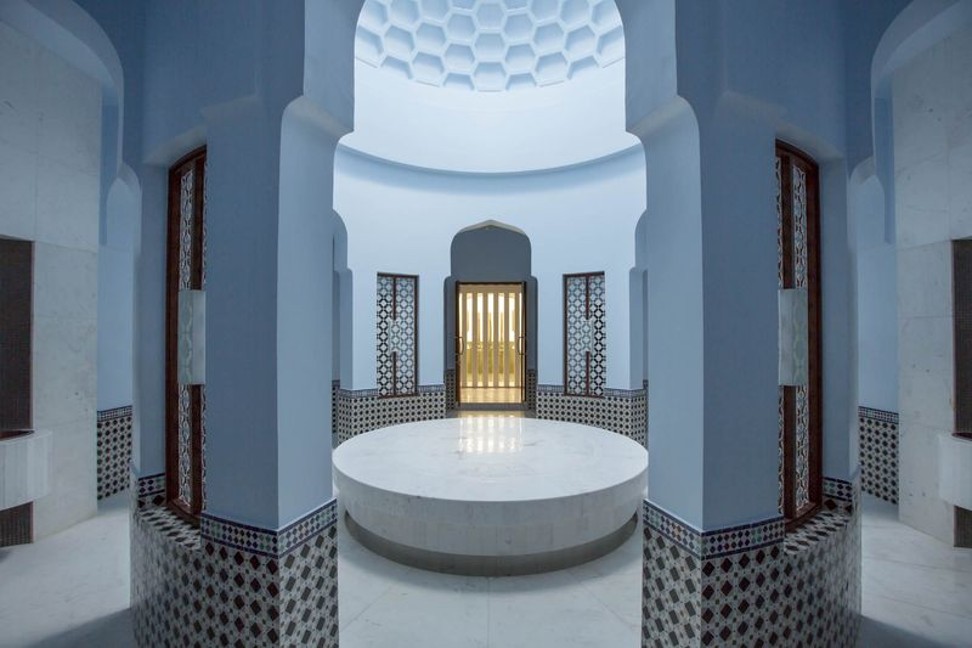 In Salalah, a seaside town on Oman's southern coast, even a spiritual journey can take on an adventurous spin. The area is popular with Gulf residents during the summer khareef , or rainy season — monsoons are something of a novelty for Saudis and Emiratis, who descend in droves for a break from the heat. The rest of the year, visitors come for sunny skies, balmy temperatures, and miles of pristine beaches. The latest draw is the spa at the Baleed Resort Salalah by Anantara, an Arabian Nights-meets-Greek-isle retreat with 136 whitewashed rooms. Sign up for a Tibetan singing bowls meditation session in the desert for an ethereal mind-and-body experience. A spa therapist will accompany you deep into the 647,500-square-kilometre Rub Al Khali (also called the Empty Quarter) and perform the ancient practice atop a dune just before sunset; later, take a few moments with your thoughts under a glittering, star-filled sky.