Degustation menus, tasting menus, prix fixe menus: whatever you wish to call them, there seems to be a trend in fine and casual dining restaurants to showcase the chef's signatures from the à la carte, presenting them in smaller portions on a set menu.
But there is skill in presenting the dishes on a tasting menu, as we found out from three chefs who create very different types of cuisine.
Chef Lee Adams at The Park Lane Hong Kong's Western fine dining restaurant Skye, says his tasting menu features his favourite dishes as well as ingredients that are popular in Hong Kong.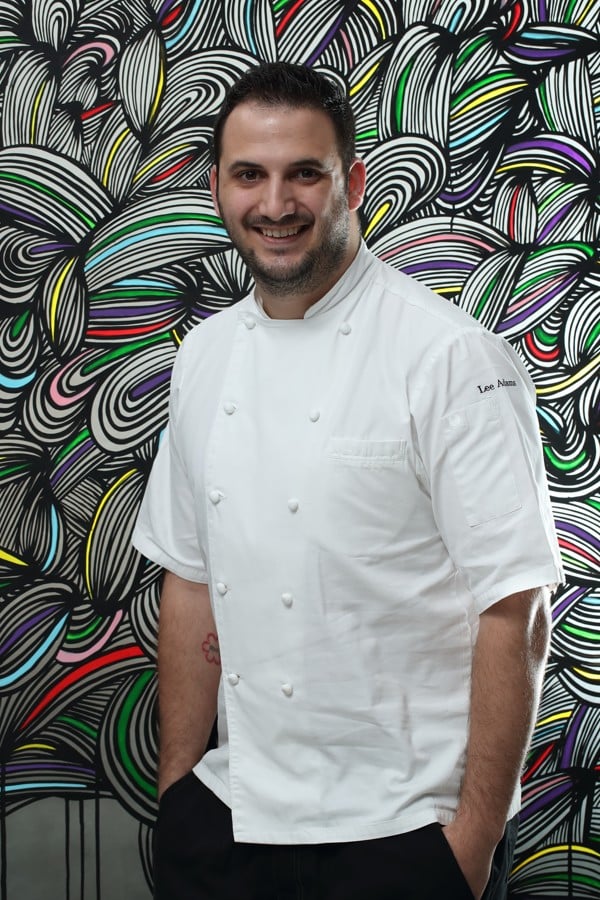 "I put myself in the position of the customer and not only do I think of what I really want to eat but possibly what a local and expat customer would like to eat if they come to Skye," Adams says. "So, you have to do some research into what they like to eat when they go to a French or other international restaurant. For example, I know that people go crazy for foie gras, it's one of the bestselling dishes on our menu, whether it's a terrine or pan fried."
Adams also features such favourites as tuna tartare. "We use sashimi grade tuna, we mix it with a little cumin mayonnaise, there's a cucumber kimchi. We make a puff rice cracker and serve it with lemon gel, honey preserved lemon, coriander and two grams of Beluga caviar in a little tin. We encourage guests to take the caviar, fold it through the tartar, spoon it onto the cracker to eat it. It's a bit salty from the caviar but fresh because you've got the lemon in there that cuts through everything and it really does - the pickled flavours and the vinegary flavours help to open up the palate, getting ready for the next course."
Another local favourite ingredient is sea urchin, which Adams pairs with a Western favourite, mac and cheese. "We serve the mac and cheese with a sea urchin crumb, and teaspoon of caviar, a nice piece of sea urchin over some seaweed," says Adams who joined Skye when it opened a year ago. "We make home-made artisanal macaroni, we don't serve too much but it's enough to get the flavour, enough to indulge, and onto your next course. We get a lot of people asking [for] more." For dessert he serves an Autumn Mess, his version of British Eton Mess. "Autumn lends itself to so many nice different fruits and berries. It would be a shame not to embrace that but, we have a couple of twists on it and serve it in a nice glass. So you can see everything. It's fresh and a nice way to end the meal, plus it looks great."
Hong Kong's top six private dining rooms offer opulent options
Adams says there is an order to a tasting menu. "You don't want to start with something salty, because that's going to line your palate, and you carry the saltiness into the next couple of dishes. You don't want it to be too fatty because the fat can stick around the roof of your mouth and it affects other flavours which you are going to put in your mouth afterwards. So you start with something a little citrusy, light, sour that really opens up your taste buds, and make them alive, so every sense of your body is awakened to what it's about to eat. So you can start with something fresh and zingy."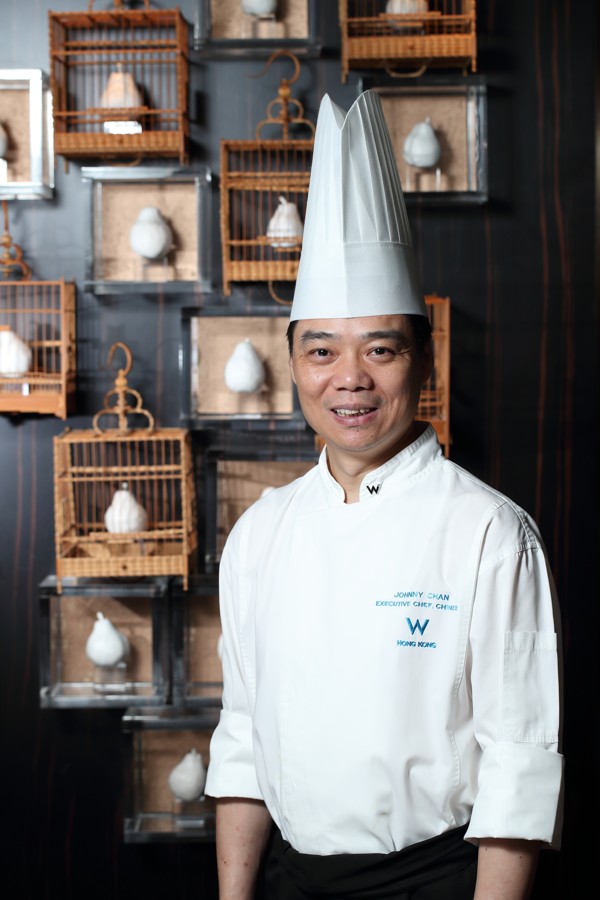 Johnny Chan, executive chef Chinese at W Hong Kong, is known for his innovative dishes. He says, tasting menus for Chinese food usually start with cold meats. "The tradition, especially in Hong Kong, is to have barbecued pork or siu mei to kick off the whole menu. We have char sui and crispy pork belly, but we also match it with cucumber so you can refresh your palate."
Chan says cold meats are normally followed by soup. "We love soup very much so double-boiled soup is our favourite. It's nourishing, so diners go from a cold dish to a hot one."
"After that, we usually go to a signature dish for example meat, fish or seafood. When it's near the end we want something like rice or carbohydrates, to make us feel full. We have dessert last."
Where to eat in November: Hong Kong's new dining options
Chan features pan-fried crab claw stuffed with minced shrimp on his set menu at Sing Yin Cantonese restaurant. Seafood is quite strong so he matches it with the winter melon, which is light and delicate. He pan fries the crab claw first, so the flavour is rich. After that, he steams it with the winter melon in superior soup.
Chan also has steamed, sliced and spotted grouper with egg white in pumpkin sauce on his menu. "I use pumpkin from Japan so it's really sweet with a strong flavour and the egg white looks like pearls. It's made from egg white and some cream. This is like a sauce, but you can drink it like a soup," he says.
Another favourite of diners is the Australian wagyu beef marble score 8 with black pepper sauce. He knows the customer base consists of Westerners and Chinese, so he created a dish that will appeal to both groups.
VEA's executive chef Vicky Cheng's concept is to take traditional Chinese cuisine and combine it with his knowledge of French cuisine.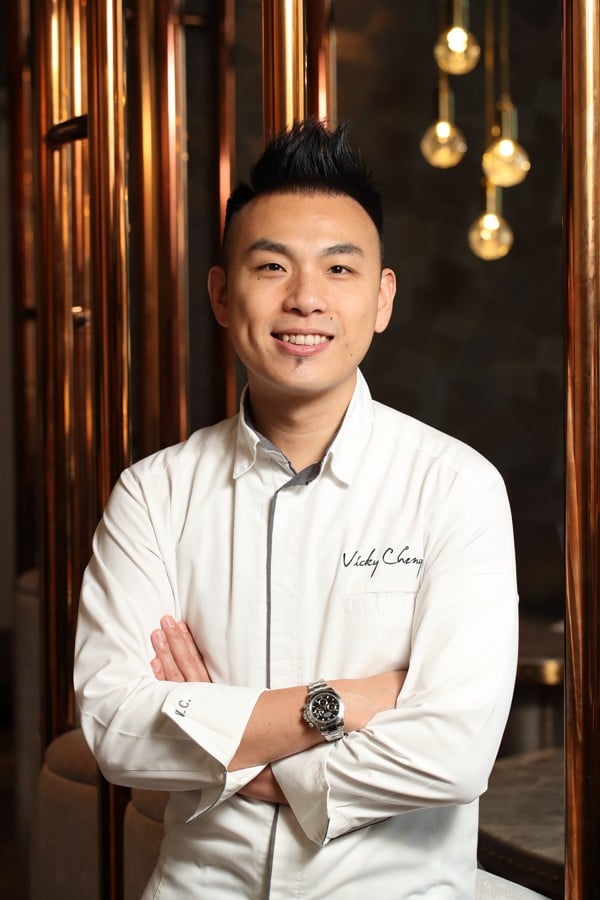 "The point is not to do Chinese food but to do French food with the influence of Chinese cuisine," says Cheng, who was classically trained under some of the most respected French chefs, including Daniel Boulud. VEA only serves tasting menus, and they change one dish every two weeks so it's a completely new menu every three months. His menus start with something light and then get heavier, and "in wintertime, the entire menu is a bit heavier, you have game, braised meats, with cold vinaigrettes to lighten it", he says.
What makes kaiseki haute cuisine? Zeniya's chef explains
Cheng's present starter is a picturesque offering called Life in the Jungle. "It was inspired by how we would envision a jungle," he says. "The grass is made from local grass carp and some juvenile mud crab. We shredded crab fat inside. The green grass with powder on top, is made from dehydrated dill. The pond in the middle looks like water and is made from tomato water."
"Other ingredients include poached langoustine, grey shrimp from Brittany; baby crab from Japan, which is deep fried; the little snow mountains are made with squid ink bread; the bottom is made from fish and crab purée. We add ginger and dill, so everything is very aromatic. The plating takes a long time."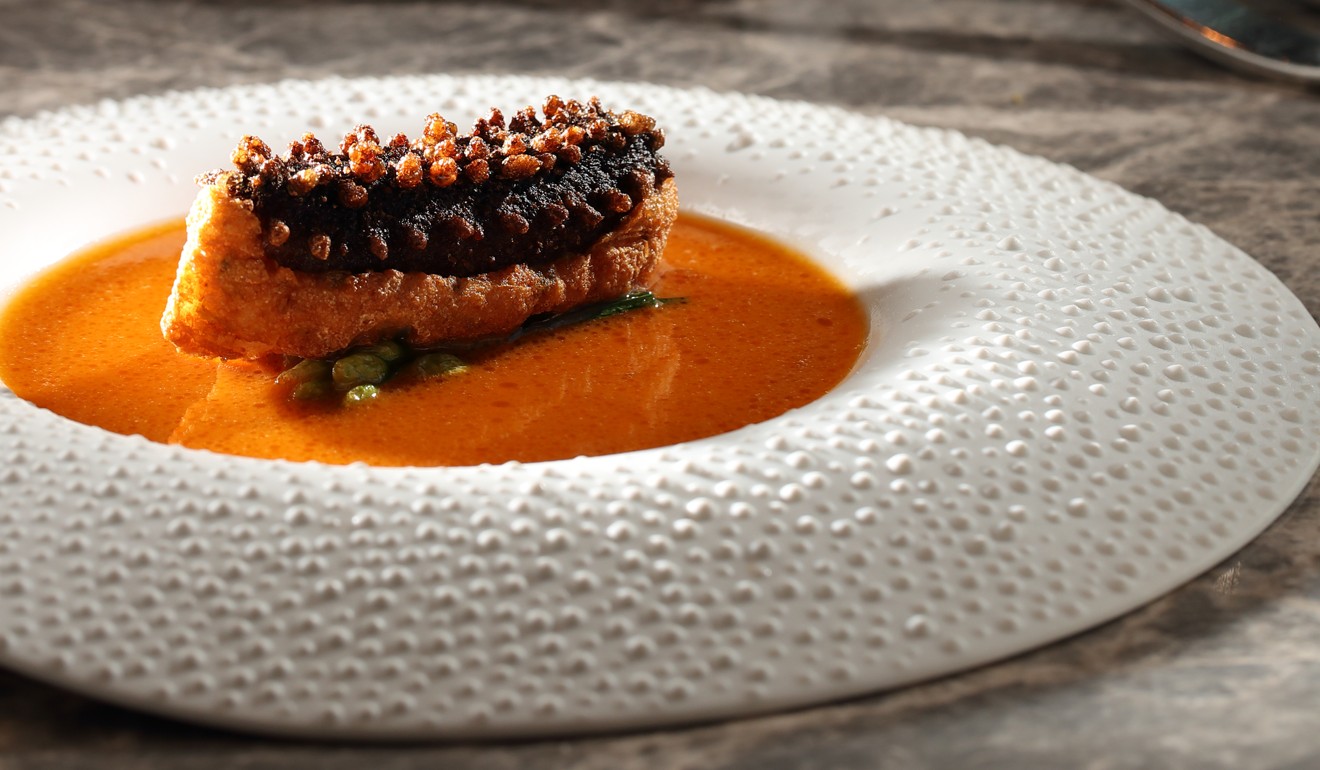 Cheng's signature is another Chinese favourite, sea cucumber. He uses a small one from Japan. "It comes dry," Cheng says. "We take the Chinese way of rehydrating the sea cucumber and French techniques to cook it. We use a mousse to stuff it made with langoustine and the meat of the seafood is made into the mousse and stuffed into the sea cucumber."
With the pigeon dish, we smoke the pigeon with Longjing tea, again it's a traditional Chinese method of smoking," Cheng says. "We use jasmine rice, sugar, Longjing tea. After we smoke it, we poach it in traditional Chinese sweet soy from Chiu Chow, then we hang it for five days and smoke so we double smoke it so by the time you get to cook it, it's already the sixth day. We barbecue the leg in nectar and Asian spices and pan roast the breast until the skin is crispy. And we spice it. We pair it with the chicken liver char sui, we rub it with a house made char sui marinade and we pair it with haw, a fruit I ate as a kid."
This article was originally published in Good Eating