Being food journalists, it is safe to say that between the three of us, we've pretty much eaten our way through Hong Kong. As we wrap up the year, we can't help but look back at the best new restaurants we've had the pleasure to personally dine at.
For this list, we considered not only the food that was served, but also the environment and the service. The list is arranged in alphabetical order and does not reflect a ranking system.
GOUGH'S ON GOUGH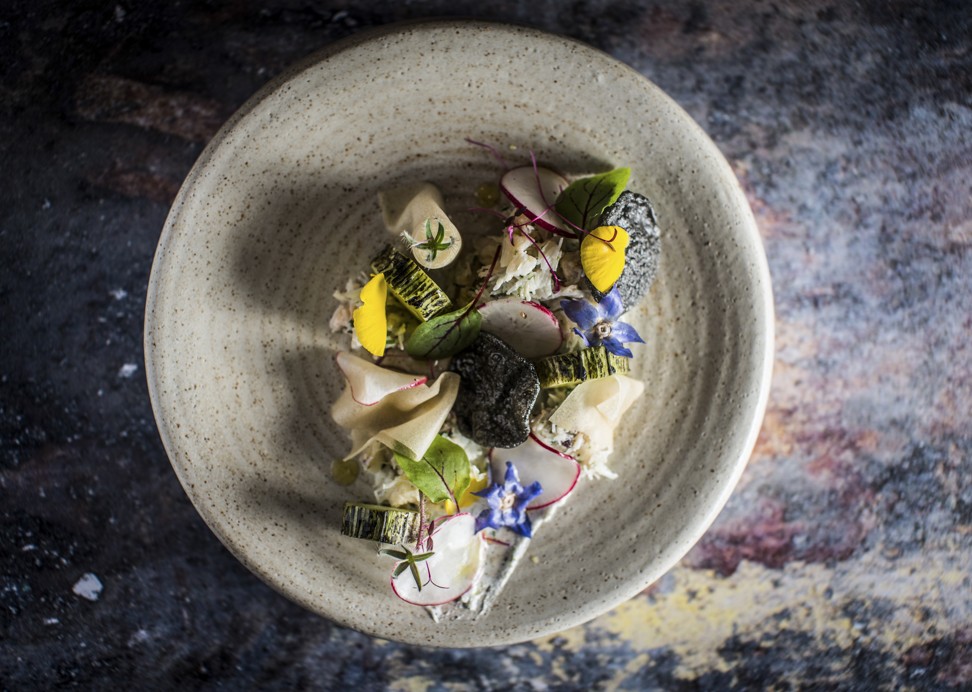 WHEN: Opened in July
WHERE: 15 Gough Street, Sheung Wan
WHAT: Modern British cuisine
WHY: This two-storey modern British eatery is operated and designed by furniture brand Timothy Oulton – their store is next door. The golden spiral staircase by the door leads up to the main dining room and bar. It is difficult to take it all in, from the glittering chandelier and smattering of vintage furniture to the black and white marble flooring.
The small private room overlooks Gough Street and has a quirky zebra wall hanging lurking in the corner. Head chef Arron Rhodes features modern British cuisine with Asian and Peruvian elements, such as the dashi custard with sea urchin, shimeji mushrooms, trout eggs and teriyaki sauce, and the Peruvian corn with chicha morada-infused corn, leche de tigre sauce, popped kaniwa grains and warm avocado. We also liked the chocolate fondant with Peruvian cacao dessert. The service is well paced and not intrusive.
ANYTHING ELSE: Rhodes previously worked at Dot Cod and is into sustainable food sourcing.
Tracey Furniss
How modern British fare took the spotlight in the fine dining scene
HAKU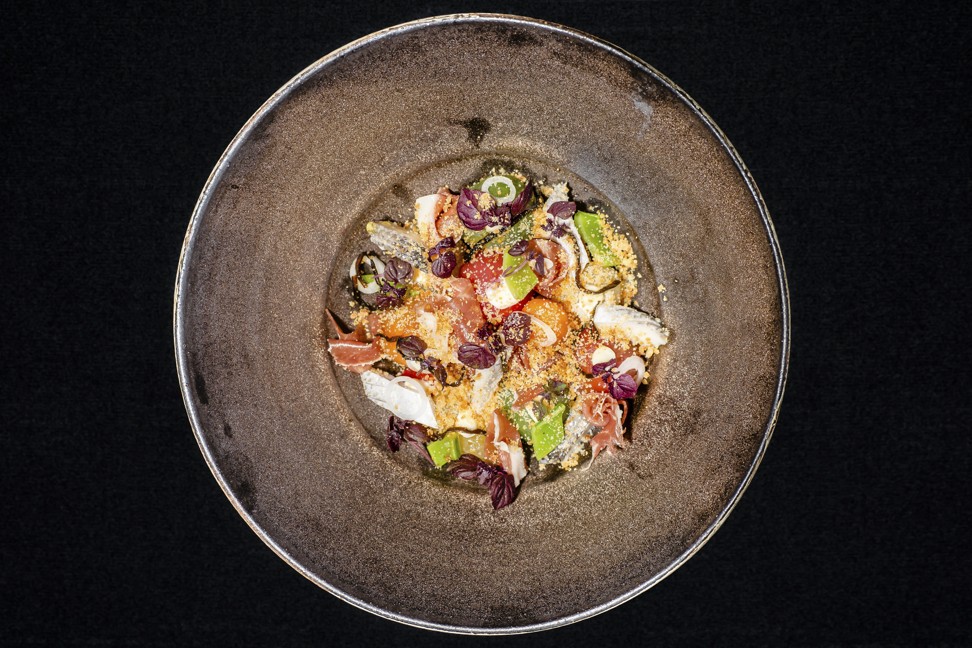 WHEN: Opened in July
WHERE: Shop OT G04B, G/F, Ocean Terminal, Harbour City, Tsim Sha Tsui
WHAT: Modern Japanese cuisine with a European twist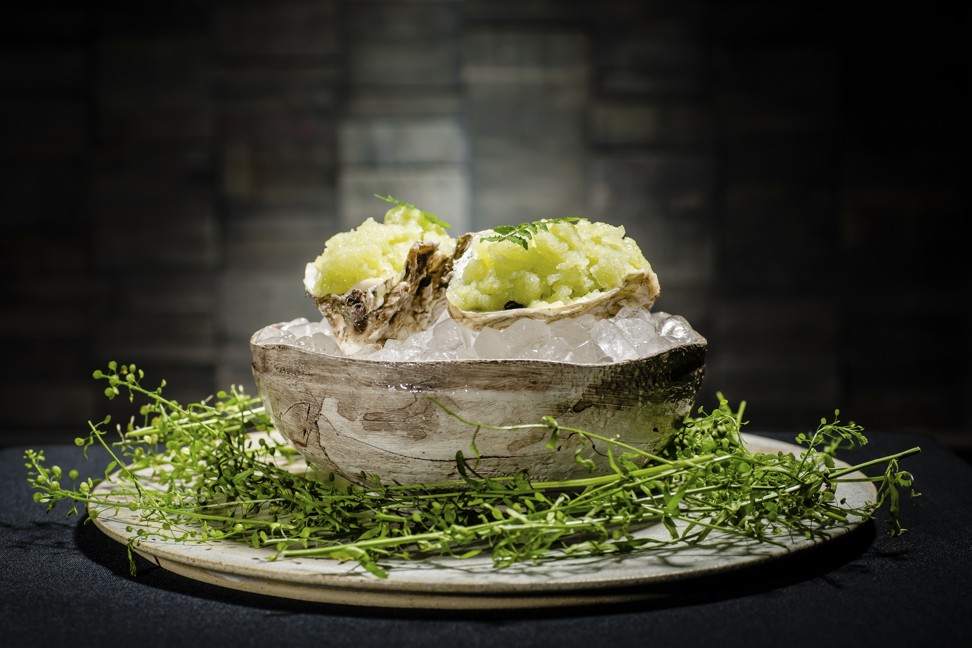 WHY: Tucked away in a corner, this restaurant is a little hard to find (many patrons initially confuse this place with another Japanese restaurant right next to it) but like a treasure hunt, the search is worth it. If you can bag a seat or two at the chef's counter, consider yourself lucky. The kappo (open theatre-style) kitchen is where the best seats are, as you can interact with Agustin Balbi, who joined from The Ocean in Repulse Bay, while he puts the finishing touches on dishes.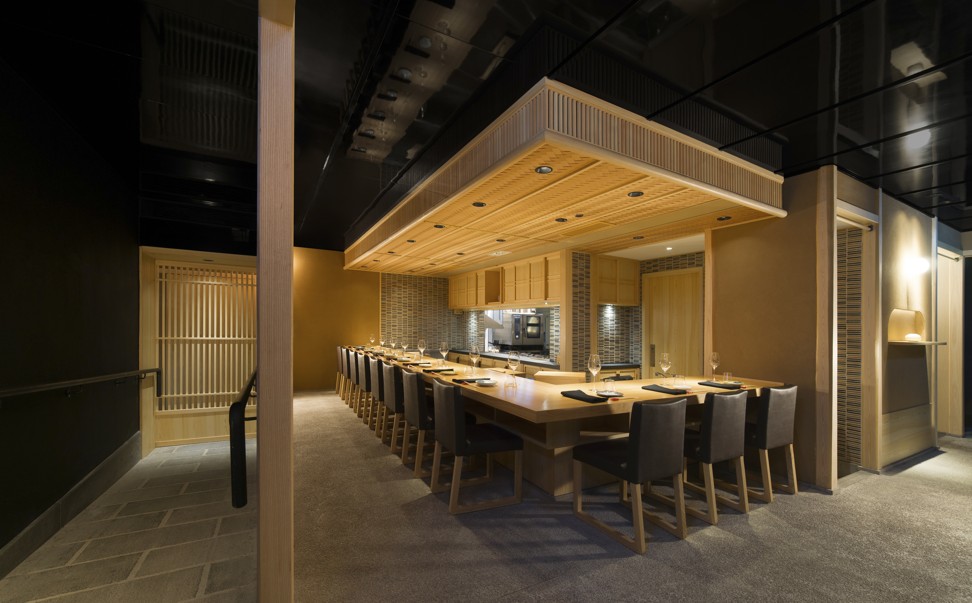 Order the tasting menu to find the best of what the chef has to offer. Consider it a full-course meal of his greatest hits – only rarely were we disappointed. We were especially impressed by the starters of Fukuoka oysters topped with lime and green apple granita, which was flavourful and wonderfully cooling. Another not-to-be-missed dish is a salad of tomatoes served with barracuda fish and Bellota ham, topped with sprinklings of dried sake kasu (sake rice lees). While we enjoyed his chu toro topped with Kristal caviar dish, we have been told this is no longer part of his tasting menu. However, it is still included in the à la carte menu, and should be on your list of dishes to try.
ANYTHING ELSE: The chef speaks fluent Japanese, having lived and studied there for a number of years.
Kim Soo-jin
HAKU's interactive experience is worth discussing
HOI WAN HEEN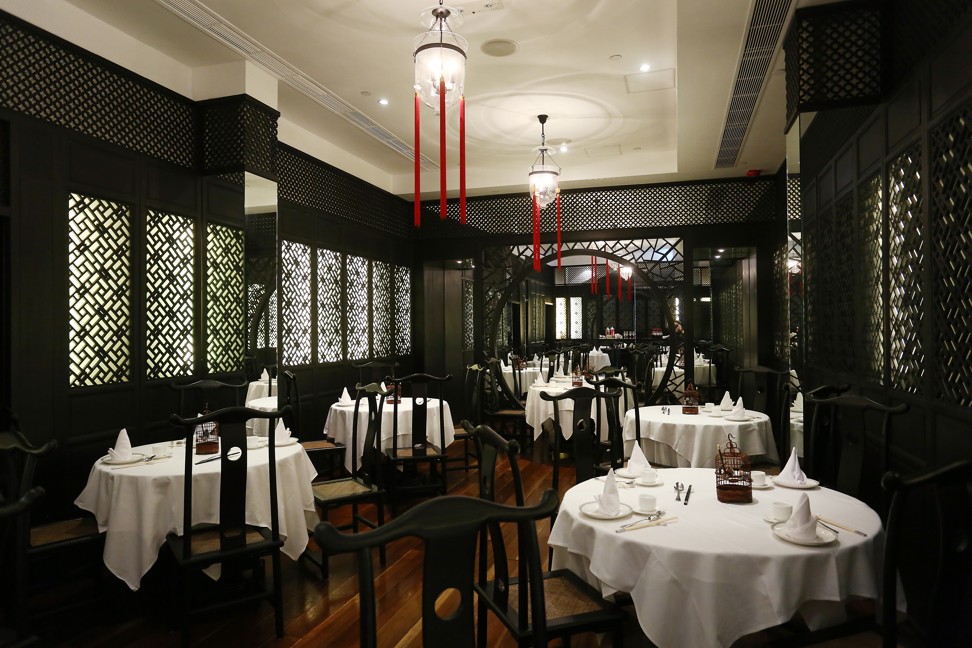 WHEN: Opened in November
WHERE: Hullett House, 1881 Heritage, 2A Canton Road, Tsim Sha Tsui
WHAT: High-end Cantonese and Sichuan fusion cuisine
WHY: This is one of our favourites of 2017; not only are the dishes good, but the ambience offers something different from the usual. The cuisine is Cantonese and Sichuan fusion served with contemporary flare. Based at historic Hullett House, the ambience is like walking back in time with traditional Chinese décor inside and a courtyard. The interior is reminiscent of an old Shanghai teahouse, with dark wooden lattice screens on the walls, an archway on one side of the restaurant and wooden floors and furnishing. There are less than 10 tables inside.
We tried some small dishes including the chicken with Sichuan chilli sauce, a cold dish with tender juice chicken and the sauce is toned down for local diners, but it still kicked. The presentation is creative, with the potato bun stuffed with chicken curry and potato looking like a basket of potatoes. The deep fried carrot dumplings with minced pork were presented like baby carrots on soil – the soil is edible biscuit. The minced pork and vegetable dumplings in chilli oil were soft and oozing with chilli oil, which was very tasty. The stir-fried Rosarino with dice barbecued pork and vegetables in shrimp oil looked like fried rice but has a more nutty taste. For dessert, the taro oozed with sweet taro sauce. The dinner menu features seafood and meat dishes.
ANYTHING ELSE: The old-Shanghai vibe and courtyard make it perfect for small events.
Tracey Furniss
Hoi Wan Heen Chinese restaurant serves up a fusion of Cantonese and Sichuan cuisines
LA RAMBLA BY CATALUNYA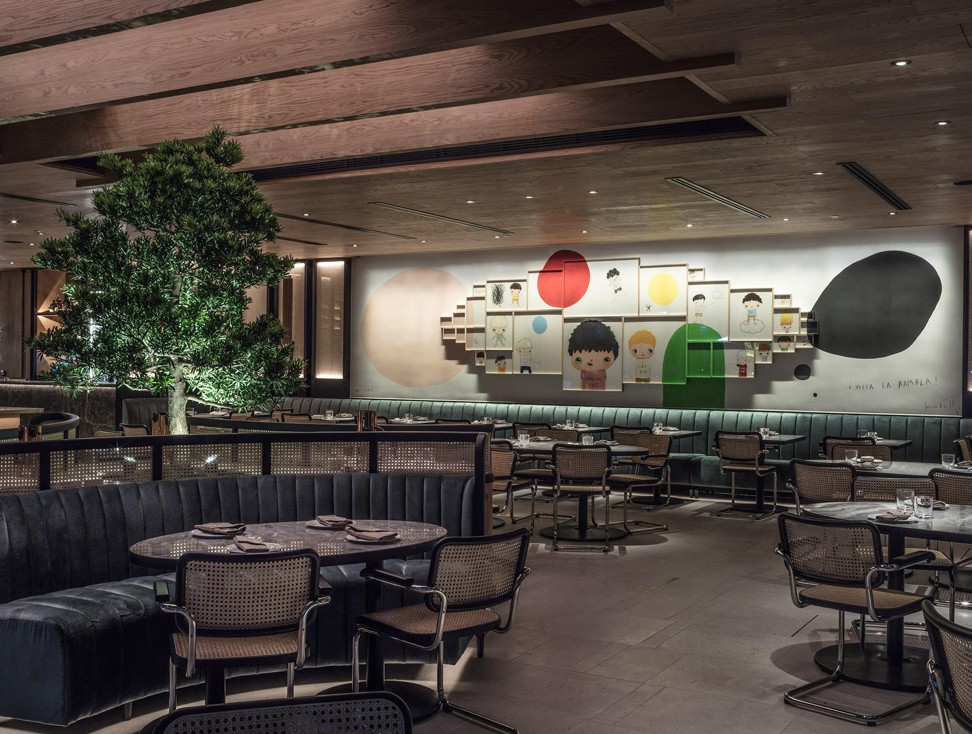 WHEN: Opened in November
WHERE: Shop 3071-73, IFC Mall, Central
WHAT: Catalunya's newly expanded Spanish restaurant is inspired by the flavours of Catalunya.
WHY: The newly opened restaurant didn't miss a beat when we visited soon after it opened, which is very, very rare. From the service to the food, everything was top quality. And no wonder – the majority of the staff were from the old Catalunya restaurant. The few things that have changed since moving to Central from Wan Chai are the updated menu and décor, both of which feature contemporary twists.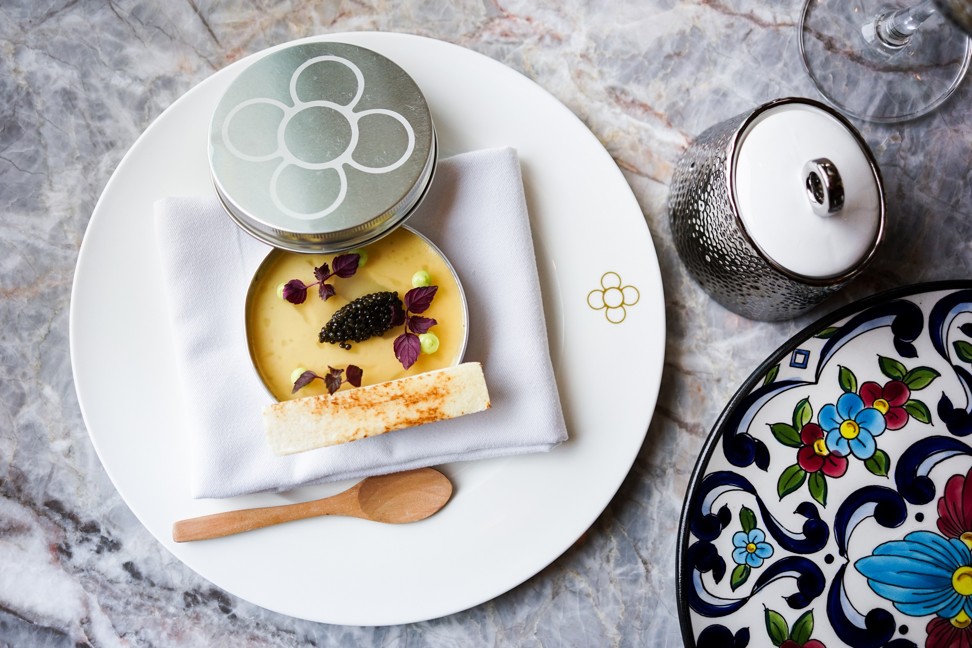 The highlight of our meal was the truffle bomba, or potato bomb. This very popular tapas dish, which resembles a meat-stuffed croquette, is topped with a brava sauce with a spicy kick, garlic aioli, and freshly shaved truffle. Another dish, though not as "beautiful" (read: made for Instagram) but just as delicious, is the tortilla camarones, or shrimp fritters. Churros, which were some of the best we've had in the city, are the perfect way to end the meal.
ANYTHING ELSE: The restaurant also boasts a large outdoor terrace overlooking the Victoria Harbour, which can seat up to 100 people – the same number as what can be accommodated indoors.
Kim Soo-jin
LE 39V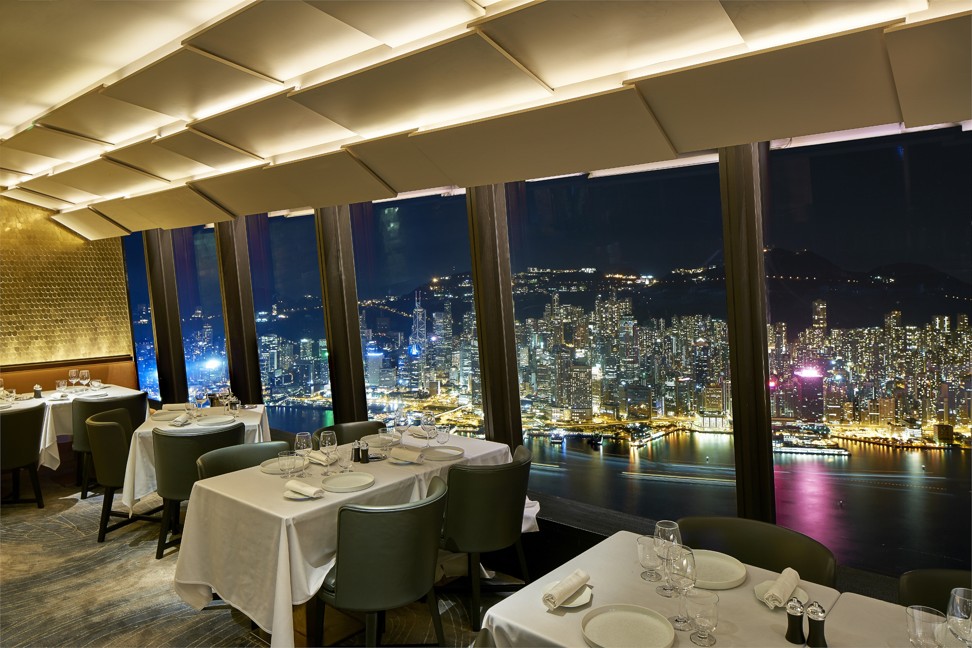 WHEN: Opened in June
WHERE: Shop A, 101/F, International Commerce Centre, 1 Austin Road West
WHAT: High quality neo-French cuisine with a view to match
WHERE: This restaurant has it all, from the award-winning neo-French cuisine to the amazing views from the 101st floor of ICC to the impeccable service.
Paris-based chef Frédéric Vardon opened his Michelin-starred Le 39V in Hong Kong earlier in the year. The name is taken from the flagship Paris address which opened in 2010 at 39, Avenue George, which acquired its first Michelin star in 2012. Vardon's right hand man, executive chef Nicolas Raynal, presents seasonal menu items, with signature dishes including Niçoisé-style red mullet, thick monkfish with shellfish and Relieuse au chocolate.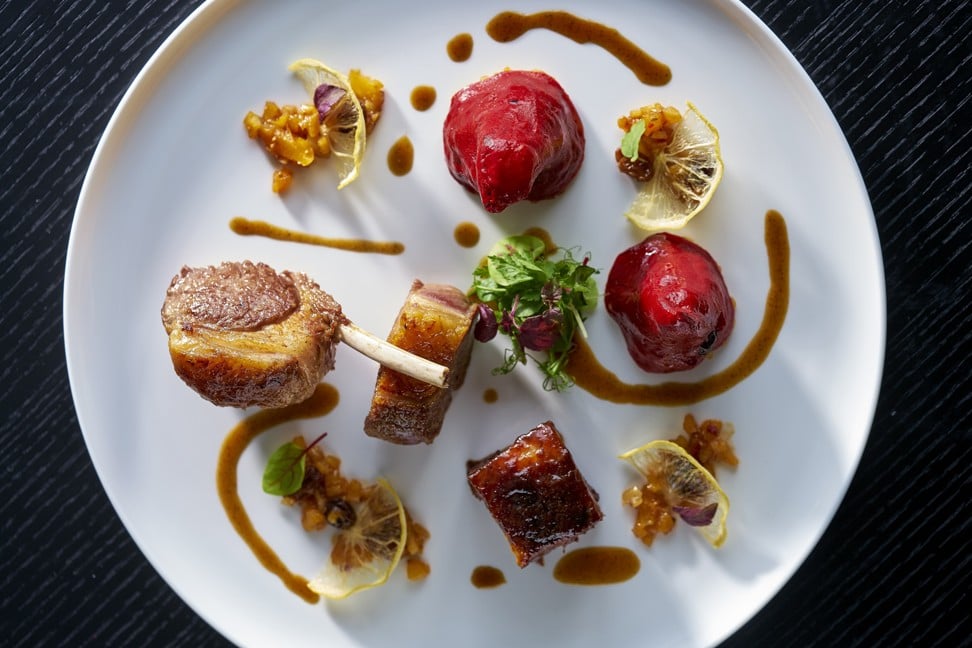 The roasted Bresse pigeon was amazing, prepared with sage, figs and egg plant in tangy jus. We also loved the Paris-Brest praline hazelnuts, dropped on a base of praline ice cream and wrapped in chopped hazelnuts, the puffs are stuffed with a light praline cream and house-made praline and the gluten-free chocolate soufflé.
ANYTHING ELSE: This is Vardon's Hong Kong edition of his acclaimed Parisian restaurant, which is located on 30 Avenue George V, hence the restaurant's name.
Tracey Furniss
Le 39V in Hong Kong takes French cuisine to new heights
THE LIGHTHOUSE BISTRO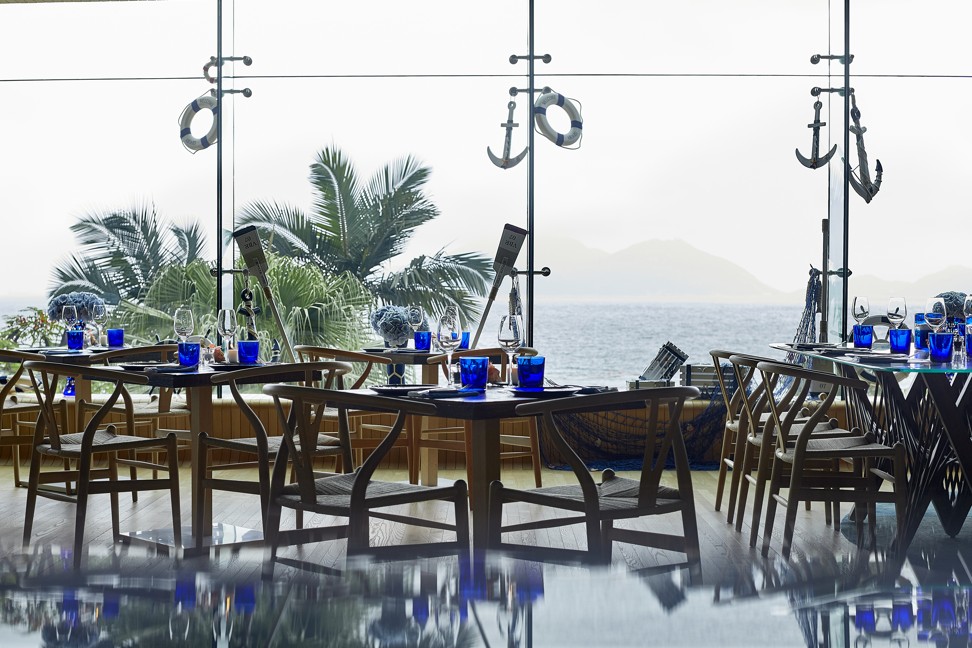 WHEN: Opened in August
WHERE: Shop 303, Lobby A, The Pulse, 28 Beach Road, Repulse Bay
WHAT: Casual bistro pairing delicious seafood food on a beachfront location
WHY: It is situated in the front part of The Ocean restaurant on the third floor of The Pulse, with a nautical-themed ambience – done in white and blue with a handmade wooden schooner in the middle of the restaurant, lifesavers and miniature row boats on the window ledge, and the window overlooking Repulse Bay runs down the length of the restaurant.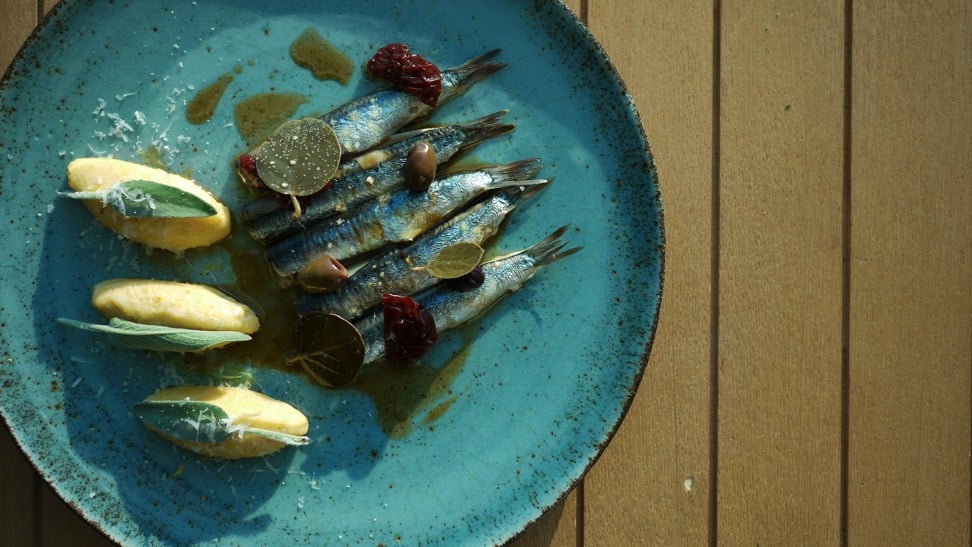 The seafood menu serves dishes such as Brittany blue lobster, crispy octopus with potato salad and baby spinach, sea bream tartar seasoned with beetroot and buckwheat seeds, and accompanied by Melba toast and fermented rice and amazing desserts. We particularly enjoyed the giant profiterole with vanilla ice cream and hot chocolate and strawberry millefeuille with light puff pastry and lots of custard and cream. Make sure you order a tea and coffee to go with them – it is the perfect way to end.
ANYTHING ELSE: The bar and restaurant is open from 11am to 5pm, so it is for the lunch crowd only.
Tracey Furniss
The Lighthouse Bistro in Repulse Bay pulls in the lunch crowds with its cool ambience and fresh seafood menu
NEW PUNJAB CLUB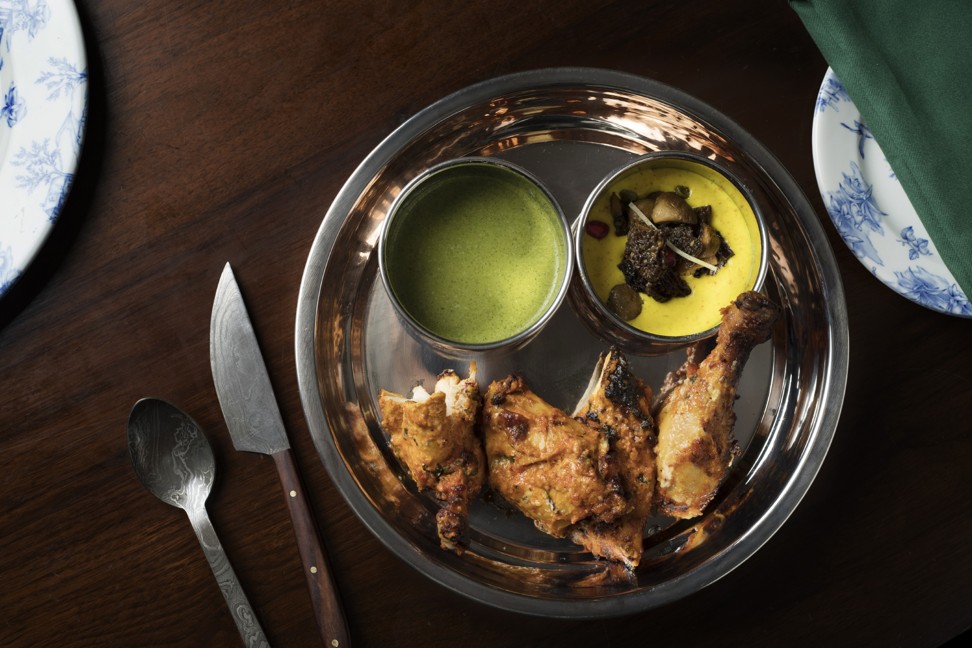 WHEN: Opened in August
WHERE: 34 Wyndham Street, Central
WHAT: Indian restaurant inspired by the flavours of Punjab
WHY: This Indian restaurant differs from others in the city as it offers Punjabi street food, overseen by chef Palash Mitra who made his name at London's one-Michelin Gymkhana. Opening late summer, Syed Asim Hussain, co-founder of Black Sheep group, pays homage to his Punjabi background and his father's old restaurant The Mughal Room, a 1980s hotspot where he used to help out in as a student.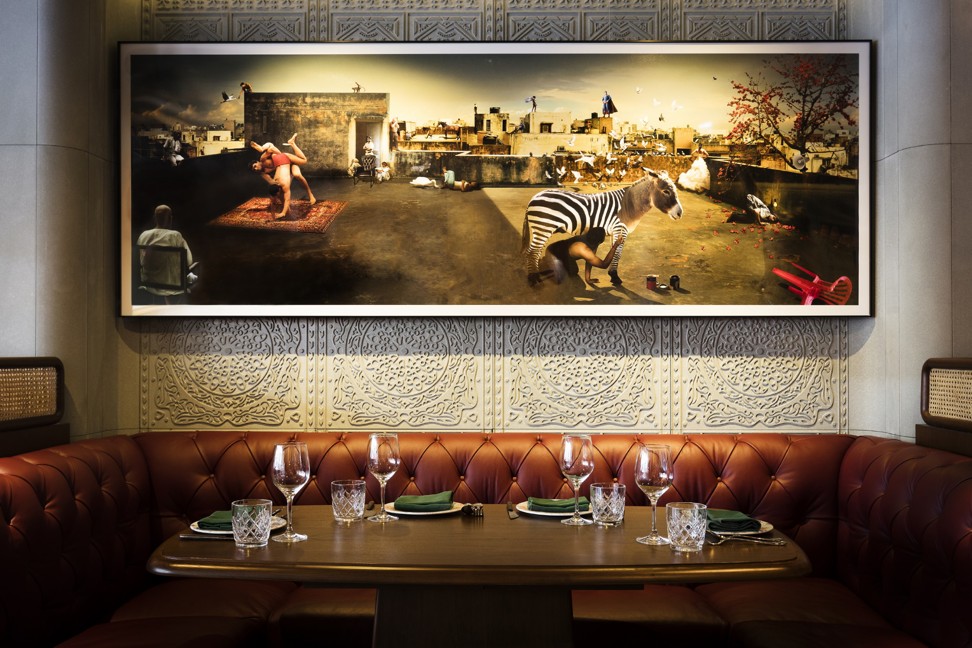 We loved the samosa chaat, a popular Punjabi street food of smashed samosas, crispy noodles with tamarind glaze, yoghurt and pomegranate seeds, and Lahori seekh, featuring generous portion of wagyu minced kebab with green chilli chutney and aloot chat. The meat was tender and nicely spiced with hints of cardamom. The murgh tikka angar, a tandoori chicken done with yoghurt, marinated in spice was again, a generous portion and done perfectly. For dessert, the lemon custard with raspberry sorbet was light and refreshing, and we couldn't leave without trying the carrot sticky toffee pudding with popcorn ice cream, peanut and banana, which was as good as it sounds.
ANYTHING ELSE: This is the Black Sheep Restaurants' 15th restaurant – and its most personal yet, drawing on flavours experienced by co-founder Syed Asim Hussain.
Tracey Furniss
Fired up: New Punjab Club is streets apart from other Indian restaurants
OSTERIA MARZIA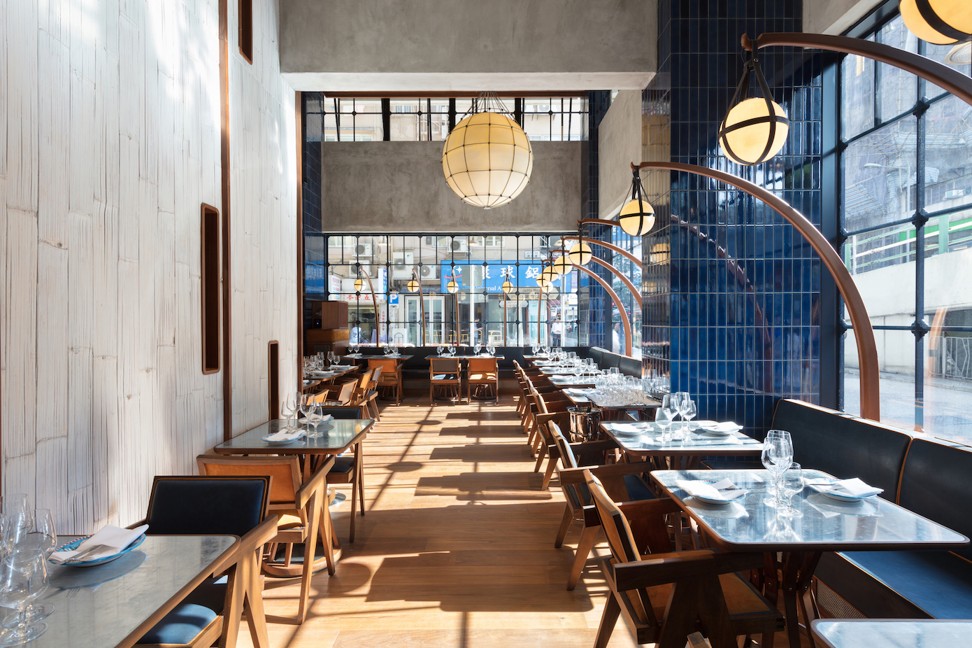 WHEN: Opened in September
WHERE: G/F, The Fleming Hotel, 41 Fleming Road, Wan Chai
WHAT: Southern Italian restaurant specialising in Mediterranean-style seafood dishes
WHY: The Fleming Hong Kong's transformation from nondescript business hotel to slick boutique property has created a buzz on the corner of Fleming and Jaffe Roads – and a night we will remember for a long time. Big wrought-iron windows of the hotel's restaurant offer views of the high ceilings, light wooden panels, white and blue tiles and pendant lights.
Service is personal and intuitive. On the night we dined, our attentive waitress walked us through a menu inspired by the Campania, Amalfi and Puglia coastal Italian regions. We chose the fire-roasted seafood tower, and a crudo of hamachi with cherry tomatoes, olives and basil, served carpaccio style. The fish was rich in texture and layered in flavour. The double-decker seafood oozed goodness, with lobster, blue swimmer crab, prawns, mussels, clams, octopus and salmon chunks in a light wine sauce. Halfway through the meal, the manager approached with a frying pan of linguine, fresh lemons, chopped basil and chilli flakes. He tossed the pasta, seafood sauce and jus, before serving heavenly food.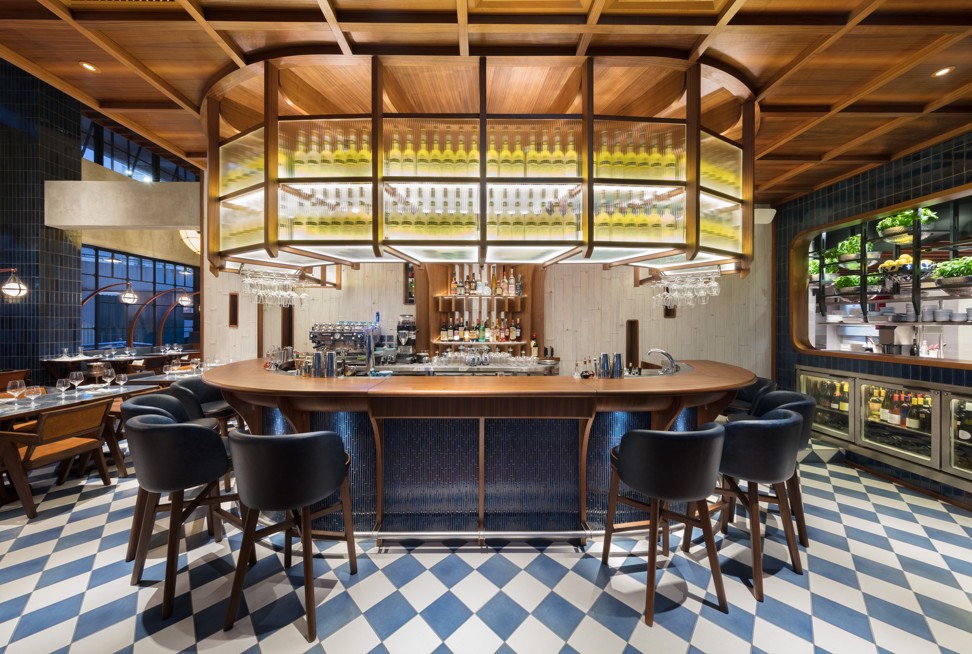 We also enjoyed the lombata beef sirloin, served in anchovy butter, topped with crispy deep-fried shallot slices. The meat was expertly prepared, the sauce gave it a nice kick and rosemary steams brought out the best from the meat. The shallots added crunch. We wrapped things up with a refreshing panna cotta with yoghurt sauce, caramelised strawberry and cookie crumble, and the rich and bittersweet torta di gianduja.
ANYTHING ELSE: The theme, which is very nautical, transports you to the shores of Italy.
Reggie Ho
Osteria Marzia's coastal Italian fare at The Fleming Hong Kong brings boutique charm to Wan Chai
RECH BY ALAIN DUCASSE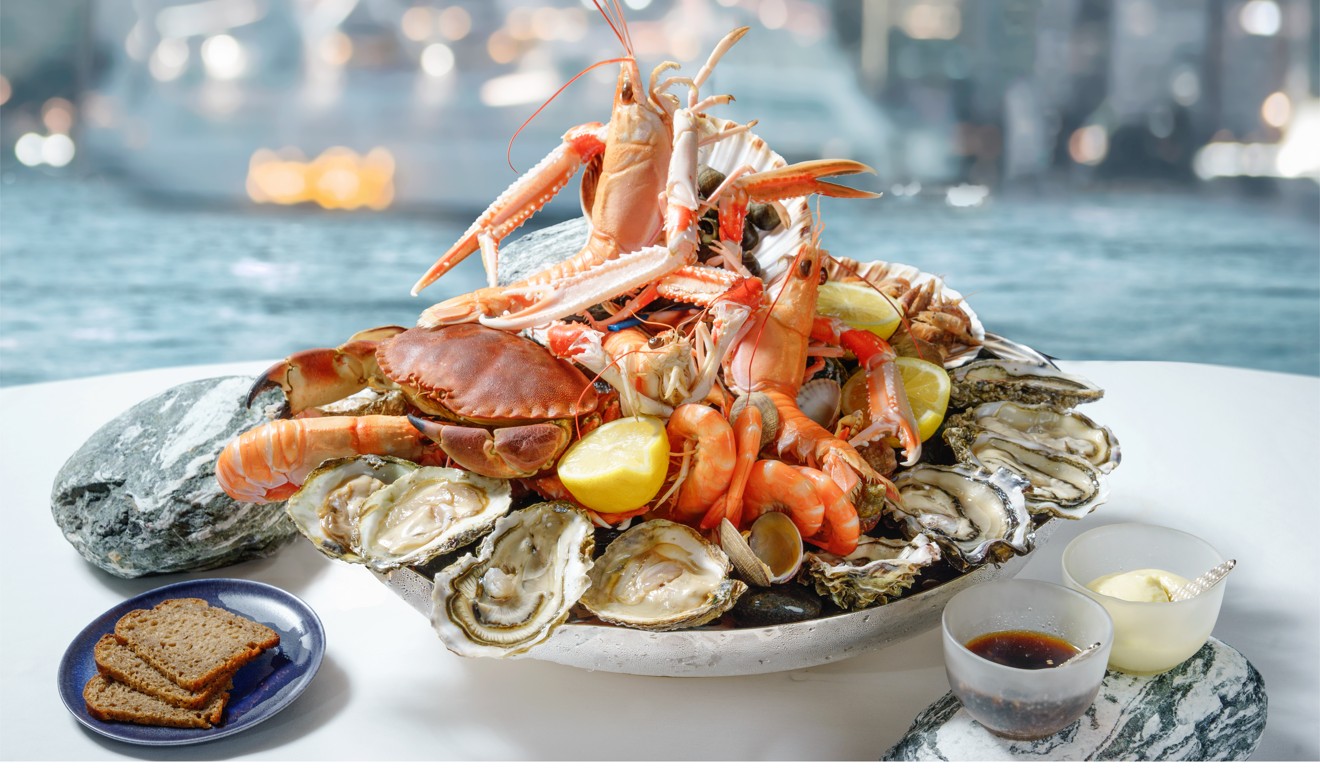 WHEN: Opened in March
WHERE: Lobby Level, InterContinental Hong Kong, 18 Salisbury Road, Tsim Sha Tsui
WHAT: Seafood fare done with French savoir faire à la Alain Ducasse
WHY: Rech by Alain Ducasse is an elegant seafood eatery at the InterContinental Hong Kong, located in the same spot where his contemporary French fine dining restaurant Spoon once stood. The harbour view is amazing. Rech originally opened as a grocery in Paris in 1925. Owned by Adrien Rech, it grew over the years into a cafe, famous for its oysters. In 2007, Ducasse revitalised the brand in Paris, and now Hong Kong.
On the menu, the favourite dishes with Hong Kong diners include the Royal Platter for two, which includes a carafe of white wine with crab, langoustines, shrimps, clams, whelks and more. Also popular are the oysters, whole lobsters, scallops and, before tucking into dessert, try the whole Camembert. Mr Rech's hazelnut ice cream and chocolate sauce and the XL eclair of chocolate or coffee are good sweet ends.
ANYTHING ELSE: It was awarded a Michelin star this year.
Tracey Furniss
Alain Ducasse's newly opened Rech in Hong Kong – gourmet dining without the stuffiness
VAN GOGH SENSES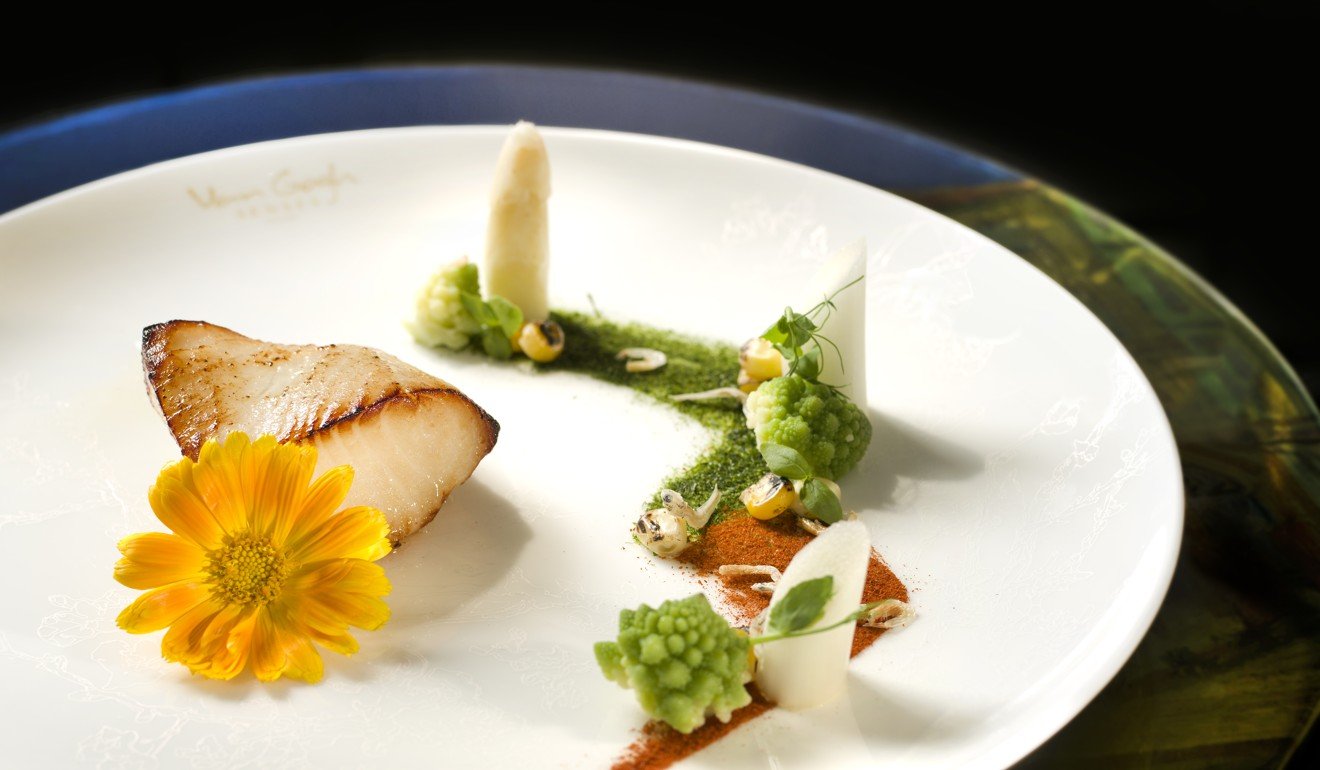 WHEN: Opened August
WHERE: Shop 208, 1881 Heritage, 2A Canton Road, Tsim Sha Tsui
WHAT: Restaurant attached to a Van Gogh concept store featuring European cuisine with touches of Japanese influence
WHY: This one was a surprise. We had not expected to enjoy the restaurant this much, as we had initially thought a restaurant attached to a concept store would look and feel kitschy at best, and like a poorly attempted gimmick at worst. While the interior (with "framed" TV screens showing Van Gogh's artworks) was a little cheesy, the food and service more than made up for it.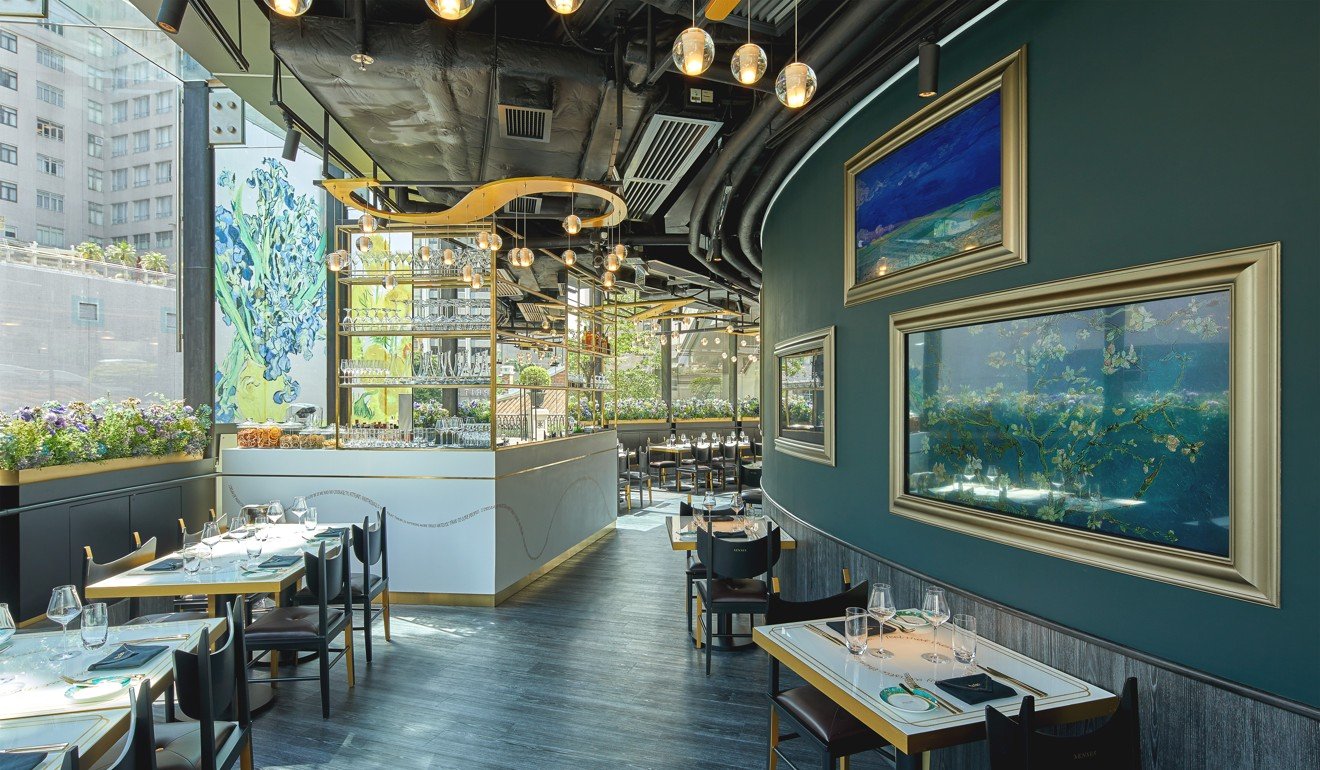 When we had dinner here in October, soon after its grand opening, it was a delightful adventure. From the pre-dinner cocktails all the way to the dessert, everything was presented beautifully – and the food tasted just as good as it looked. The cocktails were refreshing, while we enjoyed seeing how certain dishes were directly inspired by Van Gogh's work. For example, the open-faced ricotta ravioli with almond milk foam and toasted crispy almonds featured a large sheet of pasta decorated with turquoise strips; it is meant to reference the pattern of the floorboards seen in Bedroom in Arles (1888).
Van Gogh Senses takes diners on a delightful adventure
Service was attentive and thoughtful, and each dish was explained expertly, sometimes with visual aid. We could have stayed for hours, happily drinking tea and chatting.
ANYTHING ELSE: Only tasting menus are offered. Cocktails and other drinks can be ordered from a separate drinks menu.
Kim Soo-jin
Agree or disagree with the list? Let us know in the comments!