Champagne expert Richard Juhlin shares tips on how to enjoy a US$100,000 bottle of bubbly
Richard Juhlin is known as the world's No 1 Champagne expert and has several accolades under his belt – from Champagne master to celebrated Swedish author.
This season, Juhlin partners with leading German manufacturer of premium home appliances, Gaggenau, to introduce "the art of Champagne" with the brand's latest Vario cooling 400 series in their range of wine climate cabinets. This coincides with the launch of the Champagne master's book, Champagne Hiking, featuring "the 100 most magnificent Champagnes for the 100 most magnificent places".
How would you select a good Champagne?
The best Champagnes are always combined with the best company and the setting and your own mood. If were to say to myself, You can have any Champagne right now, which one would you like to buy? I would have a lot of different answers. Before you [reach] a certain educational level [on Champagne], you shouldn't drink the best. It can happen that you drink the best and you fall in love with it so much that you want to constantly go back there. This might work. But I think the best way is to start easy and with simple Champagnes, and [then gradually] try more expensive and more special ones. But what the 100 that I picked for the book – out of thousands of Champagnes – all have in common is that they have a certain freshness, and at the same time, depth and intensity, but can still be very different. Some can be very feminine and graceful, beautifully flowery, light and uplifting. Some can be darker, very serious, and [with] more weight.
What Champagnes would you recommend to go with the cuisines available in Hong Kong?
For the first place I have in mind – Tosca [Italian restaurant], at the Ritz-Carlton – I would choose the Krug Grand Cuvee. I could have chosen a Cantonese restaurant, in which case I would have gone for a Bollinger. Because if you [compare] Cantonese cuisine [with] European and Italian, as in the case of Tosca, you go quite heavy on Pinot Noir, you go very often on oak barrels and maturity. Choosing directly [for] Cantonese food, Krug or Bollinger are the two houses I would drink.
What is the most expensive bottle of Champagne you have ever tasted?
I would say that prices of the Champagnes are partly connected to my ratings. I have tasted a lot of the most expensive Champagnes. Many of those I tasted became much more expensive because I rated them highly or they were very rare. [There is] one Champagne out of the 11,000 that I have tasted which I rated 100 points (and 17 to 19 others that I rated 99 points) – it is a very small percentage considering the [size of the] pool – and that one is today priced at US$100,000 per bottle, or something like that. It's probably the most expensive in the world. It might also have been the third last bottle of the oldest Champagne in the world remaining. It is the Perrier Jouët 1825 – we drank the third last; there are still two more.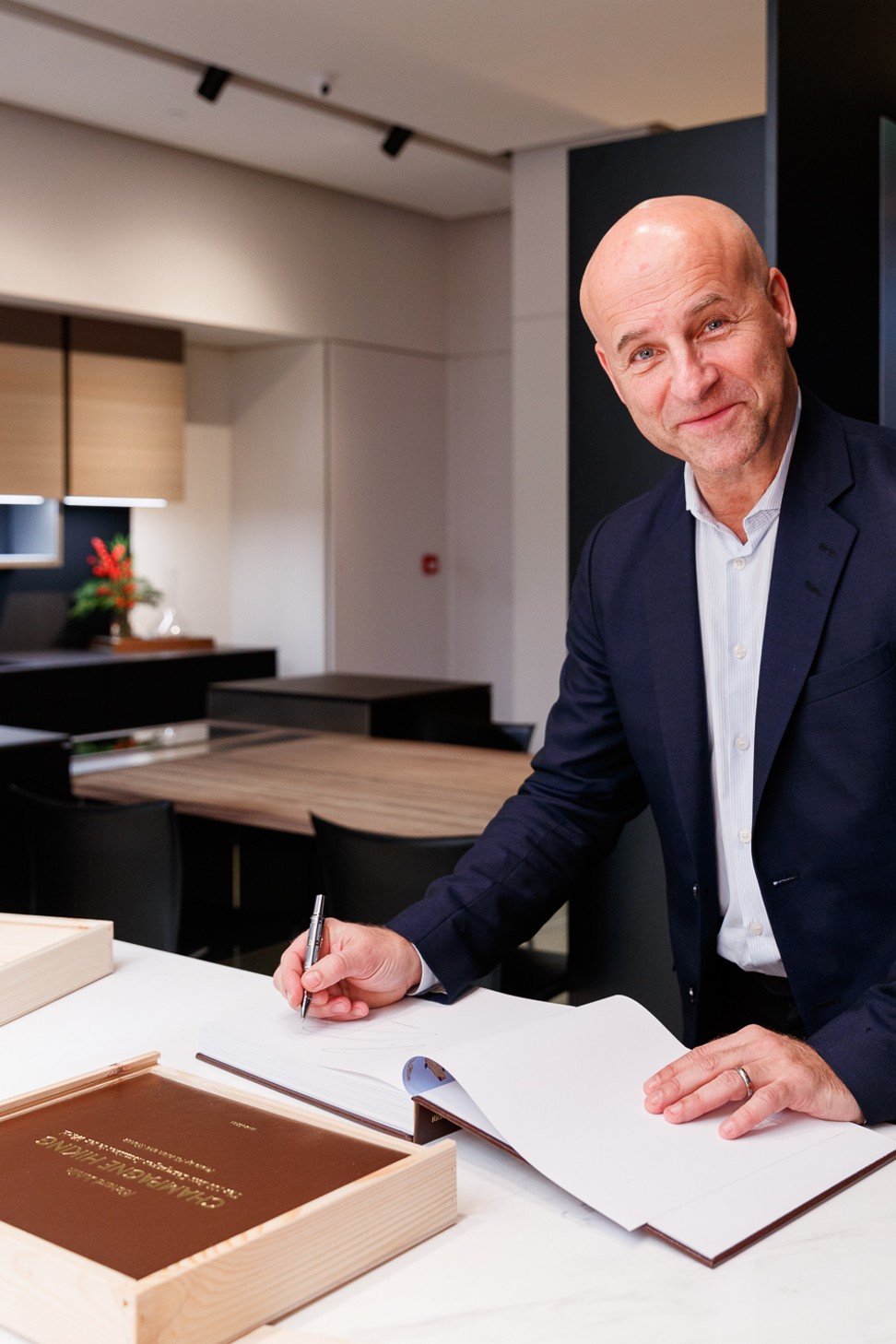 How can someone go about learning more about Champagne?
The best way to know more about wine is to store it in the perfect way, choose the right Champagnes and wines to buy to suit your own level [of expertise], choose the right time to drink them, learn more by reading books – and by meeting people like me who can educate you (that is very important) – and, above all, go travelling to the wine places, start to taste wine professionally (even if you are an amateur) and concentrate on the right techniques. Always [pay attention to the] details.
What motivated you to write your latest book, Champagne Hiking?
I wanted to write a book that is true to my heart, this is my passion. I started to look around for things that people may have missed. I [reached a] conclusion after asking myself when I enjoyed wine the most. It is actually when I drink a great bottle of Champagne in a great place.
Finding the perfect spot where you can enjoy the experience and drink the perfect Champagne – I have been doing this from day one: drinking a nice bottle of Champagne in nice places. Then I suddenly [came to understand] that this pleasure is quite rare – not many people [get the chance to do this].
How important are tools to enjoying a great a Champagne drinking experience? Where does the Gaggenau Vario cooling 400 series fit in?
[Wine climate cabinets] in Europe [are] not so important – because most people have houses with cellars. In Asia, [they are] incredibly important.
The money you spend on a bottle of wine gets thrown away if you don't have a good place to store the wine, and good tools [for managing things] such as temperature and humidity control – which is where the [Gaggenau Vario cooling 400 series comes in]. To have it as a piece of furniture is also lovely. To have in one fridge where you have all the kinds of things that I've mentioned is really important, no matter the brand.
What is the best time or setting for drinking Champagne?
Every wine moment is linked to who you drink it with. The person, the company, the place, the circumstances – most people have travelled to beautiful places, drunk quite bad local wines, but loved it [because of the local setting]. The Mediterranean is filled with places like that. Greece, for instance, doesn't make any wine that would taste good here [Hong Kong]. But sitting in Greece when the sun is setting and having a local wine together with local fish, olives and a romantic setting is absolutely splendid. Then you bring the bottle home and it is almost undrinkable. So certain wines don't travel.
Then there is this wine that is an exception. It can be brought to a place, being matched with nature, with the smells, sights and sounds. And it happens to be Champagne. The reason for this is the bubbles – carbon hydroxide – in keeping the wine; also – and more importantly – Champagne is the only wine where we can have all types of nature in the same glass.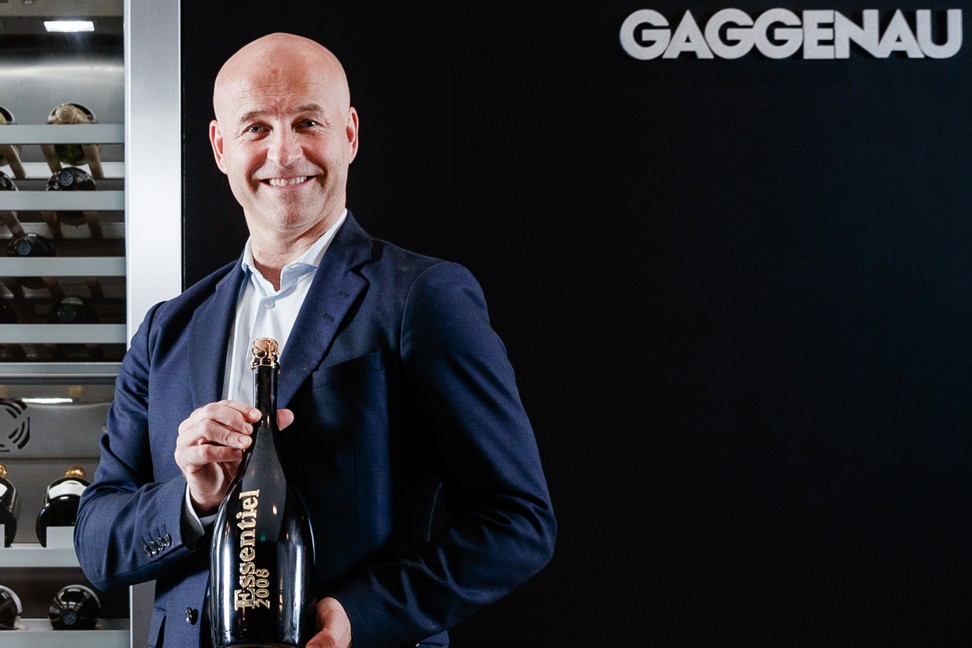 Which is the theme of your book, pairing Champagne with the environment…
My book Champagne Hiking features the world's 100 best places according to the theories that I am seeing in the past three years, e.g. avoid certain heights and altitudes, certain humidity and temperatures. One of the few indoor hiking I did was Hong Kong. The reason for that was that I want to have Hong Kong [in the book] because last time I was here, the feedback I had after my presentation and tasting was the strongest I had anywhere else in the world. Hongkongers hike a lot and enjoy picnics in the weekends. At that time, someone told me that next time they will bring a bottle of champagne with them on the hike. That is what I am here to promote.
You are on your 8th book – how do you find time to fit everything in?
I always want to conceptualise things, so almost as soon as I finish a book I start thinking about the next one. Most of them have the same theme, but this time [Champagne Hiking] I felt that I wanted to do something completely different. I was even thinking about something outside of the box, not to do anything directly with champagne. But then I felt, I am still in love with champagne.

Famed for his skills in blind tasting, the world's leading bubbly expert gives some pointers on how to appreciate the most exuberant of wines