Snowkiting is a thrilling sport that's gaining popularity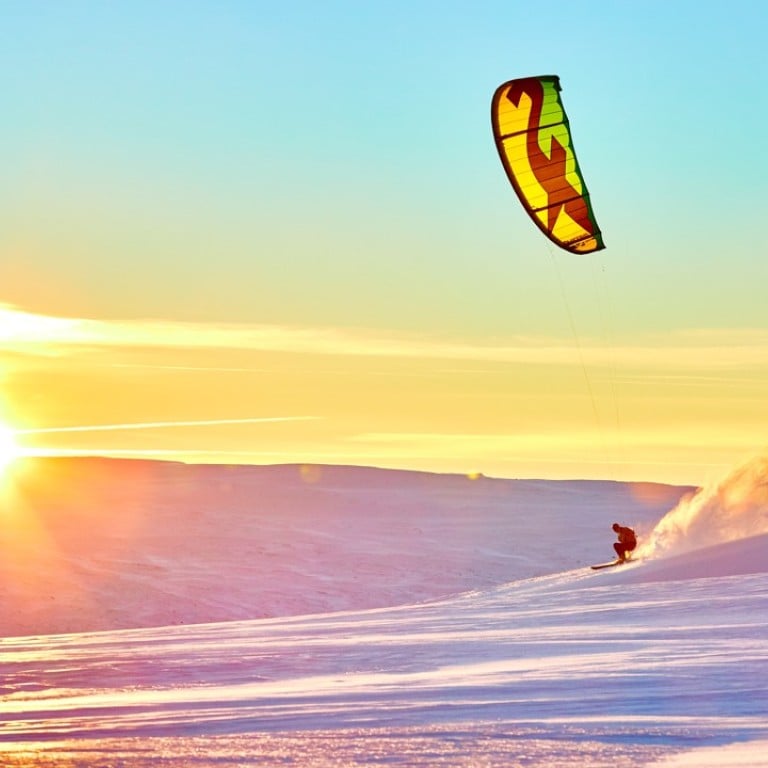 A bright object hovers and drifts on a wispy cloud-filled horizon, like a lackadaisical butterfly. It's pulling along Bjørn Kaupang, who is traversing the stark but beautiful panoply of whiteness that is the Hardangervidda mountain plateau in central Norway.
If exclusiveness is a form of luxury, nothing's more of a treat than taking snowkiting lessons with this gregarious, 30-something Scandinavian, because he is the six-time world champion (in freestyle). And, as we're in the region where The Empire Strikes Back (1980) was filmed, it's fair to say that during my two-day initiation into this uber-trendy sport, he is my Yoda.
"Basically, this pursuit involves a foil or inflatable kite harnessing the wind's power to tow somebody who is on either skis or a snowboard across, down or even up a snow-covered area," Kaupang says.
When I first heard about this thrilling recreation, I believed it was something that could only be the preserve of experts; yet even someone like me, who's pretty uncoordinated and hasn't skied for over a decade (or ever snowboarded), can master the technique of flying the different-sized kites – 2m2 to 8m2 – and utilising their power to gain traction.
"Snowkiting is for almost everyone," Kaupang says. "If you're physically fit and a relatively competent skier or snowboarder, we'll probably have you whizzing along in no time."
On my second day, I went over 150 metres on a couple of occasions, and reached speeds of up to 30km/h.
Maybe the ease with which this activity can be learned and the fact that the equipment has evolved – improvements in terms of safety include a quick-release system and greater kite stability – are some of the reasons why it has exploded in the last decade.
"The sport is growing [in respect of elite competitors and amateur enthusiasts], for sure. The number of clients who come to us is increasing by around 30 per cent per year. This includes a burgeoning Asian market, and there is a lot of interest from millennials too," Kaupang says. "Indeed, we organise one of the world's biggest snowkite races, Red Bull Ragnarok, based out of our family-owned and run hotel, and for this year's event it got fully signed-up in less than 45 seconds. That's the fastest ever."
In fact, this high-octane pastime, which can trace its origins back to 1972 when Dieter Strasilla developed the prototype of the snowkite, has gradually been spreading all over the globe. In addition to Kaupang's outfit, there are several other places in Europe where it's taught (Austria, France, Italy, Switzerland and Sweden, etc).
Schools also exist in Canada and the United States; and even a lot closer to home, in Japan, where the Nagano region and the slopes of the sleeping volcanic behemoth Mount Fuji are much sought-after destinations. And for those who can't get enough of this ultra-exciting endeavour in the northern hemisphere – the season is roughly from December until mid-May – it's feasible to head southwards to Argentina or New Zealand where there's action from June through to October.
Back in Europe, Gregorio Ceccoli, a 24-year-old Italian, operates a snowkiting school in his homeland. "Like many others, I was a kitesurfer before I became a snowkiter. The two have relatively transferable skills, the main difference being that kitesurfing is performed on water. Approximately three years ago, while I was an instructor at the Kitesurf Centre in southeast England, we joined forces to establish a training camp in Vetan (Aosta Valley, in the Italian Alps)," he says.
"This jaw-droppingly picturesque expanse had everything we required for beginners (and for the more accomplished); it's flat, with wide-open spaces devoid of obstacles such as trees and rocks, easily reachable by car, and has a reliable wind speed range of 13km/h to 40km/h."
These days, many of the best alpine resorts have dedicated areas for snowkiters, who need empty fields away from skiers (they can get snarled in the kite's lines), and away from any potential collisions with ski lifts. Talking about crashes, I did have the odd tumble, but in this wonderful wintery wilderness, that just added to the pleasure. And my only slight regret: I wasn't as proficient as Kaupang or Ceccoli – they can do hundreds of kilometres in endurance expeditions, multitudes of daredevil tricks, and even take to the air like a Jedi!

The high-octane pastime involves a foil or inflatable kite, harnessing the wind's power to tow somebody who is on either skis or a snowboard