That boxy new ship one sees while driving across the McArthur Causeway between Miami and Miami Beach in Florida?
It's the 5,119-passenger MSC Seaside, the newest vessel from the European cruise line MSC, which is operating all-year round in the Caribbean from Florida.
The ship, which is 1,060 feet (323 metres) long and has 15 passenger desks, has a top speed of 21.3 knots (39.4 km/h or 24.5 mph).
It joins 3,502-passenger Divina, which arrived in 2013, and a half-dozen others that MSC will bring to North America by 2020. (Three of those will be in Miami all-year round, too.)
9 things you never knew about running the world's largest ship
The 10 ships now on order amount to a US$12 billion investment.
We toured the ship just after it arrived.
Along with a few, first-at-sea features, we found others executed in interesting ways.
(We didn't sail, so we can't comment on service or food.)
These notable features have brought it to the top of this year's awards lists for new ships.
Six ways that luxury travel changed in 2017
1. A boxy shape
Nautical classicists may decry the decidedly boxy shape that makes Seaside look more like a condominium set asea than a cruise liner.
Once you're on board, you'll appreciate the endless views and wide range of spaces (19 bars, four swimming pools, four slides and three speciality restaurants) made possible by the change.
2. On-board technology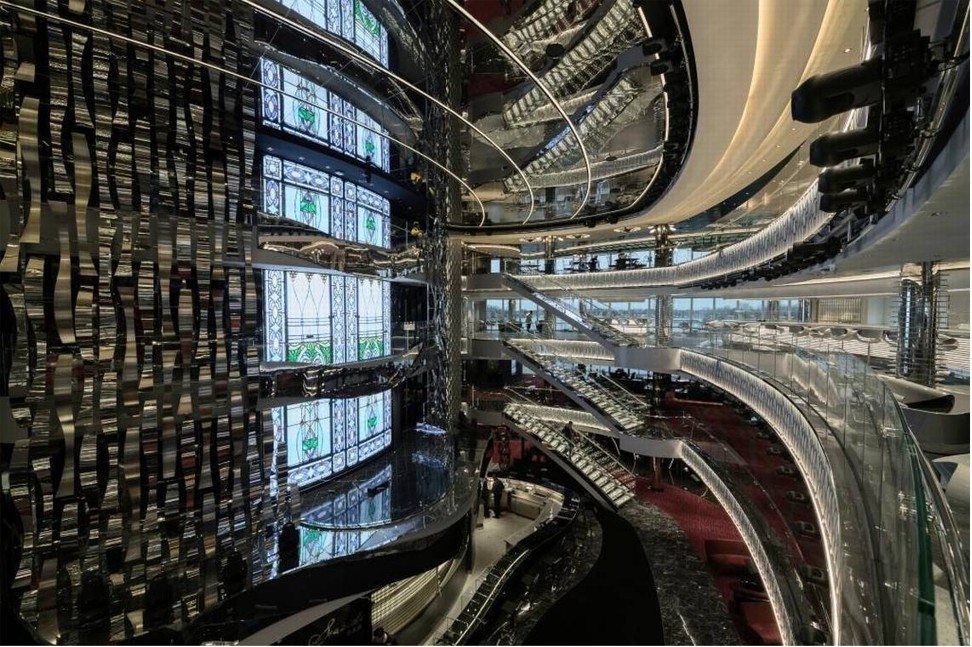 Everybody has it these days.
MSC keeps up with the trend, with digital wristbands and touch-screen displays around the ship where you can book appointments.
The most luxurious suites at sea? These three cruises may take the title
The multilevel atrium features a massive series of LED screens that transport you from under the sea (think corals and jellyfish) to far away places.
3. Flexible modular staterooms
Connected staterooms finally are becoming more available at sea.
On Seaside, those cabins are modular too, meaning they can be reconfigured to fit your group's specific needs, with up to 10 people in a single lodging configuration.
4. Stunning views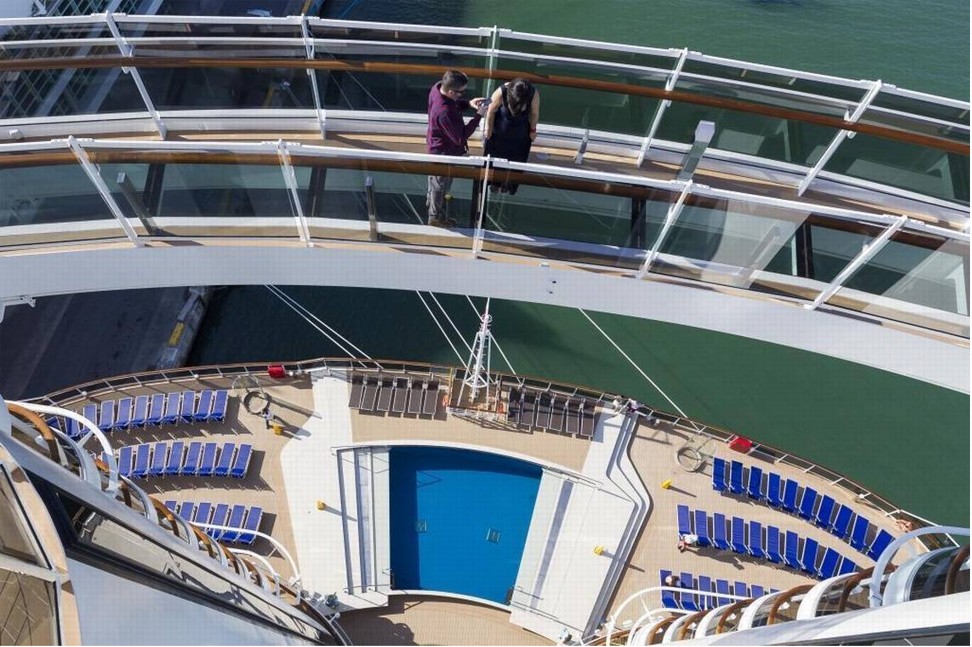 Most modern cruise liners have their engine room towards the rear.
Seaside's engines are located mid-ship, which increases stability and puts its outdoor decks closer to the sea (on deck 8) rather than higher.
Other view-ready design elements include windows flanking bars, restaurants and the ship's atrium; plus balconies on 76 per cent of the staterooms.
And for those who love a safe thrill, the clear "Bridge of Sighs" atop the ship lets you "walk" on water as you peer down 131 feet.
Travel companies target millennials with river cruises and adventure trips
5. Boutique 'hotel'
The idea of a hotel-within-a-hotel – or in this case, a ship-within-a-ship – isn't new.
Concierge decks and spa cabins are found on many liners, and Norwegian Cruise Line has a private cabin-and-lounge area with its own pool, called The Haven.
MSC's Yacht Club goes further, incorporating a bright airy lounge, 86 suites, private sun deck and pool, and a private restaurant.
The successful formula is found on a half-dozen MSC ships, including Seaside.
6. Adventure park
Nobody does water features like Carnival. And nobody does high-octane adventures (think surfing and skydiving simulators) like Royal Caribbean.
MSC follows the trend but adds a few twists, stretching its zip line to the longest at sea (394 feet) and adding a jungle theme to its water park, complete with a giant dumping buckets.
Bonus: the water slide features "slide boarding" technology that makes the experience a competitive interactive game.
7. Low-tech children's spaces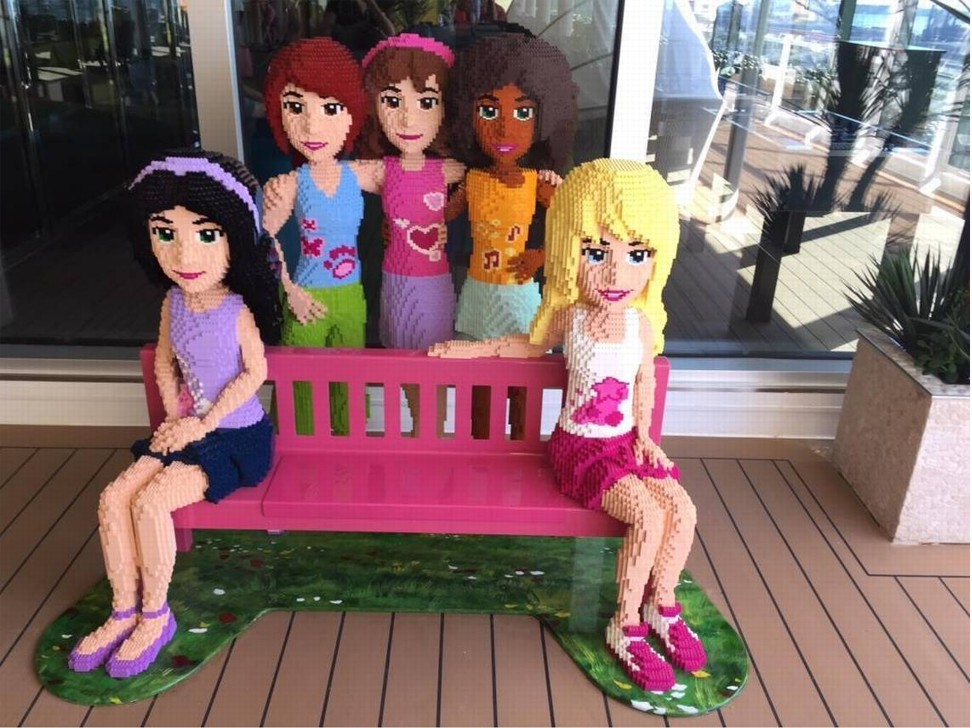 Europeans have a knack for creating children's spaces that are sophisticated and low tech.
On Seaside, you'll find a play area with fibreglass islands, logs and palm trees begging to be climbed.
A nearby bench is set up for selfies surrounded by a group of colourful children made of Lego.
8. Retro zone

Baby boomers can relive their youth at the 1950s themed lounge and playroom, complete with two full-length bowling lanes, air hockey and the driving compartment of a '56 Chevrolet Bellaire convertible that has been transformed into a DJ booth. In turquoise, of course.
Nine things cruise newbies need to know before walking the gangplank
9. Chocolate wall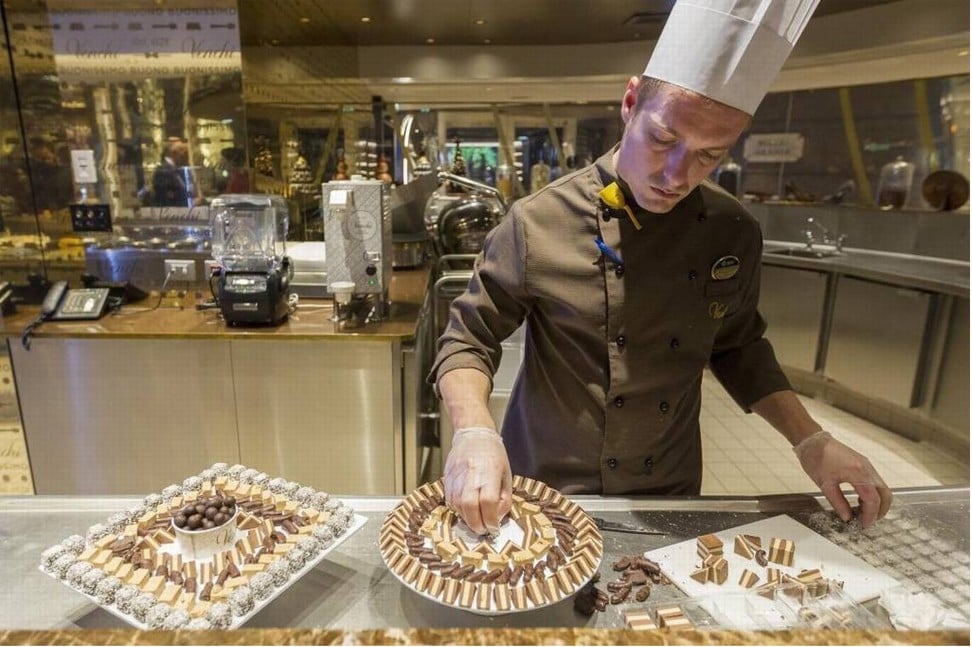 Yes, that really is chocolate flowing down the recirculating wall fountain at the counter of Venchi, the Italian chocolatier.
If that's not enough to boost your endorphins, the scent of freshly made jimmies (hundreds and thousands sugar sprinkles), nonpariels (flat, round sugar sprinkle-covered chocolates), squares (chocolates with biscuit and fizzy candy centres), liquour-filled bon bons, hot cocoa and sorbets may put you into a stupor.
10. Brunch
On land brunch is a Sunday staple, but at sea it's a meal rarely served.
Seaside is one of the places where that's starting to change.
At the Butcher's Cut specialty restaurant, you can order Mediterranean omelettes, carnitas (tender Mexican pork) with tater-tot (deep fried grated potato) hash, country chicken and biscuits (scones), wild blueberry pancakes and made-to-order Bloody Mary's for a modest fee.
Brunch is served on selected days throughout the cruise – not just during the weekend.
11. Champagne bar
There are plenty of bubbly bars on the oceans.
Seaside's curvy bar offers wide views to the sea, fresh oysters (US$29 per dozen) and caviar with the usual trimmings (US$42 for 1 ounce, or 28 grams).
You can buy Dom Pérignon, Roederer, Moët & Chandon or Veuvre Clicquot Champagne by the bottle, or sip a glass of bubbly for US$20.
12. Roy's Restaurant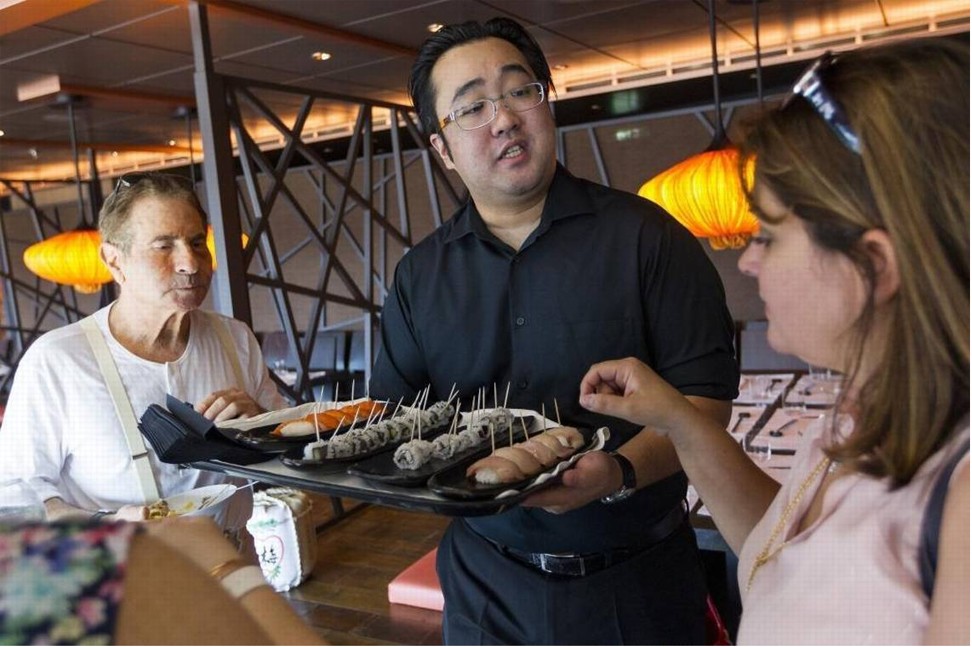 The first shipboard restaurant of Roy Yamaguchi, the award-winning chef behind Roy's Restaurants in Hawaii and elsewhere, is in a wow of a space, with low tables set into the wood floor set with red leather benches (instead of those tricky tatami mats).
Remote Russia's Northern Lights may be best seen from a luxury cruise
The Asian Market Kitchen menu comes with an extra fee and features braised pork bao buns, watermelon poke, Roy's famous ribs in Mongolian marinade, fried whole snapper in Thai coconut curry sauce, and a wide array of sushi and sashimi dishes.
Wash it all down with Japanese whisky, hot sake or a citrus basil punch.
13. Sports bar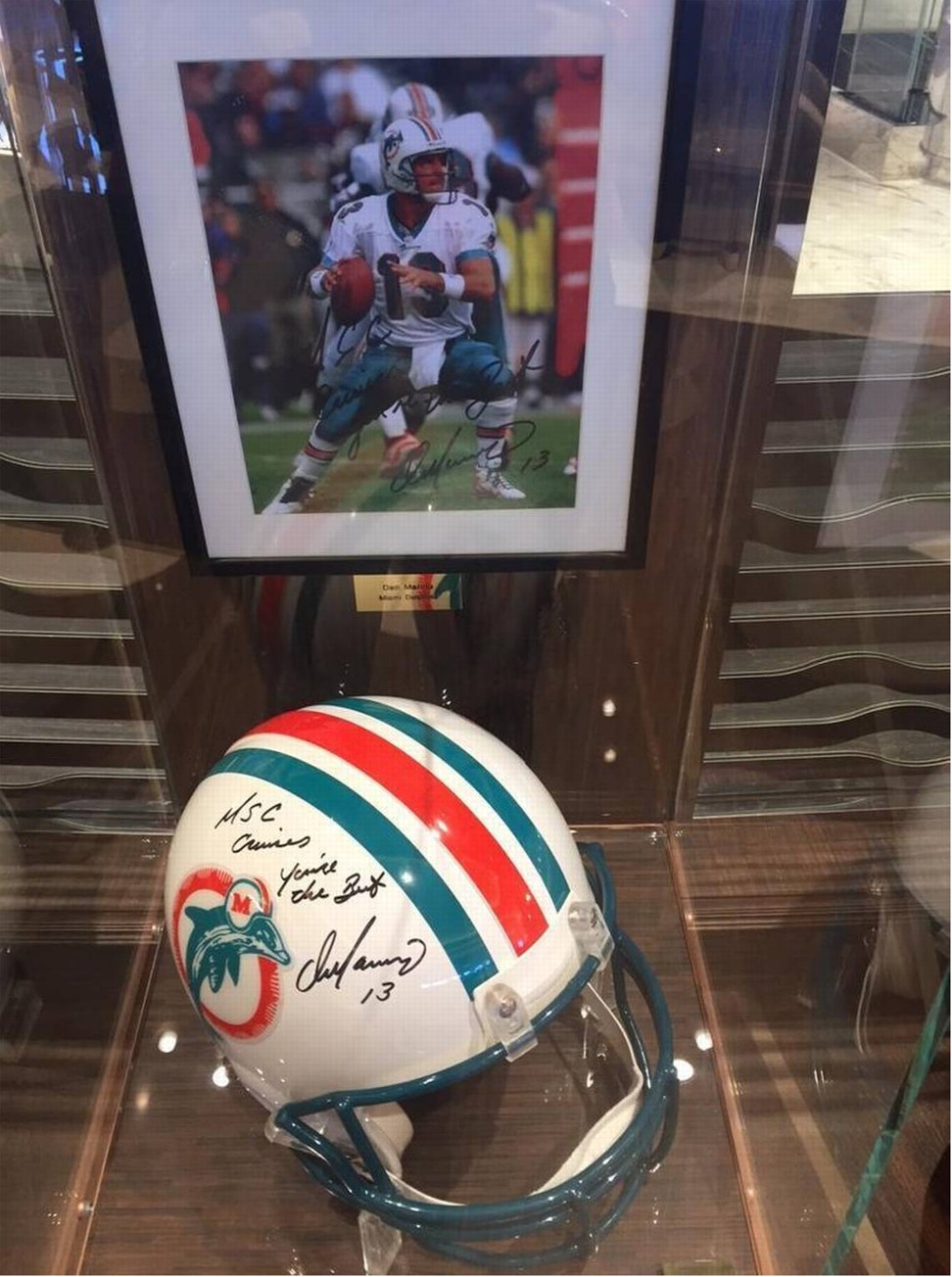 Every big cruise ship has a sports bar – or two.
Along with memorabilia (including an American football helmet signed by Miami Dolphins star Dan Marino) and a dozen beers on tap, Seaside's bar has curved leather booths big enough for a group to watch the game on the screen inside.
You choose the channel.
MSC Seaside
Size: 153,000 gross tonnes
Length: 1,060 feet (323 metres)
Beam: 135 feet
Capacity: 5,119 passengers, 1,413 crew
Decks: 15 passenger decks, 20 in total
Amenities: four swimming pools, three specialty restaurants, 10 bars and lounges, spa, zip line, bowling alley, water slides and park, casino, age-specific children's areas
Want more stories like this? Sign up here. Follow STYLE on Facebook, Instagram and Twitter