A rare 60-year-old Macallan whisky was sold for HK$7.96 million (US$1.01 million) at Bonhams Hong Kong on Friday, smashing the record for the most expensive bottle ever sold at auction.
The record lasted barely a dram.
A second bottle, also from the 1926 vintage, went for US$1.1 million hours later at the same event.
Both sold for more than twice their high estimate of HK$4.5 million. Pre sale forecasts exclude the 22.5 per cent buyers' premium added to the hammer price.
This water costs more than a single malt whisky
The record works out to US$14,466 per centilitre – or around US$43,300 a shot – for the standard 75-centilitre (25.3-fluid ounce) bottle, one of only 12 ever made when the limited edition was released in 1986 after ageing for 60 years in a cask by the Scottish distillery.
Prices for whiskies have soared in recent years as more buyers seek out rare single malts from Scotland, including Dalmore and Port Ellen, as well as Japanese distilleries Karuizawa and Yamazaki.
Since the end of 2008, an index of whisky prices compiled by Rare Whisky 101 has increased 580 per cent while the Liv-ex 100 Benchmark Fine Wine Index grew about 50 per cent.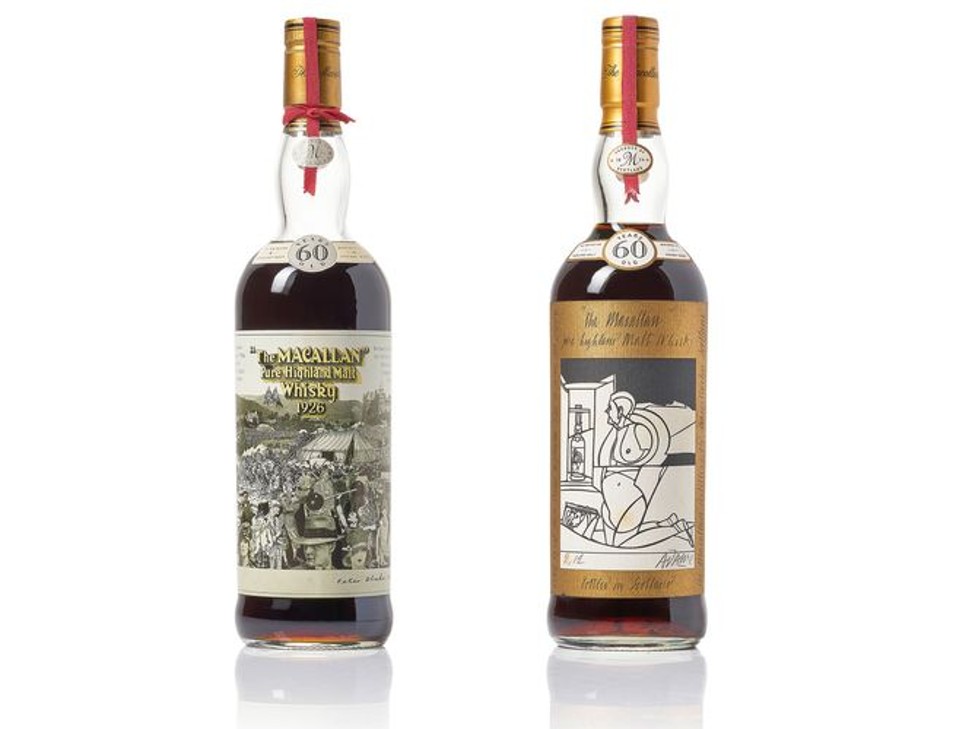 "Nothing can compare with the performance of whisky, it has proved its status as an alternative investment," said Daniel Lam, head of wine and whisky at Bonhams Hong Kong.
While a wine's vintage is determined by the year in which the grapes were picked – bottling usually takes place within 16 to 24 months after the harvest – the age of a whisky refers to the time spent ageing in a cask.
For example, the Macallan 1926 60-year-old was not bottled until 1986.
Giant whisky-tasting cask offers 360-degree video, scents and sounds
Because of continued loss due to evaporation, known as the "angel's share", older whiskies produce fewer bottles, adding to their rarity.
Unlike wine, which should be consumed within hours of opening, a bottle of whisky can be enjoyed for up to one year after it has been uncorked.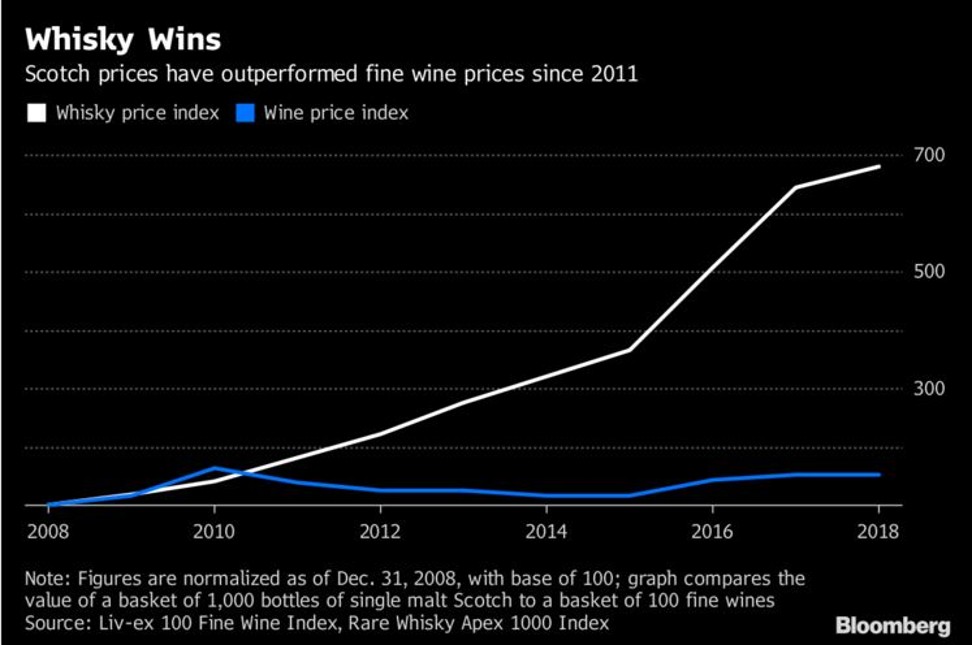 The record-breaking bottle was one of 12 numbered and signed by Italian artist Valerio Adami, who designed the label.
The earlier bottle sold was also one of 12 of a limited edition label designed by Peter Blake, the British pop artist best known for co-creating the cover for the Beatles Album Sgt Peppers Lonely Hearts Club Band.
Dalmore Eos whisky fetches a whopping HK$918,750 at Bonhams auction in Hong Kong
The previous auction record of HK$4.9 million was set in 2014 in Hong Kong for a six-litre bottle of 60-year-old Macallan in a Lalique decanter.
That is eight times larger than the standard-sized bottle sold on Friday.
Want more stories like this? Sign up here. Follow STYLE on Facebook, Instagram and Twitter