On such airlines as Emirates and Singapore, you have to book into lavish first-class cabins to get enclosed suites, made-to-order meals and brand-name pyjamas. On others, these top-end perks exist one notch down, in business.
Airlines such as Qatar Airways and Delta are installing next-generation suite-style seats in that tier; American and United pamper passengers with hotel-style bedding; while others, like Air France and Japan Airlines, serve menus created by locally renowned chefs.
That level of service is sometimes reflected in the airfare, with transoceanic business-class tickets topping US$10,000 in some cases. But if you have airline miles or credit-card points that transfer to frequent-flier programmes, they are bookable for less than the cost of a coach seat. Here's how to do that for the best business-class cabins in the skies.
Can United's new business class put it back in the game?
1. Qatar Airways QSuites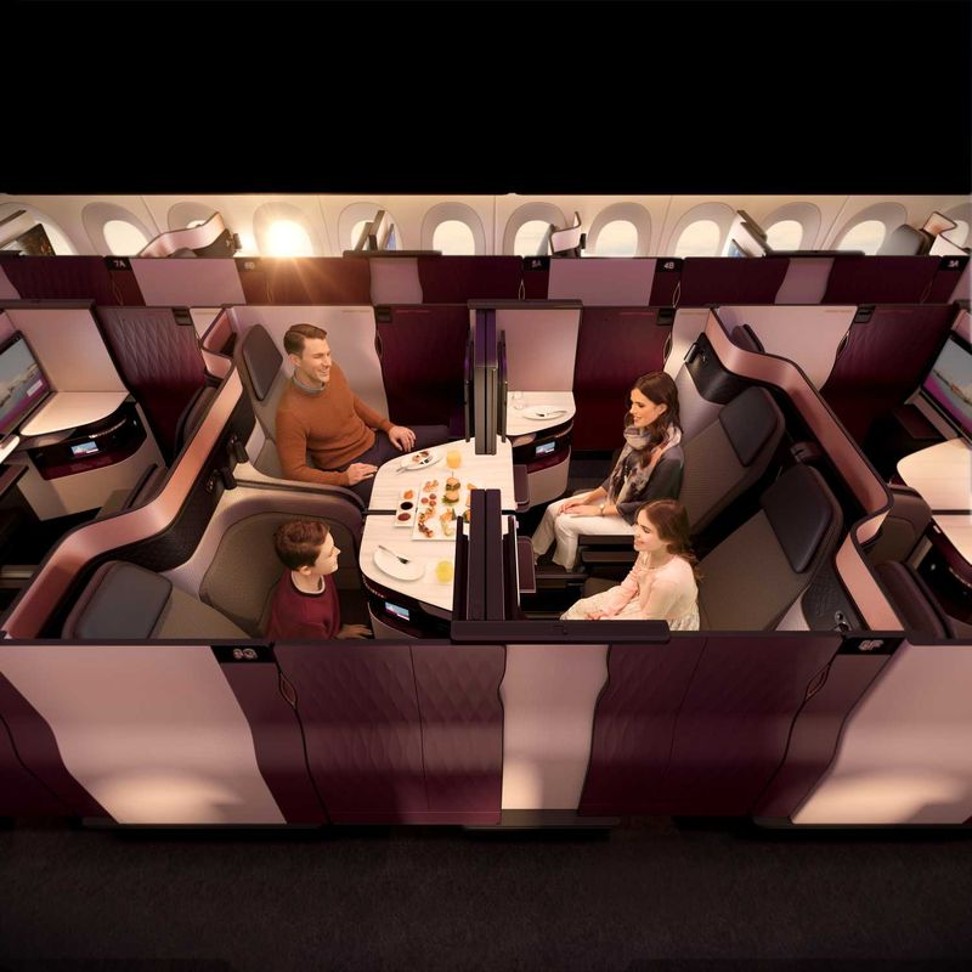 Why you want to fly it: Back in March 2017, Qatar Airways was the first airline to install suite-style seats with retractable doors in business class, when it introduced its innovative QSuites. Certain seats can be combined into double beds or four-person socialising spaces for passengers who are travelling together; good sleep is guaranteed, thanks to quilted mattresses and full-sized pillows, plus pyjamas from the White Co. and do-not-disturb indicators on the suite doors.
Find the QSuites on some of the airline's flights, from Doha to Chicago O'Hare, Houston, New York JFK, Washington Dulles, London Heathrow, Frankfurt, Paris, Seoul and Shanghai.
How to book it for less than coach: Redeeming miles through Qatar's own Privilege Club frequent-flier programme isn't the best way to book a QSuite – not since the carrier raised award prices in May. Instead, pay for your seat with American Airlines AAdvantage miles, British Airways Avios, Cathay Pacific Asia Miles, or other OneWorld alliance currencies. American Airlines might be the best of the bunch: It charges just 70,000 miles each way to fly business between the US and Doha. But start your search for available seats by using the award search on Qantas' or British Airways' sites – they are more user-friendly.
Caveats: Qatar's long-haul fleet is inconsistent, so double-check the type of aircraft and the seat map on your flight to make sure the plane features the new suites.
2. Singapore Airlines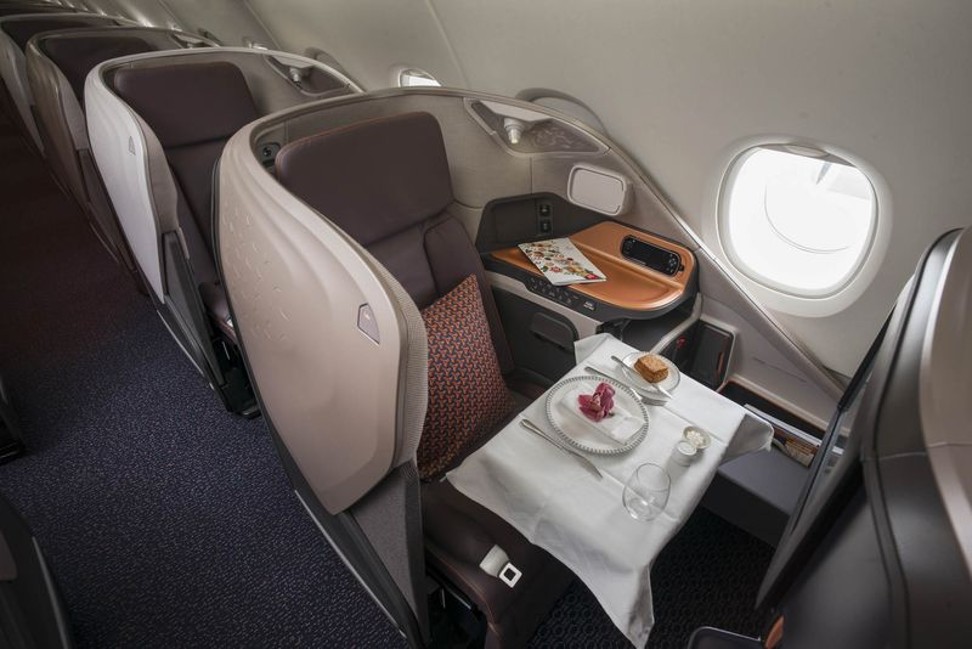 Why you want to fly it: It is famous for its standard-setting first-class cabins, but Singapore Airlines is no slouch when it comes to business class, either. For those on some of the world's longest flights – including its forthcoming 18-hour, 45-minute Newark-Singapore route – this means 28-inch-wide seats that recline into lie-flat beds and a menu of 60 entrée options.
How to book it for less than coach: Singapore's own KrisFlyer mileage programme is by far the easiest way to book business class awards on the airline – though partners such as United and Air Canada have lately been offering some availability. If you are using KrisFlyer, you can transfer miles from American Express Membership Rewards, Chase Ultimate Rewards, Citi ThankYou Rewards, and Starwood Preferred Guest; you will need roughly 90,000 miles each way from the US to Singapore.
Caveats: You can "wait-list" yourself for currently unavailable awards on the KrisFlyer site, but it is a gamble; to take advantage of the feature, you have to transfer enough points into your KrisFlyer account to book a seat that is by no means guaranteed. (The odds of getting off the wait-list, however, are better than you would think.)
Why luxury of flying first class can be worth the money
3. Etihad Studio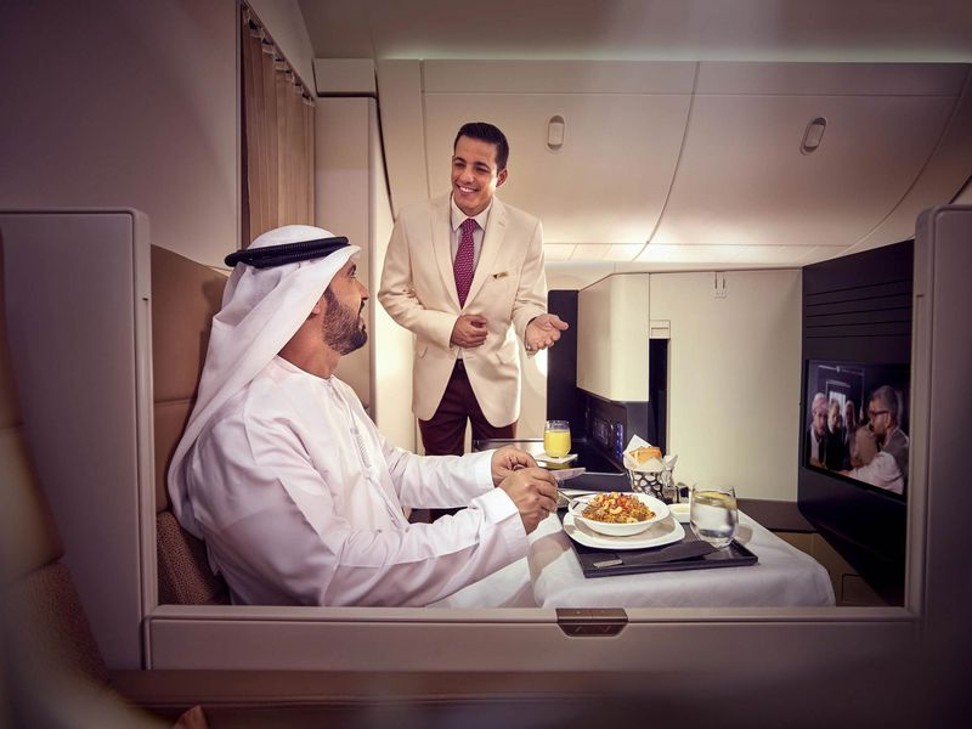 Why you want to fly it: Etihad Airways' three-room Residences get all the attention, but the airline's A380s and 787-9 Dreamliners also stand out for their "studios." These generously appointed business-class seats all have direct access to the aisle, with rows that alternately face forward and backward. Highlights include 18-inch seat back screens, sculptural light fixtures, city-specific amenity kits and dinner service on demand.
How to book it for less than coach: Transfer points from American Express Membership Rewards, Citi ThankYou Rewards, or Starwood Preferred Guest into Etihad Guest, then book for about 100,000-120,000 miles in each direction from the US to Abu Dhabi. Redeeming via American Airlines AAdvantage can be more affordable but requires additional legwork; it costs 70,000 miles each way and is best booked by calling the company's Australian help desk, which has a better track record at finding Etihad availability.
Caveats: Expect high taxes and fees on Etihad Guest award tickets – about US$200 in each direction.
4. Delta One Suites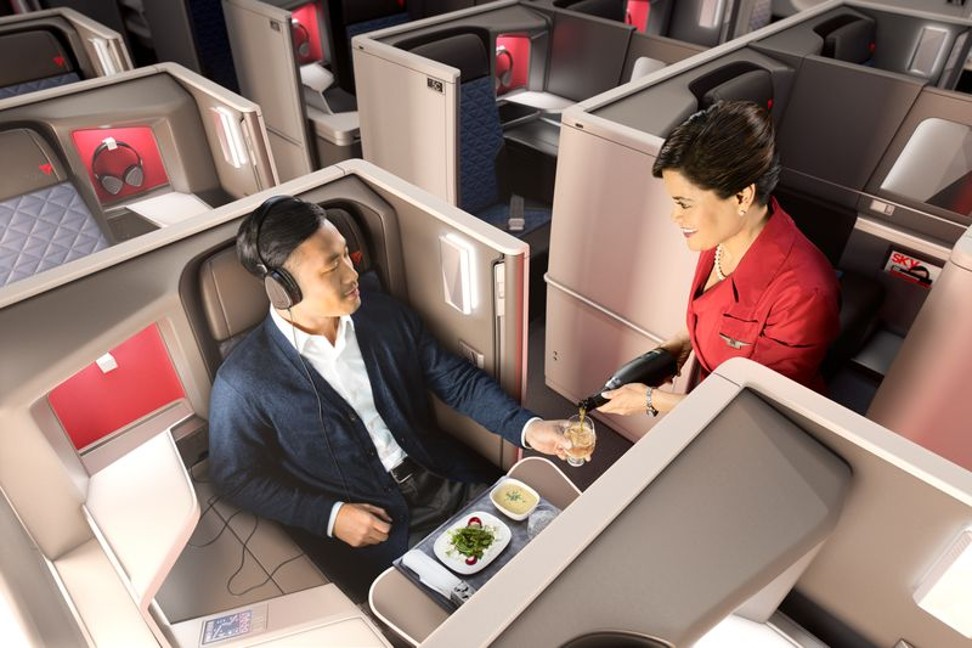 Why you want to fly it: Like Qatar's QSuites, Delta Air Lines' new business-class cabin, called Delta One, features closing suite doors and do-not-disturb lights. Its seats also have memory foam cushions, customisable lighting settings, and Tumi amenity kits stocked with Kiehl's products. The meals – created by such prominent American chefs as Jon Shook and Vinny Dotolo – are presented on Alessi serviceware. Find the suites on Delta's A350s flying from Detroit to Amsterdam, Beijing, Seoul, Shanghai and Tokyo Narita, or from Atlanta to Seoul. Coming soon: routes from Los Angeles to Shanghai and Detroit to Beijing.
How to book it for less than coach: Virgin Atlantic Flying Club is a transfer partner of American Express Membership Rewards, Chase Ultimate Rewards, Citi ThankYou Rewards, and Starwood Preferred Guest – offering plenty of options for adding miles to your account. You can search and book Delta awards right on Virgin's site, and the programme charges only 50,000 miles each way between the US and Europe; getting to Asia takes just 10,000 miles more.
Caveats: The cheapest award tickets, called "saver-level" seats, are extremely scarce in Delta's suites. If you find one, book immediately.
5. American Airlines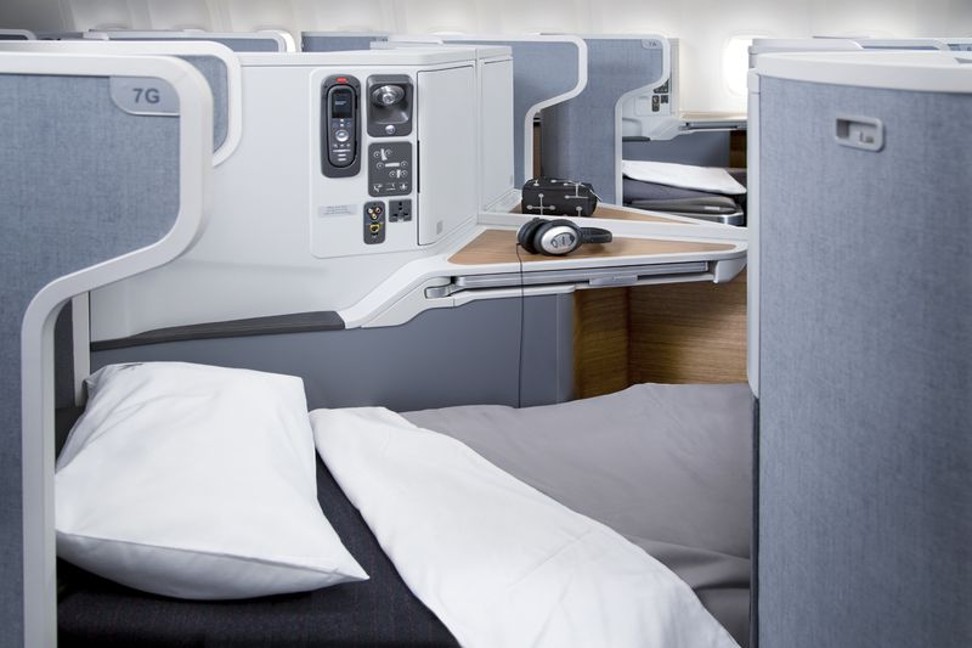 Why you want to fly it: Not only has American upgraded its soft amenities, adding plush Casper bedding and menus by James Beard Award-winning chef Maneet Chauhan, the airline has also done a good job at standardising premium cabins across its long-haul fleet. This means that, despite such small variations as rear-facing seats on Boeing 787-8s and some 777-200s, you will almost always get direct-aisle access, plenty of privacy (from a 26-inch-wide or 27-inch-wide seat), and seats that recline into 79-inch-long beds.
How to book it for less than coach: American AAdvantage miles are your best (and practically your only) choice here. How many you will need depends on where you are flying: Budget 57,500 from the US to Europe or South America, and up to 80,000 to get to the South Pacific or Australia.
Caveats: The only transfer partner for American is Starwood Preferred Guest, which makes it difficult to rack up miles for awards. A co-branded credit card can help.
8 reasons flying first-class is so costly
6. United Polaris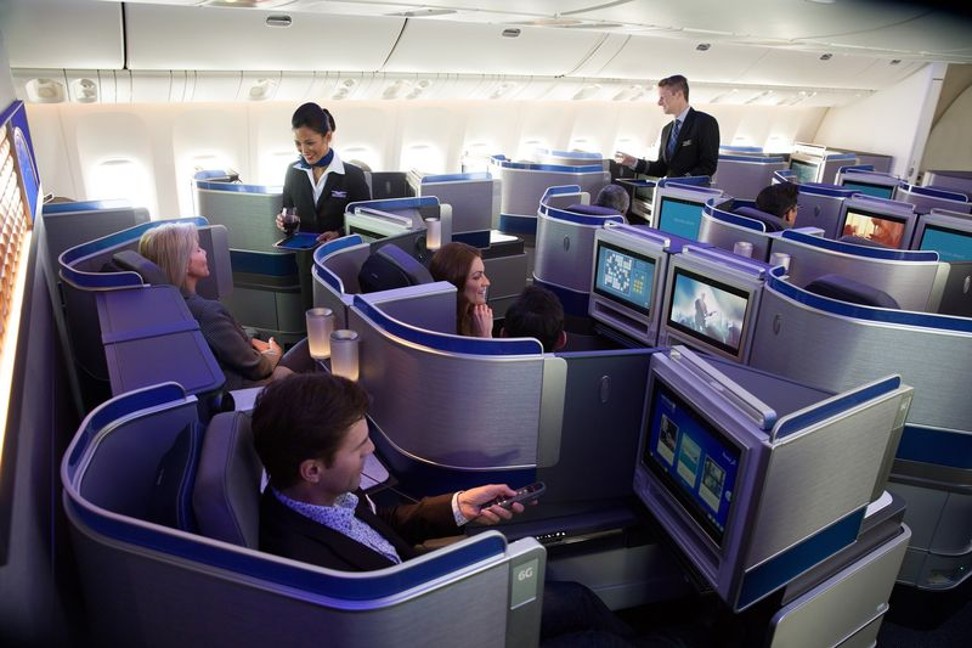 Why you want to fly it: The long-awaited Polaris business-class concept has been rolling out – very slowly – since June 2016, featuring deluxe Saks Fifth Avenue bedding on 78-inch-long seats, cooling gel pillows and Soho House Cowshed Spa amenity kits. Now the brand is promising to pick up the pace on refitting its long-haul fleet with the new seats; so far, they are available on routes from San Francisco and Newark, including those to Frankfurt, Tokyo Narita and Tel Aviv.
How to book it for less than coach: United Airlines' MileagePlus programme is a transfer partner of Chase Ultimate Rewards (and also Starwood, but at an unfavourable transfer rate); expect to pay 60,000 miles each way from the US to Europe, or 70,000-75,000 miles to Asia, depending on where you are travelling to. Another approach is redeeming miles from All Nippon Airways' Mileage Club or Air Canada's Aeroplan programme – both of which are American Express and Starwood transfer partners – for awards on United.
Caveats: Cross-checking your seat map before booking is critical, as availability is still highly limited. So far, Polaris has been installed only on 17 Boeing 777-300ERs, eight 767s and three 777-200s.
7. Japan Airlines Sky Suites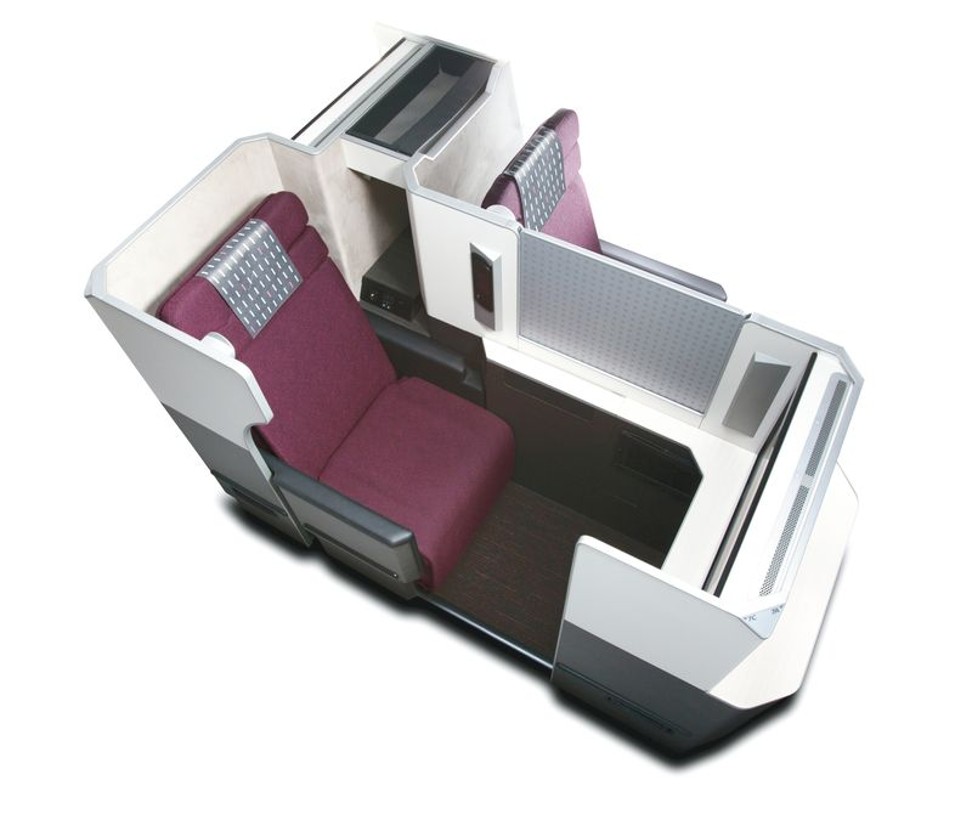 Why you want to fly it: The Apex Suite, a standardised business-class cabin, can be purchased and installed by any airline. Despite that convenience – and the extreme comfort it offers to travellers, with privacy partitions between seats, industry-leading entertainment systems, and a staggered cabin layout – few airlines have yet to roll it out. Find it on most of Japan Airlines' long-haul Boeing 777-300ERs and Boeing 787-9 Dreamliners; the carrier has enhanced the standard Apex design with breathable Airweave mattress pads and menus by acclaimed Japanese chefs.
How to book it for less than coach: JAL's Mileage Bank programme is a transfer partner of Starwood Preferred Guest and charges a mere 85,000-100,000 miles round-trip from the US to Japan. It costs marginally more – 60,000 miles each way – to book through partners, such as American and Alaska Airlines.
Caveats: Japan Airlines tends to open up premium award space on its flights within two weeks of departure, which works well only for flexible travellers. Also be wary of outdated aircraft: Some Boeing 787-8s do not even have seats that fully flatten.
Airline mileage expert explains how you can fly business - for less
8. Air France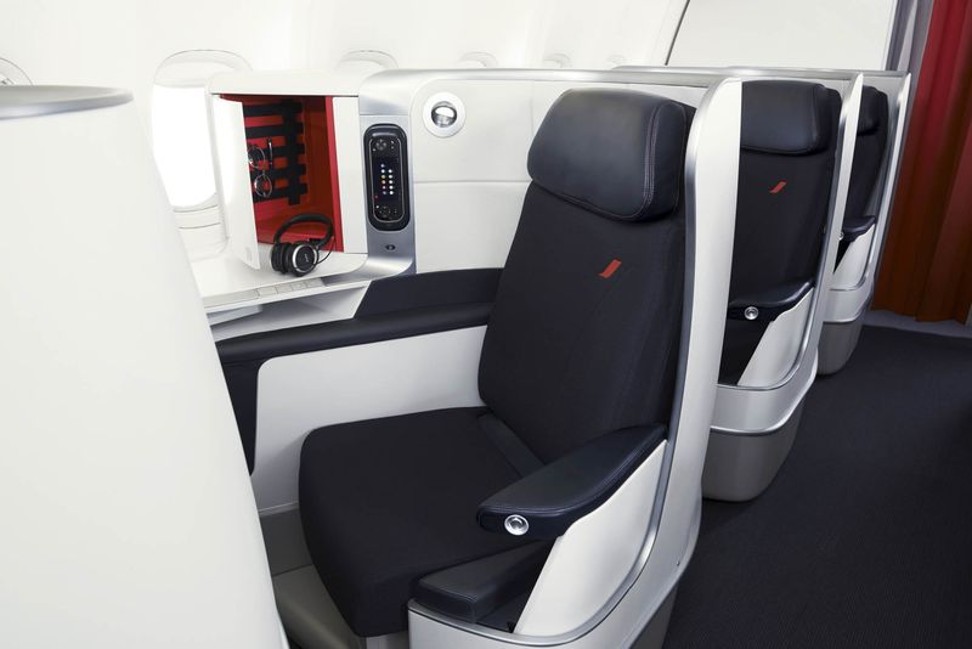 Why you want to fly it: They are not new – Air France-KLM SA's Air France unit introduced its latest business class seats in 2014 – but the carrier's lie-flat, blue-white-and-red seats offer a truly French experience from gate to gate. Passengers are treated to Clarins amenity kits and noise-cancelling headphones, and meals come courtesy of such celebrated Parisian chefs as Bocuse d'Or-winner Michel Roth.
How to book it for less than coach: Flying Blue, Air France and KLM's mileage programme, recently introduced dynamic pricing on award tickets, so redemption values are constantly in flux. Compare the rates to those with transfer partners American Express Membership Rewards, Chase Ultimate Rewards, Citi ThankYou Rewards, and Starwood Preferred Guest to find the best deal.
Caveats: Even though the "new" business-class cabin seats have been around for a while, they are not yet universal. Avoid flights on Airbus A330s, A340s, and A380s, which are not up to date.
Want more stories like this? Sign up here. Follow STYLE on Facebook, Instagram and Twitter