Is it possible to get away from a crowd of 4,004 passengers and 1,716 crew aboard a 994-foot (300 metres) cruise ship?
A cruise ship that boasts the longest (at 1,000 feet) electric go-kart racetrack at sea?
A veritable seagoing resort with an open-air laser tag course, themed as an abandoned space station.
An Aqua Park with two pools and two multi-storey water slides (one of which includes a free-fall followed by a loop overboard that will leave you – assuming your heart did not faint back there at the free-fall part – grinning uncontrollably for a good 90 minutes thereafter).
Ritz-Carlton's luxury cruise liners are perfect for the '1 per centers'
No fewer than 33 places to eat, drink and dessert (yes, it is worth using as a verb here), including, perhaps most pleasantly unexpected for a high-seagoing vessel, a high-plains Texas smokehouse, called Q, where you can pass the sauces and listen to country music each night.
Not to mention a smoking (and non-smoking) casino, Broadway-calibre shows (the Tony Award-winning musical Jersey Boys, anyone?), a spa with 24 treatment rooms, six infinity hot tubs, a fitness centre … and the Beatles (cover band) warming up in a facsimile of The Cavern Club, "inspired by the Liverpool club where the Beatles performed frequently in the 1960s".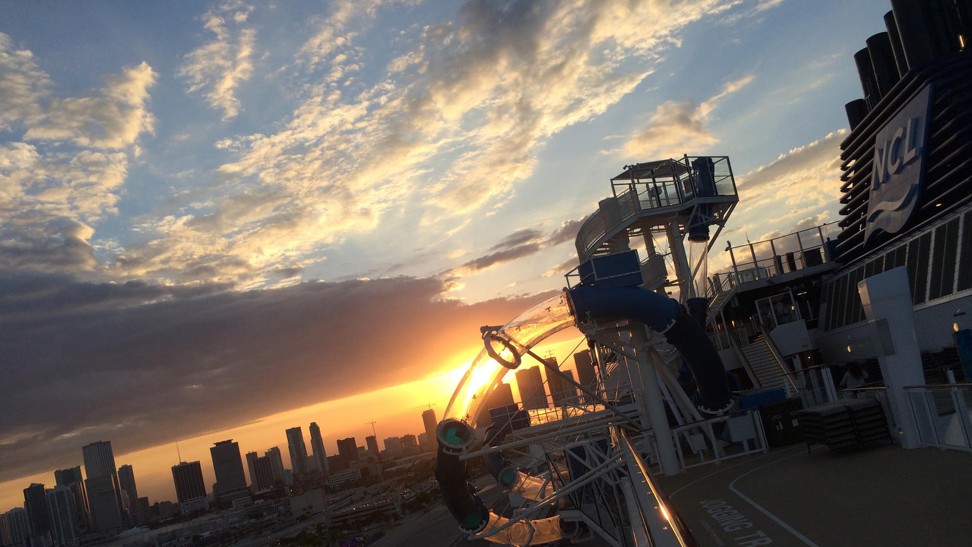 Yeah, yeah, yeah. I know.
But is it possible to get away from all of that on a 168,000-tonne, 136-foot wide, 20-deck cruise ship? Some place where it is possible to just enjoy the cool sea breezes, the flaming sunsets and the stars at night?
Yes.
Norwegian Cruise Line's new Bliss is so big, and offers so much to do that everybody is likely to be somewhere else when you want a quiet moment or two alone
I'm not sure how, exactly; but here's my theory: Norwegian Cruise Line's new Bliss is so big, and offers so much to do that everybody is likely to be somewhere else when you want a quiet moment or two alone.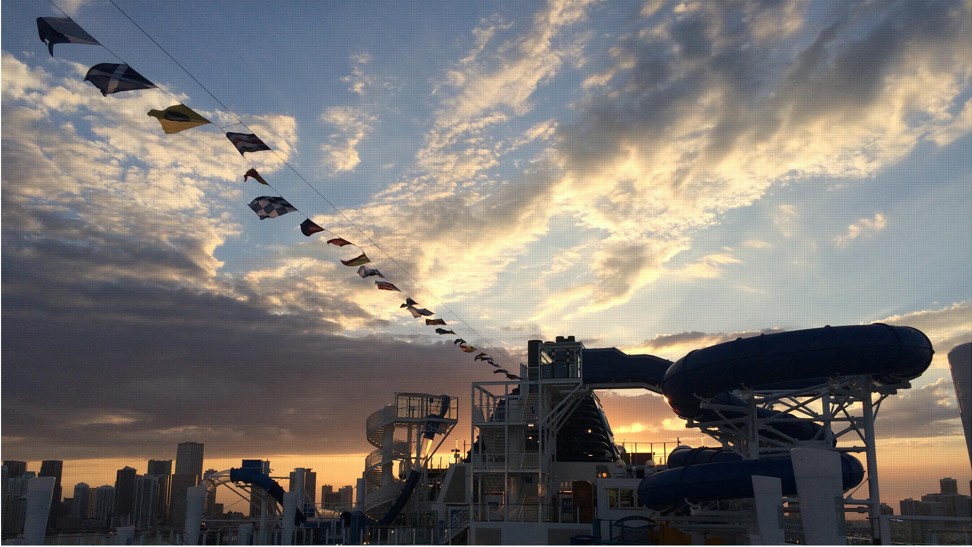 So you can sit in a deck chair on the upper deck and watch Miami slip away until it is an orange smudge on the horizon, like you are the only person aboard.
In the morning, at least for a while, you can listen to soft jazz and classical music with a Bloody Mary and the dawn view all to yourself in the adults-only Spice H2O on Deck 17.
6 most luxurious cruise ships that you should know about
You can even sit on your own personal balcony (there are 1,088 among the 2,043 guest staterooms on board) and watch fish splash and islands pass in the Stream.
If that is not enough "you time" for you, you can splurge (in the bucket-list sense) on The Haven enclave, located on Decks 17, 18 and 19, where guests are even further "pampered with privacy, personalised service and a deluxe array of complimentary amenities",
MSC's new cruise ship looks like a condominium – with great views
There is also a private restaurant (why yes, that is a US$3,000 bottle of Louis XIII cognac back there behind the greeter stand); private lift, observation deck, pool, cocktail bar and concierge desk, "where Haven guests can relax, have a drink and make dining, entertainment or spa reservations through the dedicated concierge".
It is like being on a yacht aboard a 4,004-passenger cruise ship. The cost?
Well, if you have to ask … (Did we mention the Louis XIII?).
Then, when you have been quiet enough, you can join the crowd at the Aqua Park, or on the stairway up to the water slides, or line dancing by the pool, or in the theatre or the fitness centre, or the spa, or laser tag at the abandoned space station or a promenade on the indoor 180-degree observation deck, which wraps around Deck 15 like a pair of Wayfarer sunglasses, or … whew.
Either way – as private or as public as you want to be – you will find Bliss.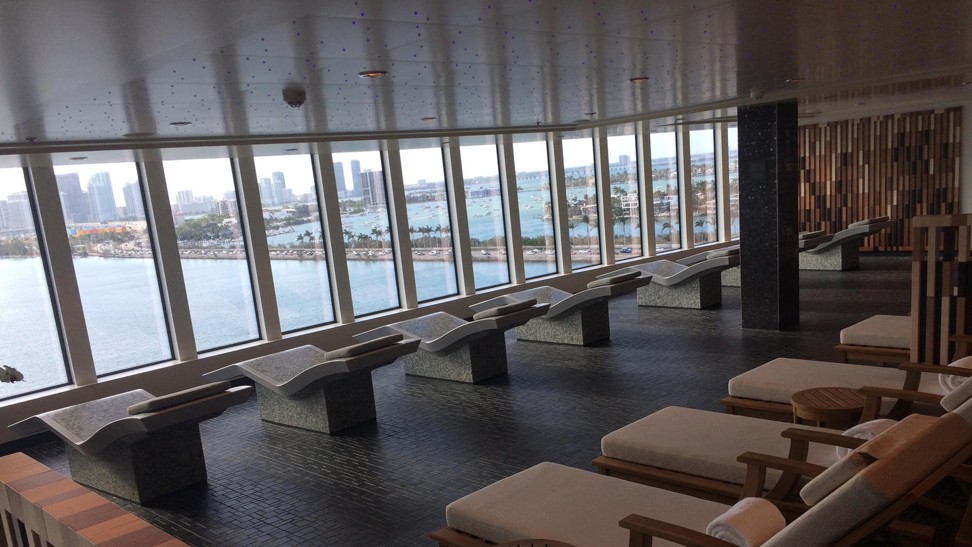 Why billionaires want to expand horizons and buy cruise ship fleets
If you decide to go
Norwegian Bliss is currently cruising Alaskan and Canadian waters, with stops in Ketchikan, Juneau, Skagway and Victoria, British Columbia.
The ship's inaugural winter season will begin in November, with seven-day Eastern Caribbean cruises each Saturday from Miami, featuring calls in St Thomas, US Virgin Islands; Tortola, British Virgin Islands and Nassau, Bahamas.
For more information, go to bliss.ncl.com
Want more stories like this? Sign up here. Follow STYLE on Facebook, Instagram and Twitter