22 New Year dining options to help you ring in 2019 in style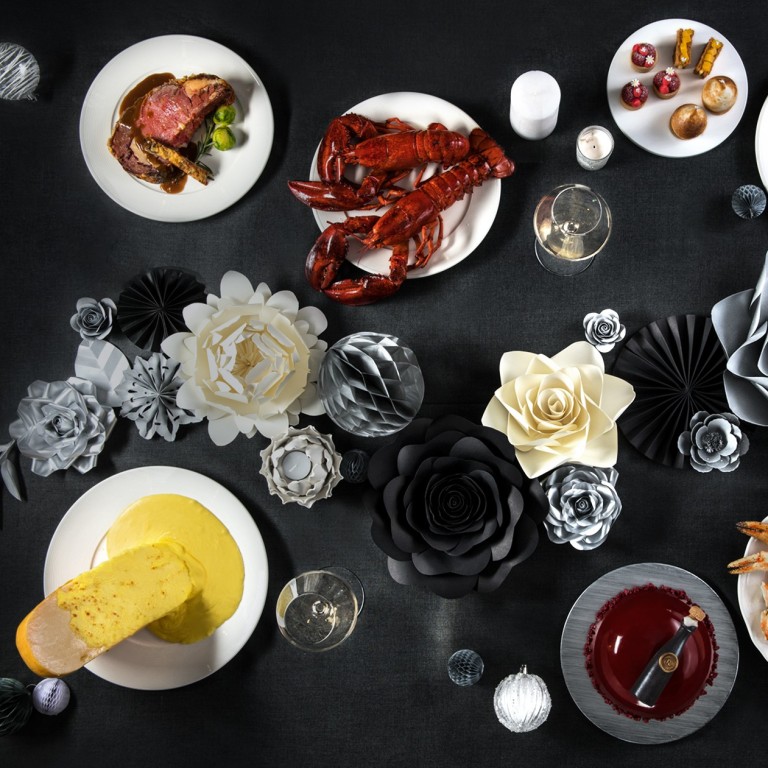 Brasserie on the Eighth
Celebrate the New Year in festive splendour as the restaurant is transformed into a snowy pop-up French winter market.
A semi-buffet dinner allows diners to create the menu they desire. An all-you-can-eat station featuring freshly shucked French oysters, Boston lobsters and Alaskan king crab leg on the ice will be set up.
To further pamper diners, there will be signature home-made foie gras terrine and a classic but hearty mains that include slow-roasted A4 Wagyu beef tenderloin and A4 Wagyu short rib and turkey ballotine stuffed with duxelle mushroom.
For reservations, call 2822 8803.
Cafe Renaissance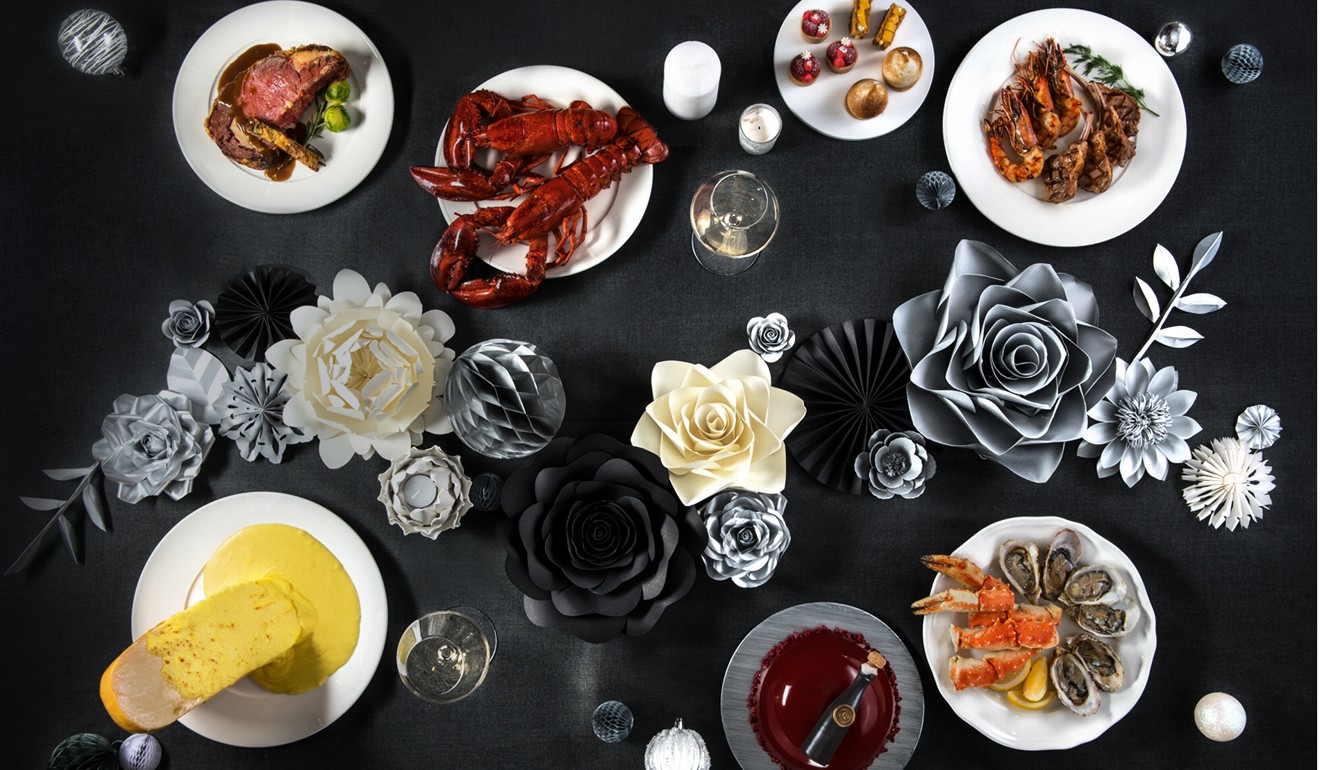 Before heading to the countdown party, fill your stomach at Café Renaissance's New Year's Eve buffet (HK$738/US$94 per adult, HK$438 per child).
Signature items include freshly steamed lobsters, grilled lamb chop and Malaysian king prawns. You can also savour some fresh seafood including Mediterranean bluefin toro tuna, freshly shucked oysters and poached Alaskan king crab legs. Wrap up the feast with desserts like champagne cake.
For reservations, call 2802 8888.
Casa Don Alfonso
Celebrate the New Year at Grand Lisboa's Casa Don Alfonso with a four-course party menu that includes a selection of appetisers, linguine with clams and zucchini or potato gnocchi with tomatoes and mozzarella, and a choice of deep-fried cod or Australian beef tenderloin for mains.
The menu ends with traditional Christmas desserts with coffee or tea. A complimentary pizza and a bottle of champagne will be served for parties of six. It costs 850 patacas per person.
For reservations, call +853 8803 7722.
Chiado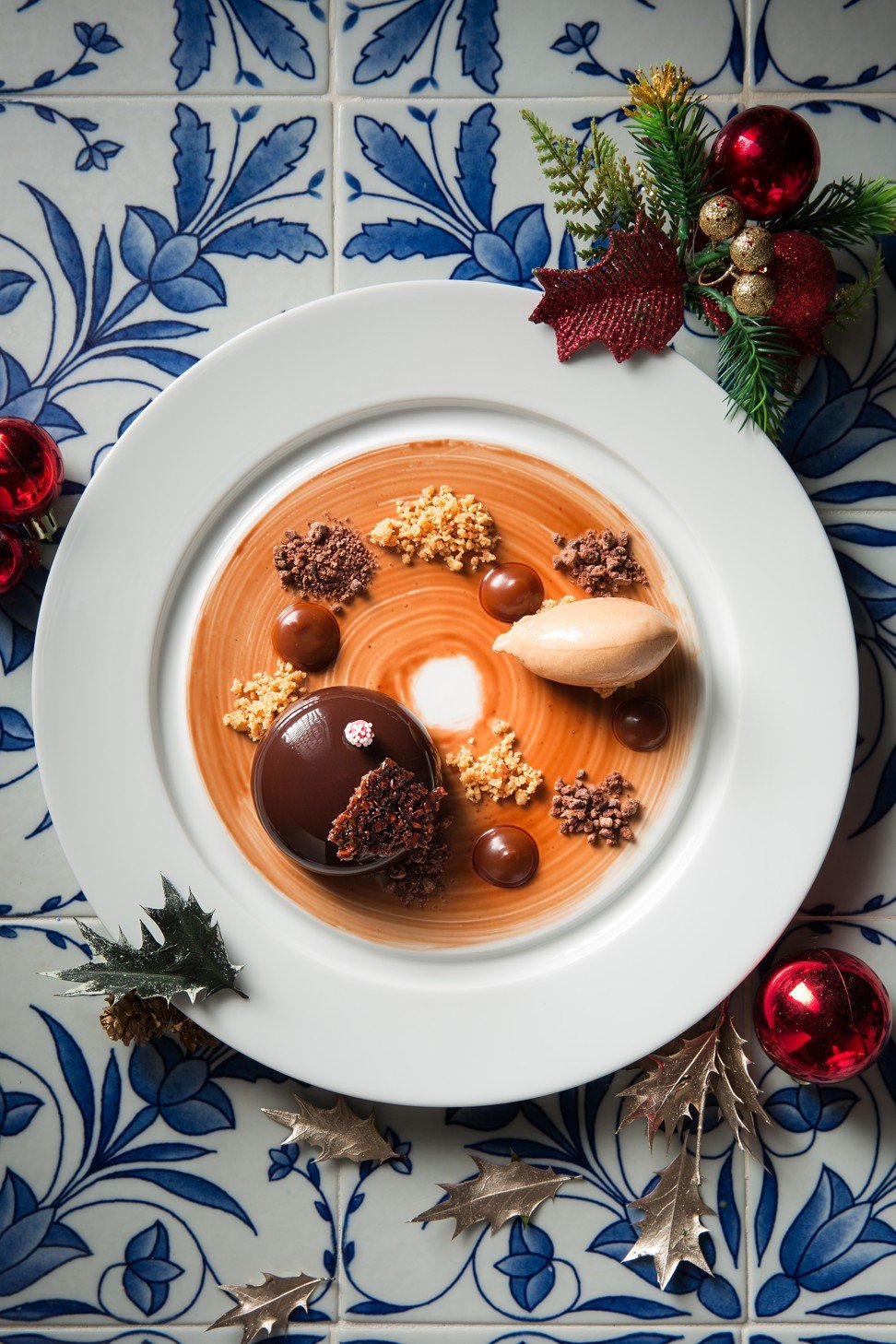 If you are spending the last night of 2018 in Macau, celebrate it with some Portuguese dishes. Presenting a New Year's Eve set dinner (588 patacas), Chiado, a modern and casual fine-dining eatery at Sands Cotai Central, which celebrates the taste of Portugal, is offering dishes like octopus salad, creamy zucchini soups, sautéed squid and prawns, Mediterranean red tuna tataki, seared scallops, beef tenderloin and Iberian pork loin. Desserts include chocolate cigar and green-apple tart.
For reservations, call +853 8113 8988.
Cuisine Cuisine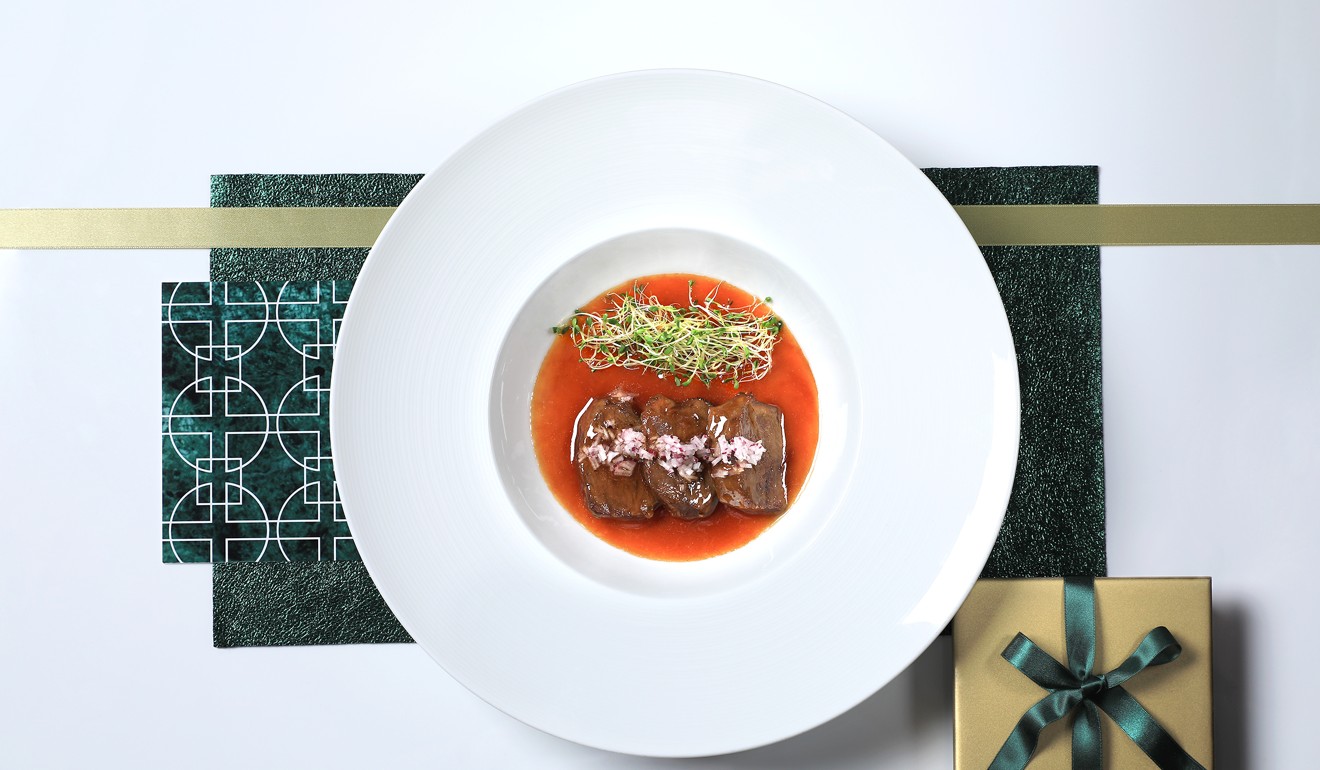 Cuisine Cuisine gives the end of 2018 an elegant Chinese touch. On New Year's Eve, the restaurant is offering a seven-course festive set for two guests (HK$1,988) or more, together with a glass of champagne for each guest. The menu includes a gently steamed lobster with egg white and black truffle, and a tender braised Spanish pork cheek. Guests can also order from its festive à la carte menu.
For reservations, call 2315 5885.
Epure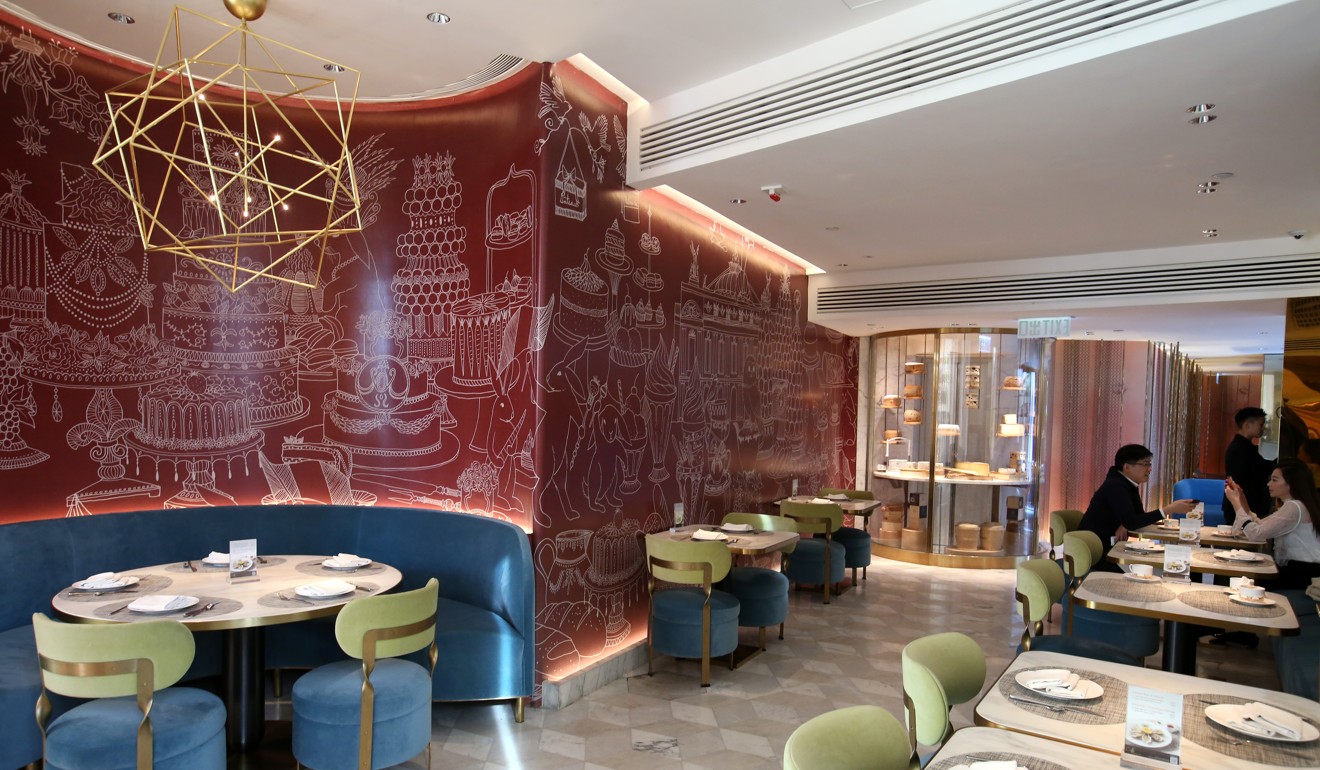 One Michelin-starred French fine-dining place Épure is offering a luxurious festive six-course dinner this New Year's Eve (HK$2,888 per person). Guests get to savour some of their all-time favourite prime ingredients, including top-grade duck foie gras, black truffle, abalone, prized blue lobster and caviar. Guests also get a glass of champagne and selected cheese from the restaurant's cheese trolley.
For reservations, call 3185 8338.
Gaddi's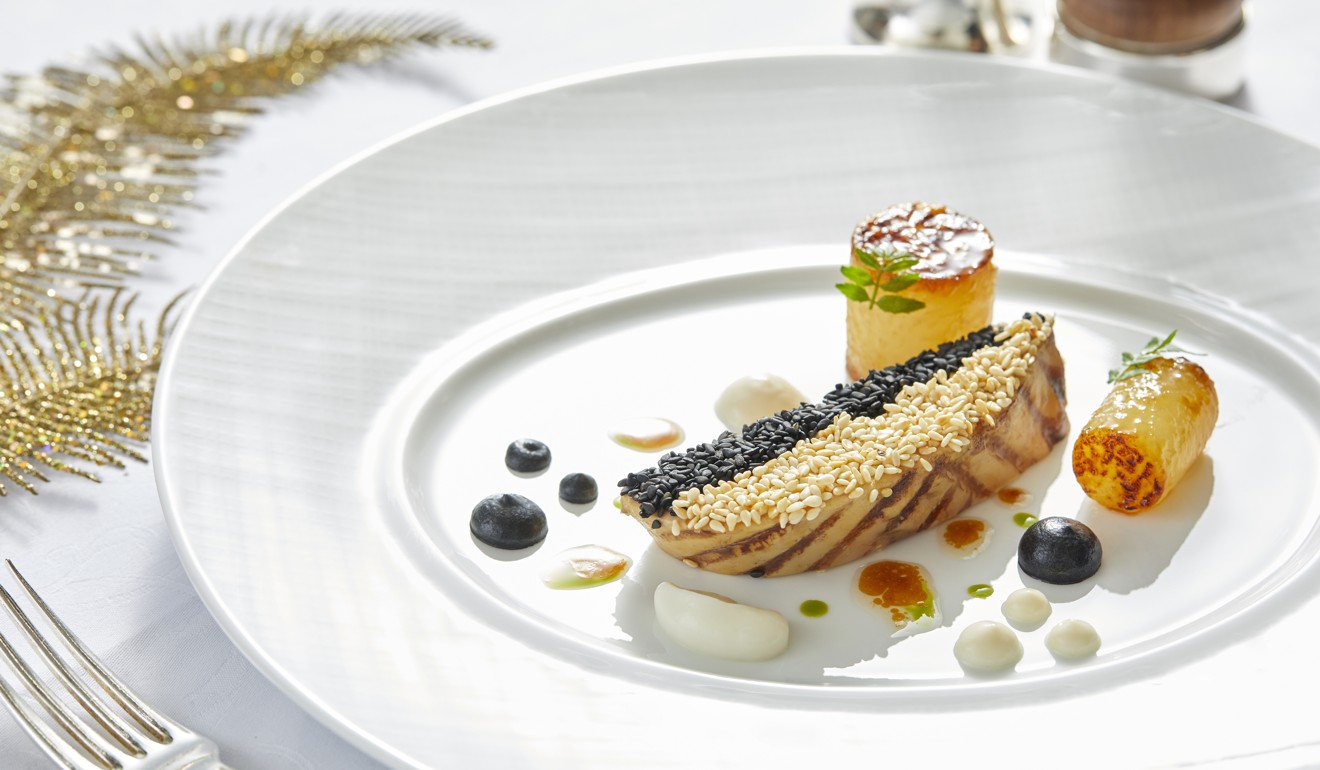 Ring in the New Year in style at the Peninsula's French fine-dining restaurant Gaddi's, where there will be a black-tie gala dinner. The eight-course menu (HK$4,888) will include marinated and grilled duck liver with white and black sesame and pan-seared turbot with shellfish, Granny Smith and champagne sauce.
For reservations, call 2696 6763.
Intercontinental Lobby Lounge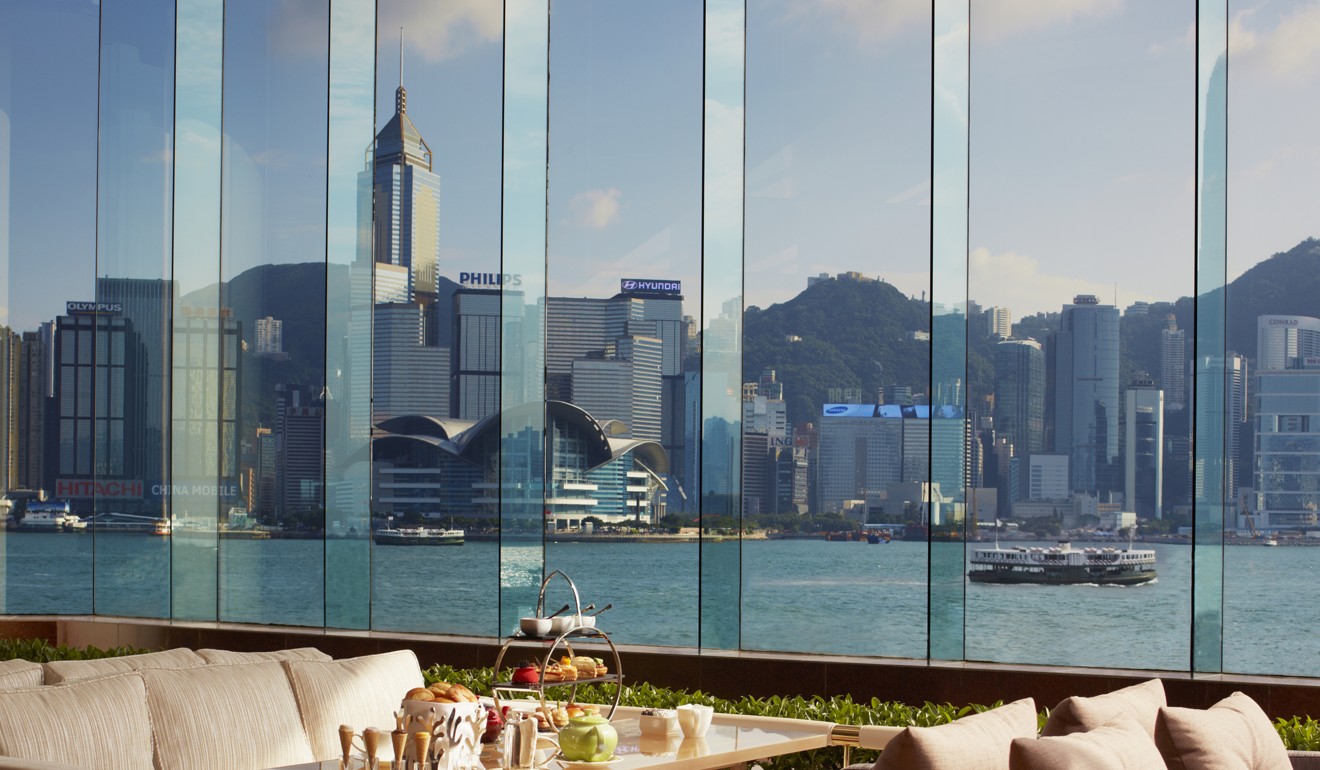 Try InterContinental Lobby Lounge's festive afternoon tea on New Year's Eve and New Year's Day. Holiday treats include savoury items made by executive chef Maxime Luvara and pastries made by executive pastry chef Christian Gonthier.
Guests can feast on delights like turkey and foie gras tree bread, Hokkaido scallop "tofu style" with caviar, passion fruit white chocolate dome, and some freshly baked cinnamon scones and panettone served with Devonshire clotted cream, seasonal fruit jam and Earl Grey jelly.
The afternoon tea set costs HK$688 for two, or HK$488 for one.
For reservations, call 2313 2323.
The Kitchen
Ring in the New Year at the Grand Lisboa's The Kitchen with an eight-course meal that features a salad bar, oysters, steamed abalone or lobster ragout, cream of corn with snow crab, miso glazed grilled US black cod fillet, grilled Australian full blood M9+ Blackmore Wagyu sirloin or roasted Madagascar garlic king prawns for mains and Earl Grey mousse with lychee confit and sake truffles to end. It costs 1,600 patacas per person.
For reservations, call 853 8803 7777.
Le Pan
Le Pan is featuring a New Year Extravagance dinner menu of high- quality contemporary French dishes on New Year's Eve.
The glamorous six-course meal includes huso huso caviar and Atlantic mackerel, Miyazaki Wagyu and crayfish served with miso aubergine and a fiery pepper jus, and Shikoku corn medley as dessert.
The menu costs HK$1,480 per person with wine, with an additional HK$1,100 for a six-glass wine pairing.
For reservations, call 3188 2355.
Le Seleil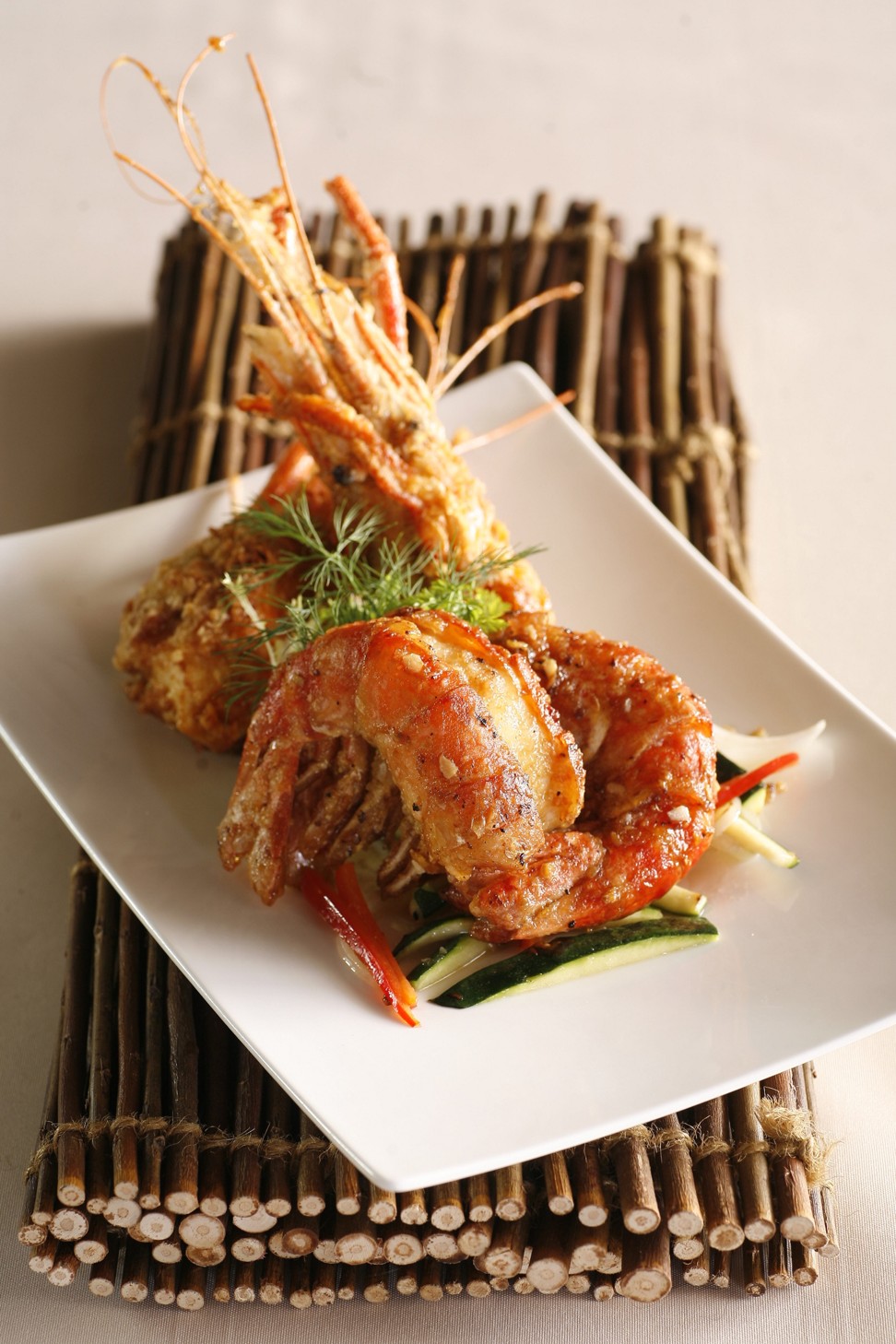 Give yourself a fresh New Year's Eve by savouring some Vietnamese dishes at Le Soleil. The restaurant is offering two menus this New Year's Eve.
The first, from 6.30pm to 9pm, features starters such as pan-fried duck liver with grape vinegar sauce, main dishes like "Vietnamese" style Boston lobster and "Vietnamese" style roasted lamb chop with lemongrass jus, and dessert sea salt chocolate cake and caramel ice cream.
The second one, starting from 9.30pm, features more starters like baked crab shell with truffle, Vietnamese lobster soup, and more main dishes like roasted suckling pig. The earlier meal set, starting at 6.30pm, costs HK$798 per person, and the later one, starting at 9.30pm, costs HK$898 per person.
For reservations, call 2733 2033.
Limewood
Limewood gives guests a Californian holiday experience by mixing Southeast Asian, Hawaiian, South American and Caribbean tastes and basing them around barbecued seafood, meats and refreshing cocktails.
This season, the dining place at Repulse Bay is offering a holiday season menu that includes house-made corn bread, free range Hunter Valley turkey breast in house-made gravy and cranberry sauce, sage stuffing, and sweet-potato rum pie served with cinnamon and rum ice cream. The seasonal meal costs HK$550 per person.
For reservations, call 2866 8668.
Lobster Bar & Grill
Known for its fine seafood dishes, Lobster Bar and Grill's New Year's Eve Gala Dinner menu features Carabineros red prawn ceviche with tomato jelly, avocado and Oscietre caviar, Boston lobster thermidor, spiced wine granite in vanilla espuma, pan-fried French monk fish and king crab served with glazed baby vegetables and crab emulsion, and a chocolate sensation with raspberry compote, cacao crumble and vanilla ice cream. Each meal costs HK$2,988 per person, which includes one glass of Veuve Clicquot champagne.
For reservations, call 2820 8560.
Mercedes Me
Treat yourself and your loved ones if they are fans of Mercedes-Benz. At Mercedes Me, while seeing some cool products from the marque, you get to enjoy the store's seasonal menu – fried squid with coconut, mango aioli and black garlic, pearl barley "risotto" in fire-roasted aubergine, sesame leaf and aged Parmesan, agnolotti that has ricotta, green peas and almonds, free-range turkey served with wild rice, red herb butter and gravy, and Jerusalem artichoke with dill, fennel pollen and local organic honey. Each meal set costs HK$550 per person.
For reservations, call 2598 7080.
Mirage Bar & Restaurant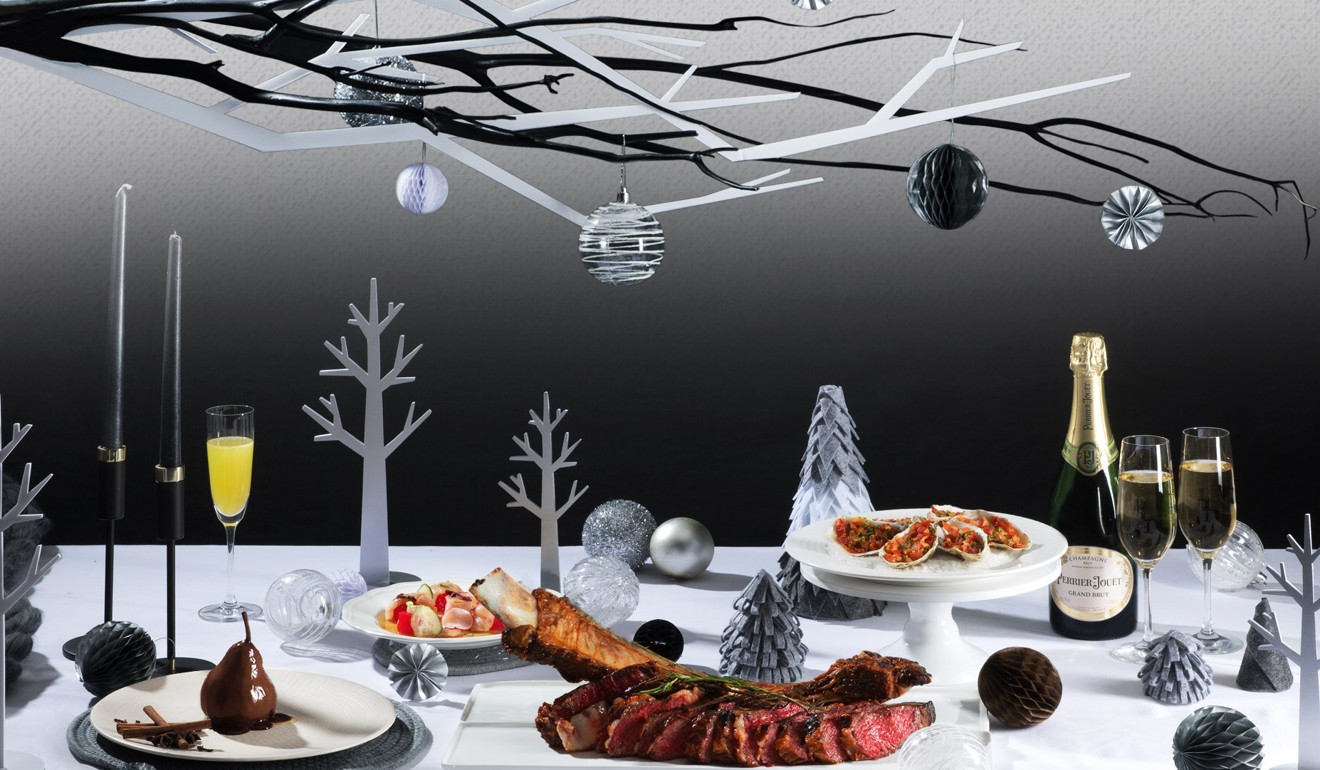 The semi-buffet at Mirage Bar & Restaurant gives you the last chance in 2018 to taste a little bit of everything.
Guests can start their feast by tasting the refreshing Mirage signature kingfish or Angus beef steak tartare. Other delectable items include tomahawk rib-eye, oyster Kilpatrick and sustainable Icelandic salmon.
Guests can also end their year with a sweet note of frozen caramel parfait dipped in vanilla chocolate crispy coating and spiced poached pears in warm chocolate sauce. The semi-buffet costs HK$808 per adult, HK$408 per child, and HK$1,160 per adult with an additional 50 grams of caviar for two.
For reservations, call 2802 8888.
One Harbour Road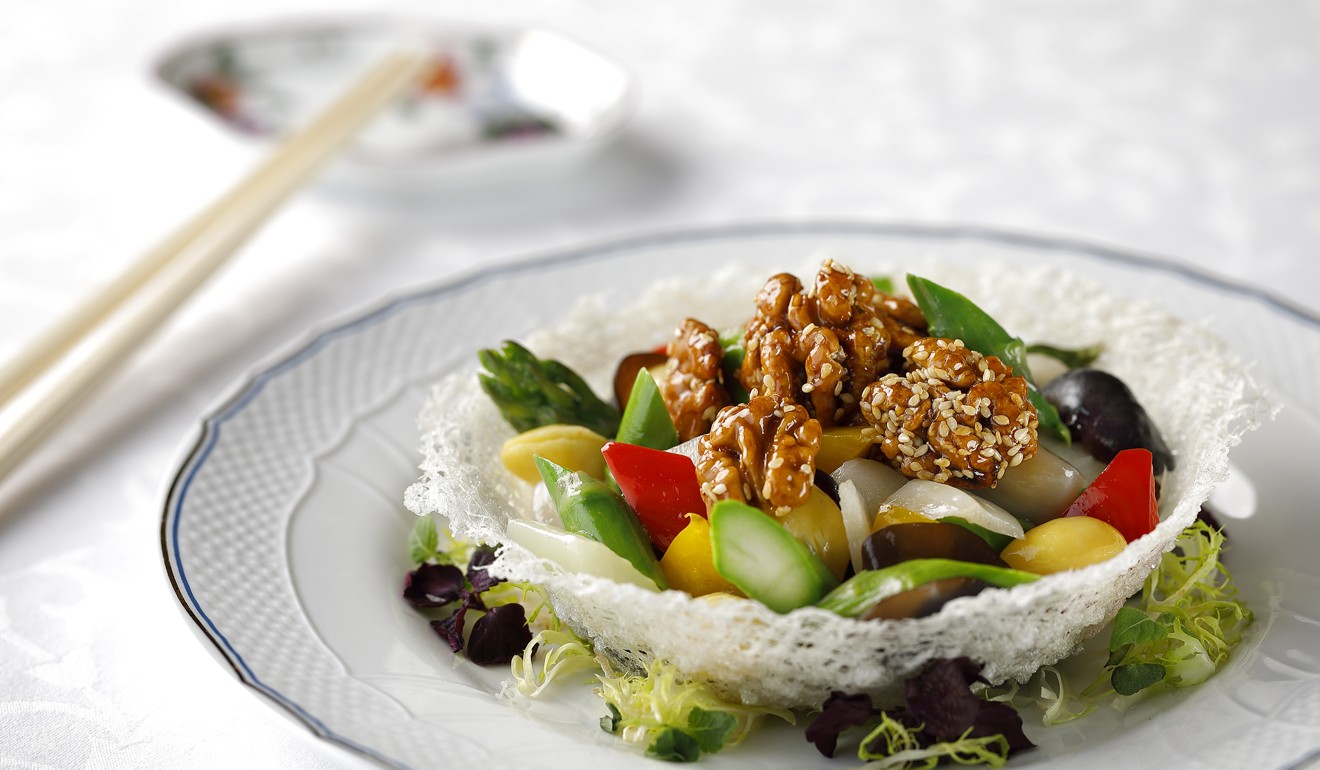 A Chinese restaurant known for traditional homestyle Cantonese cuisine, One Harbour Road emulates the elegance of a 1930s Chinese mansion with its cosy decorations.
It brings guests a luxe New Year's Eve meal that includes dishes like roasted suckling pig in foie gras pâté and crispy lotus that comes with a roasted duck in black truffle, young ginger and lettuce cups, wok-fried lobster in Mao-tai and Sichuan peppercorn, and baked fish maw served with abalone wedges, sea cucumber and puff pastry. The festive dinner with live entertainment costs HK$2,398 per person.
For reservations, call 2584 7722.
The Promenade
Close 2018 with a sumptuous dinner buffet at Harbour Grand Kowloon's The Promenade. Late dinner runs from 8.30pm until 11pm. Festive highlights include roast turkey with stuffing, Beef Wellington, pan-fried duck foie gras with truffle sauce and irresistible desserts such as Yule log cake, panettone and gingerbread pudding. It's HK$908 per adult and HK$588 per child.
For reservations, call 2996 8432.
Sabatini Ristorante Italiano
An Italian fine dining place with a picturesque "countryside" setting, Sabatini Ristorante Italiano at The Royal Garden is offering its grand New Year Eve dinner menu (HK$2,488 per person) this festive season.
Featured dishes include smoked duck breast carpaccio with wild chicory, caprino cheese sauce and white truffle, cherry tomato soup with Alaska crabmeat and oregano, traditional spaghetti with vongole, charcoal lamb rack "scottadito" with Treviso endives and black truffle, and blood orange with marzemino wine jelly.
For reservations, call 2733 2000.
Shikigiku Japanese Restaurant
Shikigiku Japanese restaurant, a place that offers kaiseki menus along with its signature tempura, teppanyaki, sushi and sashimi, is featuring a New Year's Eve gala dinner menu (HK$3,080 per person) and New Year's Day lunch menu (HK$980 per person) at its IFC Mall branch, and a New Year's Eve dinner menu (HK$1,980 per person) and New Year set lunch menu (HK$780) at The Royal Garden branch.
The New Year's Eve gala dinner set at IFC Mall features starters like Tottori zuwai crabmeat vinegar dish, sashimi like Hokkaido sea urchin, tempura like Nagasaki abalone, teppanyaki like Mie lobster and Saga Wagyu beef steak, and soup, simmered dishes, noodles sets and dessert.
For reservations, call 2805 0600.
Tycoon Tann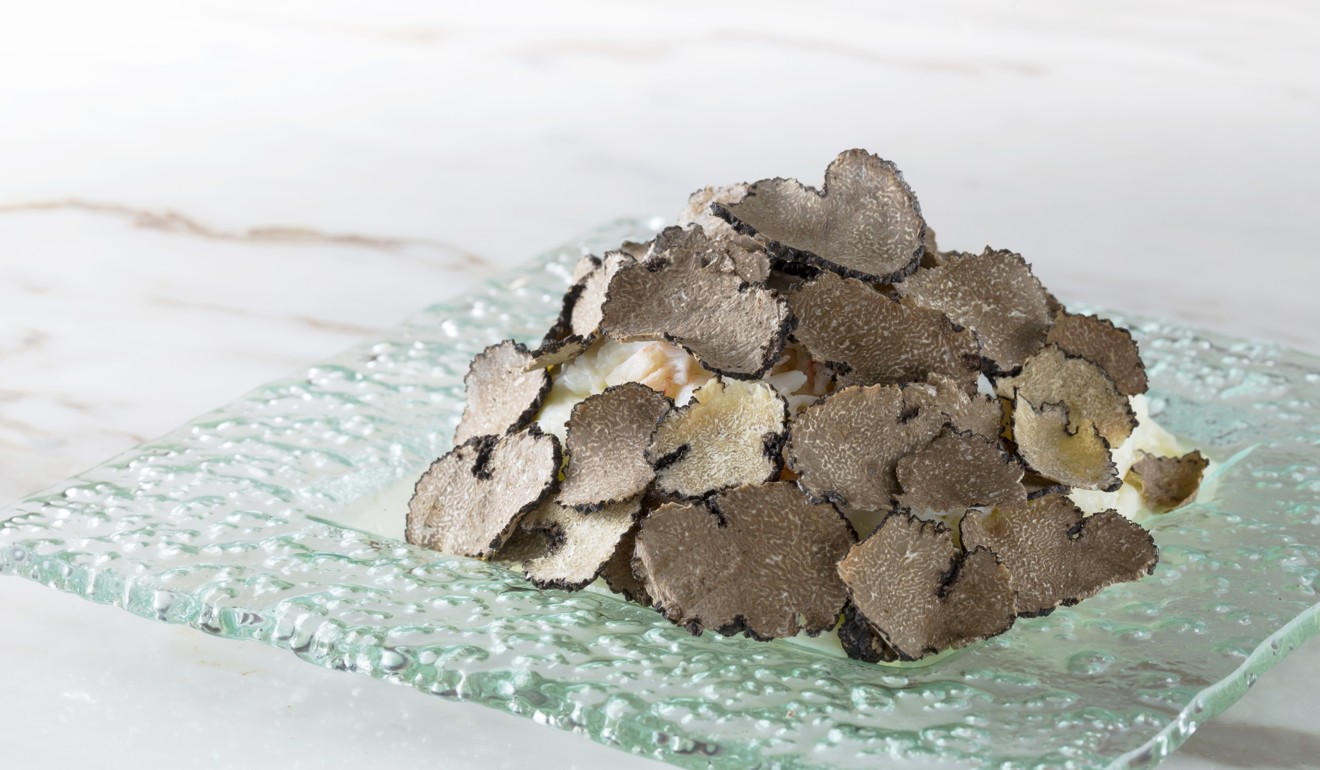 Besides winter solstice and à la carte options, Tycoon Tann offers an eight-course festive menu over Christmas and New Year's Eve.
Dishes include a starter's platter of red jellyfish tossed in wasabi, smoked poached egg with caviar and chilled cucumber with Japanese black garlic. Signature roasted Peking duck, fried egg white with fresh crabmeat and black truffle, pan-fried black cod with soy sauce, ginger and salt, steamed rice with charcoal-grilled Hungarian Mangalica hogs with honey sauce, and slow-roasted UK Angus beef short rib with honey sauce are main dishes. A dessert platter ends the festive meal. It costs HK$888 per person.
For reservations, call 3125 3228.
Uma Nota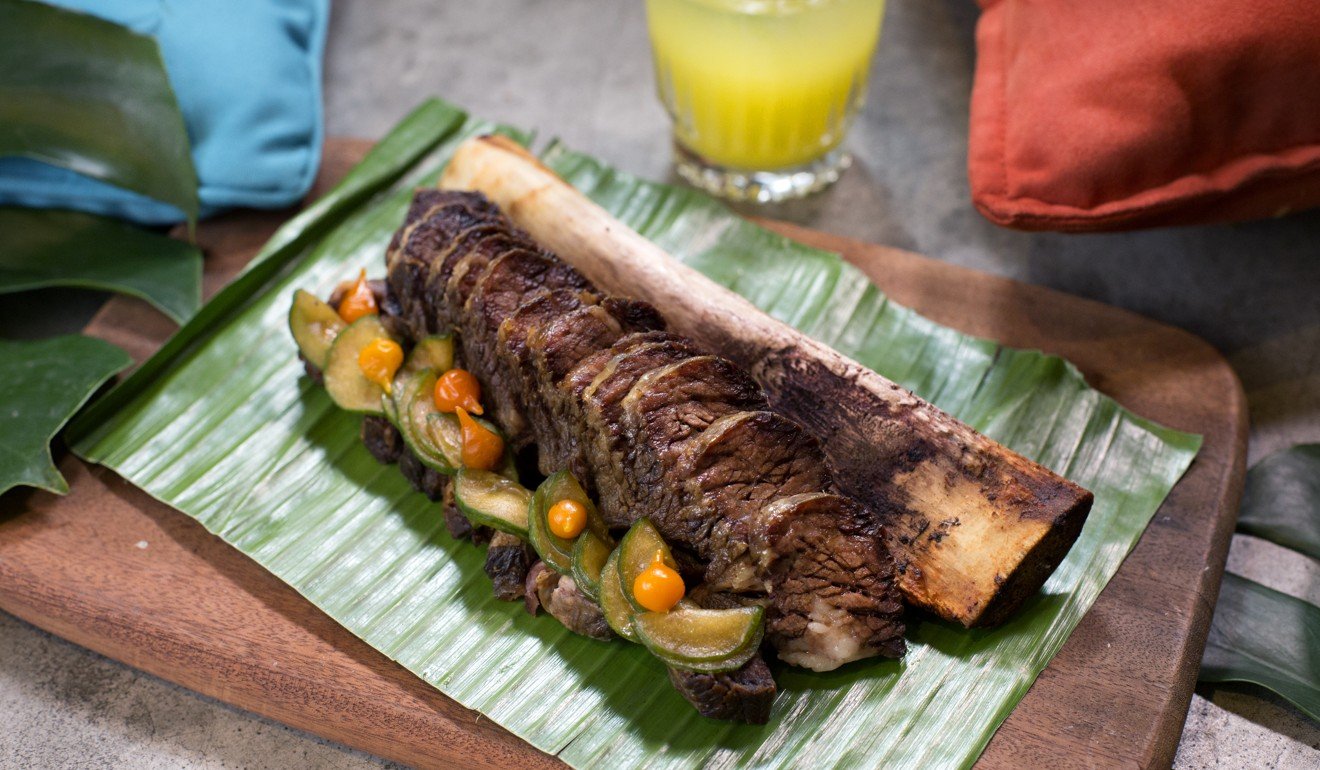 Uma Nota may be where to go if you want a refreshing dining experience this festive season. Uma Nota offers Brazilian Japanese food, a cuisine in Sao Paulo where the Japanese community uses local ingredients to create a cuisine of its own.
The dining place is also a modern boteco, a meeting place for bohemians in Brazil who look for a fun place with great street food and refreshing drinks. This New Year, Uma Nota is offering new dishes, including tuna tataki, caldinho de vongole (flambéed clams in cachaca cooked in coconut milk, turmeric, Brazilian palm oil and other ingredients), costela no bafo (beef short ribs cooked with banana leaves, sunomono, fried cassava and more), and cheesecake in guava sauce.
For reservations, call 2889 7576.
Whisk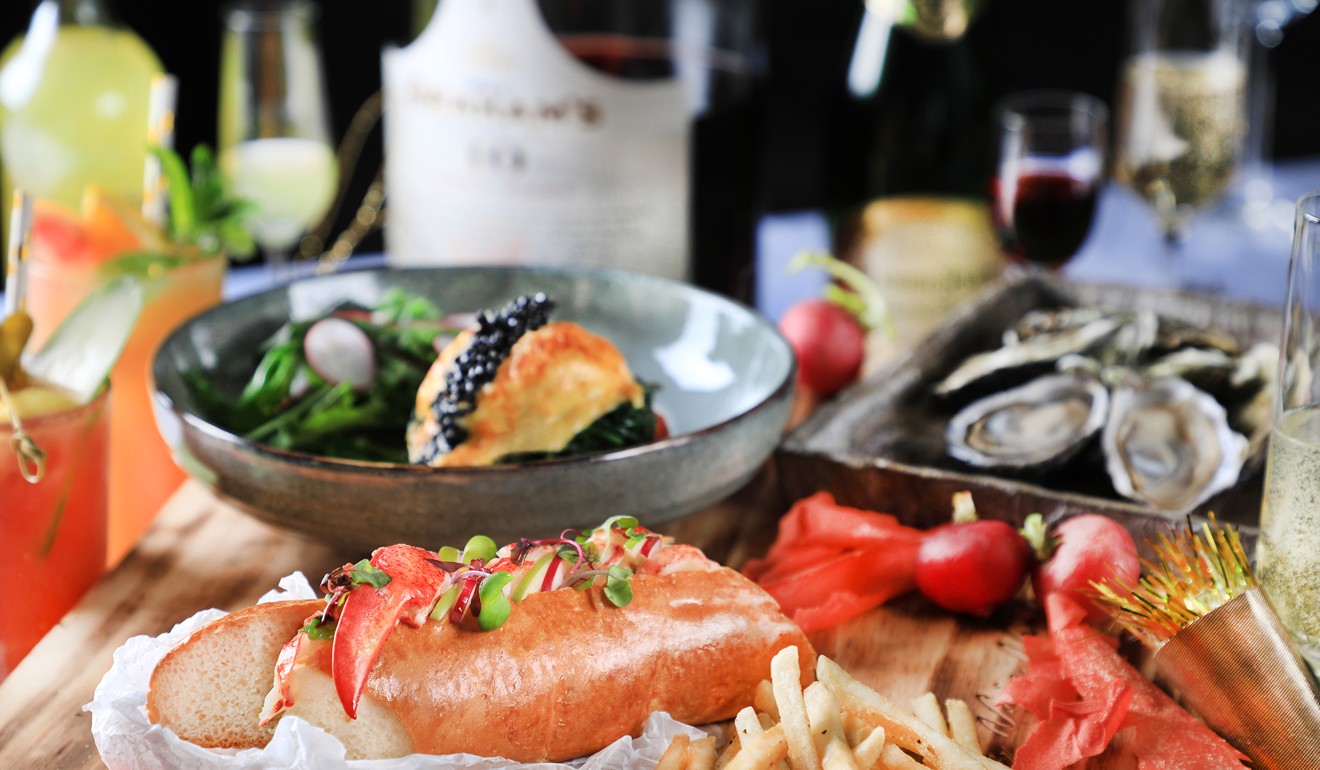 Whisk is offering a laid-back hangover brunch on New Year's Day (HK$688 per adult; HK$398 per child) featuring an all-you-can-eat gourmet buffet with delights such as lobster sandwich, blow-torched Wagyu beef on rock stone, signature roasted suckling pig with garlic gravy sauce, and fresh oysters.
There's also a dessert room with nearly two dozen sweet bites. Apart from this, Whisk is featuring a New Year's Eve dinner that highlights food like langoustine with celeriac and onion confit, kegani crab with avruga and avocado, and "The Milky Way", which is baked Alaska with a modern twist and flambéed with Cointreau right in front of you.
The six-course New Year's Eve degustation menu with live saxophone performance and free entry to the countdown party at Vibes costs HK$1,288 per person.
For reservations, call 2315 5885.
Want more stories like this? Sign up here. Follow STYLE on Facebook, Instagram and Twitter

Usher in the new year with some of the best flavours from around the globe including French, Japanese or Brazilian by enjoying a nice meal right before the countdown, or with a soothing brunch on New Year's Day