5 of the most tagged safari destinations in Africa that Instagramers will love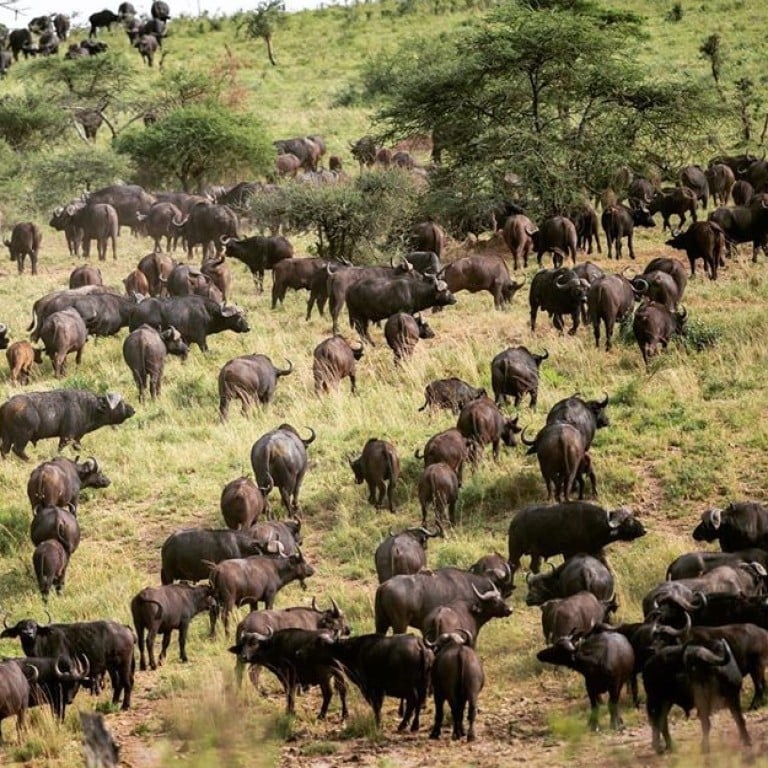 The spectacular 1,708-metre- (5,600 foot-) wide Victoria Falls – the largest curtain of falling water in the world – on the border between Zimbabwe and Zambia, is a must-see destination for most travellers in Africa.
It is situated in Victoria Falls National Park, in Zimbabwe, which according to Instagram, tops the list of the most geotagged safari destinations on the photo and video-sharing social networking service.
The park, which is also home to a huge variety of wildlife, has been tagged 215,513 times – and counting – by Instagram users who are increasingly visiting safari park areas for holidays in search of memorable travel experiences and the chance to snap – and post – great Instagram photos.
Check out the top five safari destinations to visit for some fabulous 'grams.
1. Victoria Falls National Park, Zimbabwe – 215,513 tags
The waterfall – situated in an area that lies within Zimbabwe's Victoria Falls and Zambezi National Parks, and Zambia's Mosi-oa-Tunya National Park – is known for its natural geographical beauty and as a picture-perfect holiday location.
The huge spray of mist rising up to 500 metres high and stunning rainbows, created as the waters of the Zambezi river plunge noisily over the gorge at a rate of 500 million litres (110 million gallons) per minute, are visible up to 50km (30 miles) away.
Secluded away in the Zambezian and Mopane woodlands eco-region, visitors to the park can experience not only the great scenery of the falls, but also observe wild animals including elephant, rhinoceros, hippopotamus and endangered birds such as the Taita falcon and black eagle.
Such visually alluring attractions have enabled the destination to become the highest geotagged safari park location according to Instagram.
2. Serengeti National Park, Tanzania – 162,729 tags
The Serengeti National Park in Tanzania is known for featuring the massive annual migration of more than 1.5 million white-bearded wildebeest and huge flocks of zebra, gazelles and other animals as they seek new pastures.
The beauty of the wild animals and their preserved habitat are the location's big attractions.
The park, which claims to be home to the highest number of large mammals in the world, has been geotagged 162,729 times on Instagram – putting it in second place.
3. Kruger National Park, South Africa – 122,136 tags
The distinguishing thing about Kruger National Park is that its safari tours can be specially tailored to the specific requirements of visitors.
Package, ranging up to 14 days, offer holidaymakers the chance to experience staying under canvas and in traditional accommodation, riding elephants, or taking open vehicle tours to watch animals in the wild.
Providing such a selection of options has led Kruger National Park to become a hot spot for Instagramers, with its total of 122,136 geotags placing it third in the rankings.
4. Masai Mara National Reserve, Kenya – 102,301 tags
Renowned as one of Africa's greatest wildlife reserves, Masai Mara National Reserve – ranked fourth out of safari destinations with 102,301 Instagram geotags – offers visitors the chance to observe wild life, including lions, cheetahs, elephants, zebras and hippos.
The most significant part of the Masai Mara tour is the observation of the annual wildebeest migration, which is most visible between July and October.
Safari packages provided at Masai Mara National Reserve vary from six to 12 days.
5. Ngorongoro Conservation Area, Tanzania – 59,989 tags
Tanzania's Ngorongoro Conservation Area, listed as a Unesco World Heritage Site, attracts thousands of visitors each year because of its huge volcano crater and the densely populated range of animals that live there.
The Ngorongoro Crater – the world's largest inactive, unbroken and unfilled volcanic caldera, which is believed to have formed when a large volcano exploded and collapsed on itself two to three million years ago – is 610 metres deep and has a floor area of 260 square km (100 square miles).
The conservation area, which covers an area of more than 800,000 hectares of highland plains, savannah, woodlands and forests, is the home of globally threatened species such as the black rhino and one of the sites of the annual migration of wildebeest, zebra, gazelles, giraffes and other animals.
It is ranked fifth among safari destinations by Instagram with 59,989 geotags.
Want more stories like this? Sign up here. Follow STYLE on Facebook, Instagram and Twitter

Why has Zimbabwe's Victoria Falls National Park, home to the world's largest waterfall, gained 215,513 geotags – more than any other wildlife attraction on the continent?