Is nasi lemak from Malaysia or Singapore – and how did it get its name?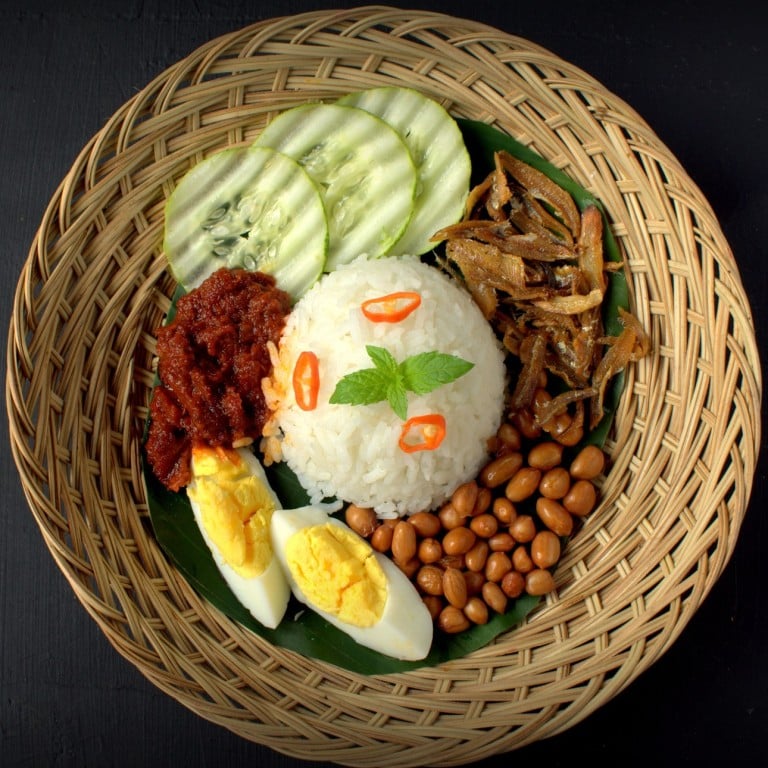 Once a humble breakfast dish to fuel workers, nasi lemak has become so popular it is now eaten at anytime of the day or night, and is offered in numerous countries in Southeast Asia with a large Malay population.
At its core, it consists of rice that has been cooked in coconut milk with the addition of pandan leaves. It is served with a selection of accompaniments such as peanuts, boiled egg and cucumber, and a spicy sambal (paste or sauce), which is considered the soul of nasi lemak, and the key factor in bringing the dish together.
"Traditional accompaniments are fried ikan bilis [anchovies], peanuts, boiled egg and cucumber, all wrapped in a banana leaf," says Malaysian native Nigel Skelchy, a cooking teacher and founding partner of cafe and specialist bakery Just Heavenly in Kuala Lumpur.
"[But] now it often comes with a whole host of extras such as chicken or beef rendang and sotong [cuttlefish] cooked in sambal."
It is so beloved in Malaysia that contemporary chefs and even noted fast-food chains have brought out their own spin on the original, with nasi lemak burgers, cake and even ice cream.
While most believe that its name comes from nasi, meaning rice, and lemak, meaning fat (although now this has come to be associated more with rich and creamy than fat), not everyone agrees.
Nadge Ariffin, a heritage historian and founder of the non-profit organisation Nusantara Academy of Development Geo-cultures & Ethnolinguistics, has an alternative view based on his research.
The story goes that long ago, in a small village in the state of Malacca lived a widow and her daughter, Seri.
Forced to go out to work after the death of her husband, the widow left the cooking up to her daughter. One day, Seri accidentally spilled coconut milk into the boiling pot of rice.
When her mother returned home and tasted the fragrant rice she said to her daughter: "Apa kau masak ni, Seri?" (What did you cook, Seri?) Seri replied: "Nasi le, Mak!" (Rice, mother!).
Ariffin's theory does not stop there. "Based on my research, the development of the dish to what is considered a typical Malaysian nasi lemak had its origins on the west coast of Malaysia.
"The east coast has its own signature traditional rice dishes with prominent, distinct flavours and accompaniments such as nasi dagang and nasi kerabu."
Skelchy agrees that its origins are Malay, although he understands why Singapore is involved in the origin story.
"Singapore geographically was part of the Malay Peninsula, but by a dint of fate separated by politics. So culturally, Singapore is basically Malay, though with a very Chinese face. And that extends to its food.
"Much of its cuisine including nasi lemak comes from the peninsula. There are some tweaks. For example, nasi lemak sambal in Singapore is a touch sweeter as the palate in Singapore seems to have developed in that direction and sometimes [with] an omelette or fried egg instead of boiled egg."
He says: "I'm of the opinion that Singapore has opted for 'branding truth' rather than a more literal acceptance of the fact that much of its hawker/street food originates from Malaysia and, frankly, I believe the tweaks are too few to consider them truly Singaporean except that they are made in Singapore."
So there you have it. It is little wonder that in Malaysia, nasi lemak is often referred to as the country's national dish.
Where are Singapore noodles from? How are century eggs made? Are French fries improperly named? And what's the final verdict on where tikka masala was created? With the Origins series, STYLE delves into the often surprising beginnings of iconic dishes or foods, how they've evolved over time and the many ways they're enjoyed today.
Want more stories like this? Sign up here. Follow STYLE on Facebook, Instagram, YouTube and Twitter

Dish with rice cooked in coconut milk served with spicy paste at its core – once served for breakfast but now eaten day or night – is offered across Southeast Asia