Once the preserve of nobles and royals of both sexes – Boucheron and Van Cleef & Arpels can recall massive orders of spectacular necklaces and brooches from maharajas out to impress others with signs of their power – the jewellery scene is dominated by women today.
If a man was ever involved, it was likely to be while whipping out his credit card out to pay for a purchase or going down on one knee to propose.
That's starting to change, with more jewellery brands eager to cater to men's needs and desires. "Men are wearing more and more jewellery," says Caroline Gaspard, the founder of Akillis, a French-based jewellery brand which also specialises in unisex jewellery. "The barriers are falling, and younger men are confident in expressing their own look."
Simon Spiteri, an accessories buyer for MR PORTER, says: "Whether it's the street-style heroes during London Men's Collection or the impeccably dressed 'male peacocks' strolling around Pitti Uomo, the small details of men's style have become increasingly more important to highlight [their] look and [help them] stand out."
He says there is much interest in the Asia-Pacific, where men are "more daring and fashion-forward," noting that "Asian men are more willing to try different accessories. [However], as much as the men's jewellery sector is consistently growing, it is still a low value category compared to watches and cufflinks."
Despite the tangible excitement, men's jewellery has a long way to go to match men's watches in terms of sales and visibility. Wristwatches remain the go-to luxury accessory for men, with a Rolex or a Vacheron Constantin timepiece the equivalent of a De Beers diamond or a Birkin bag for women.
Stephen Webster, founder and designer of his eponymous jewellery label, says: "Over the past 10 [to] 15 years, men have become more comfortable including jewellery as part of their wardrobe. Once the [dress] code of the rock or sports star, jewellery has been through a democratisation, allowing almost everyone access."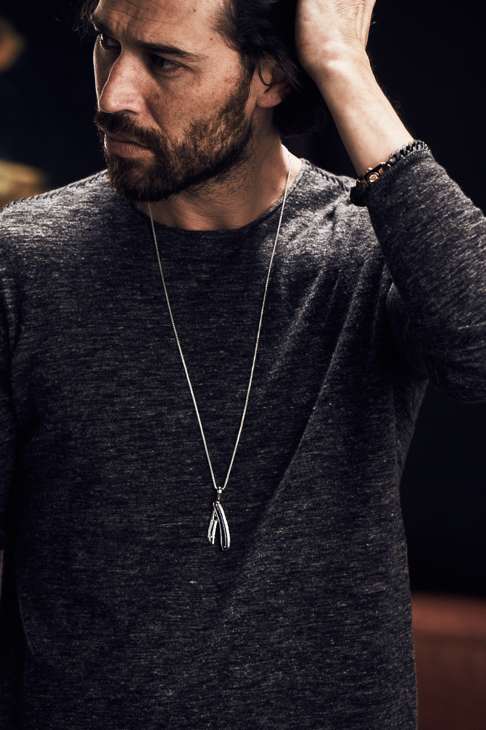 Spiteri agrees, saying: "Watches are still the number one choice for almost every single male customer when it comes to accessories. It still holds a significant place in their hearts and many times bracelets and jewellery come in second."
The barriers are falling, and younger men are more confident in expressing their own look
To persuade men to make the leap from being an admirer to buying jewellery, designers are turning to subtle design codes that ooze coolness and masculinity.
Gaspard enjoys mixing black diamonds with metals such as matte black titanium to create a sleek effect.
Webster uses conventional materials such as rose gold, silver and diamonds, he also uses lesser-known black sapphire, falcon's eye, rutile quartz, bull's eye and bloodstone. The design motifs are also masculine and draw inspiration from switchblades, ravens, thorns and geometric shapes.
His latest collection, "England Made Me", features what Webster calls, "manly rocks" including mammoth's tooth, almandine garnet and silver calcite, "none of which [are] for the faint-hearted".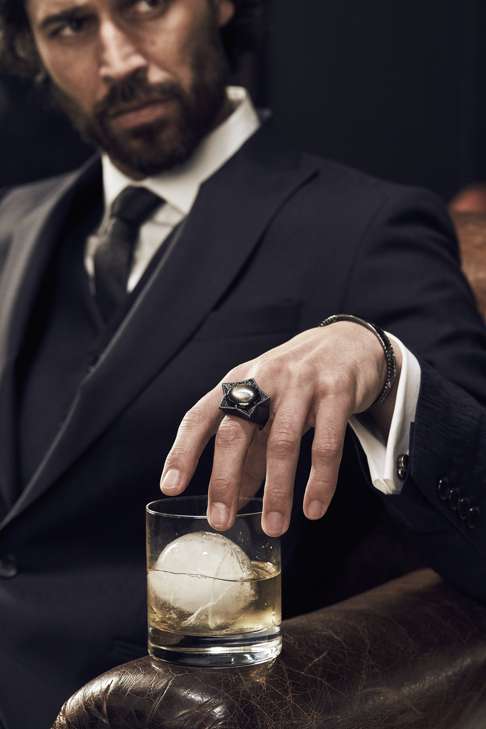 Spiteri says: "[Men's jewellery] tends to have a simpler and more geometric design, combining two or more materials for contrast. It uses a lot of silver, rare stones, coral or leather which are more understated than gold, crystals or diamonds. Leather is another popular choice especially when paired with more formal outfits."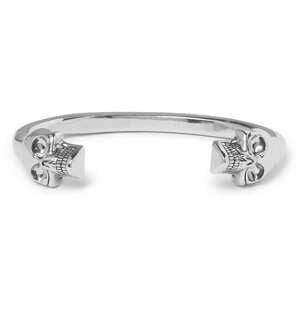 Examples include braided leather bracelets from high fashion brands Tom Ford and Bottega Veneta for business executives who need to wear a suit and tie, while those with freer dress codes prefer easy-going bracelets with a rock-star edge from Alexander McQueen or Peyote Bird.
Necklaces, which can be discretely hidden under shirts, are also a good choice. Apart from playing up the "cool" factor, designers are focused on making their creations connect with customers on a personal level.
"Men want their jewellery to make a statement, to be meaningful," Gaspard says. Her best-selling collections are the AK and Bang Bang, unisex pieces inspired by guns and bullets – the AK is modelled on ammunition for the Kalachnikov assault rifle.
Her pieces play up the connection with the adrenaline rush one gets while shooting, and is meant to connect with people who "live life at a hundred miles an hour".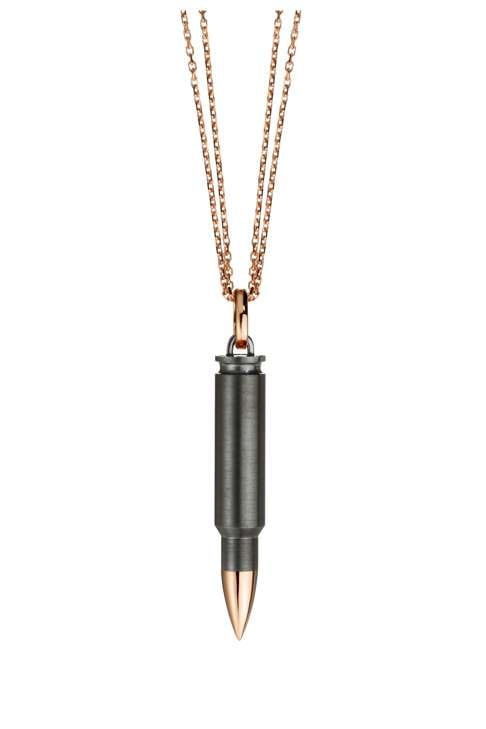 Not all military motifs stay in vogue – the dog tag, once popular among the cool crowd of the '90s, has fallen from grace, prompting Webster to declare: "The dog tag is now well and truly relegated back to the family pet."
STYLE

'S FAVOURITE JEWELLERY BRANDS FOR MEN

Bulgari

The B. Zero1 rings are a firm favourite among the maison's male and female clients.

Cartier

The Love bracelet, designed during the 1970s, has stood the test of time. Like they say, love conquers all.

Alexander McQueen

Alexander McQueen features his favourite motif – the skull – prominently in his designs. His cuffs regularly feature the double skulls, and are meant for the rebel at heart.

Tom Ford

Tom Ford understands how to dress men and his leather bands bracelets are well suited for the man who lives in business suits.

Want more articles like this? Follow STYLE on Facebook