As the year moves into the second quarter of 2017, new trends in fine-jewellery design begin to emerge. What's undeniable about the pieces of fine jewellery appearing on the scene is the influence that traditional Indian jewellery has had on them.
Central to the Indian aesthetic is the belief that beauty is enhanced by adornment. Given that the womanly form is nature's most beautiful creation, it is the form most in need of adornment. To bring out the natural beauty of women, traditional Indian jewellery takes inspiration from the natural world.
To this end, the unvarnished shine and mineral beauty of the uncut diamond is often used in Indian jewellery. This season has seen the use of beads and cabochon stones in a number of pieces that also give wearers an opportunity to appreciate the natural look of the materials used. A prime example is one of Cartier's Magicien necklaces - a long three-strand necklace made with calibrated ruby beads. The centrepiece is set in platinum and contains several large stones. The most eye-catching gem in this piece is a cabochon 17.45ct ruby from Tajikistan.
Touch of magic: Cartier delights Japan with its new high jewellery collection
This Magicien necklace features a multitude of pearls, culminating in a sizeable 12.04 grain natural pearl. It also includes 41 natural saltwater pearls arranged along the three long strands of ruby beads. This is not unlike the guttapusalu necklaces that are known for their iconic use of clusters of pearl tassels.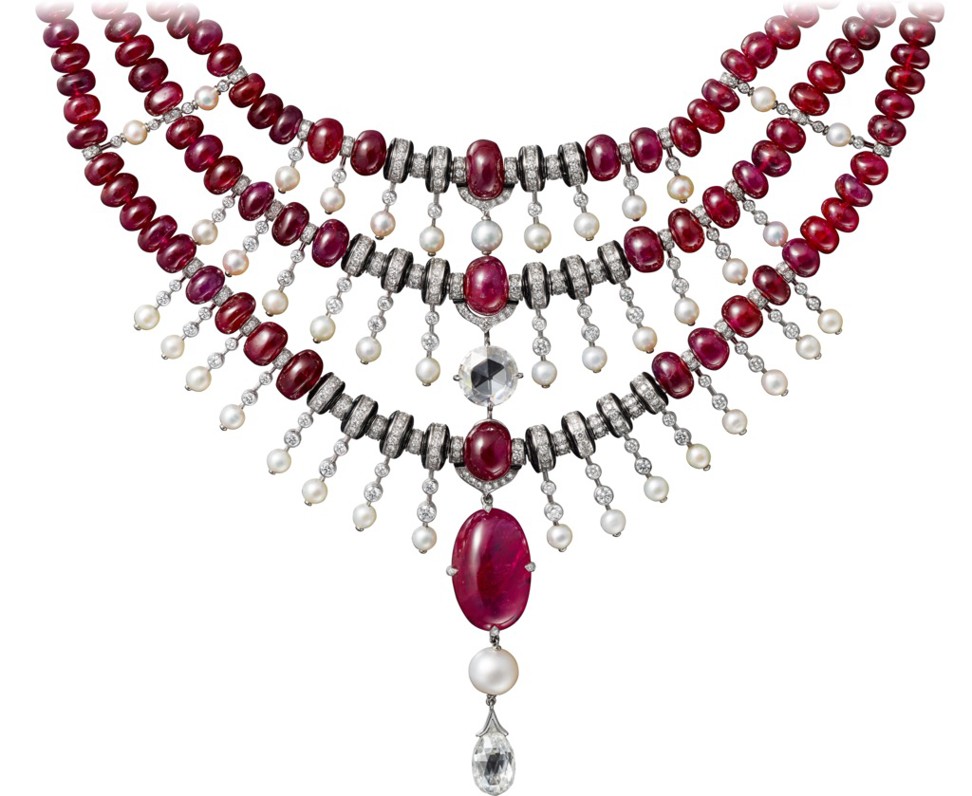 In India, it is said that flawless pearls prevent misfortune. This is another important aspect of traditional Indian jewellery - the belief that certain pieces of jewellery are worn for the wearer's protection. Longer seven-strand necklaces, also known as Satlada, would be paired with a Jadavi Lacha - a gold choker embedded with precious stones, with a bejewelled fringe - to help ward off evil spirits and ill intent.
Five jewellery pieces that turned heads at Baselworld 2017
The Giardini Italiani choker-necklace from Bulgari is a hefty piece made out of 347 round emerald beads weighing 245ct. The dense emerald laden fringe of this choker-necklace rests on the wearer's collar bone in an armour-like plate and bears an uncanny resemblance to the Jadavi Lacha. Layered with a longer necklace it might also help to act as a potent shield against the effects of evil.
The Ventaglio earrings from Buccellati, made from white and yellow gold, sapphire and garnet, take their inspiration from the peacock. The abstract design is clearly inspired by the ornamental bird with its finely engraved gold feathers that end in sapphires.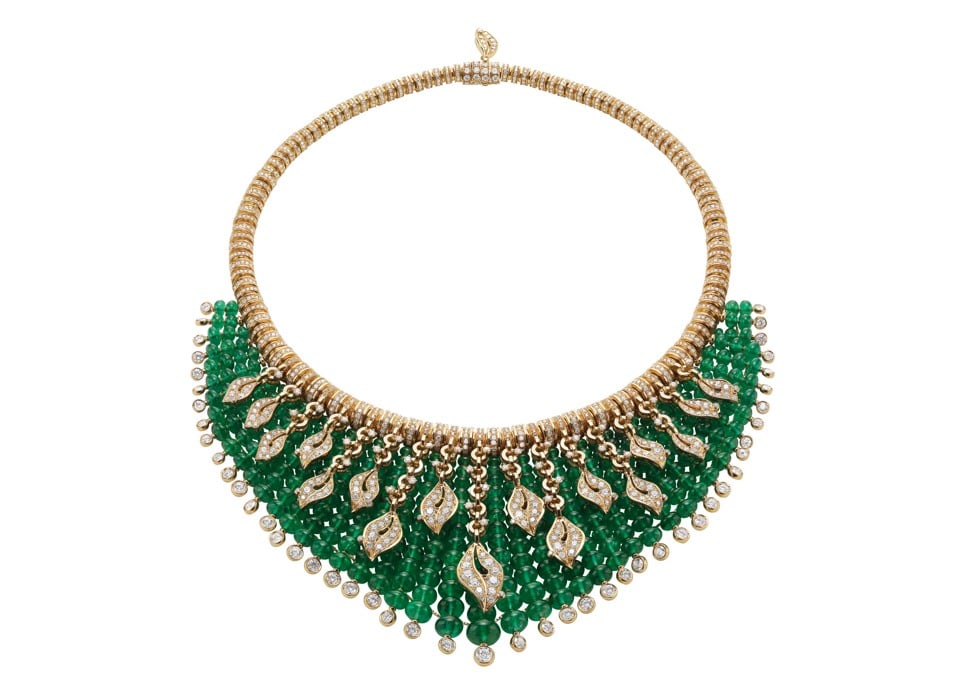 However, more than its similarity to the peacock, which is often used in Indian mythology and folk stories, is the resemblance of the shape of the earrings to that of traditional karnphul earrings. Karnphul - which stands for "ear flower" - is a large earring design said to be important for keeping out evil spirits that might try to enter the wearer through the ear.
High jewellery blossoms in exotic flowers
Another pair of earrings from Buccellati that bears a surprising likeness to karnphul earrings is the Rugiada Pendant earrings. Made from white and yellow gold, emeralds, diamonds, and fancy yellow diamonds, the shield-like breadth of the design brings echoes from a distant land and a foreign culture. The protection rendered by the earrings is said to help the wearer attain a state of complete well-being.
Perhaps the prevalence of traditional Indian jewellery designs - based on designs that were originally intended to protect the wearer and achieve harmony with nature - in contemporary jewellery indicates an increasing desire for safety and stability in an uncertain world.
Why Hong Kong is now the world's second-largest jewellery auction hub