UPDATE: The Hong Kong Magnificent Jewels Spring Sales fetched a total HK$619 million. Together, the pieces by Adrian Cheng, Cindy Chao, Edmond Chin and Michelle Ong sold for just over HK$96 million.
Christie's has teamed up with four Asian jewellers for its upcoming Magnificent Jewels Spring Sale on May 30.
Jewellery pieces by Adrian Cheng, Cindy Chao, Edmond Chin and Michelle Ong will be presented, with the pieces expected to fetch several millions.
But apart from sales, the auction is also a valuable opportunity to shine the spotlight on the growing prominence of Asian jewellers on an international level.
"I am very proud to be from Hong Kong, but I don't see myself as a Hong Kong jeweller as such because I think [of myself as] a jeweller based in Hong Kong because the world is now so global," says Michell Ong, jeweller and founder of Carnet.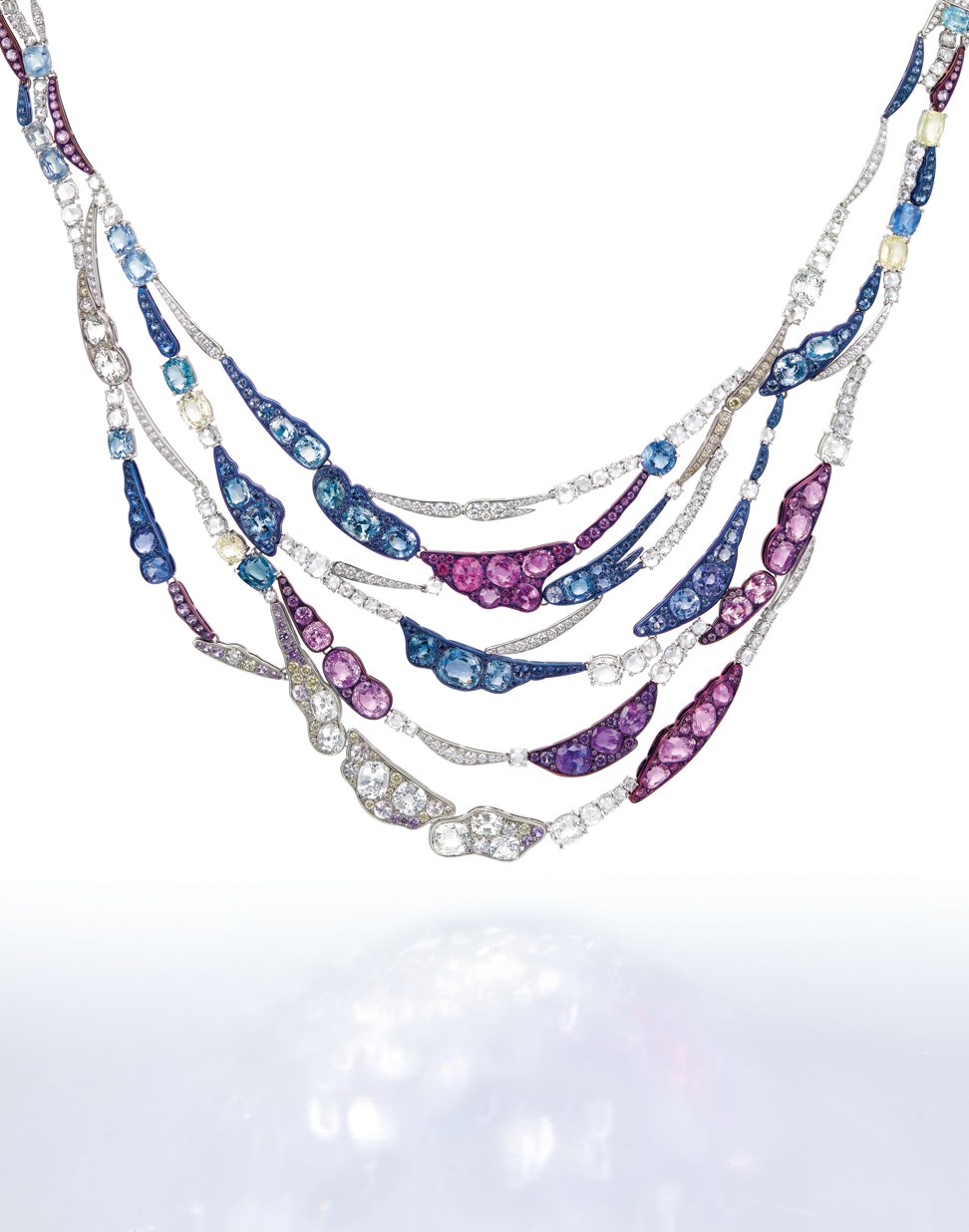 Chao agrees, and says: "I think Hong Kong is also a international hub in terms of everything, not just in terms of auctions."
Why Hong Kong is now the world's second-largest jewellery auction hub
"In the past century, the jewellery design industry had always been a Westerners' industry and their platform," Chao says. "Nowadays, we are fortunate because Asian designers have an international platform [and] they are more well recognised by the global design platform [who] appreciate their work, their craftsmanship and design. And I think this will become a strong trend in the future."
Chao is presenting a pear-cut diamond ring shaped into a bow studded with rubies, a pair of earrings featuring a 29.49ct and a 26.81ct Colombian emerald, and a feather-shaped brooch made of white and coloured diamonds.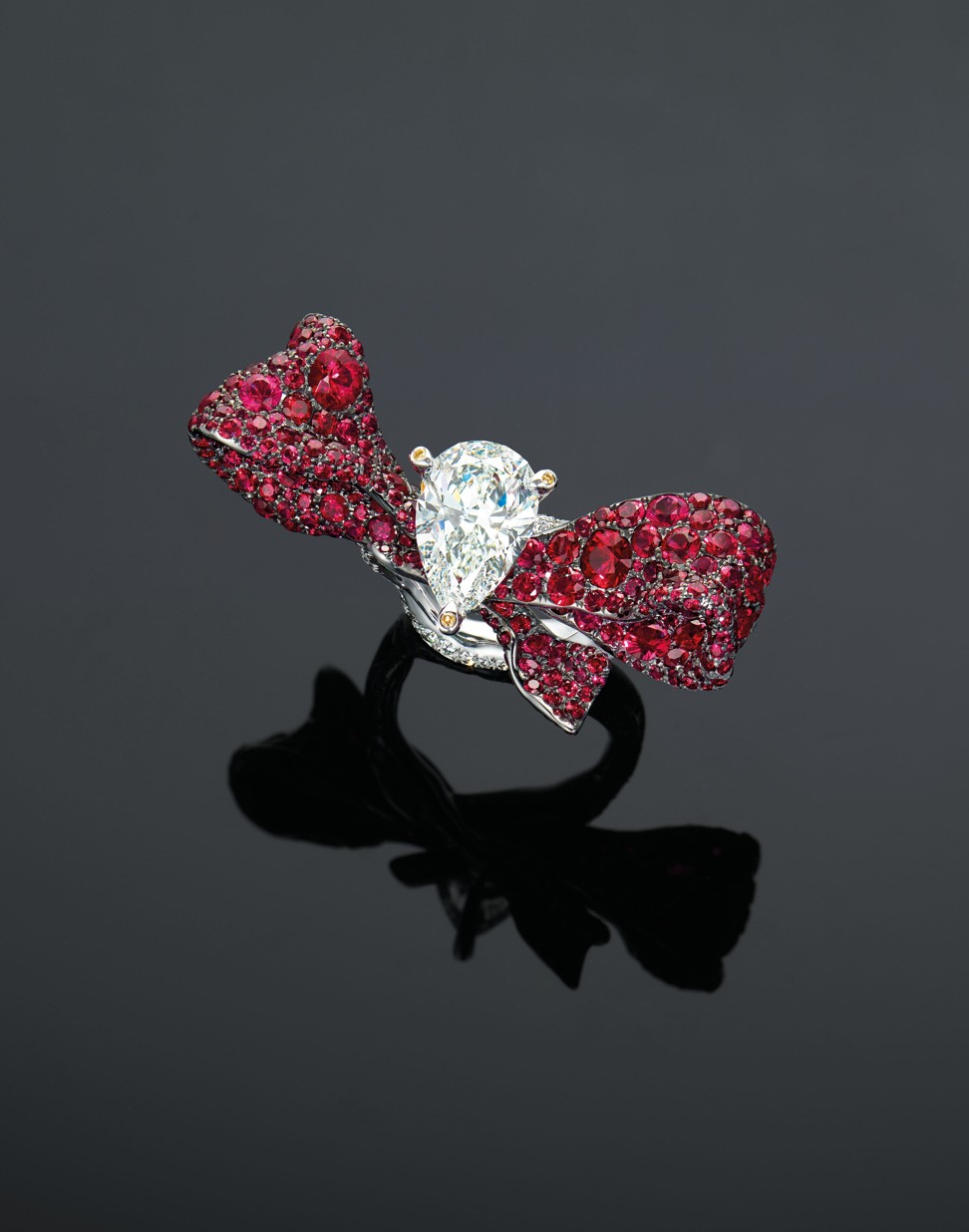 The feather brooch, despite its size, is incredibly light – just equal to the weight of two macarons, according to Chao. The credit goes to her expert manipulation of titanium, an extremely light yet hard material that is difficult to shape. It is expected to go for HK$4.8 million to HK$6.5 million.
Taiwanese jewellery artist Cindy Chao to show off her masterpieces in Biennale des Antiquaires
Michelle Ong is highlighting her approach to colour jewellery with a unique multi-coloured unheated sapphire necklace inspired by an Impressionist painting. It is rare to have so many unheated sapphires in a wide range of hues in one piece. The necklace is expected to fetch HK$1.8 million to HK$2.8 million. Also on the block are a 41.34ct fancy brownish yellow diamond ring and a pear-shaped coloured diamond and diamond brooch.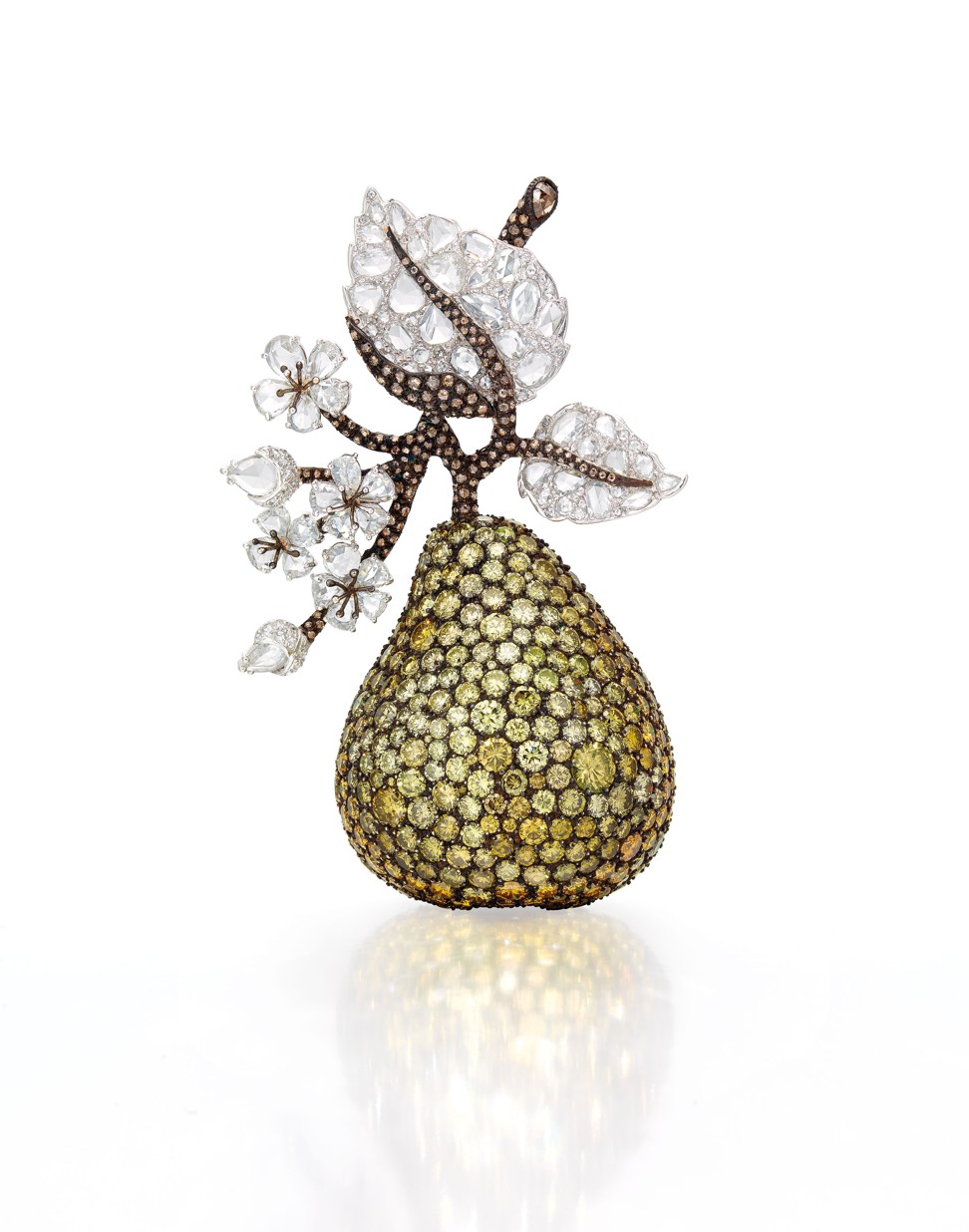 From Edmond Chin, whose previous jewellery pieces had broken eight world auction records, is a Colombian emerald and diamond "Palmette" necklace, which has a reserve price of HK$28 million to HK$38 million. The necklace was specially designed for the House of Boghossian. Also from Etcetera, a jewellery brand Chin is the founder of, are a 3.37ct fancy intense blue diamond ring and a set of Mozambique ruby and diamond jewellery pieces.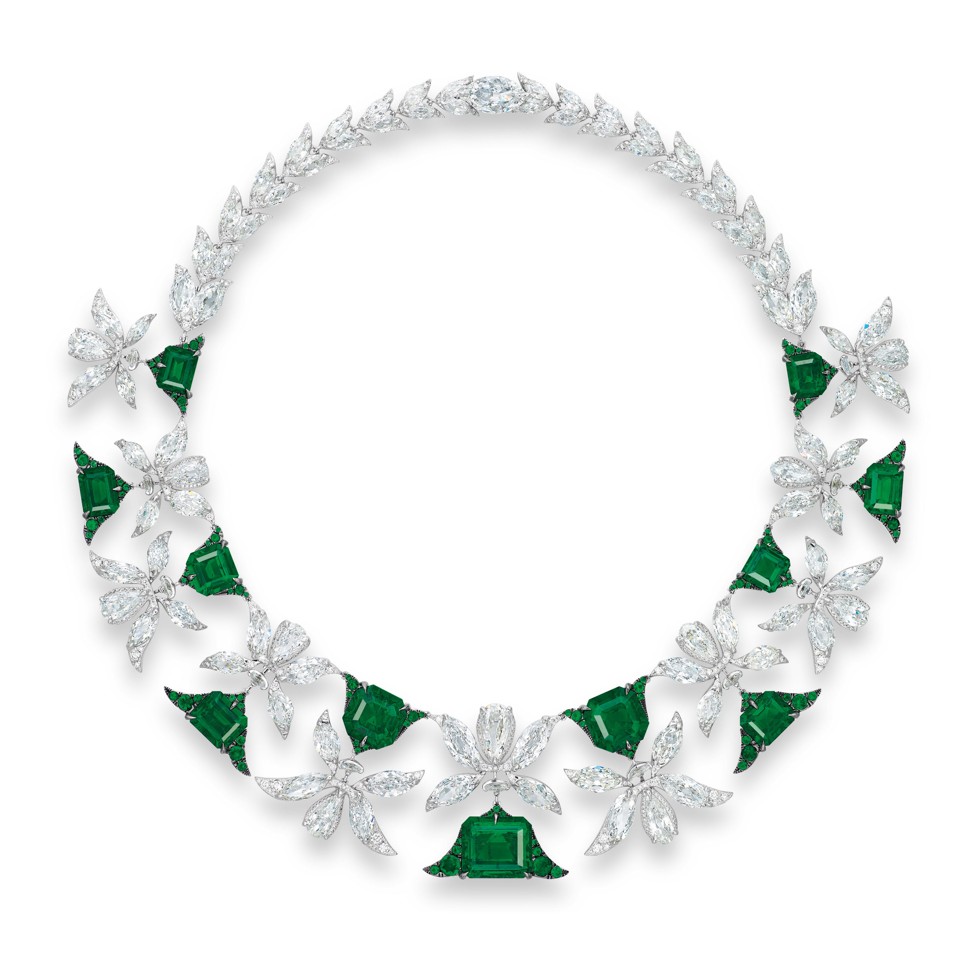 Last but not least is Adrian Cheng, whose multi-gem jewellery suite consisting of a necklace, ring and cuff is expected to be auctioned for HK$200,000 to HK$300,000. The set is inspired by Neo-Plasticism, an artistic expression spearheaded by Mondrian, and boasts bold block-like designs.
Wallace Chan, Cindy Chao and Michelle Ong have drawn international attention with their museum-worthy designs