Look closely into the window of watchmaker Jaquet Droz' Charming Bird timepiece and there's something small and rather marvellous happening: a tiny bird spins on its axis, chirping and flapping its wings. Behind this scene, however, even tinier sapphire tubes and carbon pistons pump away to make it all happen.
The piece is part of the company's Automata collection. The latest piece, launched this spring, is the Loving Butterfly. Another piece is set to be unveiled in China at the end of the year. Each is a watch, but then each is also something more than that: a demonstration of the ingenious use of mechanical movement not to regulate time, but create animation.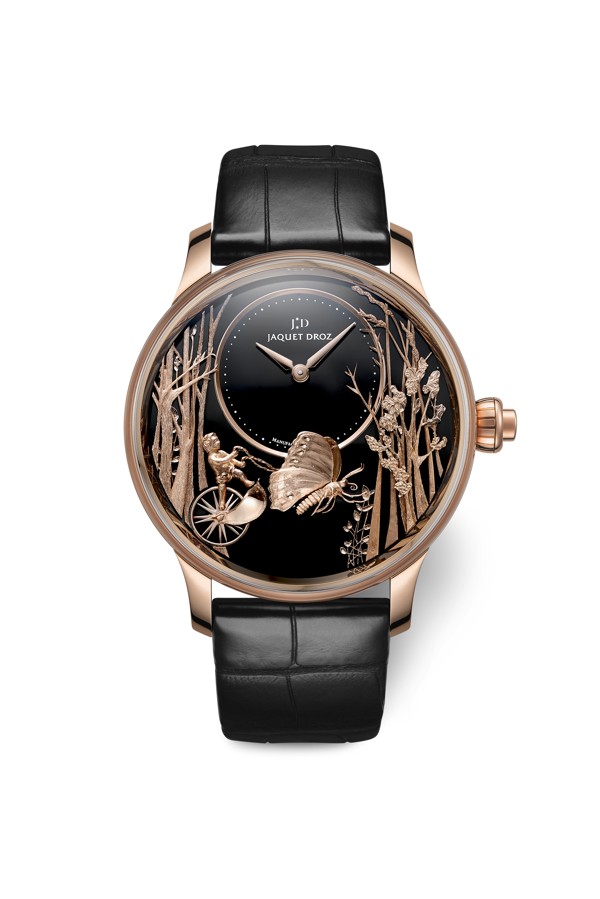 "An automaton prompts a sense of wonder," says Jaquet Droz' CEO Christian Lattmann.
"They're much sought after by connoisseurs, even though most people don't think of clockwork's potential much beyond watchmaking.
"It's hard to imagine just how much work goes into these pieces – the miniaturisation of the mechanism is a real challenge. But track the value of these pieces in the auction market and they'll certainly reach new highs."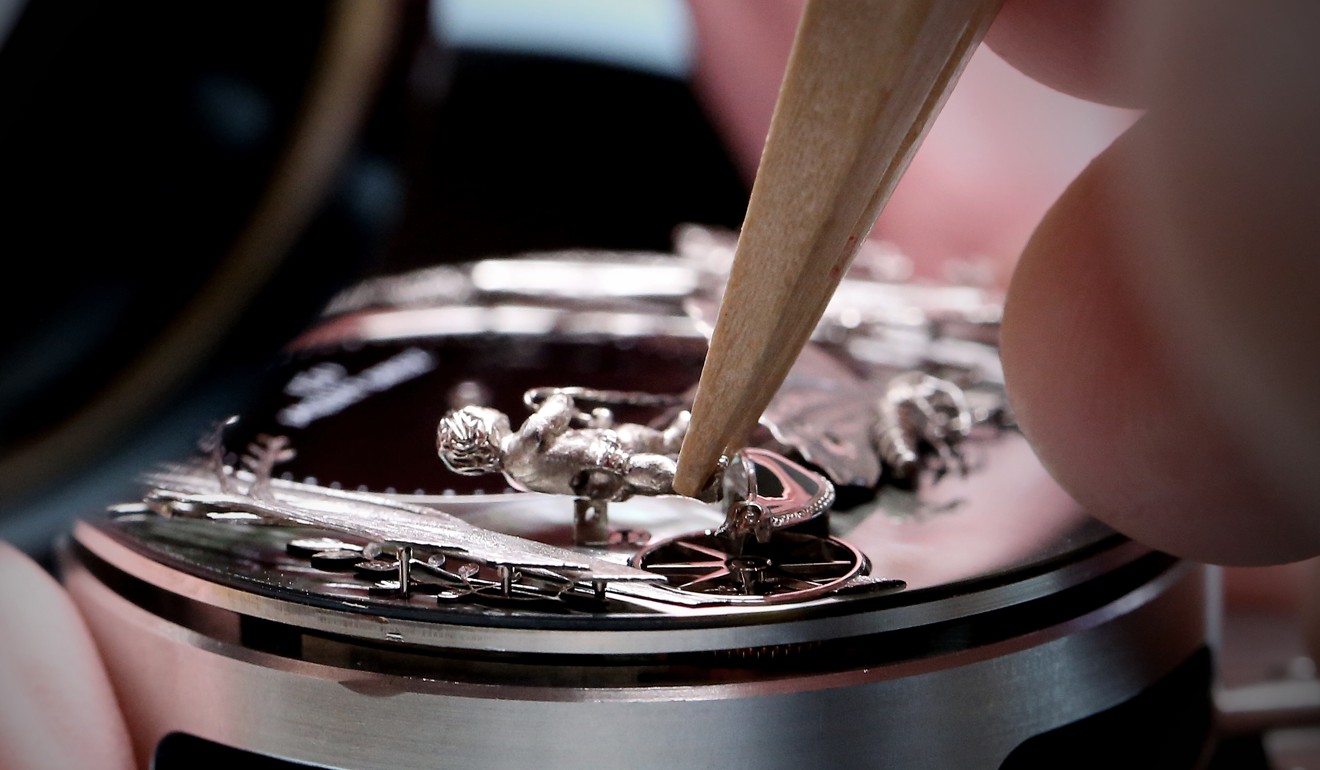 Six over-the-top watches that dazzled Baselworld 2017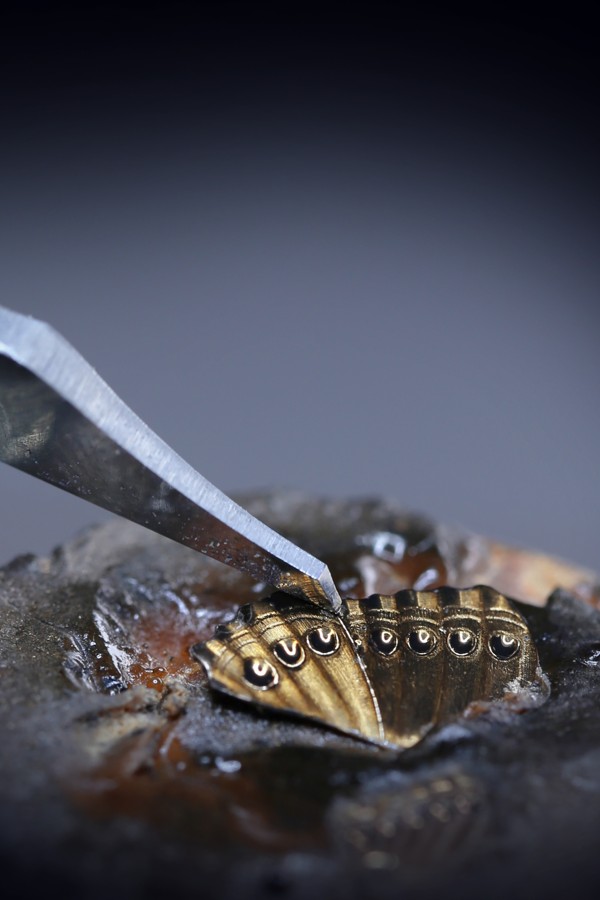 Jaquet Droz, which has something of a history in making automatons, is not the only company turning again to this esoteric art form – and on the same scale that automatons have traditionally been built since the 15th century. Last year, Van Cleef & Arpels unveiled its Fee Ondine automaton, a clock with a fairy sitting on a lily pad: over the course of a minute the flower opens, a butterfly appears and flaps its wings, the fairy nods and its wings flutter, too, while the lily pad's skirt gently undulates. It took eight years of development, which is why Van Cleef & Arpels expects to release its next automaton in another three years' time.
Van Cleef & Arpels works its magic with the Automate Fee Ondine Extraordinary Object at SIHH 2017
Yet does such a timepiece warrant so much effort when today's age of fledgling robotics might appear to be able to trump it easily? Yes, is the answer. "I was genuinely amazed by the reaction it got," Nicolas Bos, the company's CEO, says. "Beyond people who are into watches, there still seems to be this general fascination with mechanical movement, even in an electronic age. There's a fluidity to it that you still can't get with modern robotics, and a human element in this marriage of art and science that a computer chip doesn't offer. People don't really care how their iPhones work. After all, tech today has practically no moving parts. But people always want to see inside an automaton."
Van Cleef & Arpels CEO Nicolas Bos remains optimistic despite downturn in luxury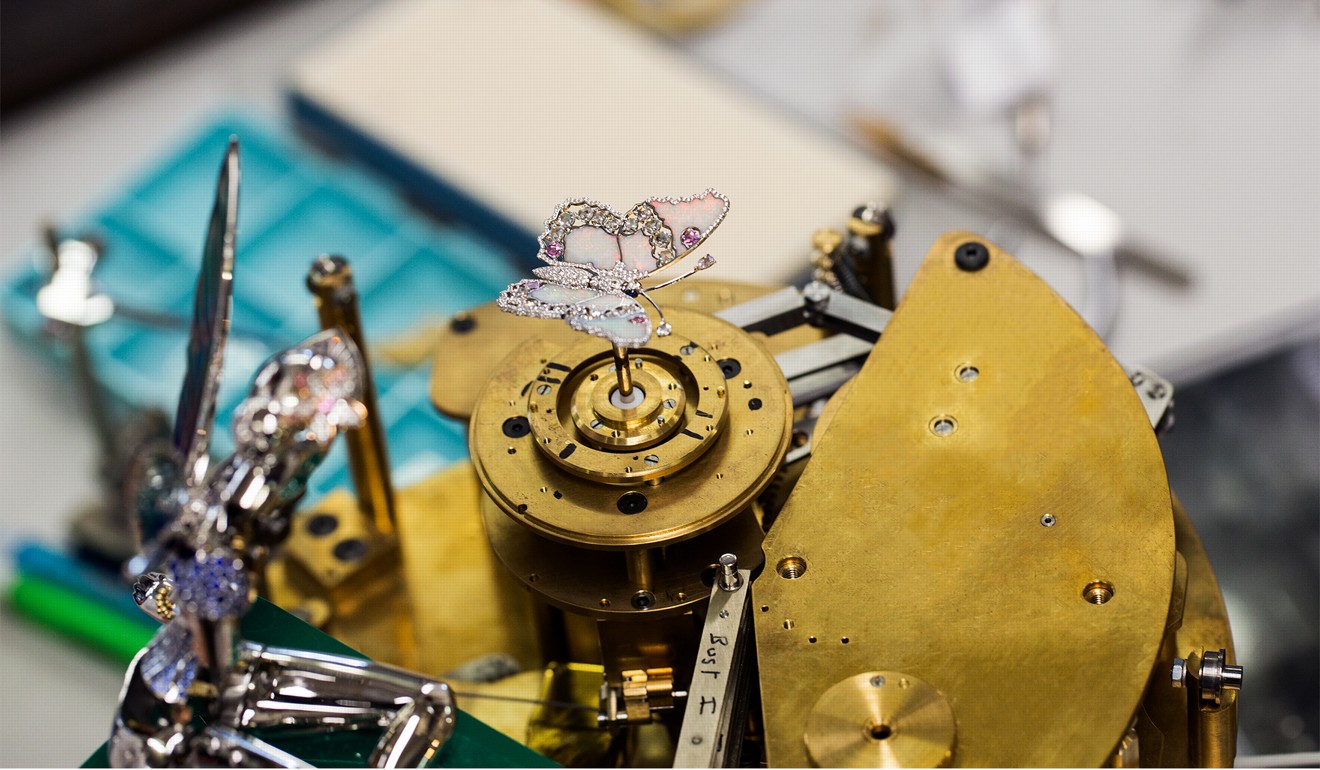 While automatons cover a huge variety of types, interest in historic and complex mechanical pieces is increasing, says Daryn Schnipper, chairman of Sotheby's worldwide watch division. Two years ago, its "Swiss Mechanical Marvels" auction sold a private, single-owner collection of musical and singing bird automatons from the 18th and 19th centuries, with 21 pieces valued at US$2.3 million.
There's a fluidity to automatons that you still can't get with modern robotics, and a human element in this marriage of art and science that a computer chip doesn't offer
Prices are rising, too. A Gustav Vichy Monkey Harpist automaton, auctioned this spring by New Jersey's Bertoia Auctions, was expected to sell for about US$3,000; it was bought for US$7,200.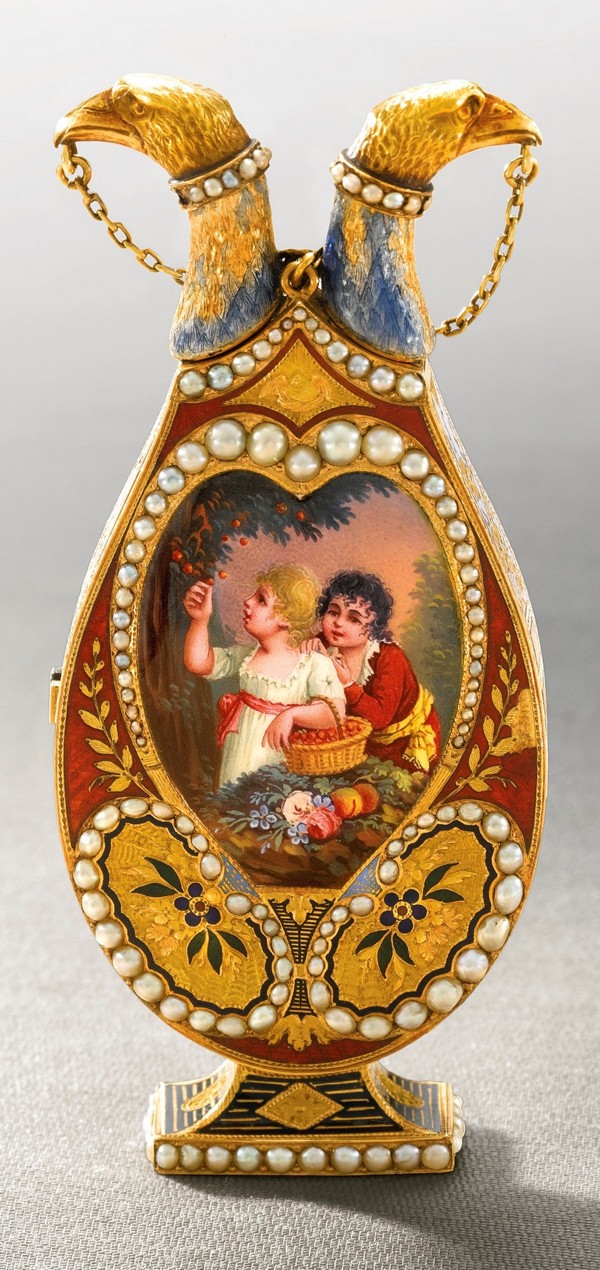 "Automatons were the ultimate luxury toys of their day," Schnipper says, explaining their attraction to collectors. "It's difficult today to wrap one's head around the level of sophistication necessary to produce these mechanical objects back then. They weren't just created without the aid of computers – they were early computers in their own right."
Indeed, could there be renewed demand for automatons precisely because of the concomitant surging interest in robotics – sparked, in part, by the huge worldwide popularity of television series such as Westworld and Humans?
Among the more famous automatonsin history were those parlour entertainments that shocked and amused audiences – typically at court – by mimicking human behaviour: dolls, for example, that played the harpsichord, drew precise pictures, or told your fortune.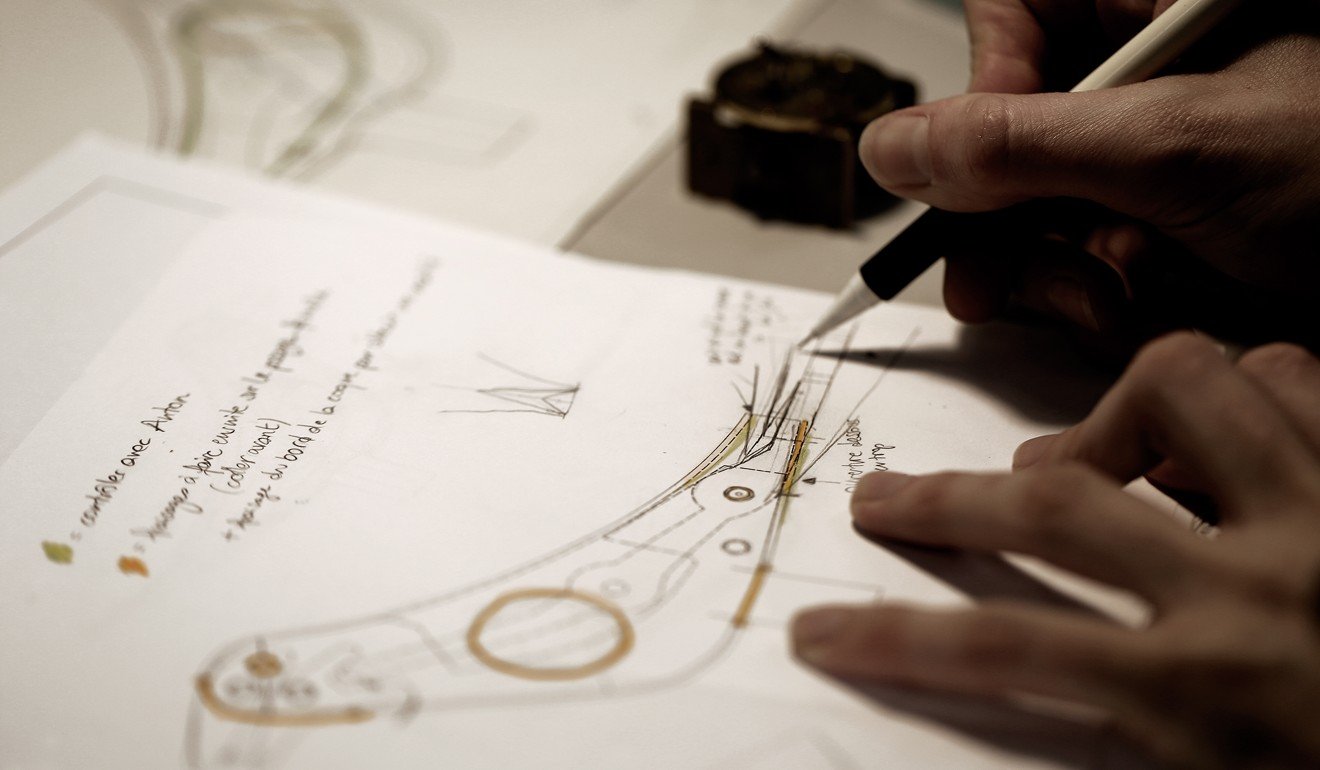 Ellen Rixford, the author of Figures in the Fourth Dimension: Mechanical Movement for Puppets and Automata, believes that today's popular culture is inspiring a reappraisal of this art form, which goes back centuries.
"The difference is that, unlike today's robotics, automatons are accessible," she says. "People can grasp the mechanics of gears and cams, even play around with building a basic automaton themselves. Of course, the great automatons of the 18th and 19th centuries were complex and so fragile, and not helped by the fact that their makers tended to be secretive about their methods. Not many automatons of that period survived: for some makers only their drawings [remain]. That means the pieces that have survived can be extremely valuable and collectible."
Five of the most over-the-top luxury watches to hit 2017
However, this does not mean that the automatons of interest today are all historic or classical pieces. For the craft is continuing to develop. When Max Busser, the man behind the MB&F watch brand, opened his spin-off MAD Gallery in Geneva – a showcase of what he calls "mechanical art" – his idea was that it would be more of a hobby than a job. But now it accounts for half of his turnover.
Turkey's Server Demirtas, who puts a more modern, hi-tech spin on automatons, is among the more striking artists to be working with Busser: his one-off pieces include a flower that recoils and folds when an attempt is made to smell it, and humanoid sculptures that appear to breathe. This year's display of mechanical sculptures, Desiring Machines, includes a small humanoid figure leaning and shifting its weight restlessly against a wall.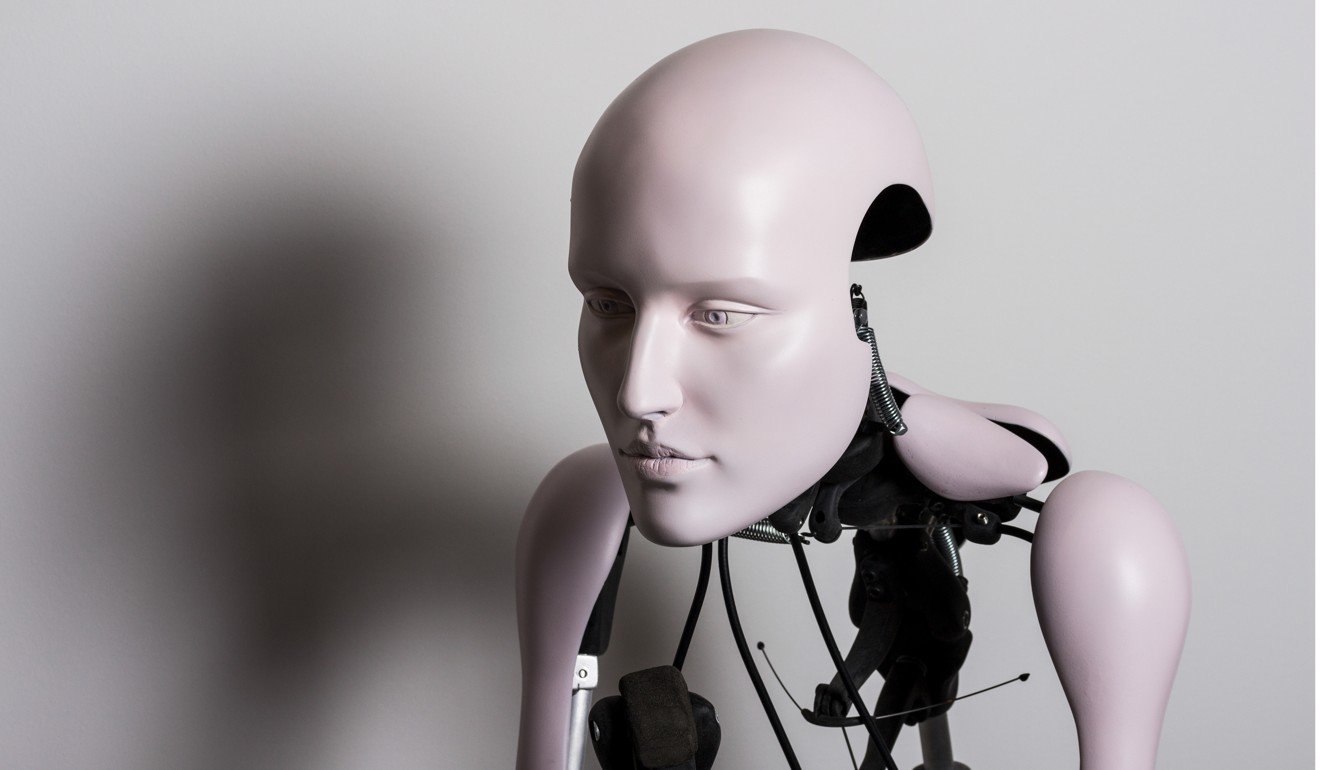 Maximilian Büsser of MB&F invents 'horological machines' through collaborations of minds and strengths
"It's the fluidity of movement in these automatons that impresses – as with automatons historically, the people who see them tend to feel slightly unhinged by them," Busser says. "It's why the simpler in look they are, the more impact they have on viewers.
"They still give that sense that we're playing god. It's Promethean. Show someone a watch movement, then show them a clockwork animal and you get a very different reaction. And that's impressive for such an old discipline."