Roger Dubuis recently made a foray into the world of motorsports through collaborations with Pirelli and Lamborghini. How did it happen?
Last year, I was invited by Pirelli to the Grand Prix in Monaco as part of their team, with the engineers on the circuit. I said to Pirelli, 'I don't know what we can do together, but I am fascinated by what I have personally experienced with your engineers. We can do a product together'. I asked them what they were doing with the tyres at the end of the Grand Prix, and that was how we had [the idea to reuse] the winning tyres in the straps of our watches. It was then that I discovered the world of motorsports, and Pirelli brought me to Lamborghini.
You said at the Excalibur Aventador S launch event with Lamborghini that you wanted to do more than just putting a logo on a product. Can you elaborate on that?
We took the partnership as a platform to say, 'How can we be different when compared to other partnerships'? That's why we value the claim this is where visionary engineers meet incredible watchmakers. We work together and say, what is it that you are doing in cars that we can make use of [in watches], and let me tell you what we do well in watches that you can do well in cars.
I could have made my life easy to just say, let's take this model and make it in carbon, and put the Lamborghini logo on it and produce 88 pieces. It would have taken me three months instead of one year to develop the project.
What's next for the partnership?
We are going to have a major brand presentation at Harrods [in Britain] in the summer of 2018. We will take all of the ground floor, and it will be the first time they have cars in Harrods because they don't sell cars. So Roger Dubuis will help bring Lamborghini in. Then we will have a huge 22-metre-high advertisement for a week in front of the Trump Tower, with two Lamborghinis facing the Fifth Avenue. And we will try to do the same at The Peninsula in Hong Kong.
Roger Dubuis teams with Lamborghini on luxury watches
What are the factors that have helped Roger Dubuis stamp its mark in the world of haute horlogerie within decades?
We are a brand that thinks forward because we don't have any historical background except for our 23 years. With our manufacture … the building itself is very futuristic. Normally, in Switzerland, when you talk about a manufacture, it's always conservative, it's always traditional. Our building is about demonstrating the assets of the brand, and the assets of this brand are [that we] think about the future, take into account the materials of tomorrow and the calibres of tomorrow.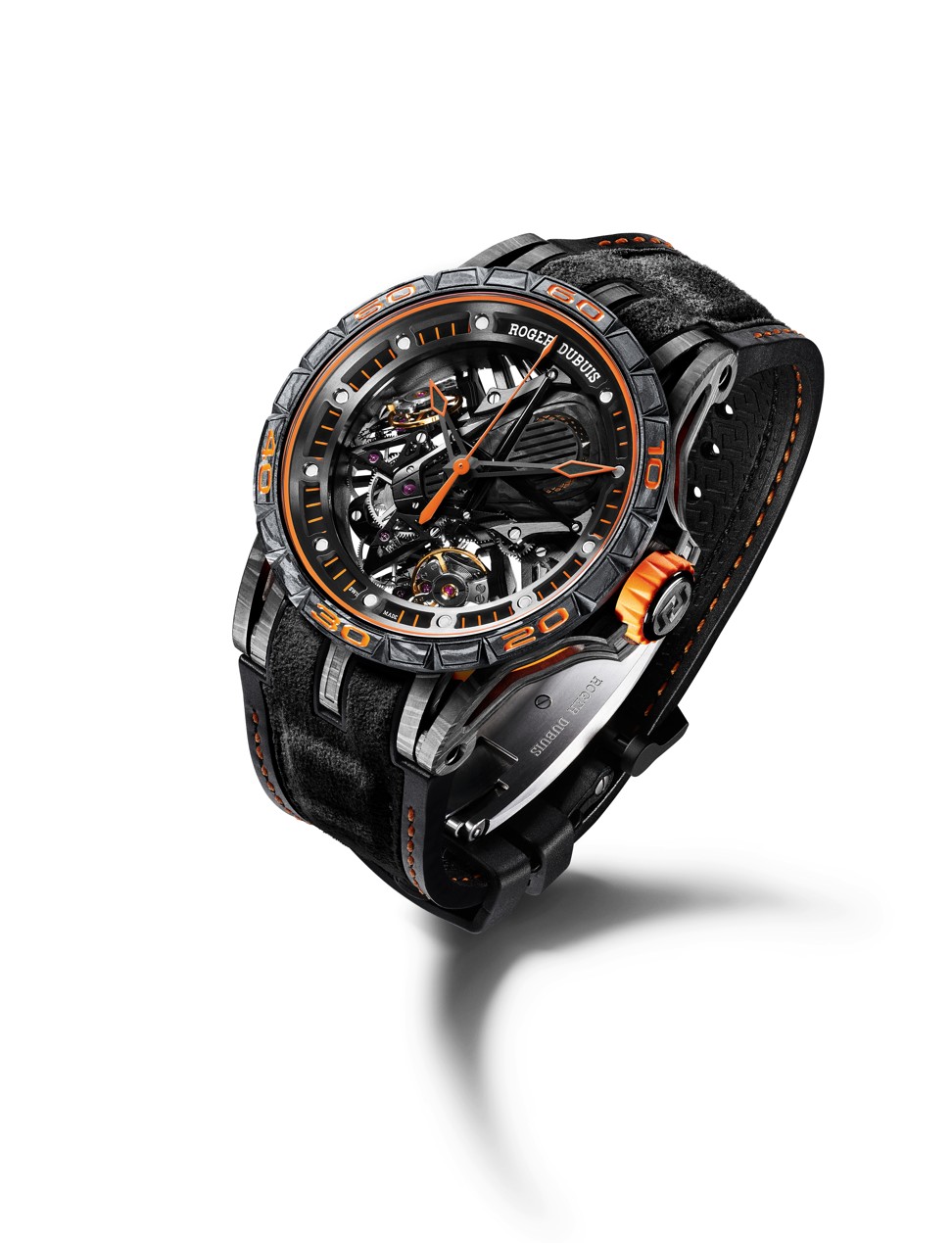 The watchmaking industry is increasingly embracing 3D printing. Is Roger Dubuis doing the same?
We've studied that actively. There is a high likelihood – we do tests these days. If everything goes well, we should have the very first movement in 2019 of which some parts will be done [with 3D printing]. We have in a skeleton movement something that can only be done with 3D [printing] because of the curves. We are still studying the possibility of doing some spare parts in the future with 3D [printing].
Skeleton watches are the core competence of Roger Dubuis. We are the brand recognised for them. We studied many different options in 3D [printing] to develop future skeleton movements for women. We have a strong business in terms of skeleton products for men, but we don't have so many yet for ladies. We believe there is an opportunity for ladies to have jewellery skeleton watches, which don't need to be big. We have to work on smaller pieces, and this is where 3D [printing] becomes important.
I understand that your global strategy is to focus on the top 10 cities in the world. Can you explain?
The top 10 cities in the world are for us prerequisites before expanding somewhere. You have two in China, which are Beijing and Shanghai. Of course, you have Hong Kong, Tokyo, Paris, London, New York, Los Angeles, Dubai and Singapore. These are metropolitan cities which have [high] local populations and are big hubs for tourists.Before going to too many countries, I prefer to stabilise in the big ones, because they are where business is done. In secondary cities, rich people who can afford US$2.6 million watches go to Hong Kong, Tokyo and Paris anyway. We follow the development of all countries, but in the next five to 10 years, Roger Dubuis has to be strong in one of those 10 cities. Then we can enlarge it to 20, and you will have Osaka, you will have Monaco, Milan and Miami.