The robot film Transformers revived the craze of turning one toy into another, and of creating two playthings in one. The high jewellery world is also used to such tricks, of transforming a large piece of jewellery – or components of it – into another. Thanks to fine craftsmanship, a tiara can turn into a necklace, and parts of that can also be used as earrings and more.
Such multi-role, transformable jewels are arguably the most complicated pieces a maison can make. However, these beautiful collectibles also inspire imaginative constructions in which diamond elements detach and attach themselves; doors reveal a hidden motif; or a hinge swivels to showcase something beautiful, such as the craftsmanship of feather marquetry. Here are some of the finest examples of maisons' transformable masterpieces.
Graff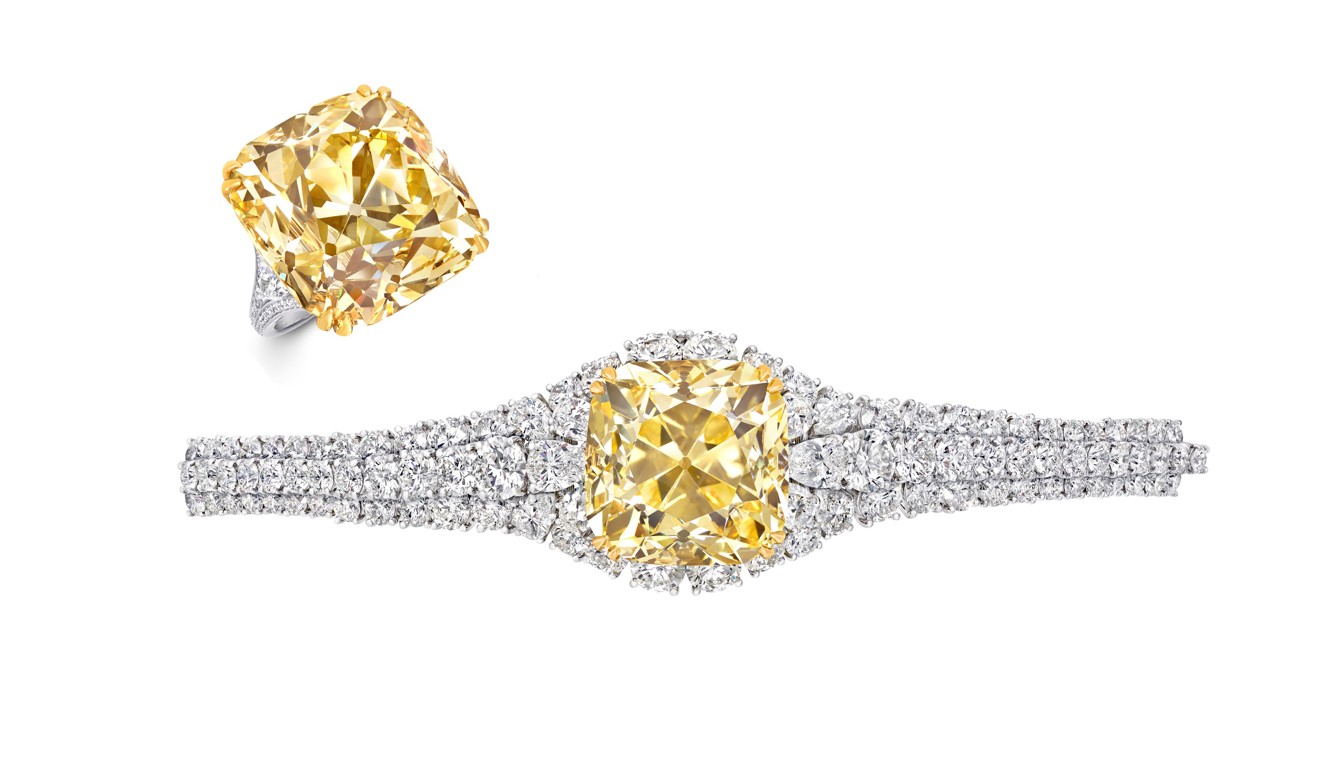 A multishape diamond bracelet set with the Graff Sunflower, a 107.46ct fancy yellow cushion-cut diamond. This piece transforms when the protagonist diamond is detached and worn as an important ring. In another fine piece, the central floral element can be separated from the 186.05ct necklace and worn as a brooch.
Graff displays magnificent and colourful jewellery at Hong Kong flagship store
Van Cleef & Arpels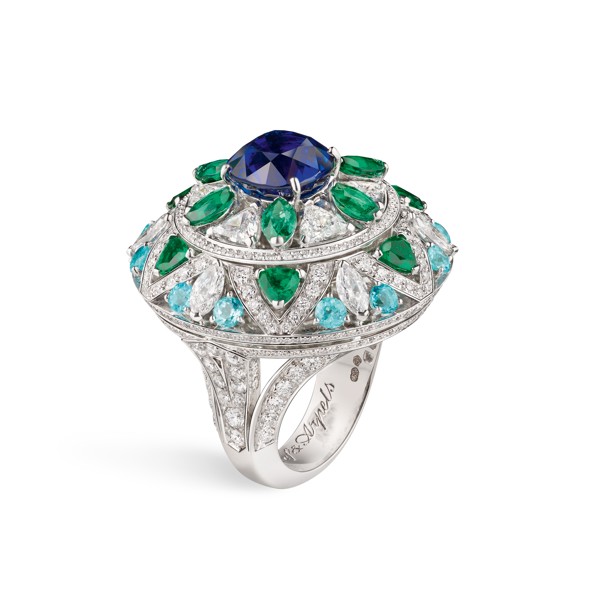 A technical feat in high jewellery, the Van Cleef & Arpels Zip necklace was first produced in 1950, and it transforms into a bracelet, opening and closing like a real zip. The French maison revisits the art of playfulness in its latest Le Secret collection, with the "Fleur bleue" ring, whose upper section pivots and rises to reveal Oscar Wilde's gold-engraved quote: "Une vie sans amour est comme un jardin sans soleil", which translates to "A life without love is like a sunless garden."
The Le Secret range also offers the transformable "Oiseau sur la branche" long necklace which can be worn three different ways. The central part of this fine piece contains a carved nightingale that is revealed by the sliding of a beautiful diamond door.
High jewellers add luxury using subtle, even secret, details
Cartier
Part of Résonances de Cartier, the maison's latest high-jewellery collection, the Hyperbole transformable necklace is impressive with a 140.21ct cushion-shaped Colombian emerald at its heart. The pieces undulating geometric patterns convert into a tiara.
Cartier's iconic high jewellery pieces mark moments in history
Chopard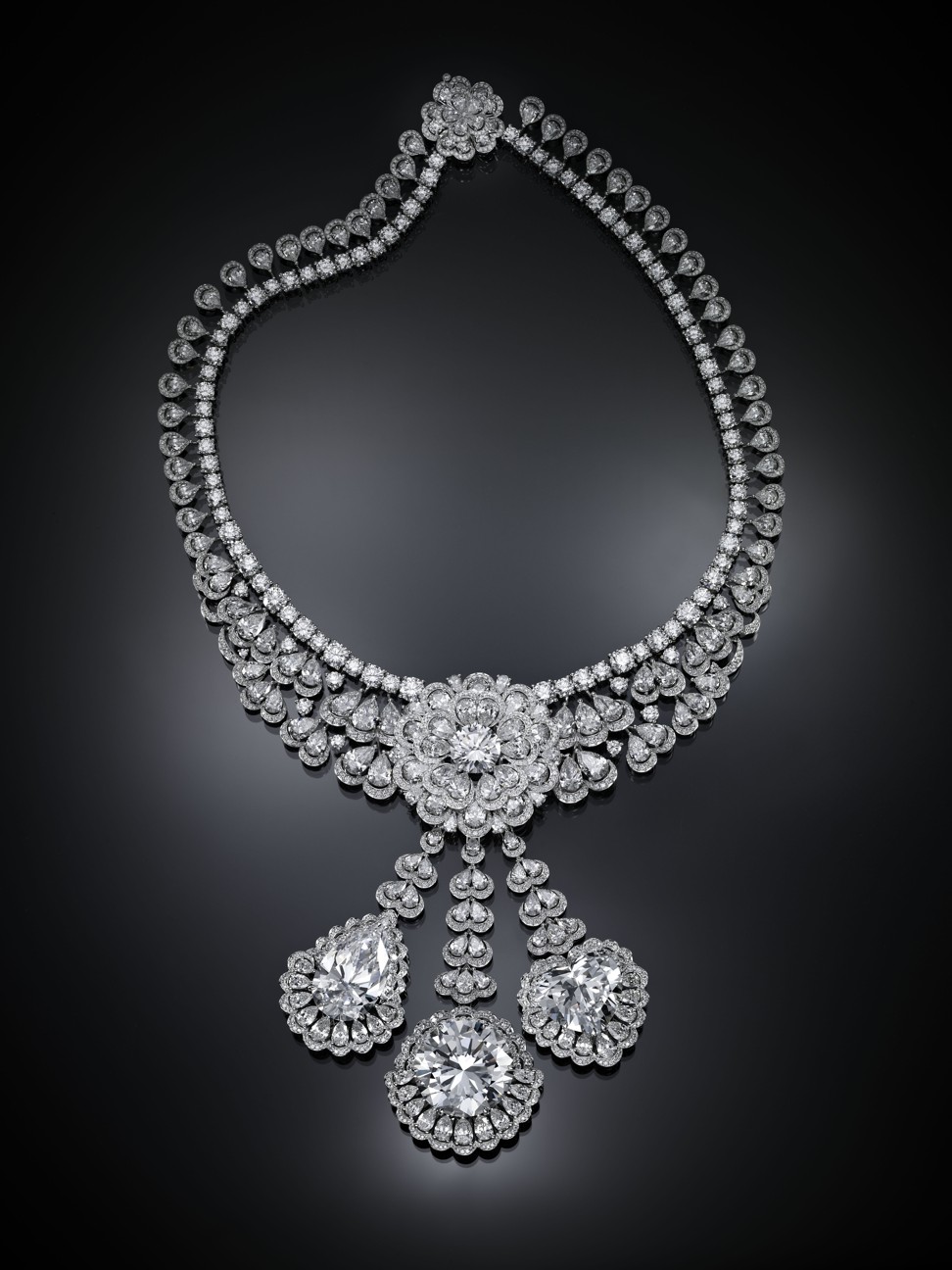 The "Garden of Kalahari" necklace is playfully transformable in four variations. Two of its pendants – with the heart and pear-shaped diamonds – can be worn attached to the earrings in a short or long version.
High jewellers turn heads with transformable pieces
Nirav Modi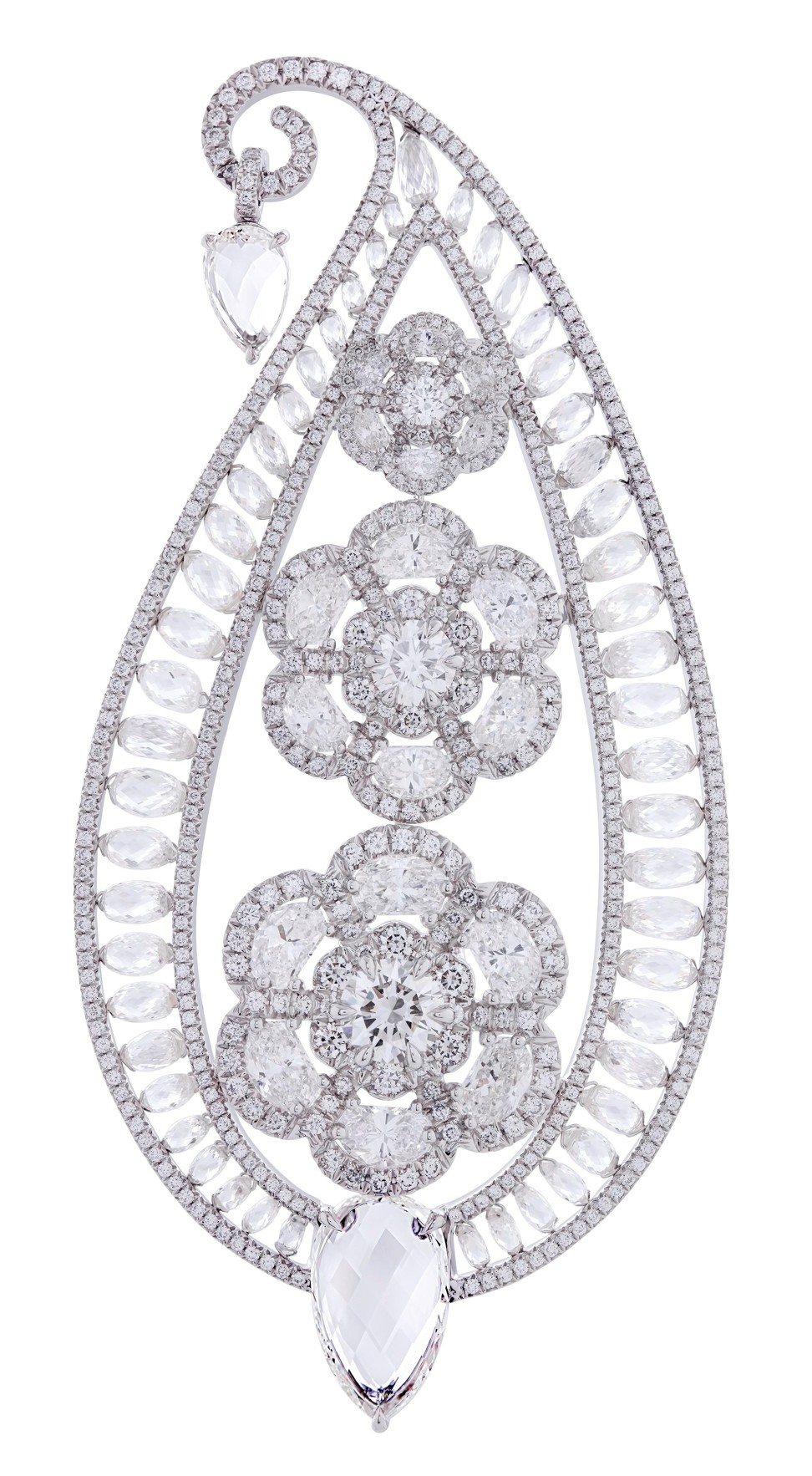 Indian jeweller Nirav Modi created a brooch to celebrate the opening of its first international flagship store in Hong Kong. The Mughal brooch design is in a contemporary setting, and can also be worn as a pendant.
Transformable wedding jewellery gains popularity as brides go bespoke
Piaget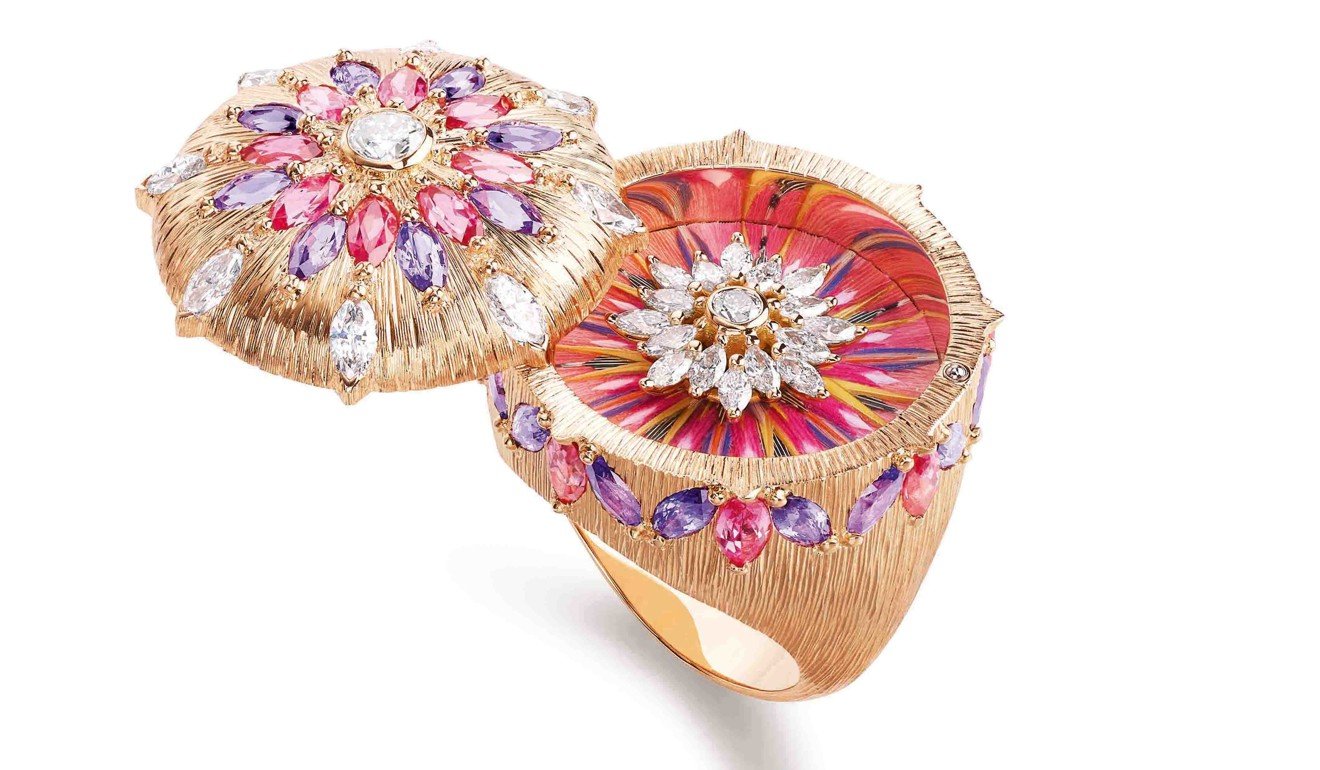 In the latest high-jewellery Sunlight Journey collection by Piaget, the Viva Arte ring-top element opens to reveal a secret design of finely crafted feather marquetry embellished with purple sapphires, red spinels and diamonds.
Forms
Created by Hong Kong-based Forms, certified Mozambique rubies, weighing about 25ct, add a fiery, precious secret to this magnificent pair of reversible earrings, which uncover pear-shaped diamonds when worn on the reverse.
Boucheron
The vast stretches of land that go into making East Asia, the Russian Far East and Southeast Asiainspire Boucheron's new Hiver Impérial high jewellery collection, which debuted in July at the Couture Week in Paris.
The show-stopper was the Flocon Impérial diamond and rock crystal necklace comprising seven detachable parts.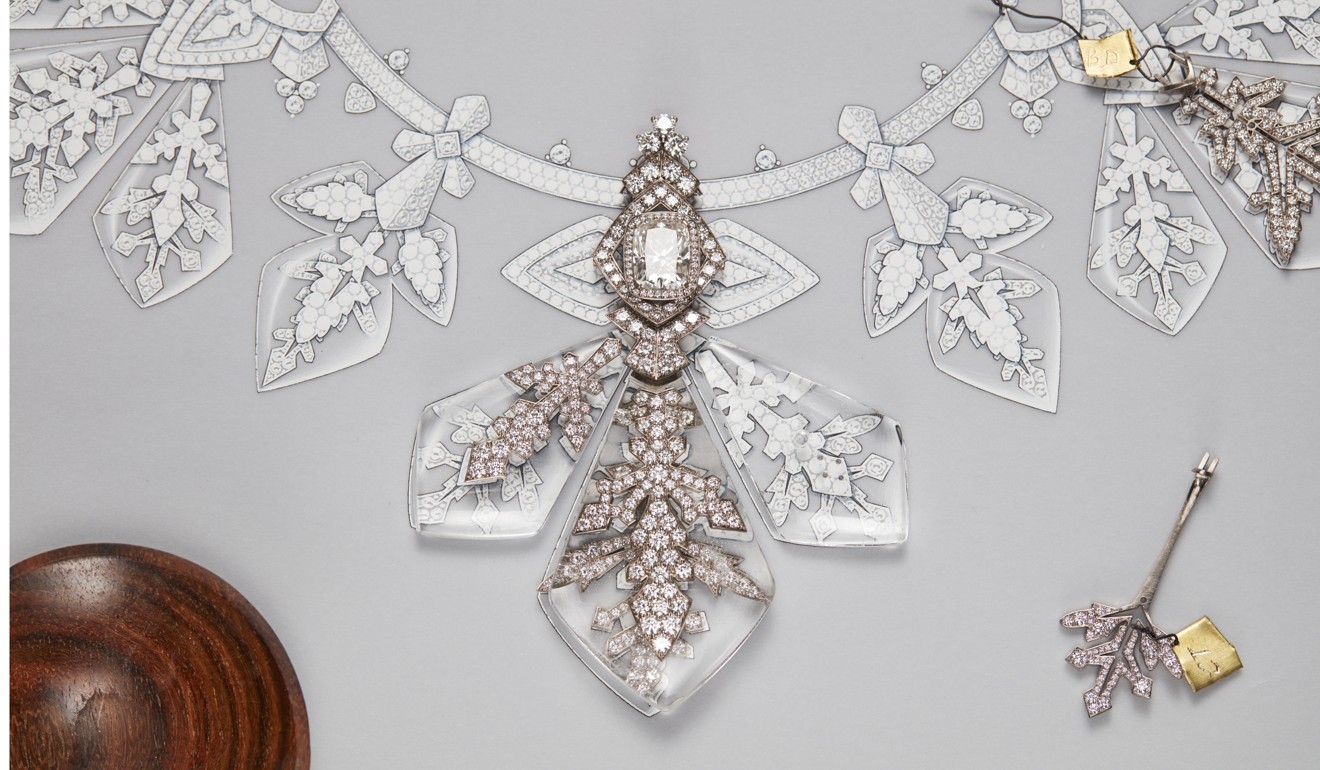 This impressive piece can be deconstructed in seven ways. It continues to surprise when its multiple transform into a pair of earrings, a ring, a brooch, and four ornate hairpins.