At first glance, Boucheron's delicate Pivoine Avis Varner flower rings might not be as eye-catching as the other high jewellery pieces from its 160th anniversary collection. But if you take a closer look, you will find that the pieces are the epitome of haute joaillerie – audacious, bold and poetic.
The series of nine unique flower rings, each frozen in time, depict the eternal beauty of ephemeral flowers. The volume of the flowers are a result of 3D scanning technology, and each ring features natural flower petals in its design.
"It's the most technically complicated project that we've ever done," says Claire Choisne, who has been Boucheron's director of creations since 2011. "We didn't know whether it would work until it actually happened." The flower rings, featuring titanium pistils and encrusted with precious coloured stones such as sapphires, spinels, garnets or pavé-set with diamonds, cost about HK$3 million each.
Chaumet launches new high jewellery collection with a colourful party
High jewellery has been evolving to cater to discerning clients' changing lifestyles and their growing appetite for individualism. High jewellers such as Boucheron, Cartier, Chaumet and Bulgari are incorporating unconventional motifs into their products, turning to high technology and introducing new ways of wearing jewellery.
Italian jeweller Bulgari has gone out of its way to incorporate unconventional motifs. Its latest collection, titled Wild Pop, took inspiration from the vibrant '80s contemporary art scene pioneered by the king of pop art, Andy Warhol.
"I wanted to do something about this fantastic dialogue between Bulgari and Warhol," says the brand's creative director, Lucia Silvestri.
The result is an impressive collection featuring unconventional motifs such as microphones and sound synthesisers.
The Happy Leaves necklace is perhaps the most jaw-dropping piece in Bulgari's high jewellery collection.
The aptly named piece, inspired by cannabis, is constructed of white gold and adorned with over 14 carats of diamonds and 5.6 carats of emeralds.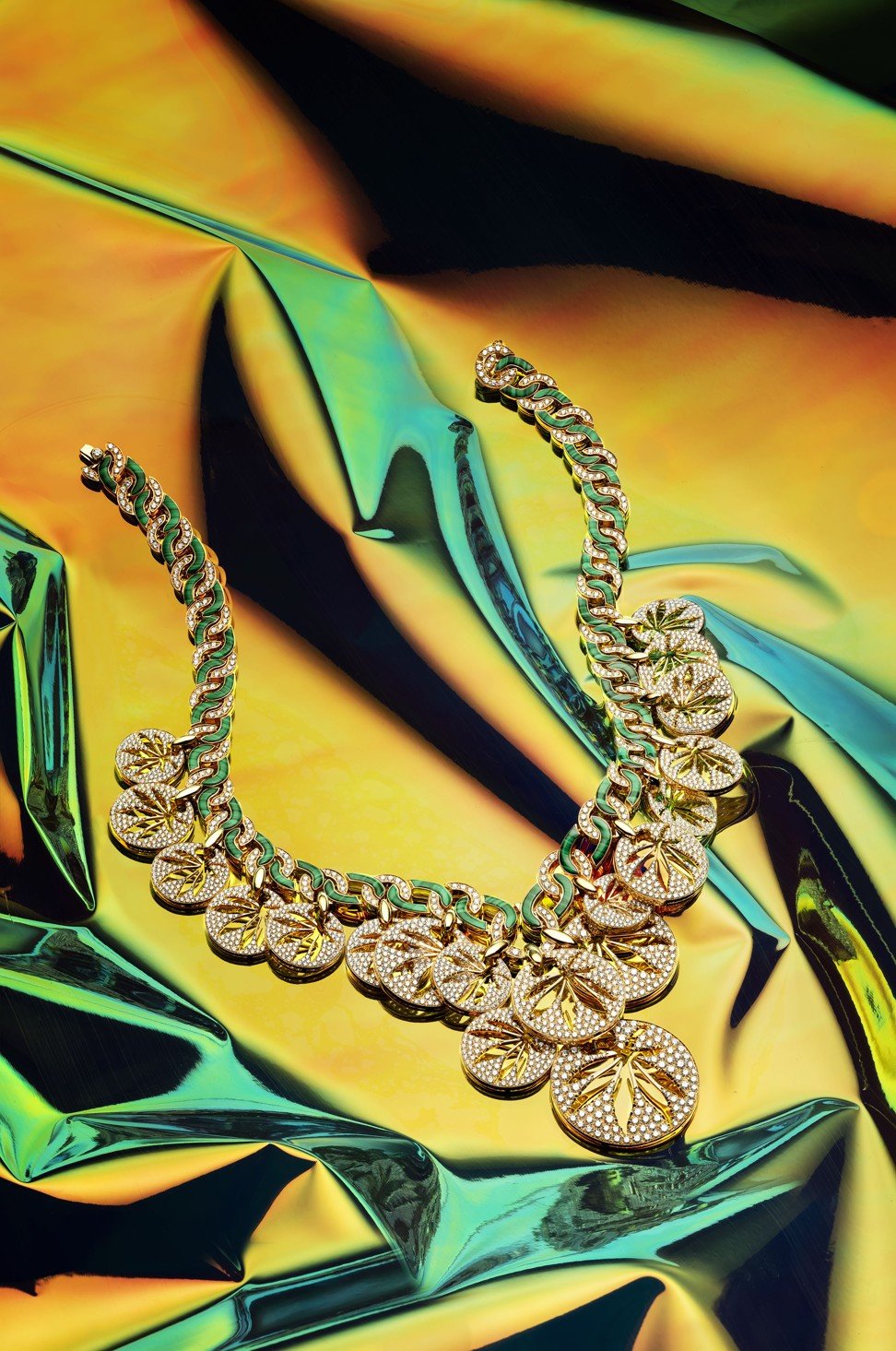 "You have to be daring," says Silvestri as she recalls the best lesson she learned from Bulgari founders Nicola and Paolo.
Chaumet has dedicated an entire chapter of its latest high jewellery to African culture – an inspiration that has rarely been tapped in high jewellery, especially in a series of such scale – 58 designs were created using this theme.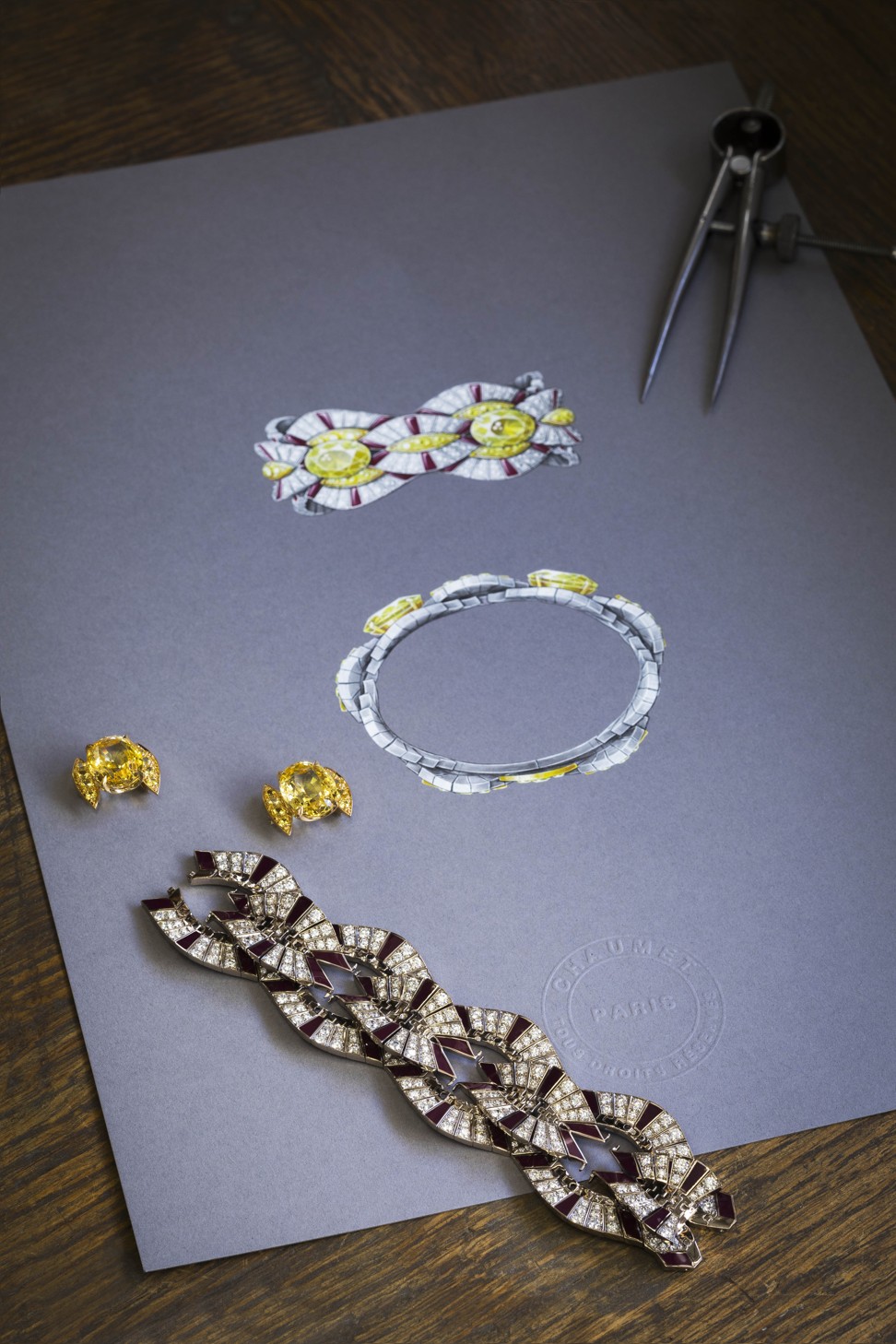 "African culture has influenced arts in many ways, yet no one has taken the risk to create a full high jewellery collection dedicated to the theme," says Jean-Marc Mansvelt, CEO of Chaumet. "We felt it is in Chaumet's DNA [to attempt this]."
It's the most technically complicated project that we've ever done. We didn't know whether it would work until it actually happened
Chaumet worked with emerging Kenya-born, Paris-based artist Evans Mbugua to create a series of high jewellery brooches which include tongue-in-cheek motifs such as a colourful giraffe with her head in the clouds and a pink elephant carrying a bouquet of flowers – which were well received by collectors. "The pieces were selling faster than I expected," Mansvelt says. "We wanted to offer [in our high jewellery collection] something audacious and unexpected. At Chaumet, we do things seriously but that doesn't mean that [the designs] have to be boring."
'Worlds of Chaumet' exhibition reaches millennials through Line app
There's nothing frivolous about the jewellery-making process and the craftsmanship behind these light-hearted designs.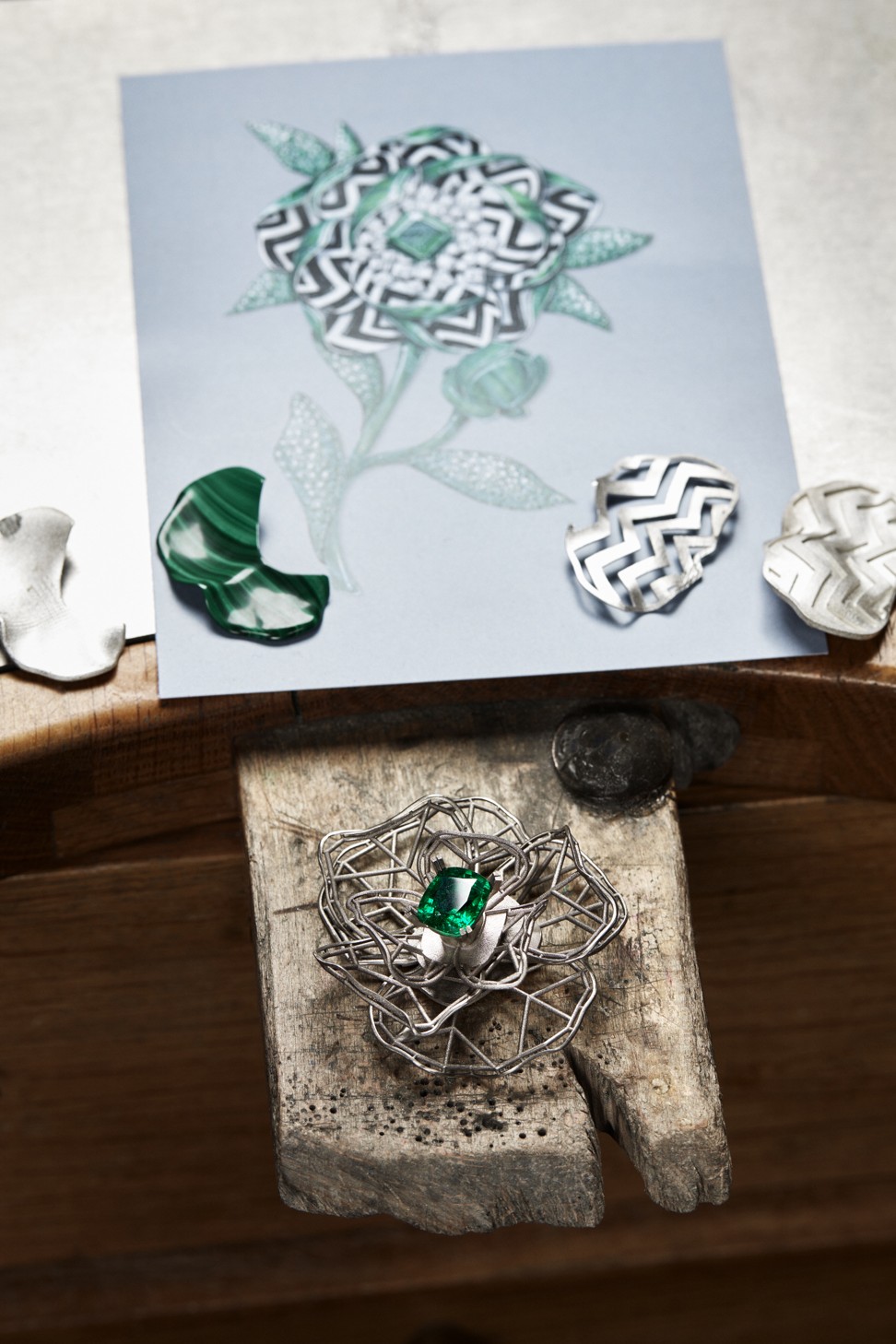 "[We deliver] the high jewellery pieces with the same level of excellence, authenticity and quality," Mansvelt says. "We have to surprise [our customers] but, at the same time, stay true to our DNA."
Boucheron's CEO, Hélène Poulit-Duquesne, agrees. She says that despite the new interpretations, the theme of nature has been a key pillar in the maison's heritage. "Nature is very specific at Boucheron because [the interpretation] is often wild and untamed," Poulit-Duquesne says.
Boucheron film reimagines 'Cinderella' to mark its 160th anniversary
Apart from incorporating audacious and sometimes provocative new motifs into their collections, high jewellers are also introducing new ways of wearing jewellery. Items include palm cuffs, asymmetrical earrings and transformable tiaras.
Boucheron has introduced a variety of unexpected high jewellery pieces in its previous collections, such as the Cape de Lumière , an intricate gold cape in 2016, and last year's Baikal necklace, which can be transformed for different occasions.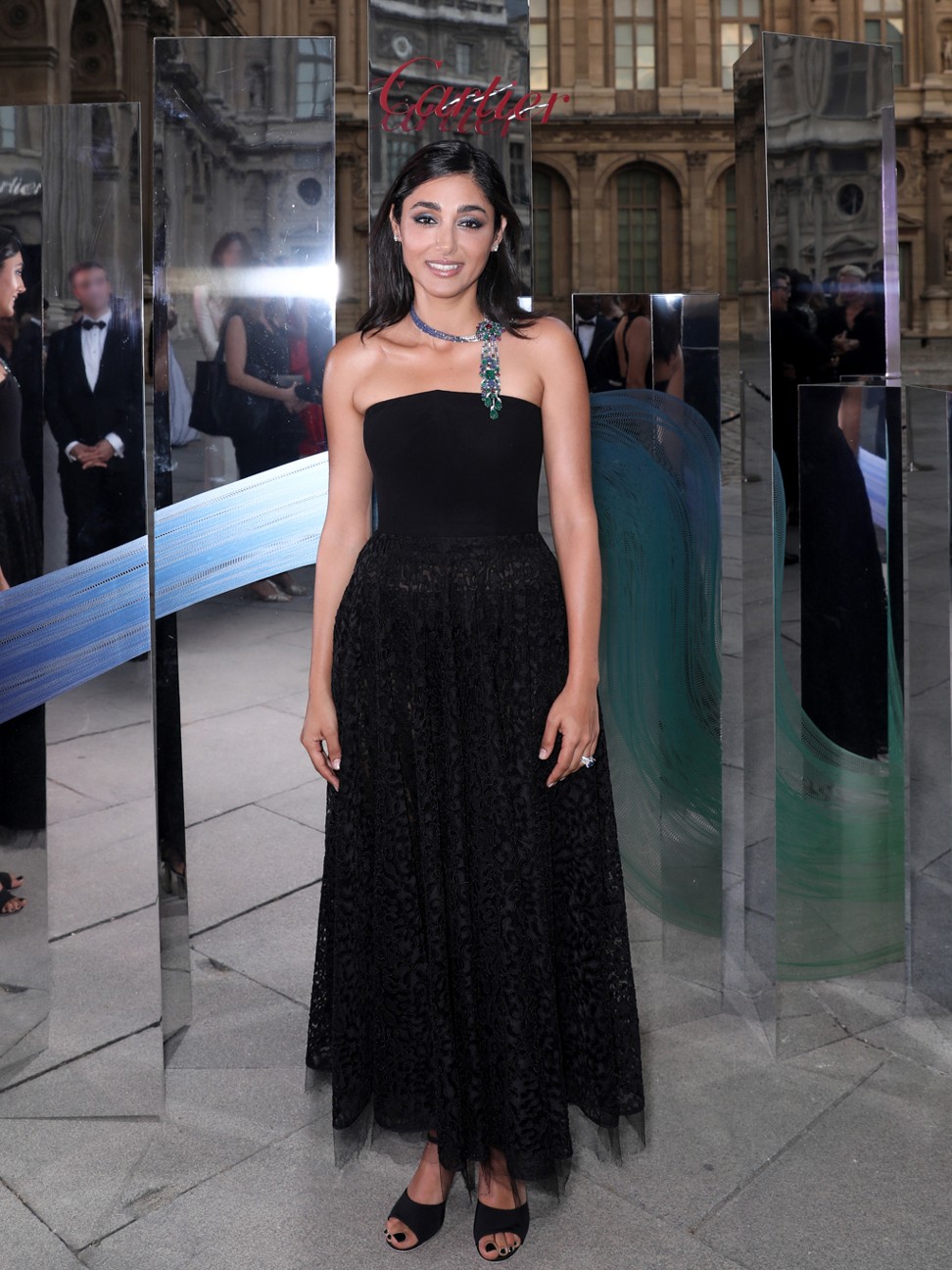 This year, Choisne envisioned a high-jewellery interpretation of an ivy branch. The "Lierre Givre" necklace, crafted with titanium and cacholong, is encrusted with micro pavé-set diamonds. The design is so fluid that it can be worn as cross-body jewellery or a belt.
Dior has also included in its latest high jewellery collection Dior Dior Dior a series of palm cuffs, double rings, asymmetrical earrings and high jewellery chokers.
I wanted to do something about this fantastic dialogue between Bulgari and Warhol
Tiffany's latest Blue Book high jewellery collection also opted for a more contemporary direction by featuring asymmetrical designs and modern interpretations of iconic classics.
Tiffany's newly appointed chief artistic director Reed Krakoff reckons there is a growing demand for "wearable high jewellery".
Boucheron CEO reveals plans for brand's 160th anniversary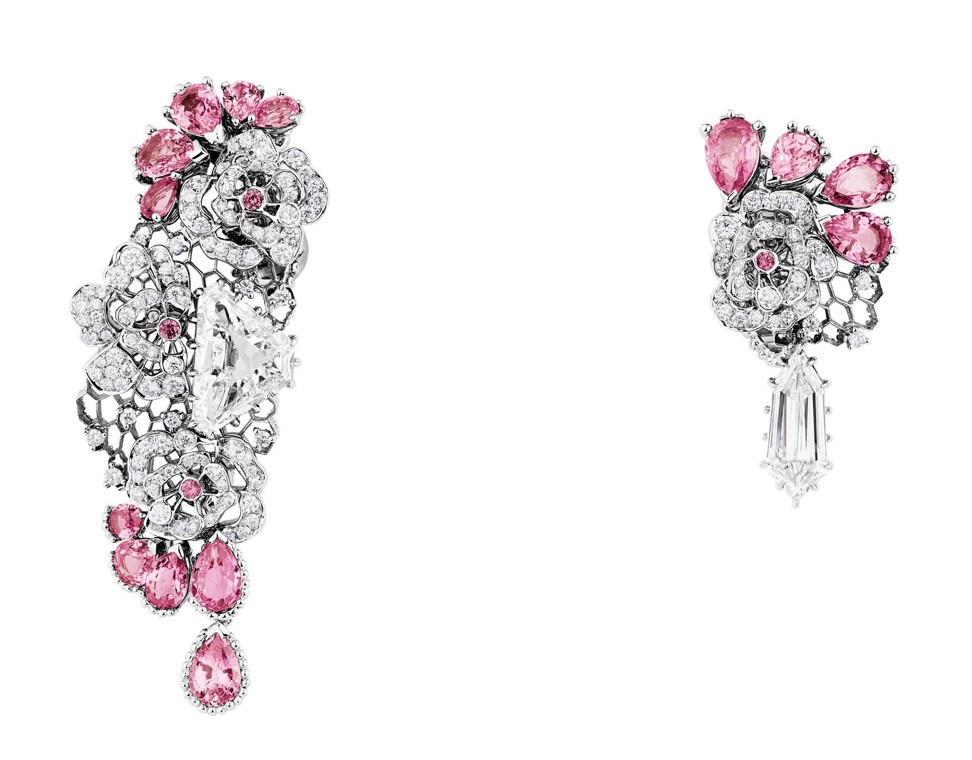 "People dress differently today. Before, high jewellery was all about the red carpet," Krakoff says. "Now [people want] something as everyday luxury."
Choisne also realises the importance of adapting to the changing lifestyles of high jewellery customers and the millennial generation.
"Our high jewellery customers are used to seeing different things from us and that is what they are looking for," she explains. "I think youthfulness is in your mind and is not a matter of age. Our customers are bold and confident enough to wear this kind of jewellery."
To meet customers' demand, wearability is now under the spotlight. New materials such as titanium are being used to lighten up high jewellery pieces.
"High jewellery needs to make the wearer feel good – it needs to be wearable," Krakoff says.
To come up with new designs in high jewellery, luxury maisons such as Boucheron, Graff and Chanel are turning to modern technology such as 3D mapping and printing.
People dress differently today. Before, high jewellery was all about the red carpet
Boucheron's flower rings were challenging to create because of the delicacy and moisture of natural flower petals. Instead of using an ordinary 3D scanner, the creative team had to borrow a more advanced scanner from a medical lab.
"It's important that technology is not used just for the sake of using it," Poulit-Duquesne says. "It is in the hands of our artisans."
How it's made: HK$7 million; 1,250 hours; 2,300 stones
As savoir faire, technology and modern aesthetics go hand in hand, high jewellers are pushing the boundaries to drive the centuries-old trade forward.
"High jewellery doesn't need to be 'old school' and we need to make sure of that," Choisne says. "It's a way of artistic expression achieved by excellent know-how. We can modernise designs and listen to what women want . We are not creating designs for women of the last century."
Want more stories like this? Sign up here. Follow STYLE on Facebook, Instagram and Twitter
A