Holly Golightly, played by Audrey Hepburn in Breakfast at Tiffany's, had her pearl necklace; Kate Middleton has her sapphire engagement ring; and every Chinese mother has her jade bangle.
Traditionally, a semi-translucent, intense medium green colour of jade, called imperial jade, is most prized for jade bangles. Apple green jade is seen as a suitable, less expensive alternative to imperial jade. But the stone comes in a multitude of shades and colours – from the warm reds, oranges, yellows and browns, to white, black and lavender.
The term "jade" is also an umbrella term, used colloquially to refer to two gems of different mineral compositions – the more expensive jadeite and the more common, and thus less expensive, nephrite.
In recent years, however, jewellery designers have started to throw traditional colour and quality preferences out the window. Not only are the non-traditional shades of jade finally getting their moment in the spotlight, the stone is also getting a chance to shine in forms more exciting than the simple bangle.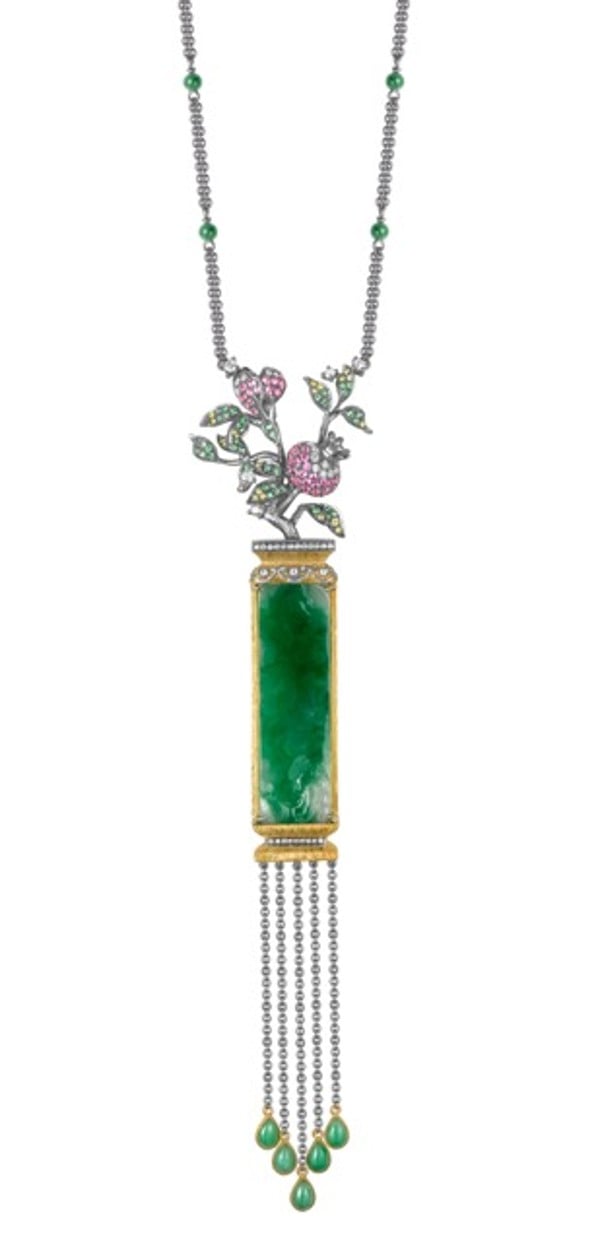 Jeweller and artist Dickson Yewn readily admits to being a recent convert. "At the start of my career, I actually tried to avoid it, because I thought jade was a bit of a cliché," he confesses. "Jade jewellery has been [considered] traditional for a long time because dealers would always cut the stones to maximise profits. [The cutting of jade] has never been very creative. I love jade only when I can customise it and have it cut the way I want."
Creative jewellery makers turn to ancient, fossilised materials
And the way Yewn usually likes his jade cut is into flat slabs – a style which is one of the cutters' least favourite, due to the large amount of rough it wastes. Yewn's most renowned piece featuring such a cut is probably the ring from his Chinese Lattice collection seen on former US first lady Michelle Obama in 2011, which sported a rectangular slab of green jade sitting atop a latticed square shank set with diamonds.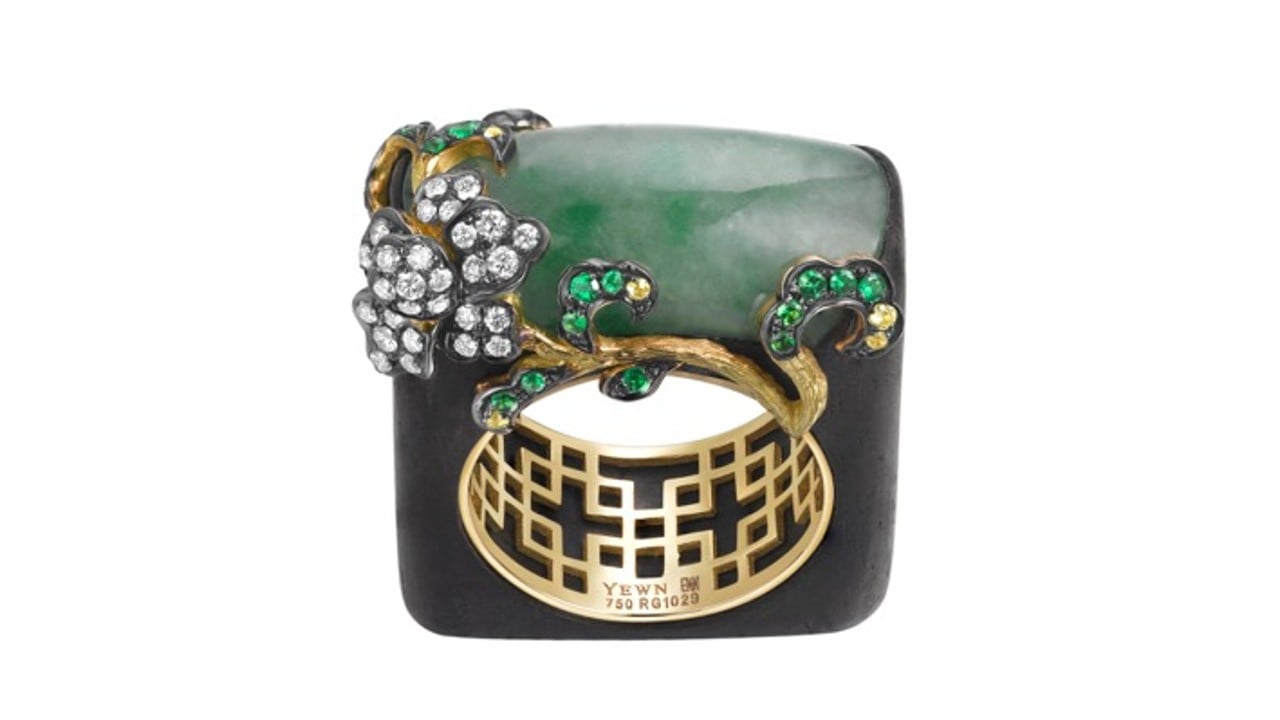 Following the success of that ring, which propelled him to international fame, Yewn's work with jade pieces has become progressively bolder. A ring from his Imperial Grace collection, for example, repurposes a fragment of jade broken from a traditional bangle as the centre stone.
Couture jeweller Wendy Yue is another designer with a strong affinity for jade. In her extravagant creations, jade is transformed into floral sculptures, which bloom on gardens of pave-set coloured gems or take centre stage as large stones on cuffs, while the slabs are engraved with floral designs and framed by tendrils of gold set with multi-coloured stones.
Jadeite is becoming increasingly popular as designs get more edgy and various colours are used
"I don't tend to choose jade based on the traditional quality standards for colour," Yue says. "I've cut and carved jade into every shape possible, to use as dangling earrings, cuff centres, wings of a dragonfly, and perfume snuff bottles. I think the key is to appreciate how jade can be used in unconventional ways and shapes, and is itself a medium for artistic expression."
While it may come as no surprise that jade's resurgence has taken hold with Chinese jewellers, the gem also appeals to a wider audience, and features in pieces from brands such as Cartier and De Grisogono. And, unlike Chinese jewellers, who seem to prefer the pastel shades of jade, both houses have used black jade to give their designs an edgy touch.
In Cartier's Rings of Saturn décor visible hour watch, a ring of smooth black jade is paired with a ring fully-paved in brilliant and rose-cut diamonds, forming a bold juxtaposition of white against black, and pebbled against smooth textures. Black jade also features strongly in De Grisogono's Tubetto collection, most often as a contrast to white gold and diamonds.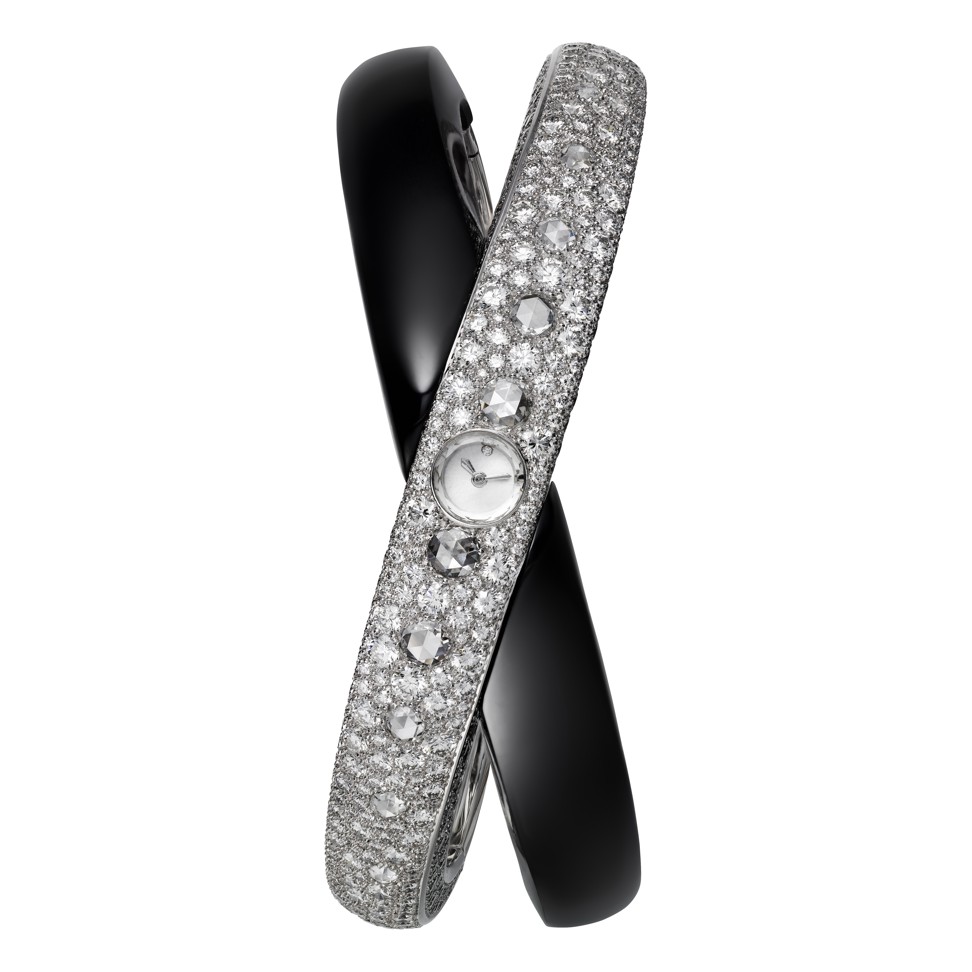 Perhaps most indicative of jade's successful migration from the wrists of Chinese mothers to the fashionable accessories drawers of young women is Singaporean designer Choo Yilin's Si Dian Jin collection. Traditionally, si dian jin is a four-piece set of 24ct yellow gold jewellery given by the groom's mother to the bride at her wedding. However, in Choo's interpretation, gold is only used to provide accents to the flowers or vines twisting elegantly around jade. White, smoky grey, and light green jade are favoured, resulting in bridal pieces that are more easily transformed into everyday jewellery than those made of 24ct gold.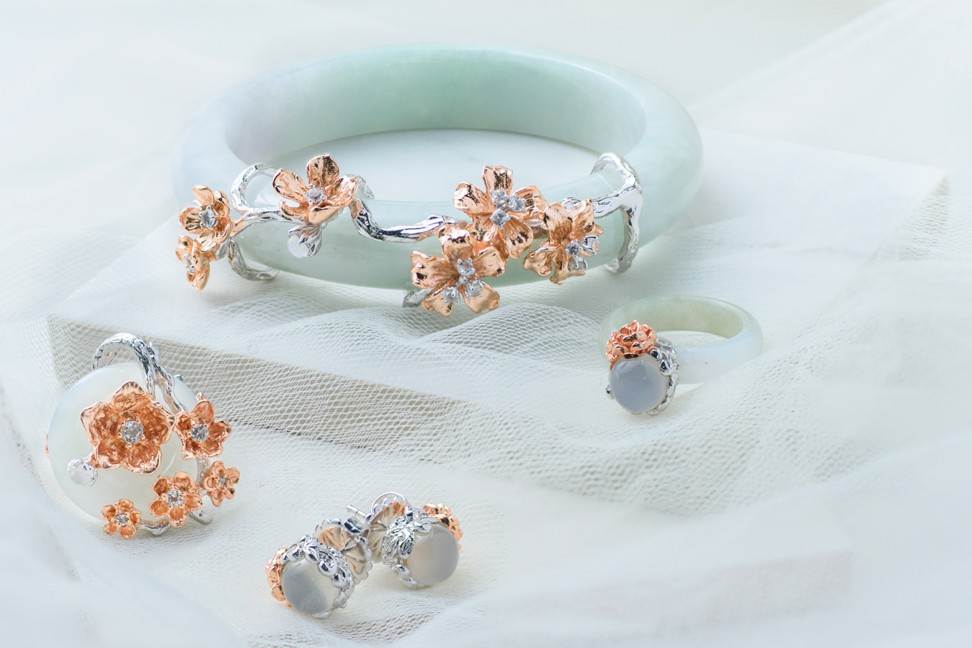 Choo says: "What we've done is to work with jade in a way that's relevant for the 21st century, cosmopolitan Asian woman. At its heart, my brand wants to show all of us that we should be fiercely proud of who we are, that our heritage is profoundly moving, and that these are stories deserving of being told on a global scale."