The striking use of pearls in haute joaillerie by international design houses celebrates this mystical creation of nature. All shapes, sizes and hues of pearls are mixed with important coloured gemstones and diamonds, casting an even more royal impression.
Sizeable and perfectly round pearls are rare to find, having been produced over a long period of time by shelled molluscs, or an oyster living in oceans and fresh water regions.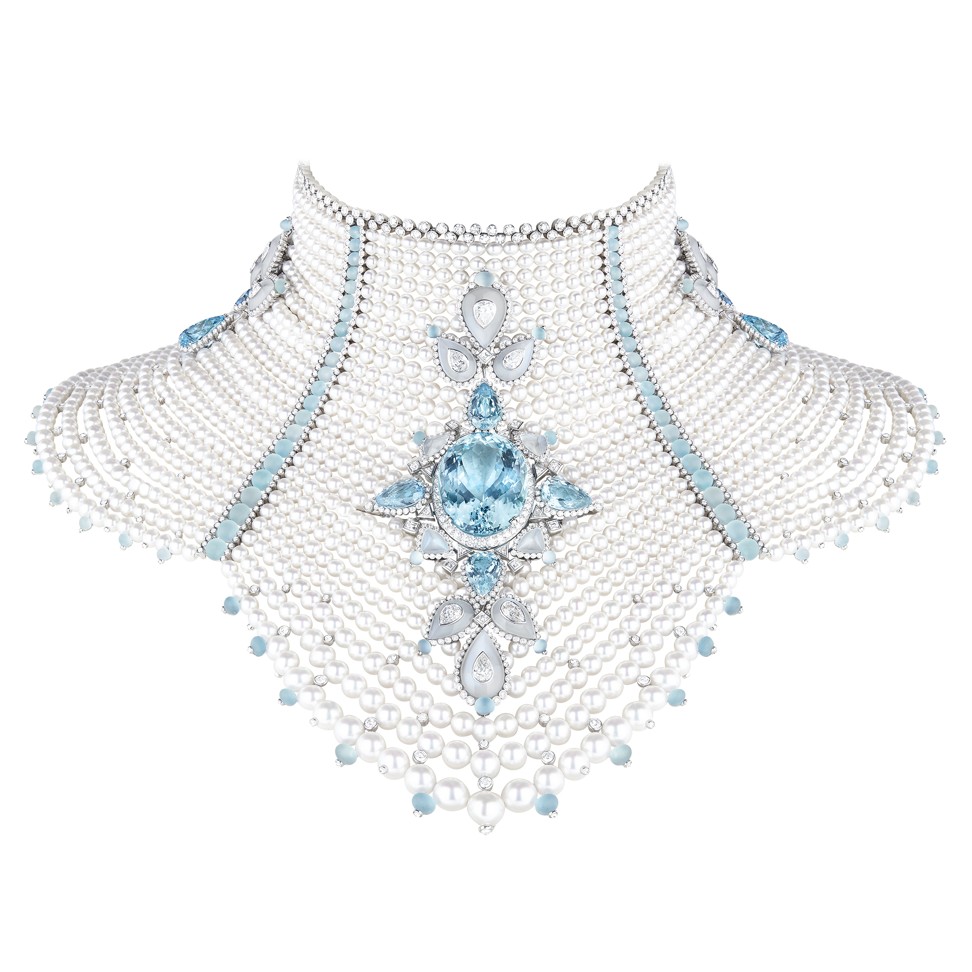 Lustre being a very important element to consider, other factors such as colour, surface flaws and symmetry influence the value of a pearl.
"Natural pearls" are the rarest of all, as there is hardly any production in nature. They are described as "natural" because they are created by nature.
The oyster beds are decimated and most of the older and bigger shells have been fished, so what is produced by nature tends to be small in size.
Also, the seabeds are shrinking as a result of pollution, especially in the Gulf region, because of oil production. The area used to be one of the most important sources of natural pearls. However, demand for these beauties continues to increase, driving prices higher.
Exceptional earrings created with natural pearls and diamonds, designed by Edmond Chin, sold for US$827,889 at a Christie's auction this year, above the estimated price.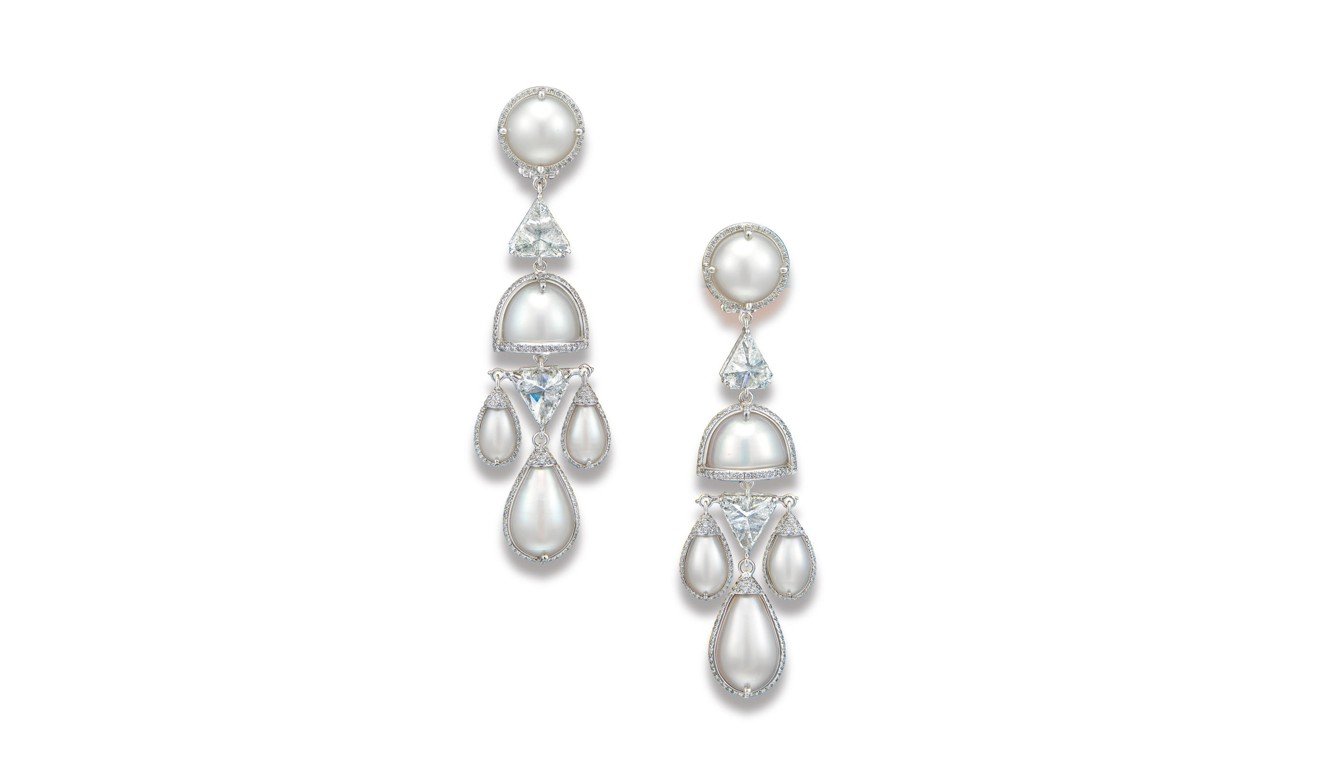 "All the pearls are undrilled which is really rare [for natural pearls]," Chin says.
South Sea cultured pearls, Japanese cultured pearls, also known as Akoya and Keshi pearls, are more prevalent in jewellery today, while some jewellers also use freshwater cultured pearls.
Matching the natural lustre and iridescent flow of all the pearls used in one piece of jewellery is a challenge. So traditional methods are used to ensure a high standard of selection, where each piece is strung by hand for a seamless graduation.
Pearls make a comeback, with rising interest from connoisseurs and collectors
The new Flying Cloud collection by Chanel includes the Blurred Lines necklace in 18ct white gold set with an emerald-cut diamond of 2.52ct, baguette-cut blue Burmese sapphires, cabochon-cut blue Burmese sapphires, round-cut blue sapphires, 624 Japanese cultured pearls and 93 brilliant-cut diamonds. The same pearls are also used in the Precious Float earrings where diamonds are juxtaposed against lapis lazuli.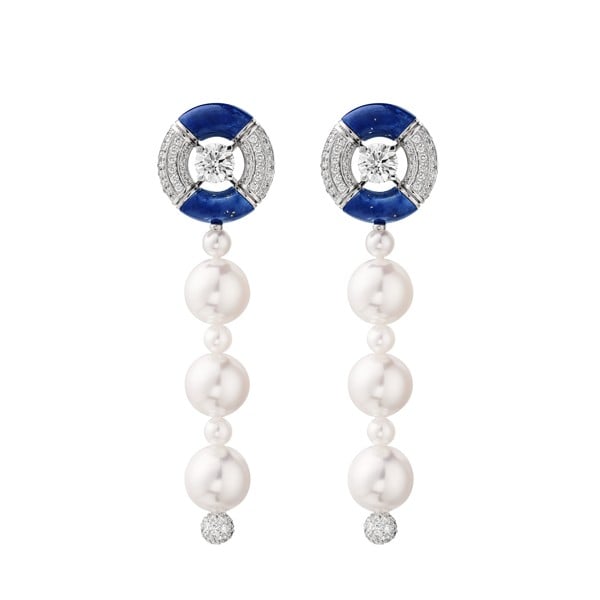 Mikimoto is a name to reckon with in the world of pearls, having created the world's first cultured pearls in 1893. The jeweller unveiled its new high jewellery collection, Praise to Nature, and an ode to Mother Nature protector of the precious pearls, which are used to create these fabulous jewels. One necklace stands out, featuring five strands of Akoya culture pearls with a large Paraiba tourmaline and playful diamond butterfly motifs.
Pearl jewellery renaissance continues with updated designs
Aptly named Deep Sea Dazzler, a large baroque pearl becomes an octopus, with diamonds and blue sapphires tentacles, part of the Tiffany Blue Book 2016 collection. Tiffany also uses cultured Tahitian pearls with diamonds in a set of layered necklaces.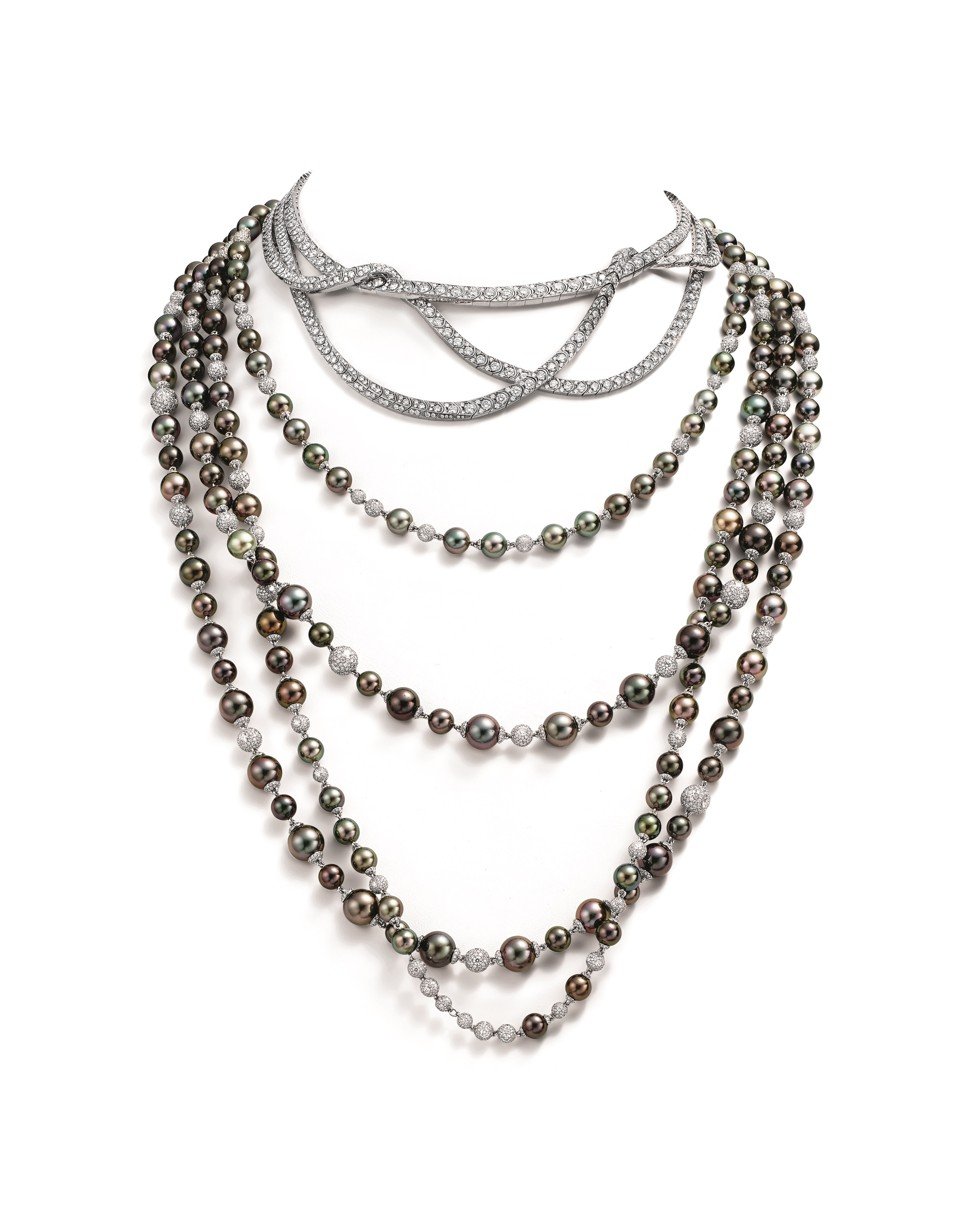 Boucheron's new Hiver Impérial, introduces the spectacular Baïkal necklace, which is adorned with around 2,000 cultured pearls on multiple strands, which are strung on silk thread and linked with aquamarines, moon pearls and diamond slivers.
In a central floral motif, an impressive 78.33ct oval Santa Maria aquamarine depicts the crystal clear blue waters of Lake Baikal.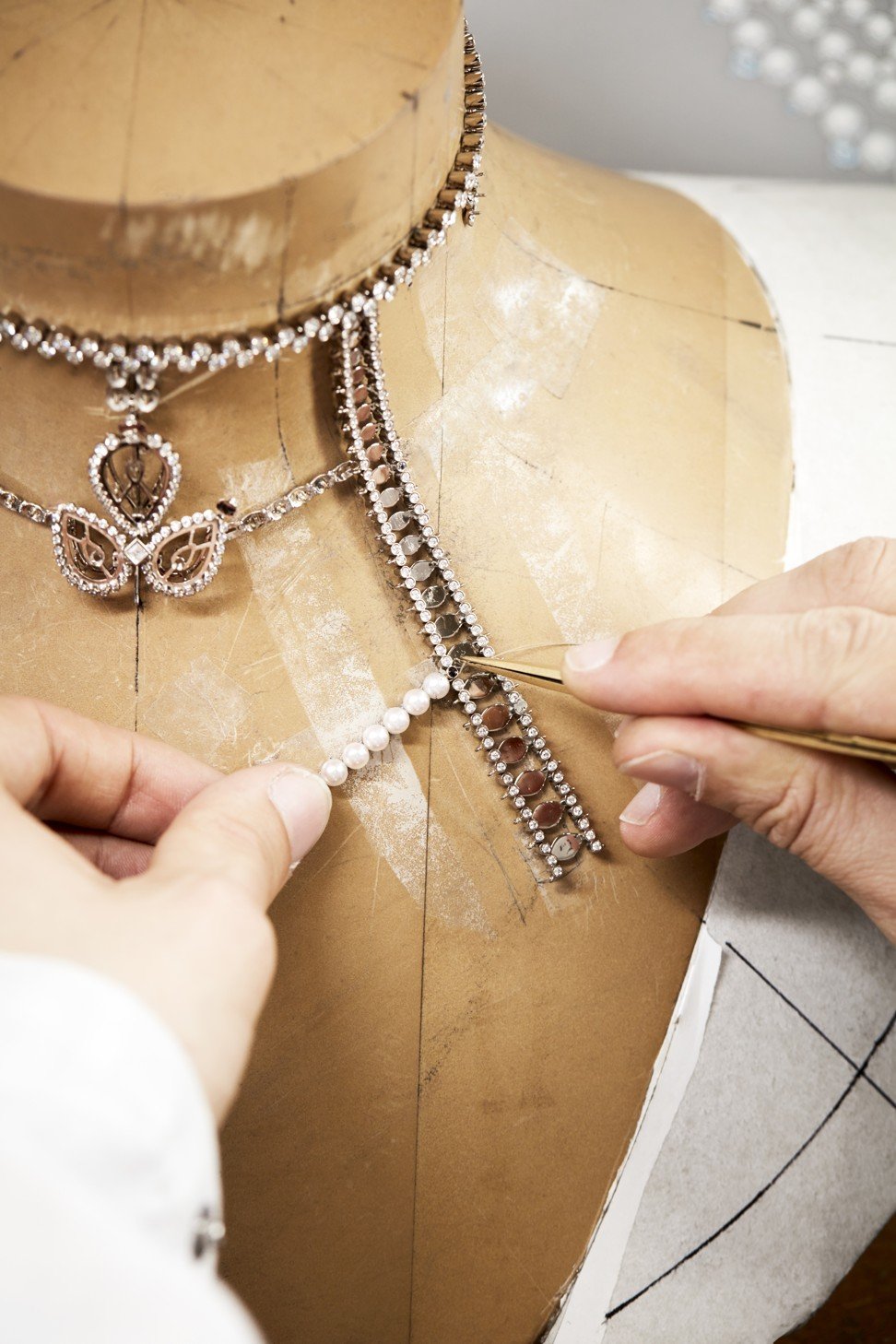 The latest Chaumet est une fête collection comprises the Valses d'hiver theme of jewels including necklaces, a beautiful brooch, a diadem, earrings and rings, with a focus on pearls. An example is a pair of transformable earrings in white gold, set with diamonds; two 10mm white South Sea cultured pearls and two 5mm white Akoya cultured pearls.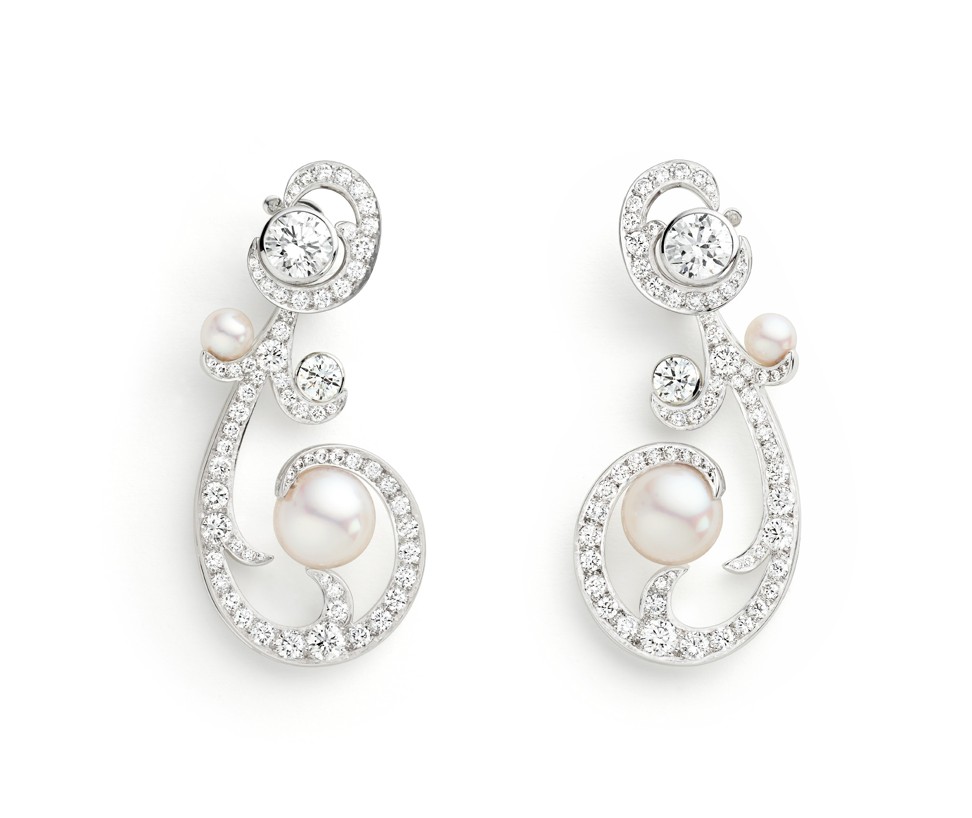 Bulgari has launched the Festa Delle Principesse collection, under which the Fiocco Reale high jewellery necklace in platinum is made with 82 South Sea cultured pearls, with a cushion-cut 9.16ct Colombian emerald, a Sri Lankan 14.84ct cushion-cut sapphire and, with round sapphire and emerald beads, brilliant-cut, fancy shape step-cut diamonds and pavé diamonds.