For those looking for precious jewels with history, auctions are great places to go for the hunt. Every now and then, the story behind a piece is so fascinating, it claims as much attention as the lustre emitted by the gemstone.
Today, Sotheby's Magnificent Jewels and Noble Jewels auction at the Mandarin Oriental Geneva will offer The Donnersmarck Diamonds, a pair of fancy intense yellow diamonds with aristocratic provenance.
The rocks, a cushion-shaped diamond weighing 102.54ct and a pear-shaped diamond weighing 82.47ct, once belonged to the noble family of von Donnersmarck, and they are estimated to be worth from US$9 million to US$14 million.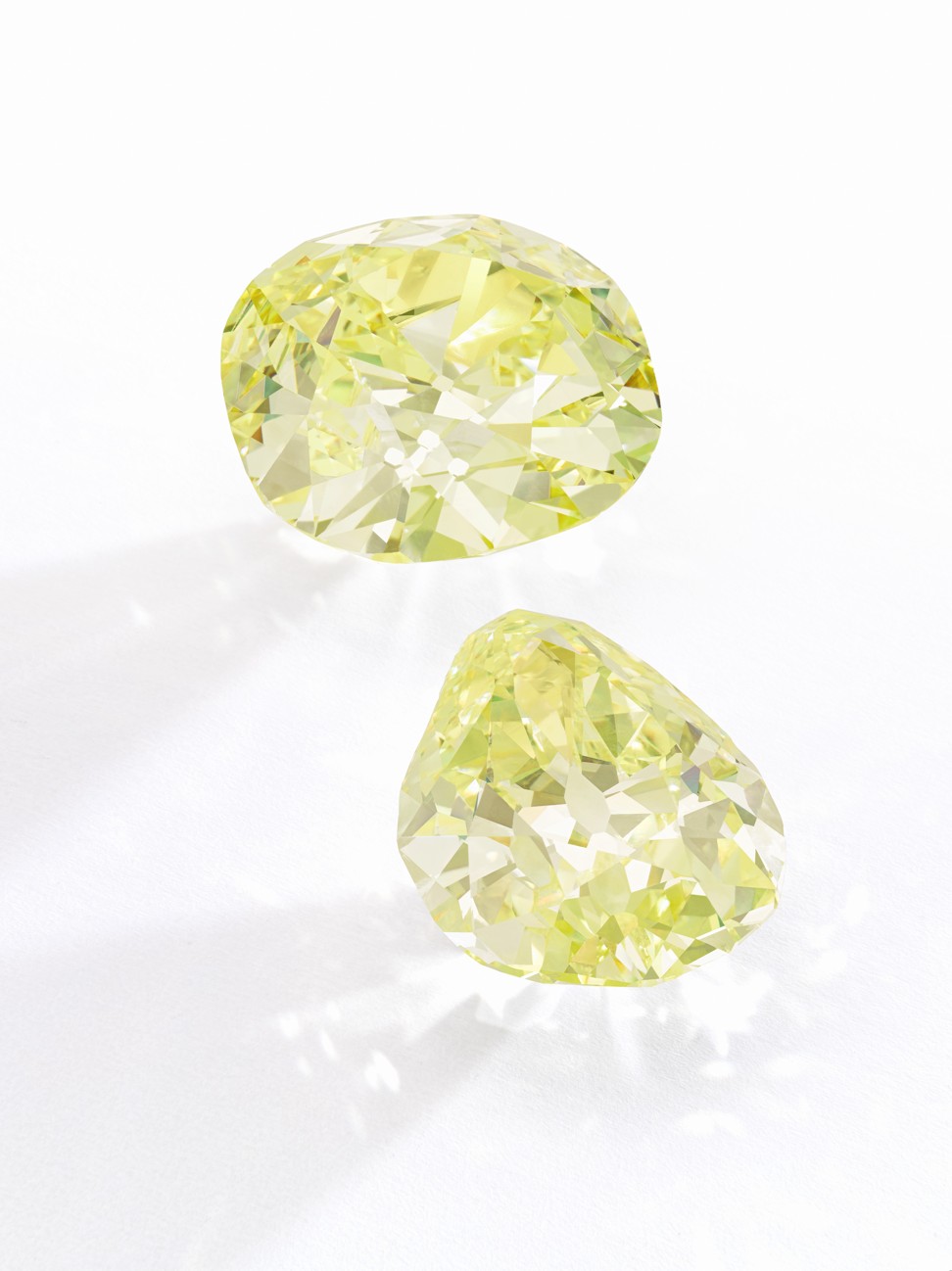 The story of these jewels' original owner could easily be made into a movie without the need for the script to be dramatised. She was known by many as "La Païva" and regarded by historians as one of the most successful courtesans in 19th century France.
Born Esther Lachmann in Moscow in 1819, she arrived in Paris aged 18 and was quickly introduced to the city's cultural and artistic circles by her lover Henri Herz, a piano composer.
Her nickname came from her marriage to Portuguese Marquis Albino Francisco de Araújo de Païva, an heir to large fortunes in Macau, but it lasted only one day.
It was around this time that she met Count Henckel von Donnersmarck, a 22-year-old Prussian industrialist and mining magnate and one of Europe's richest men at the time. This relationship would last for decades before the two married in 1871, making her the countess.
Diamonds at auction offer investors colourful temptations
Yellow seemed to be La Païva's favourite colour, evident from L'Hôtel de La Païva on the Champs Elysées, a building she bought soon after embarking
on her relationship with the count. The lavish mansion, which still stands today, features a central staircase made of Algerian yellow marble, which matched the yellow of the Donnersmarck diamonds she would later acquire.
She died in 1884 and the count, who became a prince in 1901, remarried Russian aristocrat Katharina Wassilievna de Slepzoff.
The Donnersmarck diamonds remained in the family until they appeared at Sotheby's in 2007. After being part of a private collection for the past 10 years, they will appear at the November 15 auction.
Not every auction piece comes with a story, and sometimes, it is out of concern for the privacy of the seller. Simply by observing the workmanship, materials and aesthetics of a piece, one can also surmise the interesting journey a jewel has travelled.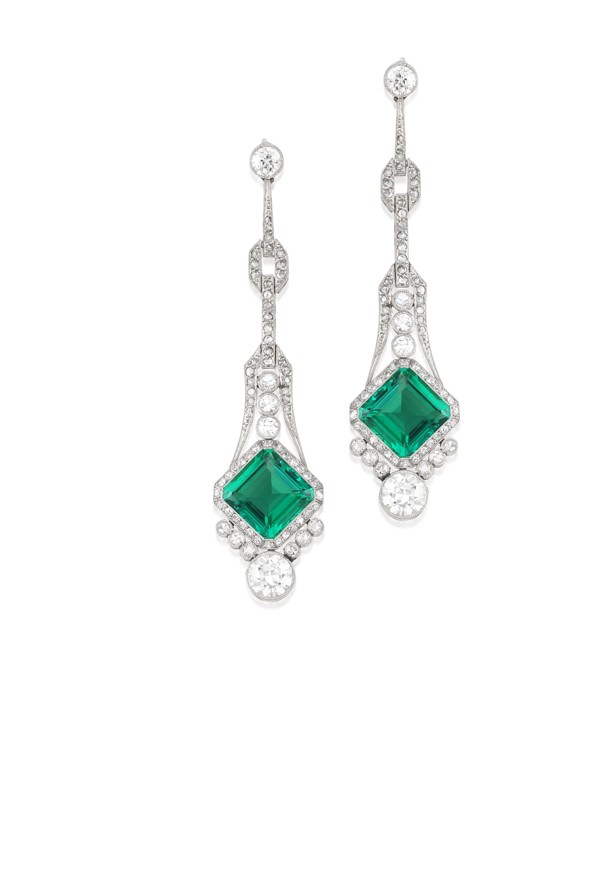 In the Bonhams Rare Jewels & Jadeite sale in Hong Kong on November 26, an early 20th century pair of Colombian emerald and diamond pendant earrings circa 1920, each set with a step-cut emerald weighing about three carats, will be on show.
"The design is heavier on the bottom, which was typical of the period. It's made in platinum, which only began to be used in jewellery from the late 19th, early 20th century. Before that time, jewellers were simply not able to get it malleable," Graeme Thompson, director of jewellery, Bonhams Asia, says. "Only the best jewellers at the time would use platinum as they had just discovered the technique. They were using gold and silver before."
Why Hong Kong is now the world's second-largest jewellery auction hub
Thompson said the discovery of platinum, which is a harder metal than silver and gold, allowed for more refined and delicate gem setting, as well as crisper millegrain details. The emerald set in the piece is certified as "no oil", which means that it is naturally clean with very few inclusions. It was a boundary-breaking work of art at that time.
Other auction pieces threaten to make history. On November 28, Christie's will hold the Hong Kong Magnificent Jewels Autumn Sale 2017, with The Pink Promise: a 14.93ct fancy vivid pink VVS1 clarity (Type IIA) diamond ring, estimated to be the most expensive jewellery piece ever offered at Christie's Hong Kong auctions at HK$220 million to HK$320 million. It will be offered alongside an 8.80ct fancy intense pink VVS1 clarity (Type IIA) diamond ring.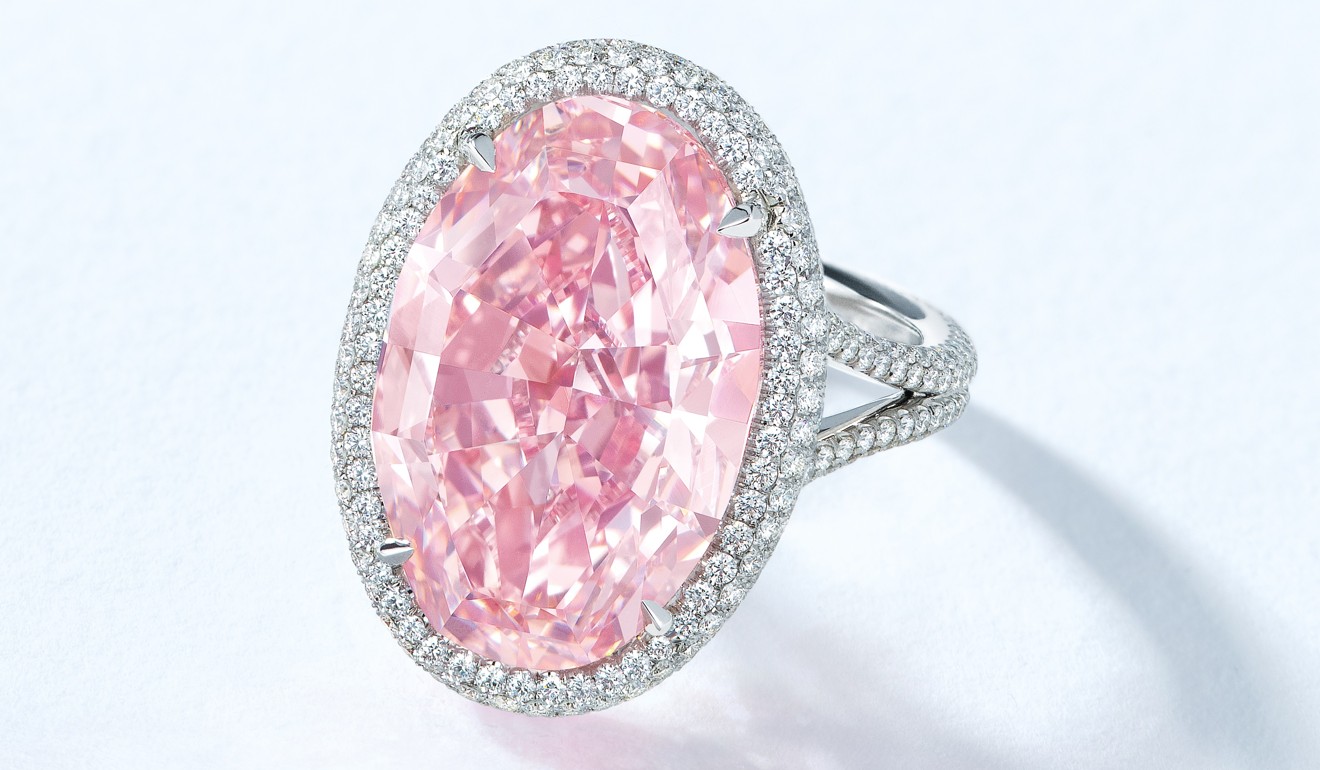 Pink diamonds are among the rarest and most valuable gemstones in the world. No two are the same as the hue, tone and saturation is unique to each.
Also at the auction is an 8.17ct pigeon's blood red Burmese ruby ring. Only perfect rubies of exceptional saturation and natural red fluorescence can be deemed as "pigeon's blood".
It is even rarer for such a gem to be more than 5ct.