The latest brand to join the SIHH bandwagon is luxury powerhouse Hermès, which until last year had been showing at Baselworld. It marked its debut in its own inimitable style, bringing a touch of whimsicality to the mix.
"'Let's play' is our theme for 2018," says Pierre-Alexis Dumas, artistic director of Hermès. "It's an invitation to never take your heritage for granted and to use your heritage to reinvent the future."
The theme is evident in everything from its experiential booth to its watches.
Stealing the spotlight this year was the Carré H, designed by Marc Berthier in 2010, which returned with a few updates. While it retains its iconic curved square case, it is a few millimetres bigger at 38mm and comes in steel with polished and microbead-blasted finishing.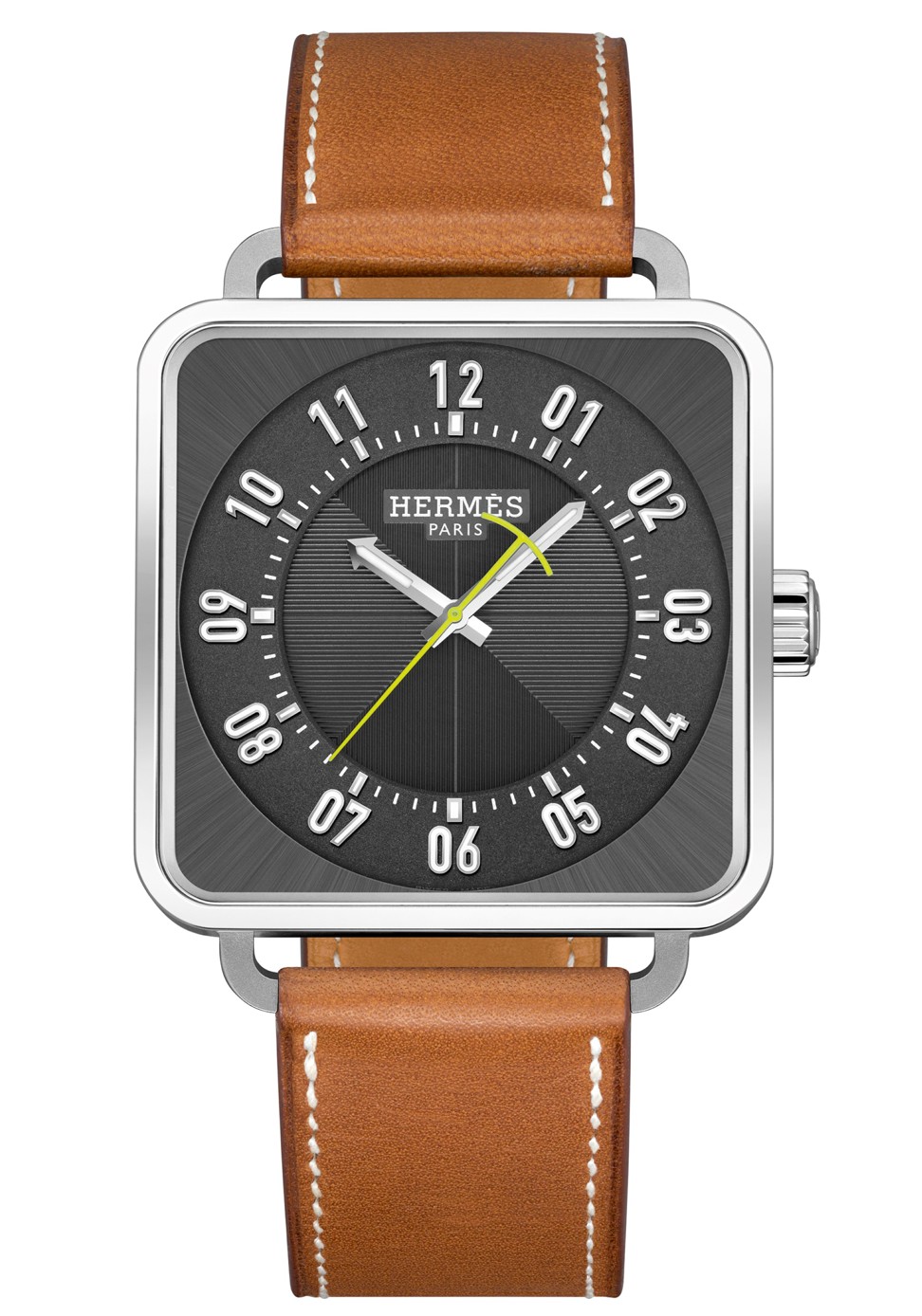 "The square is an important shape at Hermès," Dumas says. "A square has angles, but this [timepiece] doesn't have angles – it's all about curves, it's very sensual and playful."
5 tourbillons that stole the spotlight at this year's SIHH
The dial features right-angled guilloché work, which captures the light just so, as well as facetted hands and numerals. It comes in two versions, with a black or a grey dial, and with the seconds hand in either yellow or red, adding a subtle playfulness. It is powered by a manufacture mechanical self-winding H1912 movement, with a power reserve of 50 hours, which can be viewed through the transparent sapphire caseback.
"We played with a very graphic face because Marc Berthier is very good at visual communication, and we have a very strong history of typography at Hermès. I wanted that face to be playful and strong, the way the square is strong," Dumas says. "It's sporty without being a sports watch."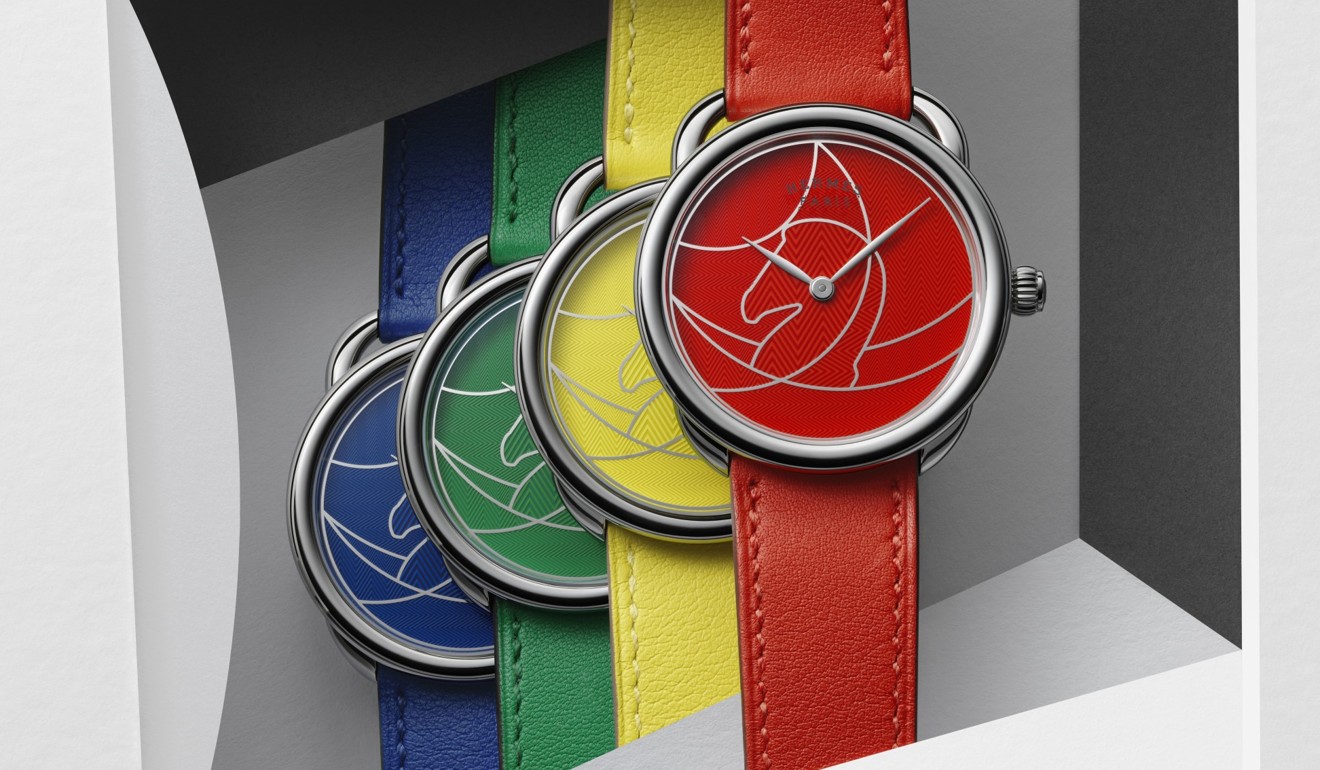 Hermès also strengthened its core collection with new offerings that expanded its signature Arceau and Hermès Cape Cod collections.
The Arceau collection, designed in 1978 by Henri d'Origny, celebrates its 40th anniversary this year. It is known for its distinctive round case paired with asymmetrical lugs – a look inspired by horse stirrups.
The Arceau Chrono Titane pairs a chronograph function with an elegant 41mm bead-blasted titanium case. Two straps are available: brown Barenia calfskin and black embossed Barenia calfskin.
Montblanc launches 1858 collection at SIHH in Geneva
Injecting the Arceau family with a pop of colour was the Arceau Casaque line featuring a champlevé Cavale motif on the dial. Four electric shades are offered: blue, green, red and yellow. A matt tone-on-tone chevron pattern on the dial gives it a luxurious touch.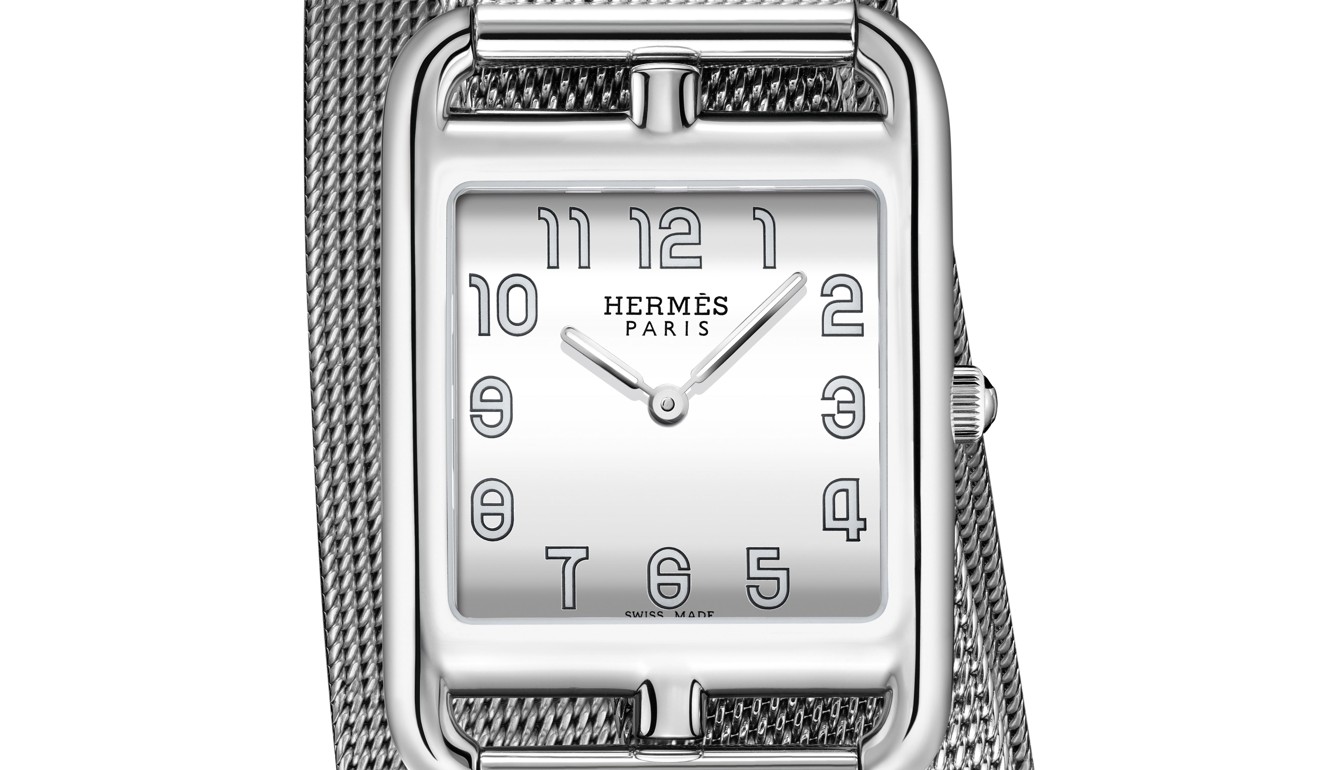 Cape Cod, designed by Henri d'Origny in 1991, demonstrates how different métiers d'art within Hermès are influenced by each other.
"We have an iconic object at Hermès, which is the link of a piece of jewellery called Chaîne d'Ancre ['Anchor Chain']. If you take that link and cut it in two and separate it, you have [this shape]. So you can see that Henri d'Origny really looked carefully at [Hermès'] motifs."
Three versions of the Cape Cod were added this year, including a rhodium-plated dial polished to create a visually striking mirror-like effect. The other two versions feature dials of black gold treatment or blue lacquer, and come decorated with "Anchor Chain" motifs.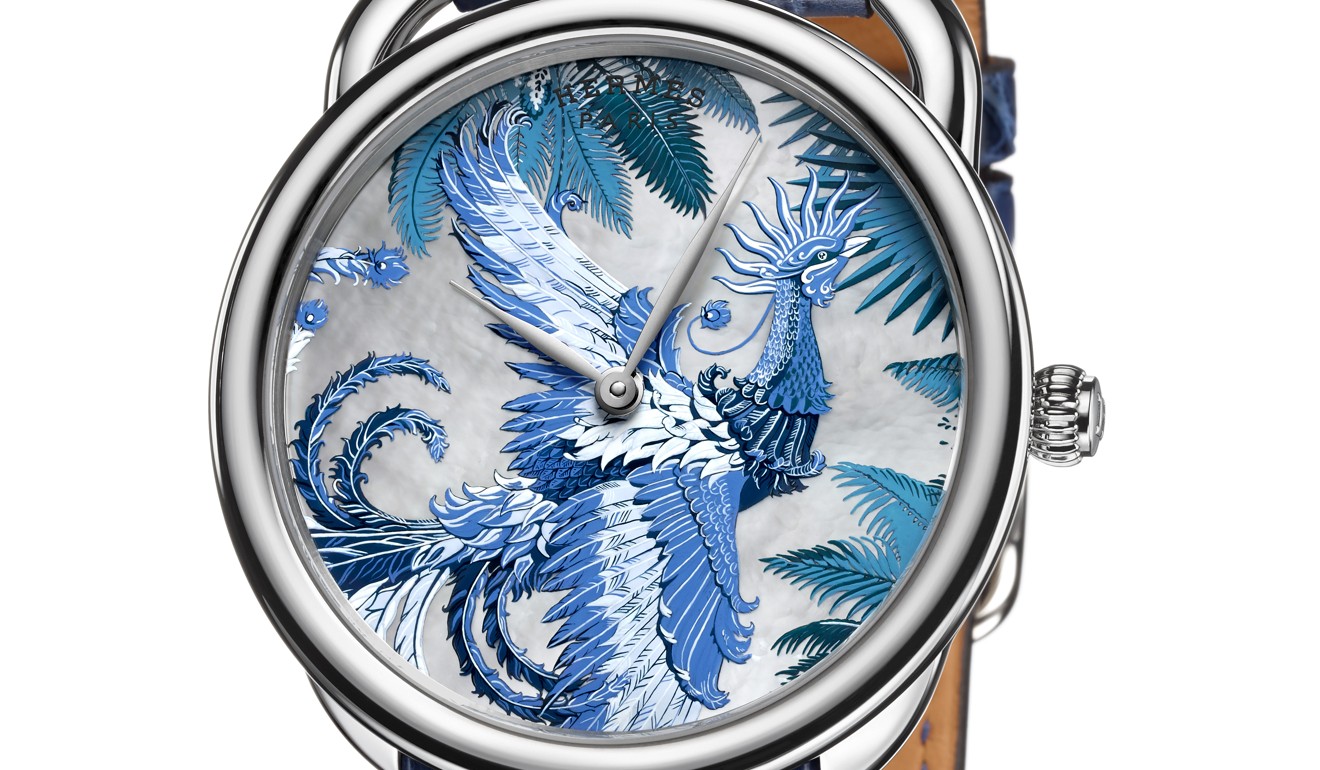 There were also some truly exceptional métiers d'art timepieces that made the rounds on social media, reflecting the house's artisanal identity.
The Arceau Mythiques Phoenix Coloriages, in blue or red, features a miniature painting of a phoenix on natural white mother-of-pearl, and is limited to 12 pieces each. The Slim d'Hermès Savana Dance, which features a colourful savana dance motif painted on natural white mother-of-pearl, also drew in the crowds, and is limited to 12 pieces.
5 things to look forward to at luxury watch fair SIHH 2018
"Métiers d'art is very important for us because, at the end of the day, we are a craft house – that's where we come from," Dumas says.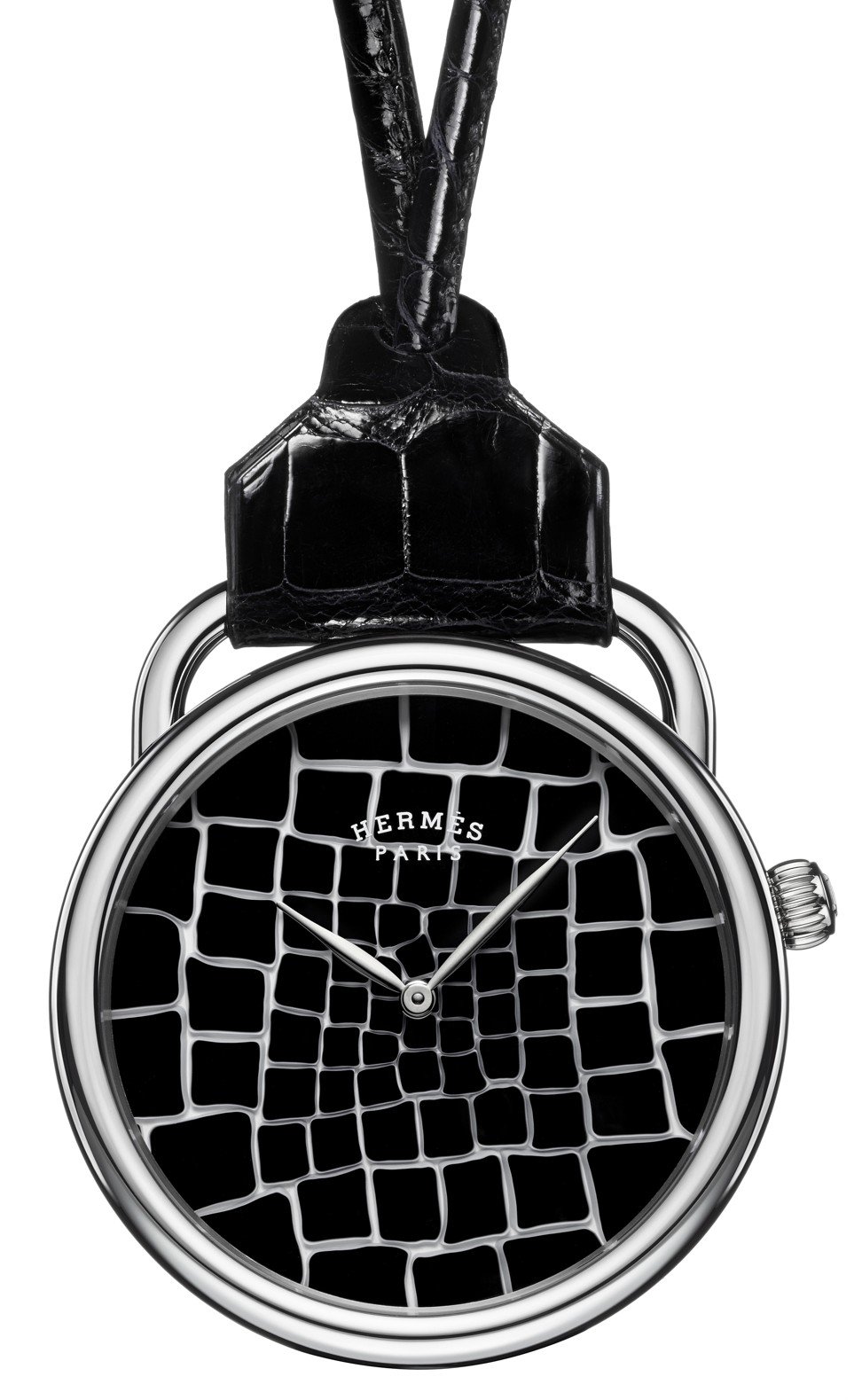 The Arceau Pocket Millefiori pocket watch, inspired by 19th-century Cristallerie Saint-Louis paperweights, is the perfect example. Millefiori is Italian for "a thousand flowers", and requires a labour-intensive process during which minerals are mixed with incandescent crystal, stretched out, then cut into little canes. The canes are then assembled to form the alligator-scale patterned dial. The 48mm timepiece houses a manufacture H1837 movement and is limited to just two pieces.
A 43mm wristwatch version, the Arceau Lift Millefiori, which houses a tourbillon at 6 o'clock, is also available. It is driven by a manufacture H1923 movement and limited to three pieces.
"It is important for us to always be able to make watches at that level and to find year after year new beautiful high-craft ideas that we can apply to a watch," Dumas says.
Want more stories like this? Sign up here. Follow STYLE on Facebook, Instagram and Twitter