Just like Peter Parker was bitten by a spider, a growing number of contemporary pop culture lovers have been bitten by a watch bug of a different sort: RJ-Romain Jerome.
Its latest creation, RJ x Spider-Man, is a hand-wound ticking marvel bearing a red hand-lacquered spider on top of the skeletonised movement. The web symbol of the superhero is metallised onto the inside centre of the caseback sapphire crystal glass – giving the visual impression of a net holding the see-through creation in place.
The RJ004M, the mechanical manually wound movement, is served with a black chrome finish on its skeletonised parts, which feature both straight bridges and chamfered angles.
All is housed in the round, 48mm Skylab case which has been given a black PVD coating with a satin finish. The case, with four paws at 2, 4, 8 and 10 o'clock, is becoming a hallmark for the Geneva-based independent brand.
Spiderman gets a watch made exclusively by RJ-Romain Jerome
RJ x Spider-Man, a collaboration with Marvel Entertainment, celebrates the web-mastering cartoon figure that first entered our collective conscience in 1962.
The watch shows the focus of RJ-Romain Jerome; it feels like a logical follower to the Skylab Batman, released at Dubai Watch Week last November.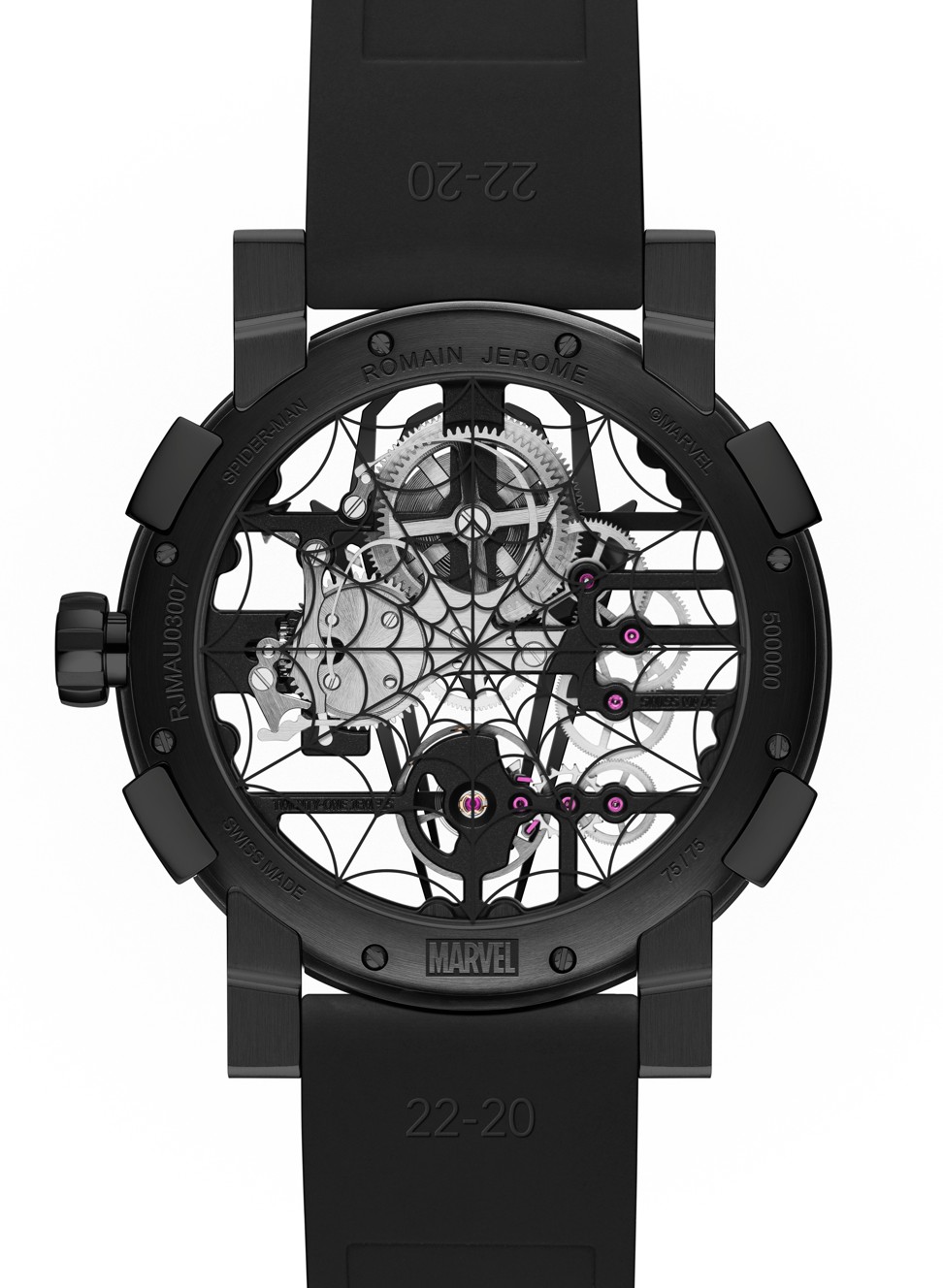 RJ-Romain Jerome has not forgotten its roots, though. When the brand started in 2004, its claim was the "DNA of famous legends" – which was well deserved for its first collection, with watches made from metal melted together with a piece from the Titanic.
5 powerful watches perfect for superheroes
Next up was the Moon collection, which used the same technology: a piece of the legendary moon lander Apollo 11 was fused with new metal, and they also mixed moon sand with silver for some parts.
This was soon followed by capsule collections including erupting lava dials, the Berlin Wall, and Statue of Liberty – all mixing the raw with the refined.
As RJ-Romain Jerome has from the beginning set out to define a new era in watchmaking through drawing not only inspiration, but actual material and stories, from the ocean depths or the eternity of space, the step from legendary true events to entertainment legends of modern times, is not such a huge step.
Over recent years, RJ-Romain Jerome has produced several watches evoking childhood memories: Super Mario, Pac-Man, Tetris, Pokémon, and Hello Kitty – all in collaboration with the entertainment companies that hold the rights to these figures.
But none of these watches are gimmicks – they are all Swiss-made mechanical watches with haute horlogerie finishes and unique designs.
This strategy is summed up by the 48mm RJ x Spider-Man, which is held on the wrist by a black rubber strap with a black PVD coated steel folding clasp.
If you want to be part of this nostalgia, one of the 75 pieces can be yours for HK$163,950.
Want more stories like this? Sign up here. Follow STYLE on Facebook, Instagram and Twitter