Does rose quartz enhance your skincare routine and your life?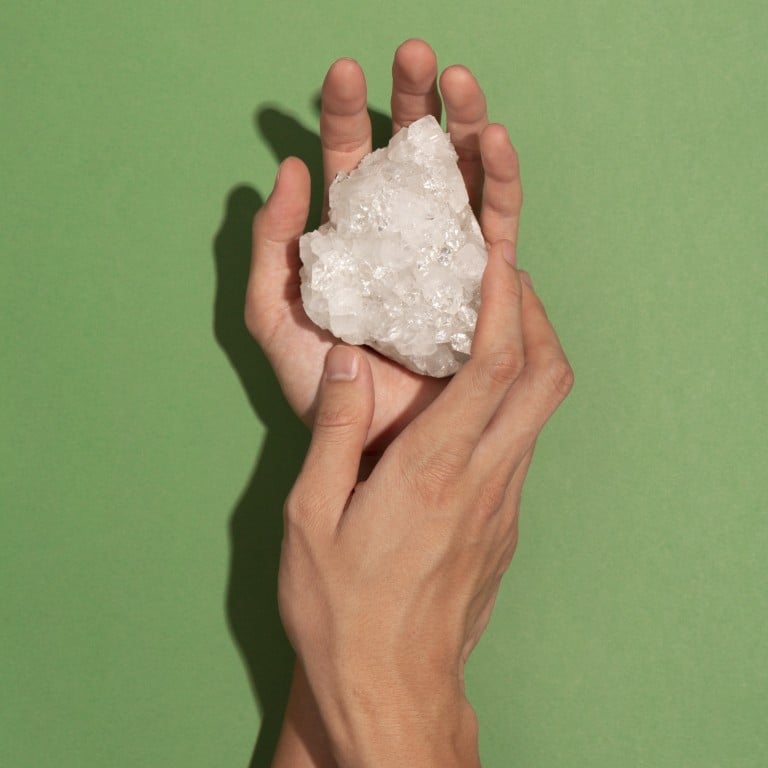 Reiki master and crystal healing therapist Sandy Renouf's room at Balance Health in Central, Hong Kong, is a sanctuary from the chaotic din of the city. It is a space filled with light music, and a table with crystal in different forms, shapes and sizes.
In addition to being a certified massage therapist, Renouf is a hypnotherapist and holistic therapist who "can sense energy". I discover, before we start the massage, how she makes sure the crystals are cleansed for future customers.
"I clean them with sound," she says, pointing to a golden Tibetan bowl next to the crystals. Renouf's crystal massage used light touching and crystal grids on the back. She says she usually chooses crystals that are not porous, adding that the choice depends on the concerns of the customer.
Perhaps because it was just a taster lasting an hour, I came away with half of the effects listed above. I fell asleep during the crystal healing treatment, and Renouf told me that was great because she had just given me a relaxation therapy.
In her book Elemental Energy: Energetic Crystals and Gemstone Rituals for a Beautiful Life, Sjal Skincare founder Kristin Petrovich writes: "Holistically inclined Eastern cultures were among the first to explore the medicinal and therapeutic properties of crystals and gems. Transcriptions from the earliest Indian Vedic texts and Chinese medical books mention crystals and gemstones.
"Ayurveda, the Vedic tradition of naturopathic medicine, describes in great detail how to prepare elixirs, pastes and powders made from gems to balance out the body's energies, or doshas, while the Chinese used crystals and gemstones in various types of pastes, powders and solutions for topical application.
"Above all other stones, they attributed curative powers to jade, which they used to treat asthma and illnesses related to blood."
Despite the backlash endured by crystals down the centuries, there has been a resurgence of interest in these stones for health and beauty purposes.
Business-focused news organisation Quartz wrote recently in one of its Obsession newsletters, "Despite damning coverage of the brutal industry and the lack of evidence that they have any effect on human health, enthusiasm for crystals has only grown. In fact, they've become a touchstone of the US$4.2 trillion wellness industry, promising an improbable number of benefits."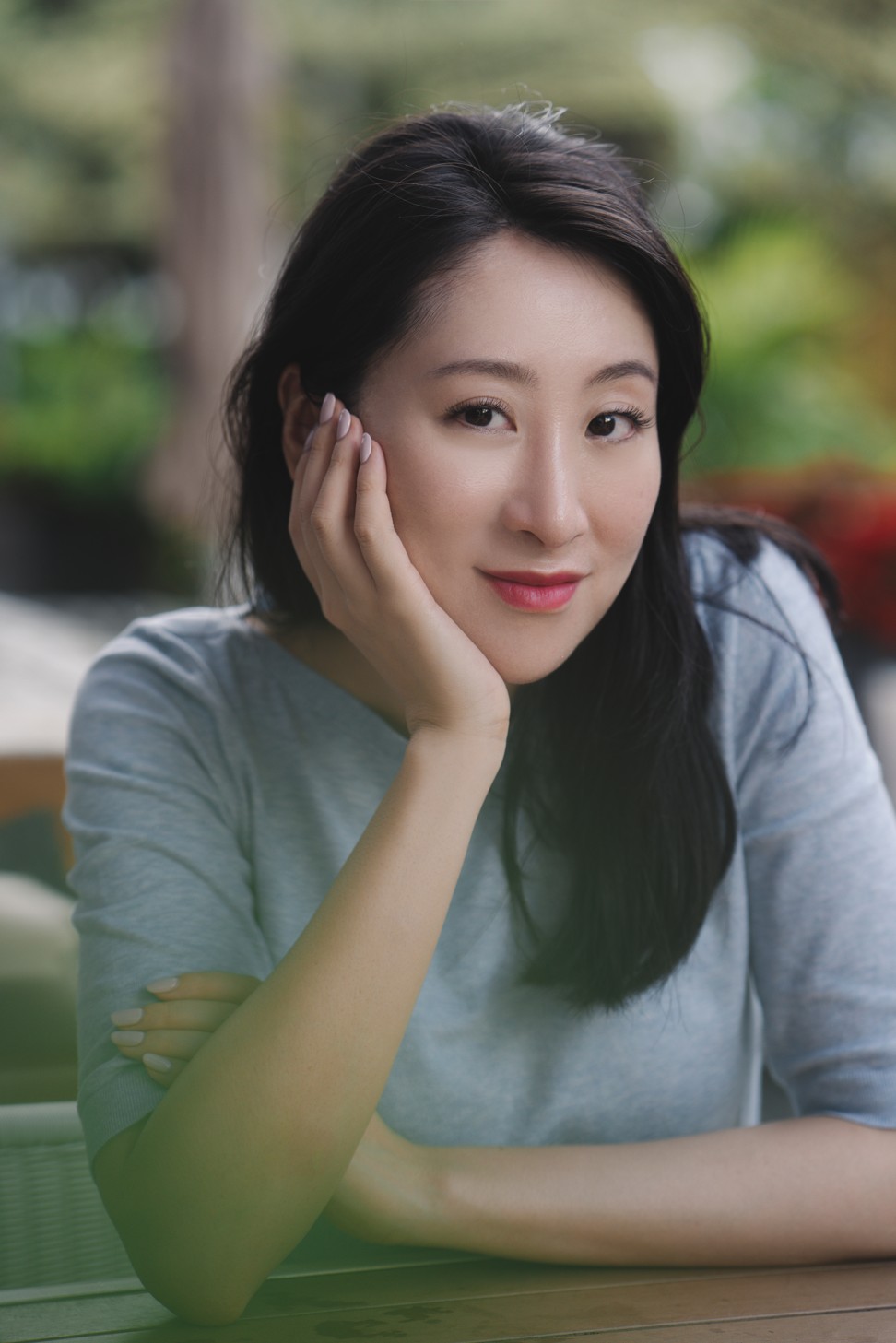 "I am a logical person, almost sceptical by nature," says Phoebe Song, founder of Snow Fox Skincare, a vegan skincare brand that caters to sensitive skin types, including those prone to psoriasis and eczema. "It was the results that have made me an enthusiastic holistic health and skincare fan. Having a chronic skin condition forced me to look beyond conventional health treatments.
"My old lifestyle was a major cause of my health and skincare issues, so learning how to take self-care seriously was a turning point – physically and mentally. Anything that can reduce stress and increase comfort in your life without a down side, is incredibly valuable. It's the little enjoyments in life that make it meaningful.
"We can all benefit from it, whether it's a beautifully decorated home, scented candles or a face mask in the bath with a fizzy bath bomb and your favourite music. Loving yourself is the first step to healing anything."
OMSA founders Coco Chan and Valerie Ho echo Song's sentiments. The duo, who have backgrounds in banking and PR respectively, have launched a portal they describe as "dedicated to nurturing the relationship to self through self love and spiritual well-being", where there will be a blog exploring "a deeper relationship with themselves", and a "healer's directory platform" that will "curate events and workshops so that we can guide them further onto their self-discovery journey."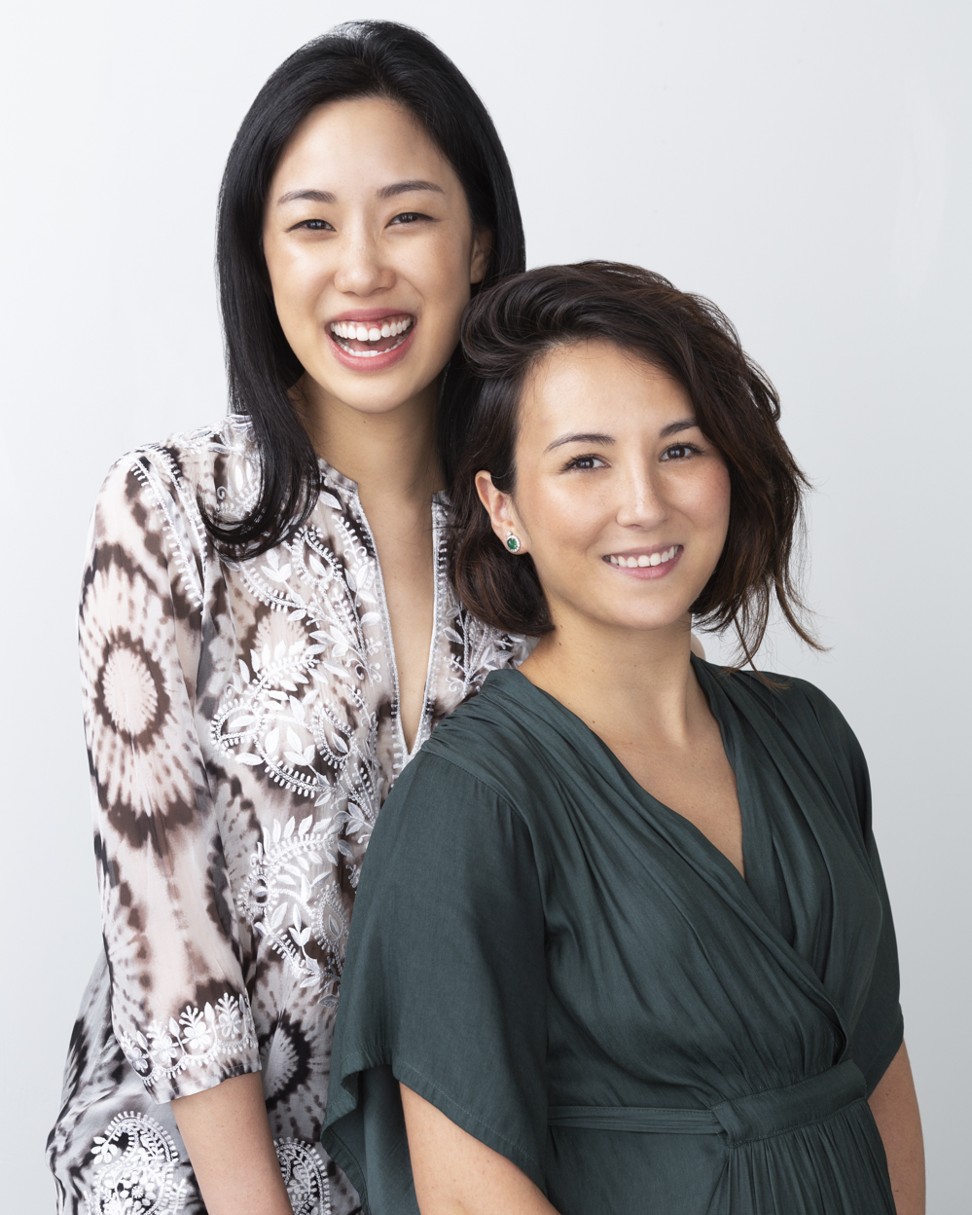 Chan says: "When you have a healthy relationship to self, you are full. When you are full, you are able to genuinely share your love and time with those you care for most. Imagine a world where everyone is giving from a full cup. OMSA hopes to be that safe space for everyone to seek deeper meaning of their lives through the items we offer from crystals, aromatherapy to sound healing."
The duo say they have experienced how different healing therapies, such as reiki (they are both certified reiki practitioners), have improved their lives.
"Thus, my spiritual well-being journey started," says Chan. "I tried many different modalities such as reiki, shamanic healing, craniosacral therapy, spiritual response therapy and breath work, but a few resonated more than the others which led me to more education, practice and then becoming a healer myself. I love being of service to others and guiding them to unlock the next stage of their journey."
Ho says: "I loved to exercise or participate in activities that brought out the competitive side in me. Naturally, after a decade of this routine, I started to feel burned out – mentally and physically. Over time, I started seeking out more Zen activities – Pilates, barre, yin yoga.
"This taught me to tune in and listen to what my body wanted and grow my intuition rather than forcing the latest gym trend on myself. This naturally led me to seek more alternative therapies – firstly through a reiki healing trial class (where Chan and Ho met). A whole new world of 'woo' became open to me and I never looked back."
Crystals as a tool
"Crystals are a powerful tool from Mother Earth to help us clear, balance and heal our energies. As a spiritual practitioner, I use crystals every day. As an entrepreneur and new mum, I balance quite a lot so I always keep an amethyst with me near my bedside, on the go and meditate with it. Amethysts are great for easing feelings or anxiety and promoting a good night's sleep while enhancing your intuition."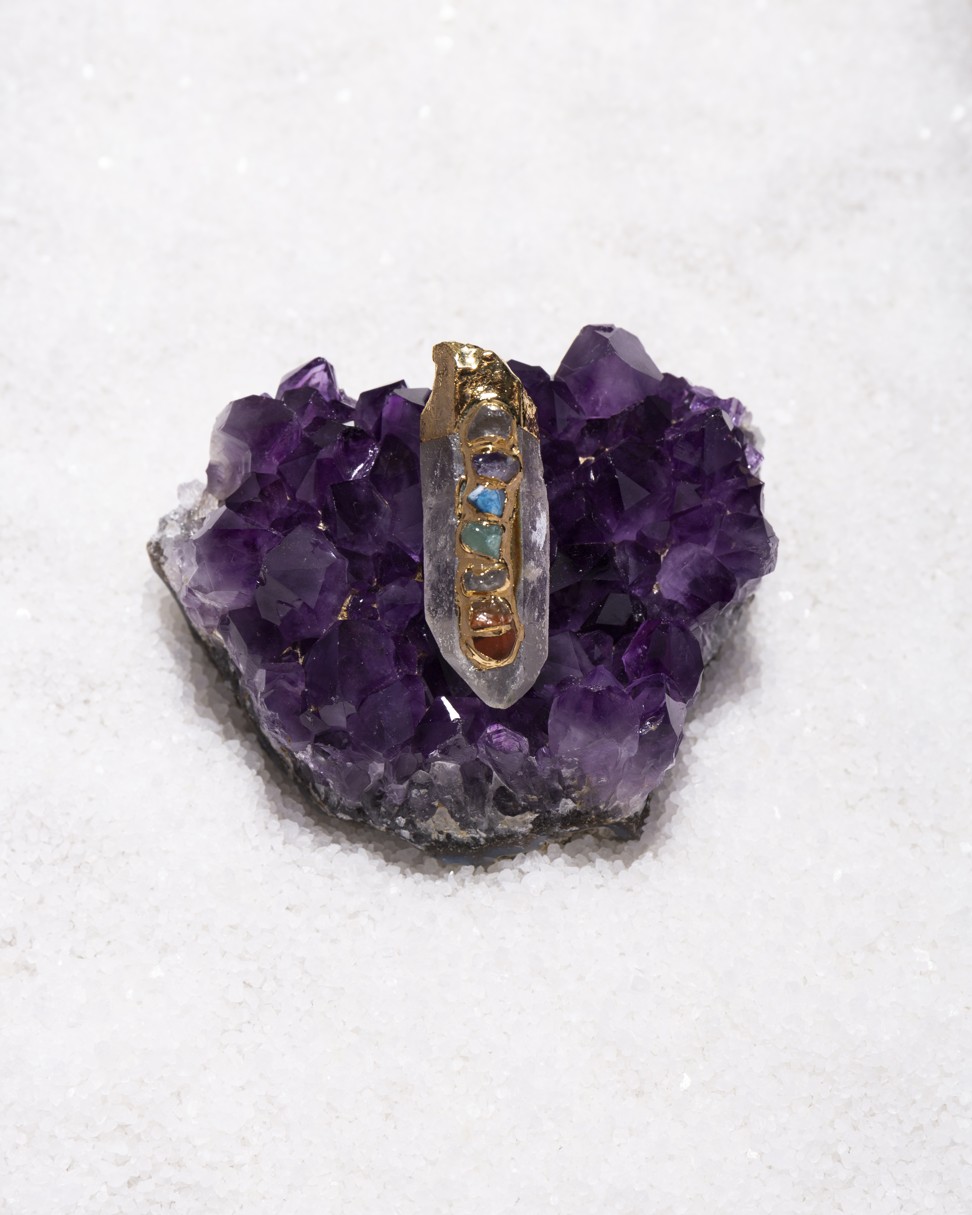 How are crystals used to enhance meditation?
"During meditation I like using black jasper in one hand, rose quartz and labradorite in the other. Black jasper is a grounding stone and aids in balancing energies while healing. Labradorite is often known as the magician's stone and amplifies your intuition and further catapults your manifestation work. I love using rose quartz because of its unconditional love frequencies and is a top choice for healing matters of the heart."
Rose quartz has become a hot ticket for beauty products. Angela Caglia, who is dubbed the "queen of rose quartz" because of how she has championed this crystal as a healing alternative, discussed her sustainably sourced crystals.
She has been working as a facialist and her story before the brand is like a fairy tale – while she was divorced and working for a bad boss, a chance facial with Barbara Streisand led to her pursuing her dream. "She [Streisand] looked up and asked, 'What's your dream?' And I told her, to run my own skincare brand. And she said, go for it."
Today it is a self-funded brand, with her business partner and husband.
"The mask is not a sleeping mask, but a mask to apply to allow you to de-puff dark circles. I like to keep mine in the refrigerator. It's like a big [mask] of love and rose quartz," is Caglia's response to sceptics; she attributes her success – and that of Courteney Cox and other stars – to the technology she uses with the crystals in her facials. "I combine them," she says.
"For example, this [vibrating rose quartz sculpting roller] has 6,000 sonic vibrations, combined with rose crystal. And the crystal has love energy and is a self-esteem booster. Giving the facial with my hands is a way to give them self-confidence, and because I can't do a facial for everyone in the world, I hope the crystal can do what I cannot do physically."
"You can move lymphatic drainage with the roller, so it is functional, too," Caglia describes the rose crystal as a stand-alone ingredient in the roller. Because it stays so cold, you can give yourself a detox, and it stimulates all the blood flow, and helps disperse the dark circles. I am a facialist and I am paid to get results. I have been a facialist for 25 years, and I used to use a lot of machines.
"Later I used jade rollers because they were popular back then. Six years ago, I found out the [coldness of the stone helps and] that's when my clients relax the most."
Song believes there are beauty benefits in jade – white jade, in particular, for gua sha, a traditional Chinese medicine method that helps to detox.
"Quartz is a harder stone than white jade, which can make the gua sha too intense for certain people. If your skin is reacting with bumps or discomfort during a gua sha "scraping" session, the tool may be too hard for you. Normally in traditional Chinese treatments, they don't use quartz gua shas as it's meant to be a 'warm' tool (quartz is a cold stone) and the harder materials are usually reserved for men as it is believed they have thicker skin and body hair to scrape through."
I use my white jade gua sha for scraping sessions with a gua sha therapist and we both love the results. Traditional gua sha is meant to "scrape" the pores open and promote blood circulation in skin, so for people with very sensitive skin (like myself), this can cause discomfort or rashes.
"A good gua sha should feel very relaxing, a warming, slightly itchy sensation (the blood circulation increasing towards the top layer of skin) and a slight, temporary redness on the "scrape" queues. If it hurts, breaks out in bumps or dark blood spots – it is most likely too harsh. Remember that gua sha is a centuries-old Asian practice that is meant to boost immunity and wellness; it's a lot more than a massage.
"White jade gua sha is not common because it is expensive, but any good traditional gua sha therapist will tell you that it's fantastic for sensitive skin clients who want the same benefits but don't want to risk bad reactions."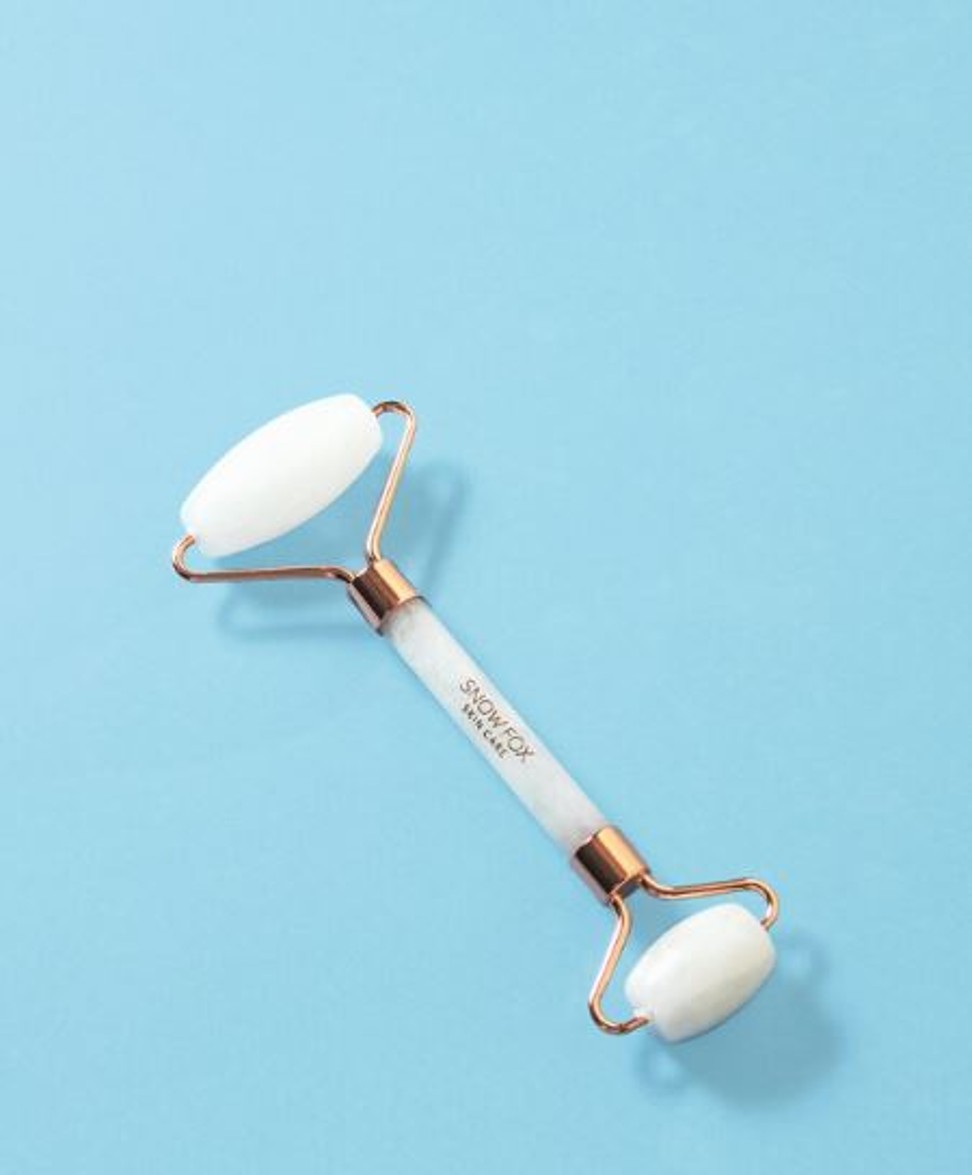 Snow Fox has released a kit that includes the gua sha tool as well as a white jade facial roller.
"We call our white jade 'snowy jade', because we hand-pick the highest quality part of the stone to carve from. There are several types of 'white' jade on the market that are really 'mutton' jade because they resemble the colour of lard and are completely solid, while the other one is slightly translucent with natural variations in form. The latter is most used in Chinese artistry for its quality – which is why we prefer it."
Song warns: "I'm not going to lie about having crystals in your actual skincare products – they're minerals that do not have any skincare benefits. If they're being used as massage tools, such as a roller or gua sha, then yes they're helpful, but don't listen to any gimmick about having the actual crystal 'extract' in your creams."
Combining theories
Aside from beauty uses, crystals can be a grounding and nurturing item to have.
Valerie Ho says, "A crowded bustling place like Hong Kong is enough to raise anxiety levels even during peaceful times. I stay grounded by setting firm mental and physical boundaries. This is a mindset that I adopt with silent affirmations to myself first thing in the morning. This small ritual helps me go about my day with intent, so that others' negative energy/comments or attitude don't affect me. If I am in extra need of courage, I will take a crystal with me and rub it in my hand to feel its effect or simply distract me from my angst."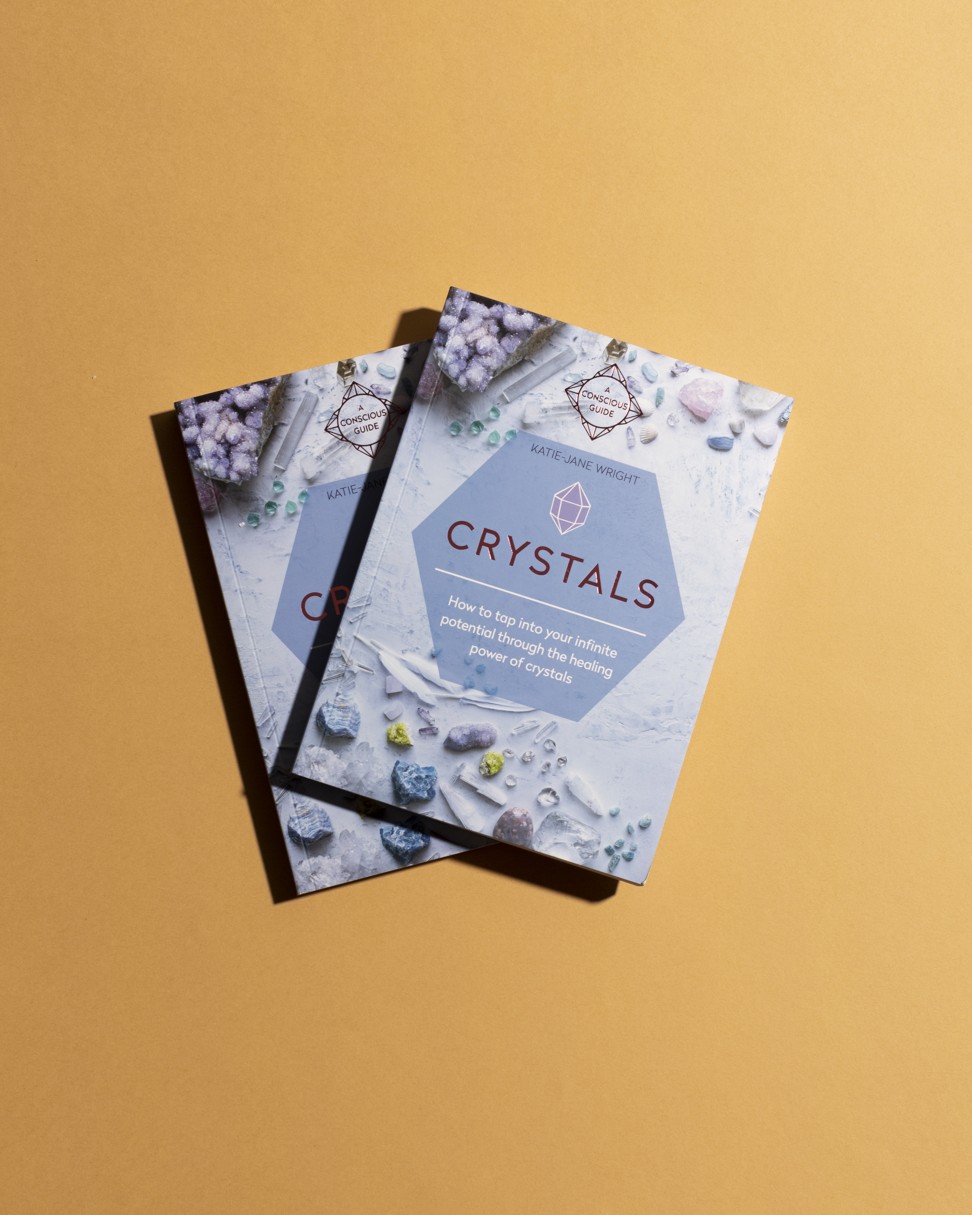 Song says crystals have a value beyond beauty.
"Even the most sceptical of people can still enjoy art history, so I find that this appreciation goes beyond wellness. There's a Feng Shui element to white jade that traditionalists love. In ancient China, white jade was a stone reserved for women of prestige and power – beloved in the imperial court.
"Men also used it in belts and jewellery, but it has a distinct connection with the empresses and noble women of China. I personally enjoy having white jade artefacts around my home and incorporating them into my wellness routine."
Want more stories like this? Sign up here. Follow STYLE on Facebook, Instagram, YouTube and Twitter .

Alternative health therapies, like crystal healing, are gaining in popularity, and despite the scepticism, are more popular than ever