Let's drink to that! Musicians take audience on sensory journey of sound – and cocktails
Show by The Up:Strike Project combines works from United States, France and Argentina and drinks made from bitter, aromatic Italian spirit
Hong Kong contemporary percussionists, who gave beer-music pairing concert in 2019, play at New Vision Arts Festival on November 12 and 13
In partnership with:
Leisure and Cultural Services Department
Certain beverages have long been associated with various types of music: whisky in laid-back jazz bars, for example, wine with classical music, perhaps the French, aniseed-flavoured spirit Pernod to accompany singer Edith Piaf and a perfect martini for Tony Bennett-style crooners.
However, that is simply interpretation; in fact, any combination of music and drinks can work.
"It is more about controlling the perception and emotional features across both sensory dimensions, flavour and musical," says Felipe Reinoso-Carvalho, associate professor at Universidad de los Andes School of Management, in Colombia, whose research centres on multisensory experiences.
Particular musical parameters, such as frequencies, timbres and harmonies, can evoke certain perceptions or emotions associated with a tasting experience, he says. His research shows that we can produce music that people associate with sweetness, bitterness, or alcohol strength.
"We have seen that most people tend to perceive a beer as more bitter when drinking such beer while listening to one of those songs that we have produced for such purposes," Reinoso-Carvalho says.
Yet these effects do not depend on a particular cultural context, since these studies have been replicated in Europe, the Americas and Asia.
The power of storytelling plays into such perceptions: telling participants in one study that the song they were listening to was used as the inspiration for the beer formula they were drinking created an emotional connection between the song and the beer, which enhanced the multisensory experience.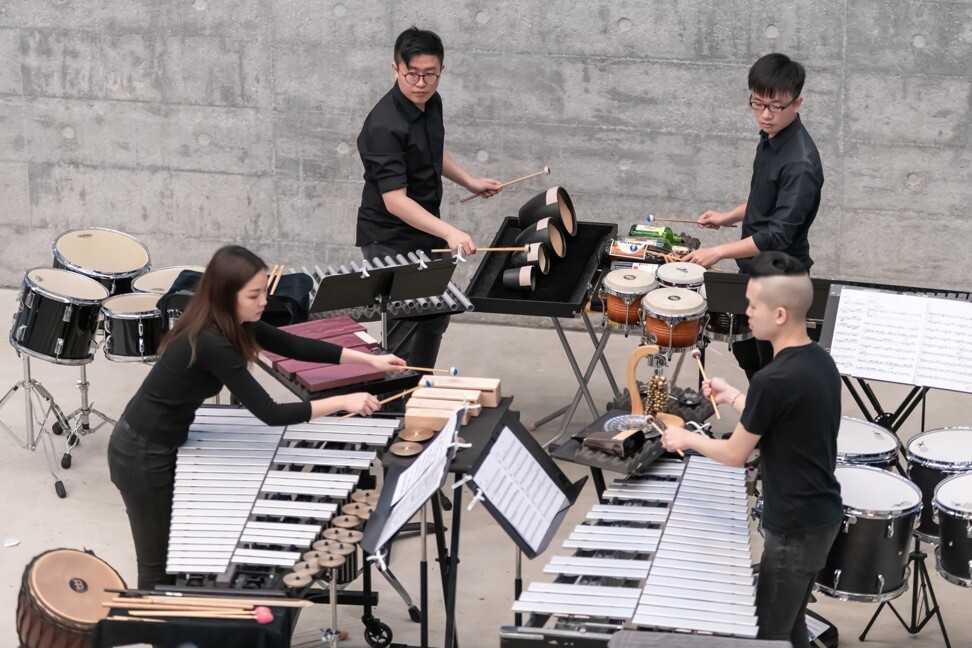 Hong Kong's contemporary percussion group, The Up:Strike Project, will be putting this same idea into practice next month at the city's New Vision Arts Festival – which introduces audiences to pioneering, trendsetting and groundbreaking performing arts from around the world – by asking the question: can what you hear affect what you taste?
To find out the answer, the ensemble will take concertgoers on a two-part sensory journey that combines sound and drinks. The pairing is all new, since cocktails have been custom designed to accompany a selection of musical pieces that may be unfamiliar to most listeners.
The festival, originally founded in 2002 and held every other year, became an annual event last year, when Covid-19 pandemic restrictions on international travel and social distancing saw it temporarily transformed into an online arts platform named ReNew Vision and featuring an innovative collection of shows by Hong Kong and overseas artists.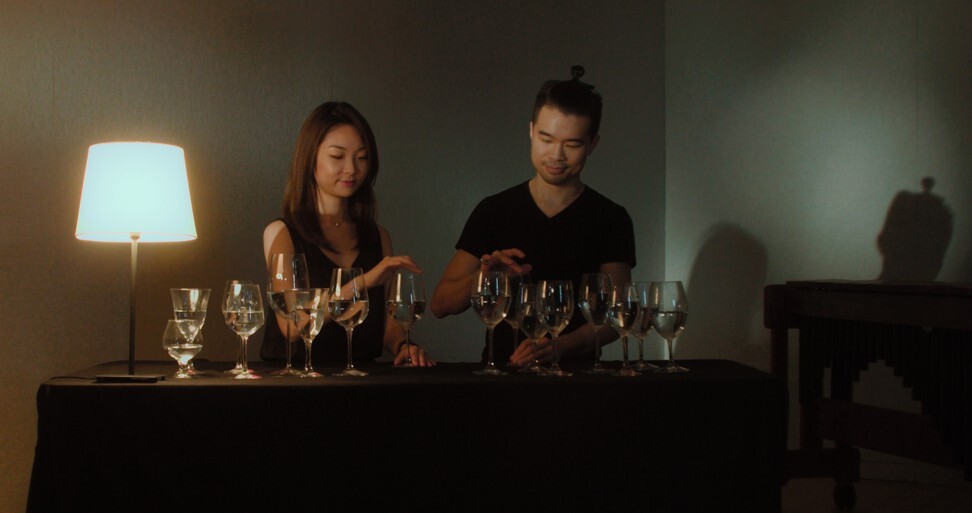 The first part of The Up:Strike Project's show at this year's New Vision, titled Menú del día – Spanish for "Set menu" – will feature two live evening concerts on November 12 and 13 at Hong Kong Cultural Centre, with five of the group's percussionists playing works from the United States, France and Argentina.
The performances will have an aura of mystery about them because, unlike traditional concerts, the audience will not be seated in a traditional concert hall setting.
"We're trying to make [the setting] into a kind of bespoke bar," Karen Yu, co-founder of the group, says. "We want to make it an experience where people come in and they don't really know what to expect."
The experience will also continue after the audience has left the concert hall, because in part two, they will take home the cocktails in cans, which they can sip from as they watch the performance again online via a special video link.
Mandates on the use of masks in public places mean the audience is not permitted to drink the cocktails in the hall during the actual performance.
Rather than being given theatre programmes to accompany the show, details about the music have been printed on the side of the cans, which are large enough to ensure the audience can share some of the cocktails – and the online experience – with other people who did not attend the live concerts.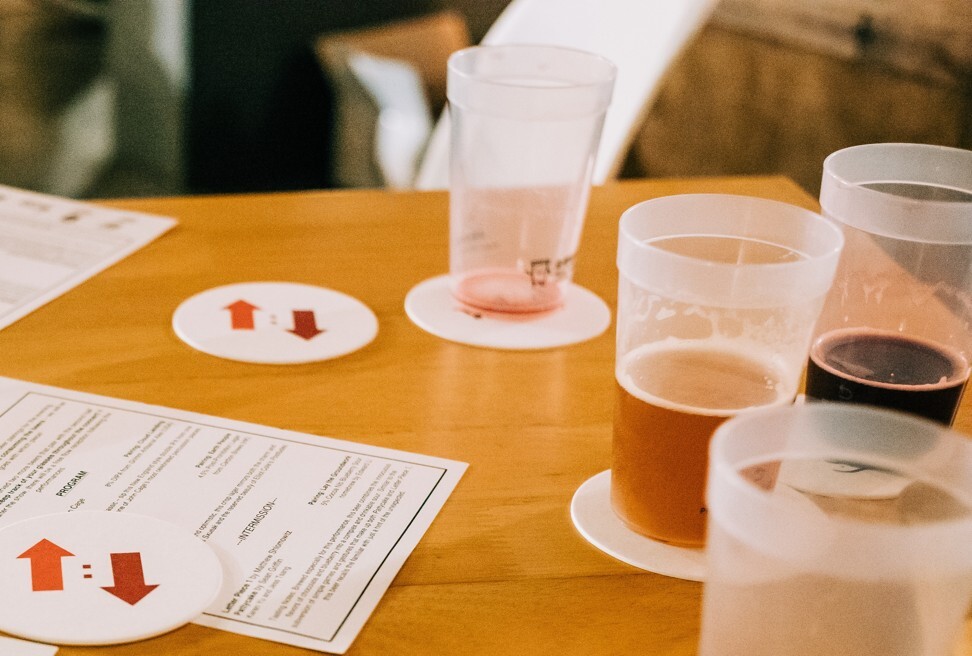 The show's concept has been modelled on the successful beer-music pairing concert listenbeer in 2019, which saw The Up:Strike Project collaborate with New York-based percussionist Jess Tsang in Kwun Tong. "She wanted to introduce new music and pair it with beer so that you would have both sensory experiences at the same time," Yu says.
The group had to cancel plans to perform an Argentine wine-and-music pairing last year because of the pandemic, and planned to stage it at this year's festival until the rules on using masks forced it to offer canned cocktails instead.
The base of two specially created cocktails has been made from Fernet-Branca, a brand of fernet – a bitter, aromatic Italian spirit – which is very popular in Argentina.
Matthew Lau, another of the group's co-founders, who loves visiting the South American nation, says: "I've toured there: I find the flavours and the culture really unique.
"I thought maybe we can bring something of that here, an unknown culture which is so close to me. So, that's how we got to Argentina, and we tweaked it a little bit this time, featuring Fernet-Branca."
Yu and Lau worked with mixologist Fei san – whose real name is Lee Shing-fei – of Perfume Trees Gin's Tankyu Distillery in Tsuen Wan, to create the cocktails.
"I usually customise cocktails according to a customer's personal taste and preference," Lee says. "However, this project required me to create cocktails according to the music of the programme. To get inspiration, I prepared myself by listening to the recordings."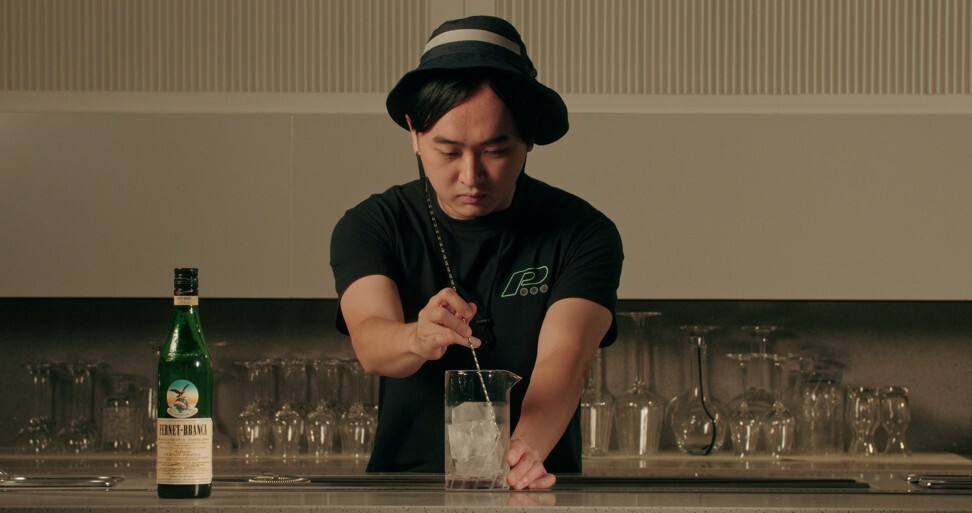 He says once he had prepared an early version of the two new cocktails, he invited Yu and Lau to taste them and offer their comments, so that they could help fine-tune the final versions together.
Yu says: "We talked about how different they should be, and what each cocktail should represent. We decided that one cocktail could represent our initial feelings of tango, Argentina, or distance – our feelings of not being able to travel, but we pretty much want to be there."
The second cocktail was inspired by the 1942 percussive musical composition, Credo in Us, by American experimental music composer John Cage. The piece, which the composer described as a suite with a satirical character, and relates to World War II and the avant-garde artist diaspora from Europe, was also one of his first collaborations with the choreographer Merce Cunningham.
"This was a groundbreaking piece, but it's full of irony, and it's a piece that we think represents the current world situation, where we're in Covid, a lot of things are ironic," Yu says.
"We're stuck here, and political situations are in turmoil everywhere in the world, so we thought that the cocktail should be bitter – it should be sour: this flavour should be very distinct."
Lau says they both enjoyed collaborating with Lee. "It wasn't us saying we want this taste," he says. "He's not a musician; he knows liquors. So he listened to the music and he gave his input on what would go well together.
"What I thought might go well tasted like [cold-and-flu cough syrup] NyQuil, but he was like, 'I'm going to add a dash of that', and it's a pleasant surprise."
The two musicians say they are hoping to provide a total experience for the audience with this project.
"You can like it, you can not like it," Yu says. "You can have other thoughts about it, but I just want the audience to really consider what are we doing here, and how do you like it – what are your feelings towards this – rather than just receiving what I'm proposing.
"I like my audience to really think, 'There's this piece that I've never heard about, but because of this drink, maybe I'll give it a shot'. I'm kind of asking my audience to give it a shot, like you would on food and drinks."