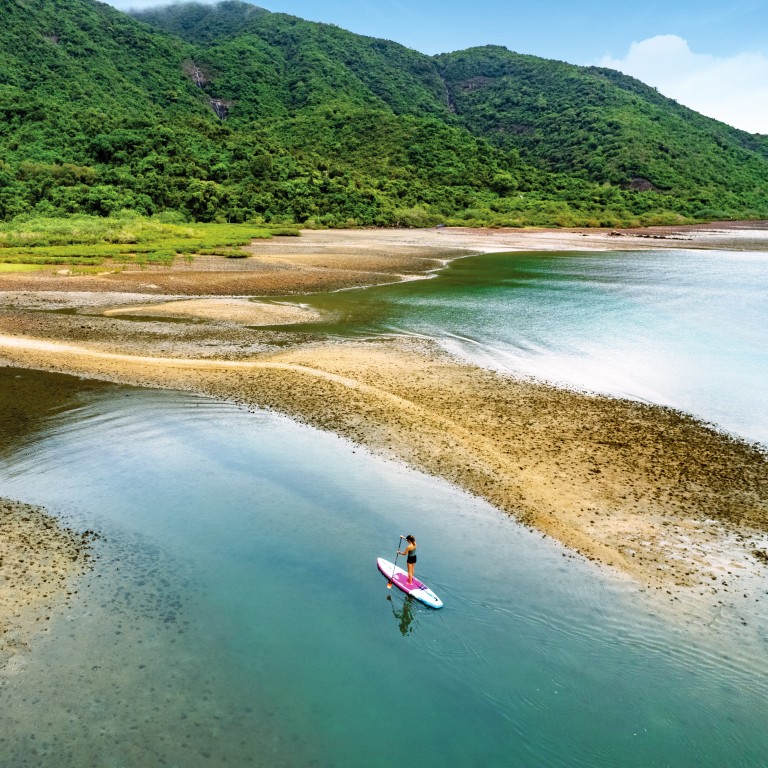 How Hong Kong's great outdoors allows nature lovers to navigate mangrove habitats by day – and spot comets by night
Stand-up paddleboard enthusiasts able to explore fish farms and rich habitat for birds and marine life in the New Territories' sheltered Three Fathoms Cove
Stargazers can view overhead constellations and planets at city's many accessible places, such as Clearwater Bay Country Park's kite-flying area at Tai Hang Tun
Paid Post:
Hong Kong Tourism Board
Hong Kong is a paradise for nature lovers, with its extensive, easily accessible country park areas and coastal waters offering an amazing range of outdoor pursuits.
From daytime to night-time, and on land and sea, there are always activities for people looking to immerse themselves in the living world, or take a closer look at our universe.
Explore coast 'standing on the sea'
Edmund Lai, who has been a stand-up paddleboard (SUP) coach for more than a decade, became a water-sport enthusiast in his early teens.
"SUP is a great way to connect with Mother Nature," he says. "Every location is different, and you get different vibes and feelings every time."
You never know what you might encounter. "I was guiding an SUP tour at Three Fathoms Cove, and suddenly this stingray just swam up to the surface between the group," he recalls. "We were astonished!"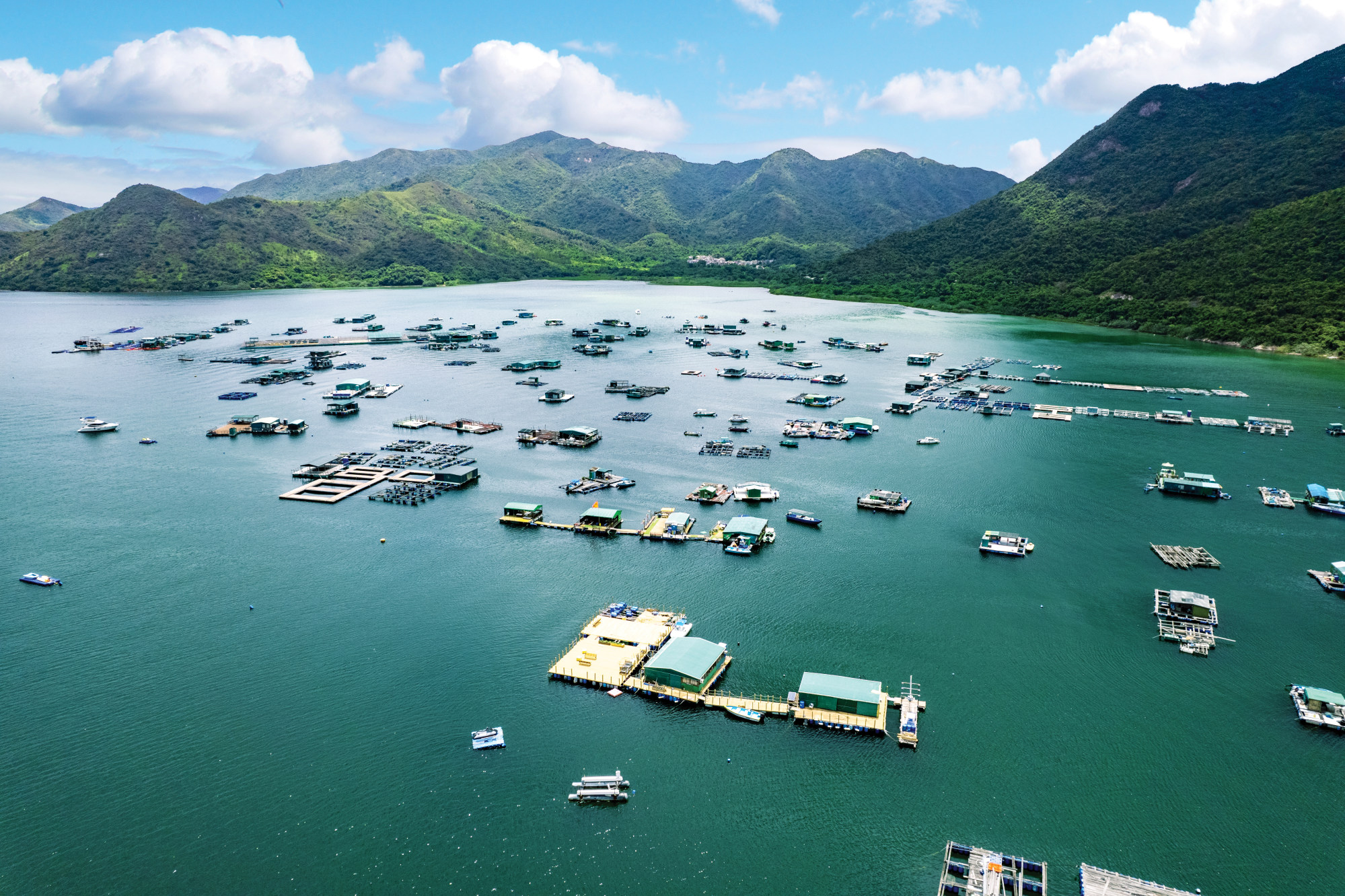 Three Fathoms Cove (or Kei Ling Ha Hoi), flanked on its east by Sai Kung West Country Park's seafront villages of Yung Shue O and Sham Chung, is one of the great areas for SUP exploration.
The shoreline journey of about 8km allows paddleboarders to navigate their way through an unspoiled natural environment featuring dense mangrove forests providing a rich habitat, and nesting and breeding sites for numerous birds, crabs, oysters and snails.
Further out, they can paddle around a sprawling area of fish farms and admire from afar the surrounding countryside's rolling hills and valleys covered in feng shui woods and forests.
Unlike kayaking which uses a double-bladed paddle, SUP – as its name suggests – is normally carried out while standing up on the paddleboard while you propel yourself using a short, single-bladed paddle.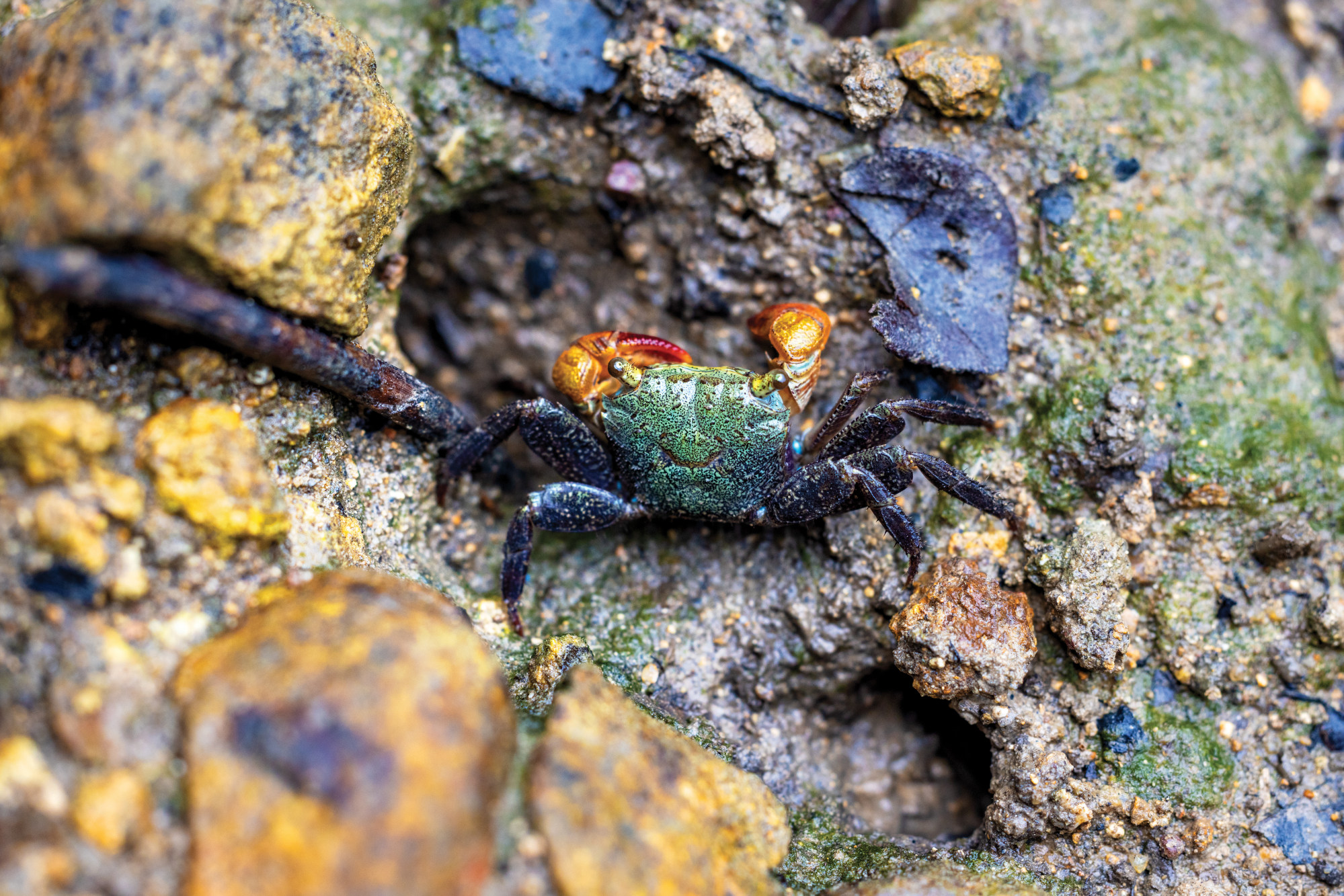 It means that you exercise the muscles in your buttocks and legs a little more than when you are seated in a kayak, and must also learn how to smoothly switch the paddle between your hands as you move the board through the water.
"You feel very free on an SUP," Lai says. "You can stand up to enjoy the far off views, sit down and chill, or even lie on your belly and watch the fish in the water below. You can also jump into the water anytime to cool off."
He says most people can learn how to use an SUP in about two hours, but gaining expertise will require more practice, preferably with a qualified coach. "I love doing what I do because once I can see that a student is more capable, I know we can venture further out into the open ocean!" he says.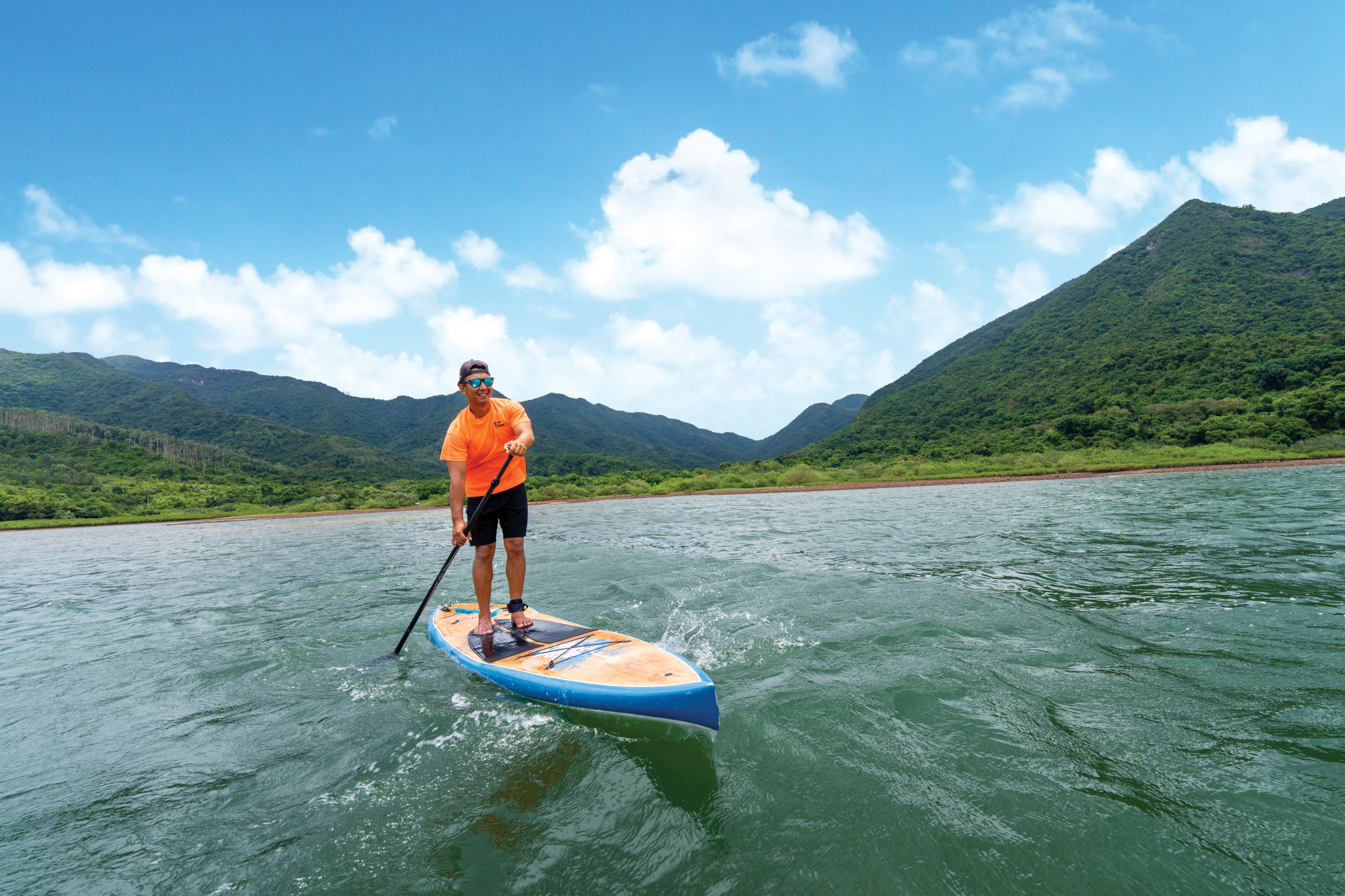 While many paddleboarders in Kei Ling Ha Hoi choose to stay in the calm coastal waters to admire the mangroves and look out for different mangrove crabs scuttling in the wetlands, more adventurous paddlers head further out to places such as the island of Tang Chau to get a closer view of Tai Po and Plover Cove Reservoir's magnificent main dam.
As an experienced paddleboarder, Lai has also paddled out as far as the Ninepin Group of craggy islands formed of volcanic rock in Hong Kong's easternmost waters. "Since it's open ocean, the experience is much bumpier, and there are large waves, stronger currents and vortexes, so you should only go there with a qualified instructor," he says.
It is important to watch out for rocks in shallow water while doing SUP as they can hit the fin under the paddleboard and cause it to flip. "It is quite dangerous when that happens as you might fly off into the water and hit the rock," he says.
Always check the weather forecast before leaving home. Lightning can travel distances of more than 19km from a thunderstorm, so if thunderstorms are forecast, do not go out on the water: stay home.
'Discover' night sky's delights
Hong Kong is also home to a community of avid stargazers, who on cloudless nights gather in countryside areas away from the city lights to look at the planets and stars overhead.
One recommended location, which is easy to reach, is the kite-flying area at Tai Hang Tun – a protected grassy scenic spot perched on the edge of a rocky peninsula, which forms part of Clearwater Bay Country Park, in eastern New Territories.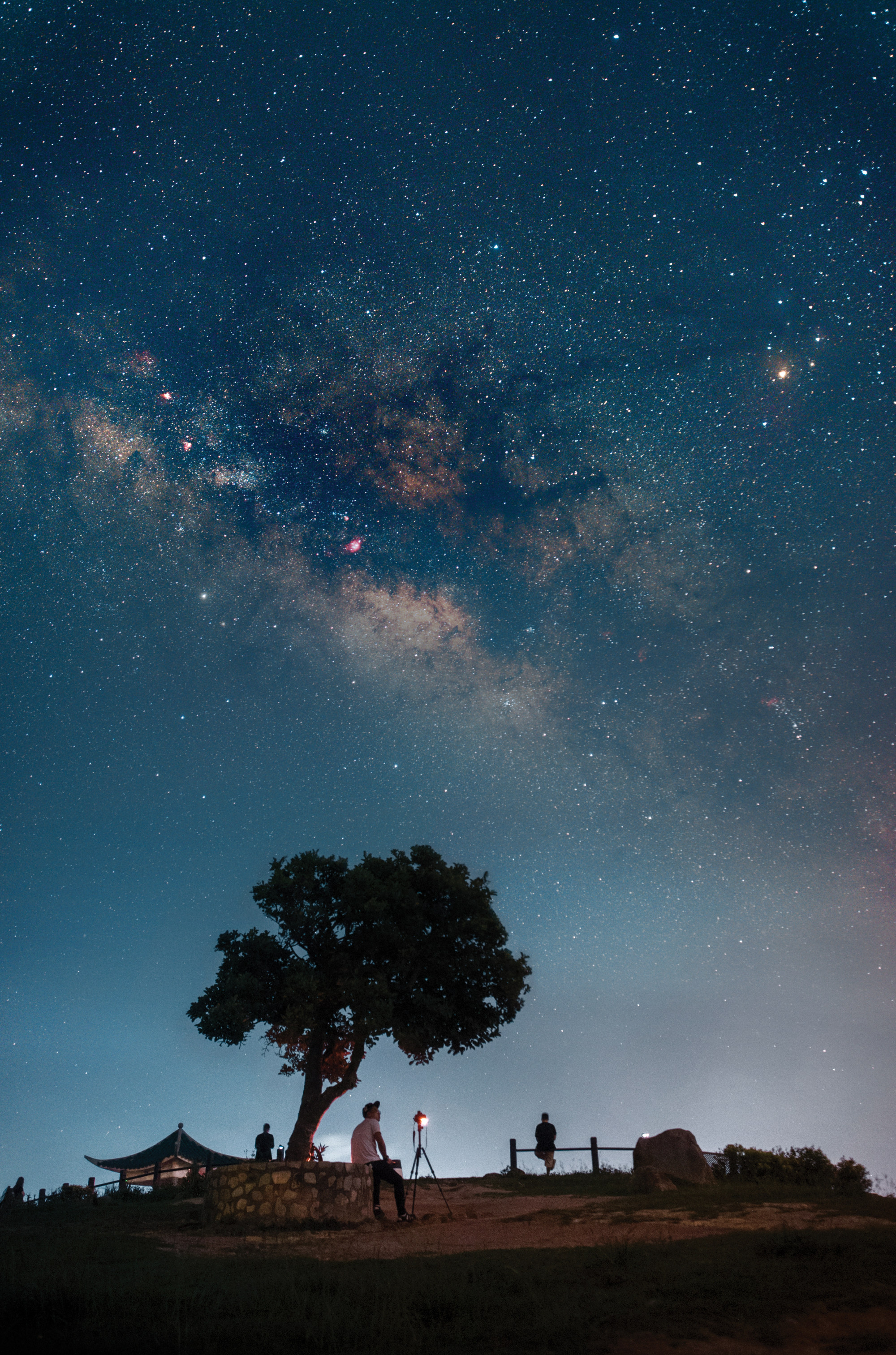 On a clear night, budding stargazers can enjoy looking up at the night's sky without any equipment. Alex Au Wing-hang, head of the promotions department at Hong Kong Astronomical Society, says that, given the right conditions, there are many stars that can be seen with the naked eye.
"The bright ones that most people can see are our 'neighbours' in the solar system, such as Venus, Jupiter and Mars," he says. "Then you can see other suns forming various star signs, and some areas with a dim, cloud-like glow that are the nebulas. You may also see shooting stars and comets."
Comets are large bodies of dust and ice that orbit the Sun and, as they come into contact with higher temperatures, they release gases and form a "tail". But Au says that without a telescope, stargazers will see comets only as a bright spot in the sky that lasts for a period ranging from a few days to months sometimes.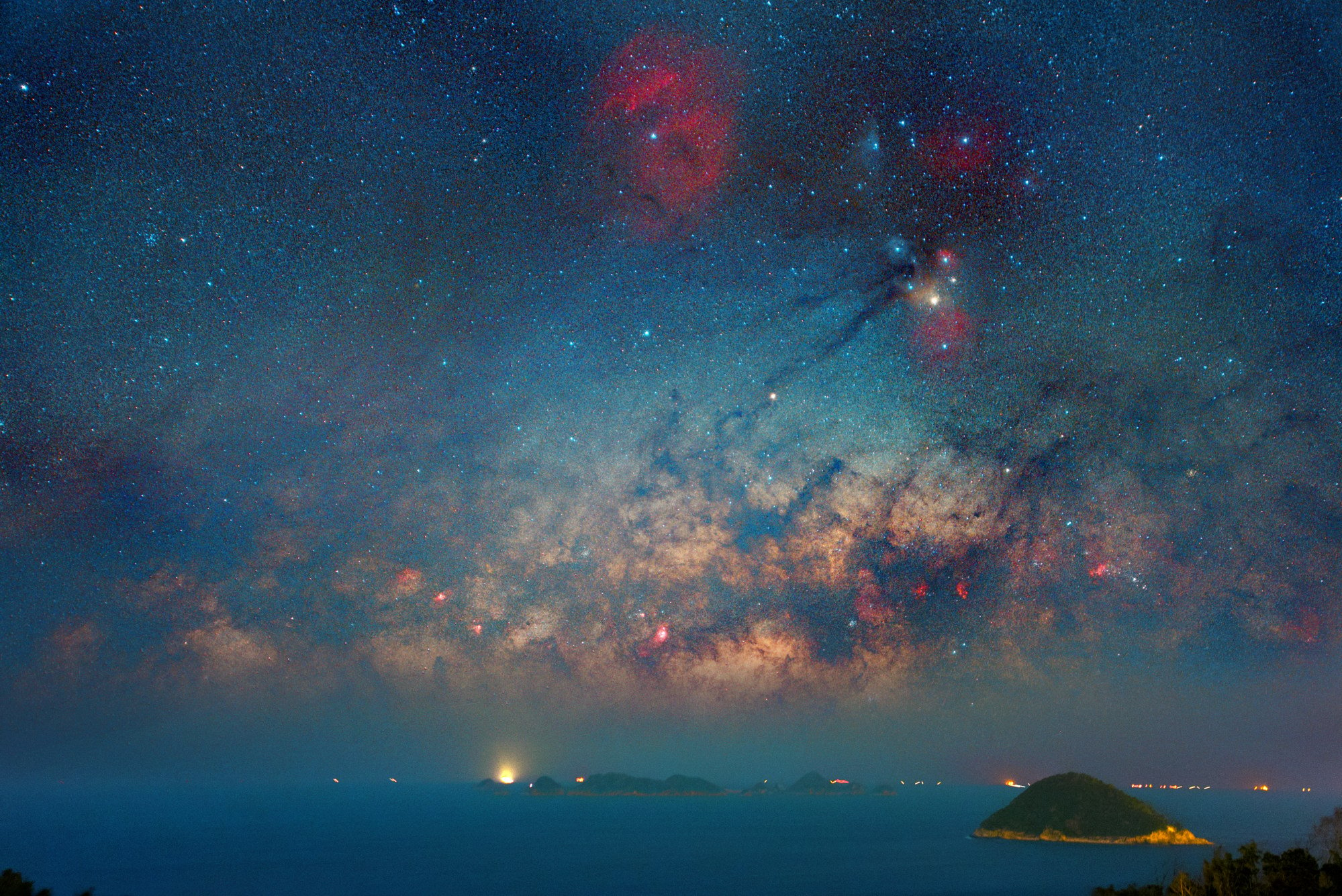 He says the Milky Way – the glowing centre of our galaxy – is most likely to be visible to the naked eye during the summer months, while in the winter, people can see a lot more stars.
Those enthusiasts who wish to photograph images of the sky at night to post on Instagram and other social media will need to invest in a digital camera, rather than trying to use their smartphone, he says.
"Many digital cameras these days, which cost only about HK$2,000 (US$255), come with built-in functionality or software specifically for astrophotography," he says.
He also recommends that budding stargazers also download Hong Kong Space Museum's free Star Hoppers app, which helps people identify celestial objects and constellations in any location around the world through the use of a real-time digital star chart.
One of the most-anticipated stargazing opportunities will be the Perseids meteor shower around mid-August, when the orbit of the Earth passes through the tail of the comet Swift-Tuttle.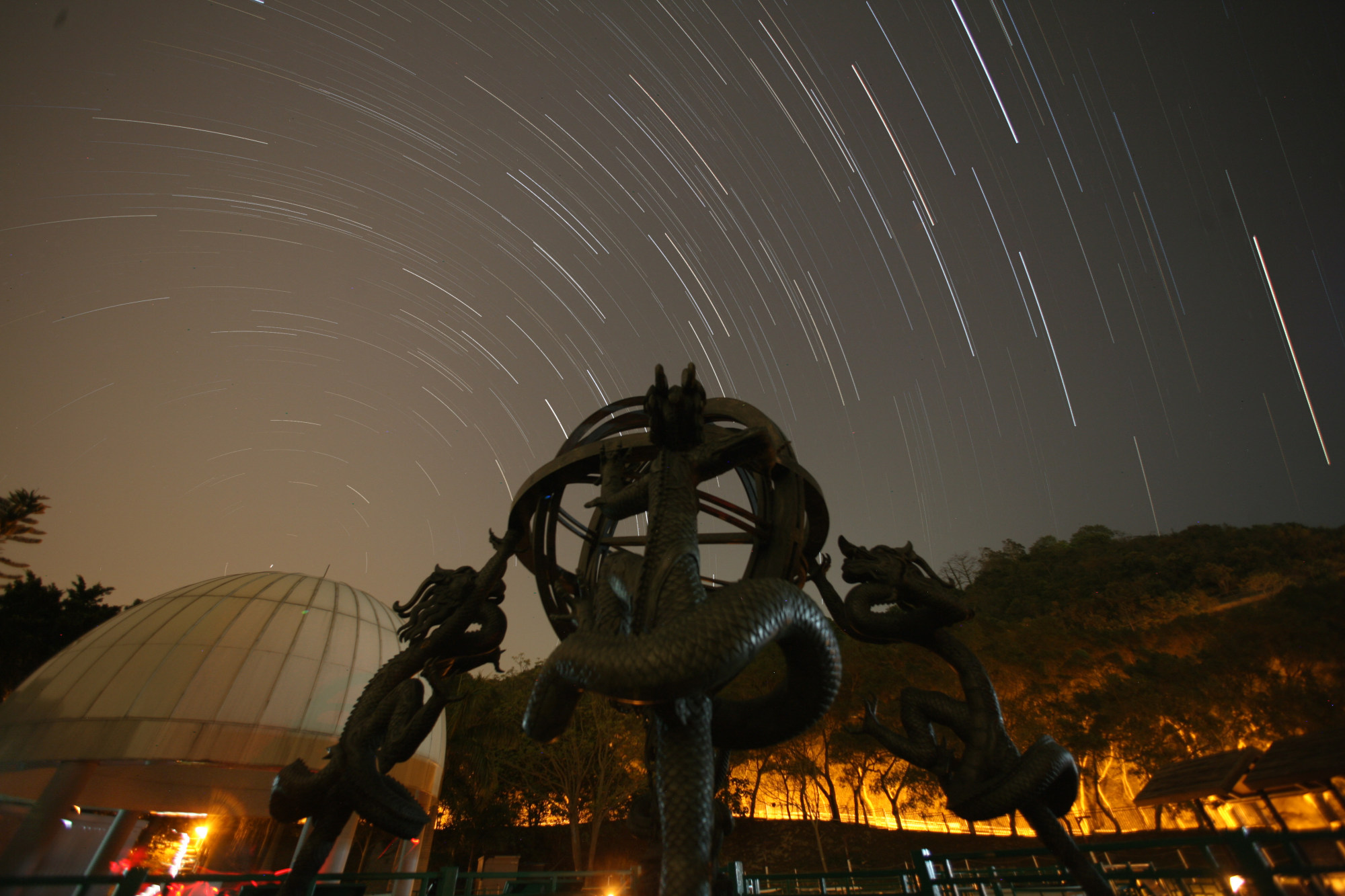 Other accessible Hong Kong stargazing spots recommended by Au include the Ngong Ping Campsite and Sunset Peak on Lantau Island, and Long Ke Beach in Sai Kung.
Another place is the government-funded Astropark, managed by Hong Kong Space Museum, in Chong Hing Water Sports Centre, at West Sea Cofferdam, High Island Reservoir, Sai Kung, which is equipped with naked-eye and telescopic observation facilities to help stargazing enthusiasts.
Whether you want to go outside for a good workout or just want to relax in tranquil surroundings, there is no shortage of outdoor destinations to choose from in Hong Kong. Find more details by checking out Hong Kong Tourism Board's
Hong Kong Great Outdoors
page.