Famous meatball dish connects two generations of chefs on a mission to keep traditional Chaozhou cuisine alive
Chef Xu Weixin takes an apprentice under his wing, offering kitchen experience as part of the Cantonese cuisine chef training programme
He also hands down the technique for his restaurant's famous meatballs made from pounded beef, a signature of Chaozhou-style cooking
In partnership with:
Southcn.com and GDToday
Chef Xu Weixin uses two metal rods to methodically pound a slab of beef into a smooth paste, adding seasonings along the way. This is how the main ingredient is prepared for one of the most-loved dishes in Chaozhou, a coastal city in Guangdong province that is the namesake for a style of Cantonese cuisine.
The beef paste gets squeezed into balls by hand – another step that requires much experience and practice. After they are simmered in a savoury broth, these popular Chaozhou meatballs are ready to be enjoyed by diners.
The process for making this dish is strenuous even for the most experienced Chaozhou cooks, yet Xu never seems to tire from it, always maintaining the same pace of work in his kitchen at Chaoshan Tower Restaurant. But these days, he has some help.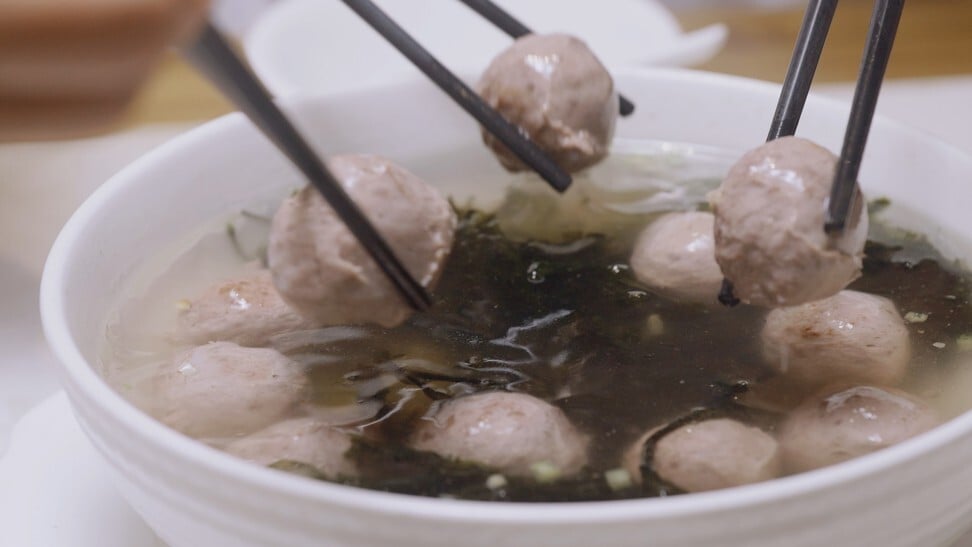 His twenty-something protégé, Chen Youtian, recently joined the province's Cantonese cuisine chef training programme and has been working with Xu to learn this technique. "You certainly need strength to create the best Chaozhou beef meatballs, but you also need patience," Chen says.
Despite coming from different backgrounds and generations, the master chef and his student are on the same mission to safeguard traditional Chaozhou cooking, and even share plans to elevate this style of cuisine to new heights.
Xu, 51, started out working in factories and offices after finishing school, but his personal passion for food led him to pursue a culinary career instead.
But in order to be trained as a chef, Xu first had to prove himself by doing kitchen chores. "We always start with the basics. Before you learn how to cook, you must learn how to clean first," he explains. "One must learn how to maintain the highest level of hygiene and cleanliness before learning how to prepare ingredients and use the cooking equipment."
He adds: "When I started learning Chaozhou cuisine, I had a wood-burning stove and inadequate equipment, but my appetite for food knowledge overcame these hardships. For over three decades, I have learned much about this cuisine and have no plans to stop."
Thirty years on, Xu is now the head chef at Chaoshan Tower Restaurant, where he has received numerous awards for his culinary efforts, including building the reputation for one of the region's most iconic Chaozhou-style restaurants.
His signature dish of steamed vegetable dumplings stuffed with shrimp is a reinvention of a Chaozhou classic. It serves as an example of Xu's philosophy on creative cooking.
"The key to winning an award is to understand how dishes are evaluated … [it] requires full understanding of ingredients and techniques, and assessment is based on presentation, aroma and flavours, followed by creativity," Xu explains.
"Chaozhou cuisine incorporates elements of Cantonese cuisine and dishes from the Shantou region, so it is like a melting pot of characteristics beloved by many."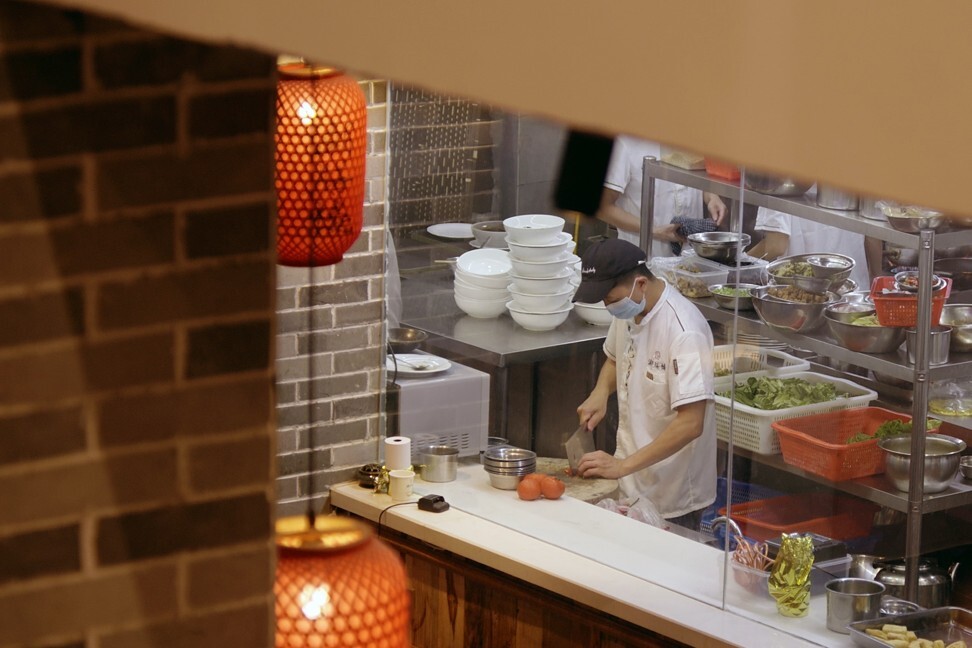 The culture of the city of Chaozhou has distinctive characteristics as a part of Lingnan culture, which is itself an important branch of Chinese culture. There is Chaozhou embroidery, porcelain, sculpture, opera, a Chaozhou kung fu tea ceremony – and, of course, Chaozhou speciality dishes such as those created by Xu.
To help preserve the culinary aspect of Chaozhou's cultural heritage, Xu has become an active member of the Guangdong government-run Cantonese cuisine chef training programme, which gives young people the opportunity to learn culinary skills and explore careers in the restaurant industry. His protégé, Chen, joined the programme this year.
"In four or five months, I have mastered the skills of making beef meatballs," Chen says. Those skills normally take years for chefs to develop, but the intensive training led the young chef to early success.
"Master chef Xu would answer all my questions, and take me to the market twice a day to source the beef," Chen says. "I learned a lot from him ... he taught me everything he knows about mastering the dish – the reason behind using beef rump for the optimal texture, how to pound the meat into a paste, and how to churn out evenly-sized meatballs. I remember repetitively pounding raw beef for at least 10 hours a day."
Even after having accomplished so much in his culinary career, Xu shows no signs of slowing down, and also plans to do more teaching.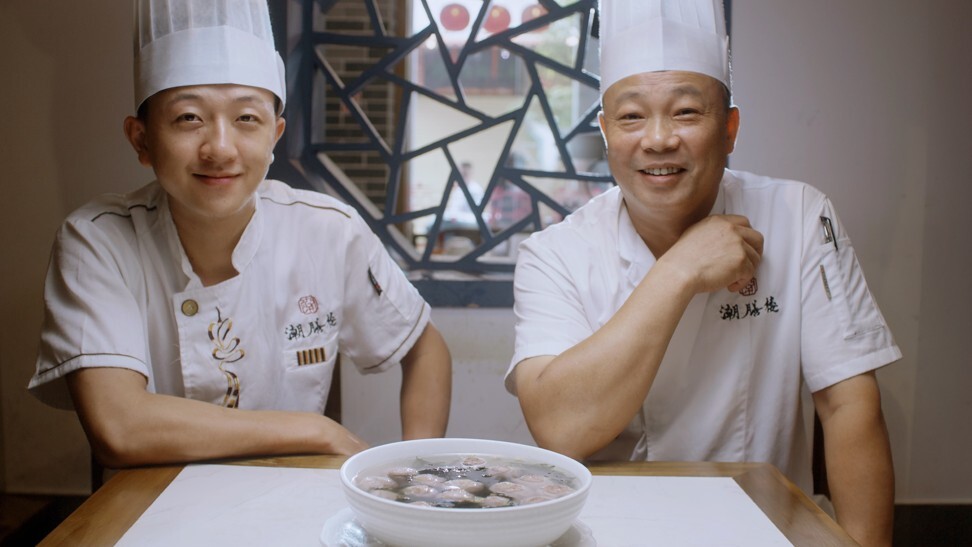 "I enjoy learning and researching new dishes. To preserve the heritage of Chaozhou cuisine is one thing, refining it for years to come is another matter," he says.
"The Cantonese cuisine chef training programme is one of many motivating stories where older chefs like us get to pass on our knowledge to younger chefs while they learn, research and come up with new ideas to build on what we have created. The future is in their hands."
As Chaozhou's cuisine flourishes, the potential for the city to become one of Guangdong's gourmet destinations grows as well, with dishes gaining popularity and attracting food lovers who keep coming back for more.
Xu is delighted to see his style of cooking shining in the spotlight, thanks to the Cantonese cuisine chef training programme.
"The programme offers training for families and young individuals to become experts in the field," he notes. "This will motivate them to start their own businesses in the future."
Chen has big plans after he completes his training.
"I want to start my own business, to have my own shop. I grew up in Chaozhou, and was raised on Chaozhou-style food," he says.
"I will continue my learning, and carry on the tradition of Chaozhou cuisine with pride."