Design experts share tips and tricks for making the most of Hong Kong's small kitchens
In Partnership With
HKT PREMIER
Hong Kong designers are adept at maximising the space in small apartments.  According to the blog ShrinkThatFootprint.com, most Hongkongers are making their homes in spaces that are one-quarter of the floor area of the average house in Australia or the US.
Lindsay Wilson, the blog's founder, whose family of four lives in a "palatial"-sized home of 1,184 sq ft, writes: "If you have decent ceiling heights, good windows, clever storage and not too much stuff, a little space can go a long way."
Showing how to do more with less, Swedish-born designer Cecilia Dupire, principal of New York studio Cezign, transformed a small, antiquated, dysfunctional kitchen in an older building in Manhattan's Upper East Side into a useful and appealing contemporary space.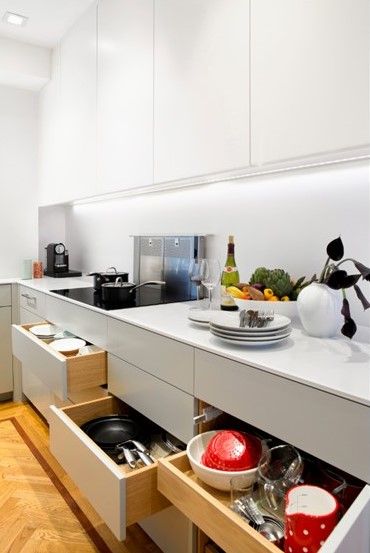 The starting point for the project will resonate with many Hongkongers,  the classic galley kitchen was cramped – a feeling exacerbated by dark stone counters – and cluttered with bulky cabinets and appliances. There was no room for an "eat in", which the client required.
Asked to not only give the kitchen a fresh face, but also to create space where there was none, Dupire set about incorporating unexpected storage into "hidden" units, and freeing up space for the occupants to move around while cooking and eating.
An all-white aesthetic introduced more light, tempered by the herringbone oak floors which were retained "as a nice juxtaposition". Cabinets were left without visible hardware in order to maintain a streamlined appearance, while the appliances were recessed and an old casement window was changed to a single piece of glass.
Every spare inch of space has been utilised, yet the new kitchen is completely uncluttered. As the final touch, there is now room for a table and chairs, giving the room a new level of functionality.
In Hong Kong, designers are routinely tasked with making rooms – particularly the notoriously small kitchens – more multifunctional. From his bag of design tricks, Clifton Leung of Clifton Leung Design Workshop might "float" a seating bench or line of cabinetry, saying that anything which minimises interruption to the natural line of sight will add to the feeling of space. He has used airline meal trolleys as storage for snacks and cutlery, since they can be wheeled away out of sight when not in use, and shies away from installing dominating appliances such as a large fridge in favour of smaller, separate fridge and freezer units, as well as a drawer-type dishwasher, which can be tucked away neatly under the counter.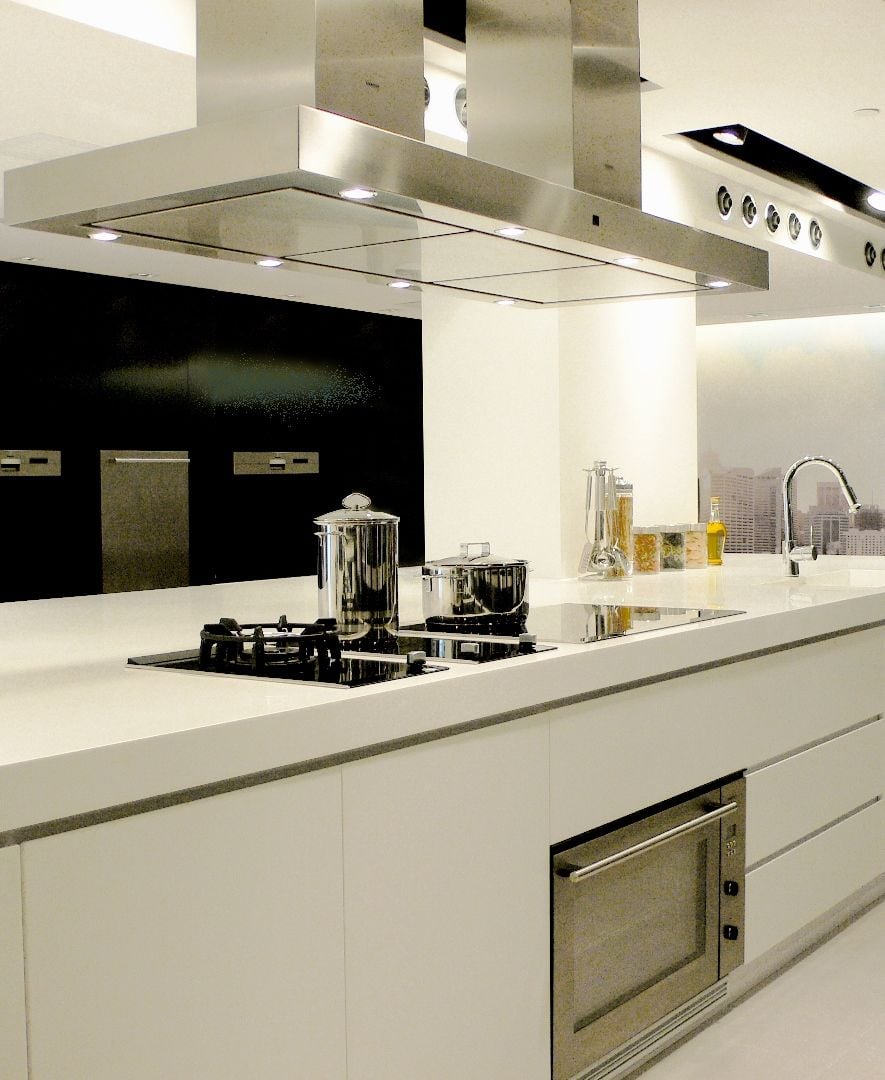 Leung also likes to blend the kitchen into the living area with a multifunctional island bench, saying a flat feels more spacious when it's less compartmentalised. He's also a fan of the all-white design aesthetic, which he believes is timeless and classic, as well as easy on the eyes. But such a scheme needn't be boring. Using various shades and textures of white will give a kitchen character, and because white reflects light, the quality and texture of beautiful finishes such as marble will stand out more.
Jason Yung of Jason Caroline Design always tries to incorporate a green view into a small kitchen. He says this draws the eye beyond the room's physical boundary, creating a feeling of space. If no courtyard or terrace is available to hold a potted plant, perhaps there is scope to add a small vertical garden or a couple of hanging baskets outside the window.
With open kitchen designs, Yung says, a powerful exhaust system is necessary to prevent grease and cooking smells from permeating the rest of the flat. He also pays attention to the durability of surfaces. If you don't want to be a slave to a beautiful kitchen, opt for easy-to-clean finishes instead of glossy surfaces which will show scratches and fingerprints.