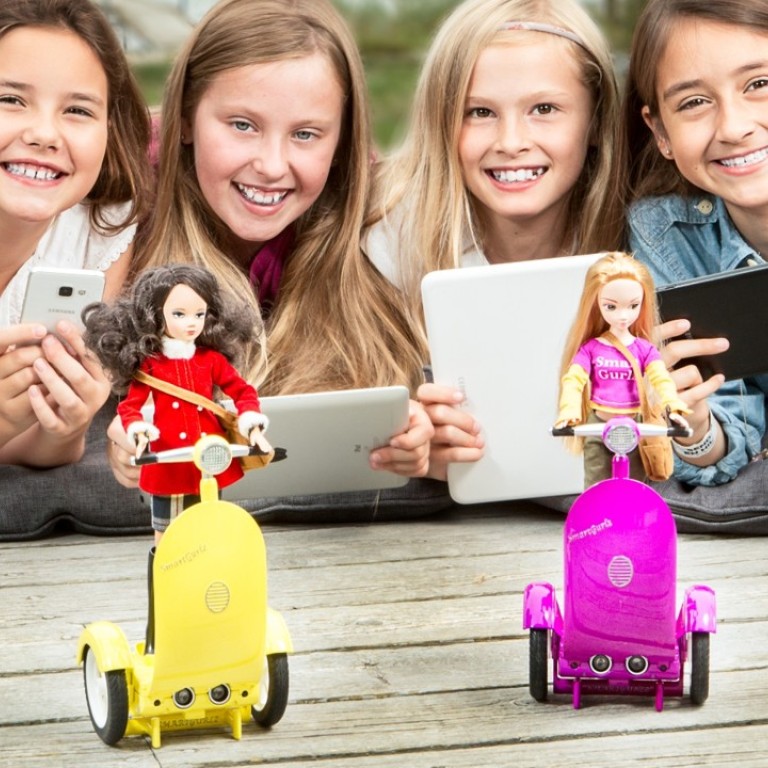 6 great new smart toys this year for cool kids – whatever their age
A smartwatch that keeps youngsters connected, a robotic toy that teaches girls to code, a child-sized intelligent drone and DIY robot among clever offerings
In Partnership With
HKT PREMIER
If grown adults will queue for hours, even days, for a smartphone release – despite there being billions of phones already in existence in the world – it's clear that the novelty of a new connected device hasn't worn off.
So who can blame children for getting excited about the tech designed for them, which is engineered not only for fun, but also as a learning tool.
Here we take a look at five of the latest – and greatest – smart toys that have just been launched, or will be launching this year, for the cool kids, whatever their age.
1. SmartGurlz
First, let's be clear. Girls can still play with dolls, although not the way you've ever seen them before. SmartGurlz, a new line of robotic toys that teaches girls to code, puts paid to the worry of stereotyping.
Robotics aficionado Sharmi Albrechtsen founded the company after she became frustrated trying to find educational but fun toys for her daughter.
She conceived the idea to engage girls in design, robotics and how to programme a computer using their mobile phones and tablets.
"Many girls' toys lag behind in the development of spatial skills, hands-on problem solving skills, and confidence with technology," Albrechtsen says.
"These are the skills that SmartGurlz aims to develop ... by modernising doll play to reflect the changing times."
The result is a series of mini-drones shaped like fashionable Italian scooters and Segway-like vehicles that are self-balancing, driven by an app, and can be coded using the brand's own coding platform, SugarCoded.
Books with digital elements such as an e-learning platform that teaches basic coding are included in the range.
Launched in December, SmartGurlz is available now on Amazon.
2. Tello
Drones are fun for everyone, but in the hands of children, educators say the skills learned to achieve successful flight accelerate STEM (Science, Technology, Engineering and Mathematics) learning.
To that end, Shenzhen-based drone start-up Ryze Tech launched a child-sized intelligent toy drone, called the Tello late last month.
Weighing about 80 grams (0.177 pound), with a body the size of a smartwatch and bearing advanced stabilisation technology, the drone is easily controlled by small hands.
Its on-board HD camera and Intel Movidius Myriad 2 VPU (video processing unit) enable the young pilot to clearly see the world around them in real time.
Remi-El-Ouazzane, vice-president and general manager of Intel's New Technologies Group, says: "This is just the beginning of a promising toy market featuring robotics, AI [artificial intelligence] and computer vision technologies."
With safety in mind, the Tello also comes with flexible propellers, propeller guards and a collision detection system.
3. SPRK+
Robotics toy company Sphero keeps increasing the educational quotient of its connected robots, including SPRK+, an innovation already used in schools around the world to teach robotics and computer programming.
The company says that the latest version, due for release later this year, will build on its evolving platform of teaching skills for the future under the disguise of play.
The smart toy portfolio of Sphero, a US company with an office and research and development facilities in Hong Kong, also includes the BB-8 droid, its bestselling S tar Wars BB-8 app-controlled robot.
4. Misty I Developer Edition
Another company, Misty Robotics, is hoping to capture the imagination of would-be developers and inventors with last month's launch of the Misty I Developer Edition, a DIY robot with software tools, The company will begin shipping the US$1,499 robot this month.
Misty Robotics says it hopes it will "help create useful skills for the next generation robot, Misty II, coming later in 2018".
5. dokiWatch S
Meanwhile, Hong Kong company Doki Technologies has launched a smartwatch designed to keep connected children entertained and informed, while also maintaining a reassuring linkage to their parents.
The dokiWatch S is the company's next-generation flagship product, and the first to feature video calling capabilities.
So while they can call home at any time from this stylish wearable, dokiAsk, an integrated virtual assistant, develops children's early interaction with AI.
It also encourages curiosity: from mathematics or science to everyday questions, Alexa stands by ready to help satisfy inquiring minds.
Children can save their photos and selfies on the watch, and parents can use its scheduler tool to manage daily routines such as classes, activities and bedtime, hence teaching time management to
young ones aged six to 12.
6. 'Starlink: Battle for Atlas'
And in case you're wondering if game consoles are still cool, take a look at the new game, Starlink: Battle for Atlas, slated for worldwide release in the US this autumn.
Developed by Ubisoft for Nintendo Switch, Xbox One and PlayStation, the game launches players into a thrilling, interplanetary adventure where the mission includes finding allies among the alien characters, helping to repair the ship, and joining the search for the captain. Epic!