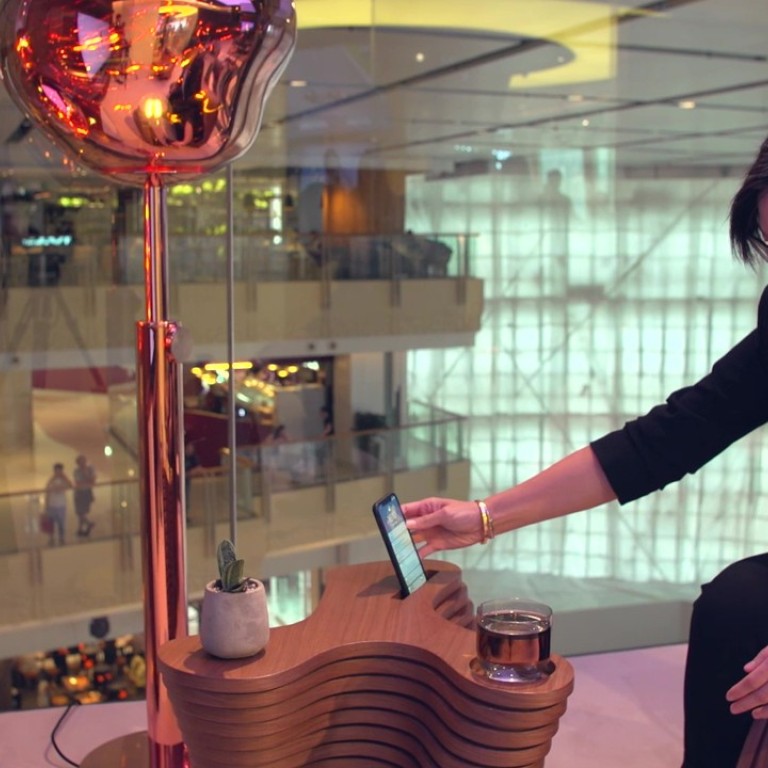 Local architect uses IoT to explore spatial design based on her experience as a fencer
Hong Kong designer uses internet of things to make the most of interior space with shelf, table and chair designs for HKT Premier's showroom at the io.t by HKT Concept Store
In Partnership With
HKT PREMIER
When you buy a piece of designer furniture, you also bring a bit of the designer's life experience into your home. In the case of Florence Kong, founder of Hong Kong-based architecture and design studio Fab-A-Matter, the experience is fencing.
"Fencing is about movement through space between you and your opponent," says Kong, who took up the sport when she was 10, and has represented Hong Kong. "You need to keep that distance to be safe, yet you also need to break that safety distance to hit and score at the right time. So, this is a sport strongly related to time and space."
Architecture is also about time and space, she says.
"It's about a real-time spatial experience, it's about human interactions," Kong says. "It's dynamic rather than static."
Before she founded her own studio, Kong worked for such notable names as Zaha Hadid, Foster & Partners and KPF.
"These three studios are obviously cutting-edge [in] design, and they share a common goal. That is, architecture is for the people. It facilitates everyday life. This is a key essence to my design studio, too," she says.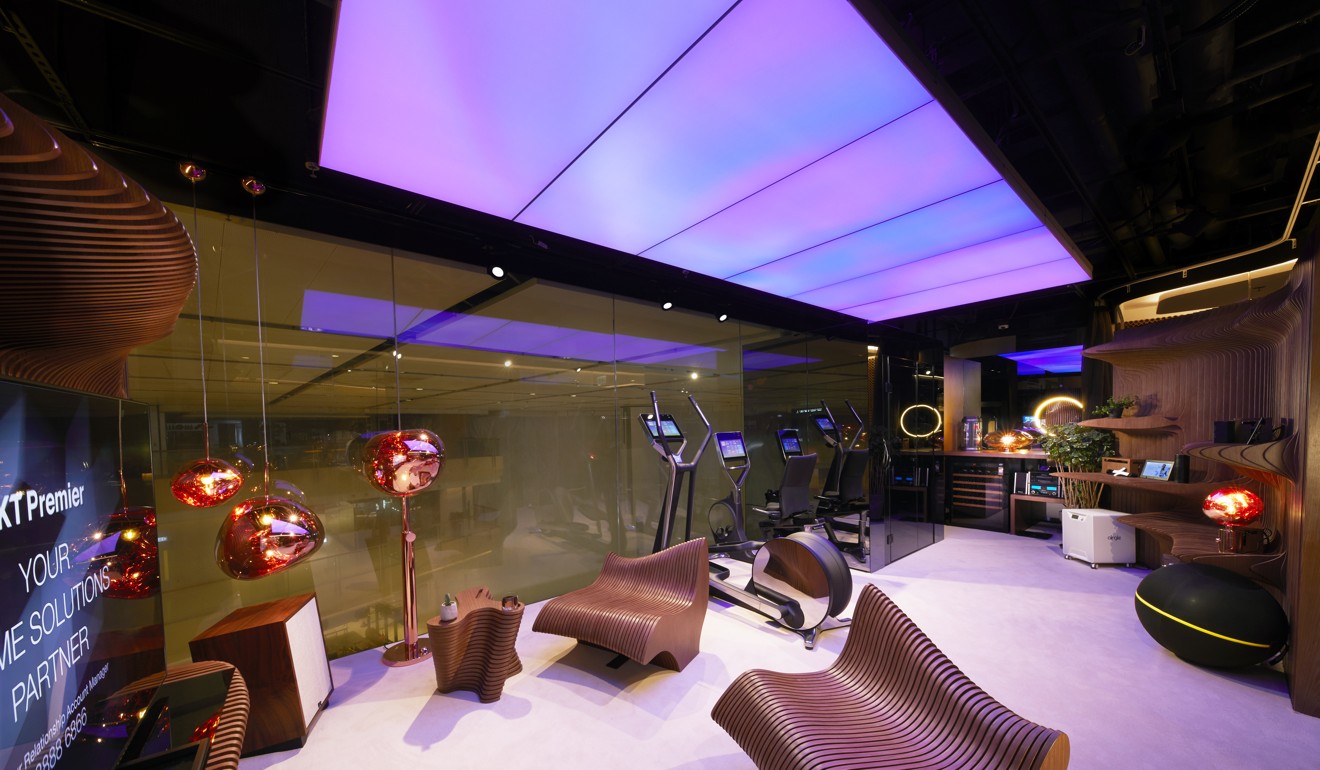 Kong has recently been commissioned to design the IoT (internet of things) at HKT Premier's showroom at the io.t by HKT Concept Store at Elements, in Tsim Sha Tsui. The theme consists of three elements that reflect her love of nature and her Chinese heritage.
"We want to focus on user spatial experience; we try to bring comfort and enjoyment for those inhabiting the space. We want to incorporate elements of nature into our design. We try to connect human and nature," she explains.
The feature walls are based on bo (Chinese for "waves"); the chairs are inspired by koi, as in the fish, while the coffee table represents chi ("air" in Chinese).
The "uplifting wave rising from the flat wall surface" in the design "embodies the fluidity of motions; it creates undulating features as well as various shelves for hosting diverse home appliances and accessories", Kong says.
For the ergonomically designed Koi easy chair, "we studied the seat height, depth, proportion and sitting posture of a couple in an engaging conversation", she adds. "It is designed in an embracing and curvilinear form, with a less formal and low backrest height to encourage the users to lean forward towards each other."
The Chi coffee table is equipped for solitary moments, with a recessed cup holder and a slot for a mobile phone, allowing you to enjoy internet surfing while sitting comfortably in the Koi chair. The concept is represented by the "ascending and rotating curvilinear piles".
Kong explains: "Aesthetics and functionality are equally important. For instance, all the curves in this showroom help people to manoeuvre in the space without bumping into sharp corners."
The pieces are designed to be easily taken apart and reassembled, making them convenient for relocation and a "sustainable way of construction".
Technology is also prominent in the showroom.
"The space could be transformed with a single touch, it allows different moments to happen," Kong says. "The living space here can be changed from a very open area to a private and cosy space [when] the IoT glass turns opaque."
She says: "When you leave the room, you can just say, 'Alexa, turn off the lights', then all audio-visual equipment, lights and air con will be turned off automatically, and you leave the room without hassle."
Kong has been teaching architecture and interior design at universities in London and Hong Kong for the past decade. She also leads the "Digital Fabrication" programme in Interior Architecture for Middlesex University London and HKU Space.
"In Germany, there's already an exhibition hall entirely built by digitally fabricated plywood plates, with its low bearing structure as thin as 50 millimetres," Kong says.
She believes advanced technology such as digital fabrication, 3D printing, computer numerical control, robotics, virtual reality and big data are opening many new possibilities for design and development. The showroom is a case in point.
"The plywood plates of the furniture are actually cut directly by the computer-controlled machine, so I think that is fabulous," Kong says.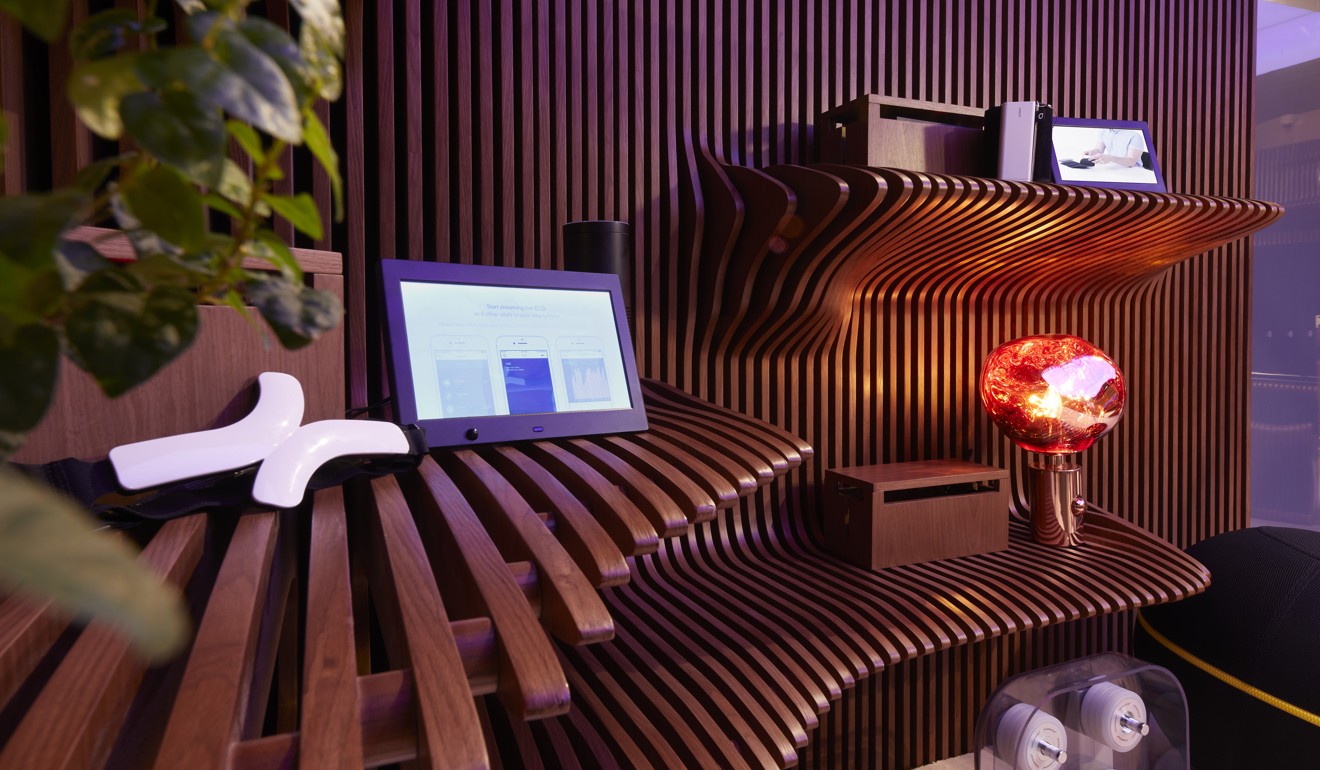 "Digital fabrication is utterly precise, as the whole production line is seamlessly based on the same 3D model, from design to production. So, the computer interprets all drawings."
Kong also loves wireless connectivity as it allows spaces to be more "neat and tidy", and personally, she is a fan of connectivity and IoT, with two of her favourites being the Apple Watch and Alexa.
"I use the Apple Watch. It can connect to the integrated home automation system. It can control the lighting, control the air con and control all these sheers and curtains [in] your house," she says.
"Internet of things integrates with your pattern, follows your schedule, adapts to your changes. So, I think IoT could be your most reliable butler."