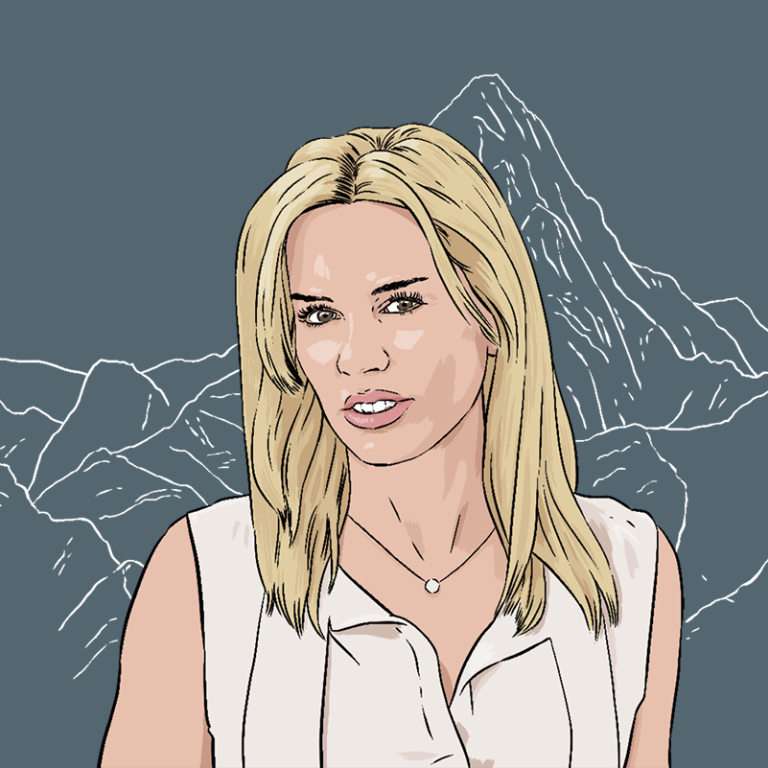 Ain't no mountain high enough for Annabelle Bond, Hong Kong philanthropist and international adventure seeker
A passion for adventure and a higher purpose kept her motivated through the extreme challenges of her record-making climbing expeditions
Being a parent, however, has made the experience of scaling Mount Everest seem easy, says the mother to a teenage daughter
In Partnership With:
Withers HK
The year was 2004, and Annabelle Bond was more than 7,000 metres above ground, scaling Mount Everest, the Earth's highest peak. She had just departed the South Col camp near the summit and was crossing over a glacier while battling the elements, from icy air to deafening winds – it was akin to a scene straight out of an action movie. One of her gloves had blown off.
To call that moment her darkest hour would be an understatement.
"I heard two voices in my head," Bond recalls. "One was telling me I had done enough, and everyone would be so proud I even got this far, so I should just stop. The other voice was pushing me to go on – I only have this one shot."
She heeded the latter – and clearly louder – internal voice and not only pressed on to reach the summit, but also went on to become the fastest woman climber in the world for scaling the tallest peaks on each of the seven continents in 360 days. The record stood for eight years before being broken.
"I wanted to prove people wrong, but most of all, I had thought about those who were depending on me to get to the top for the charity I was raising money for," says Bond, whose climb supported The Eve Appeal, a British charity dedicated to the prevention of gynaecological cancers.
In addition to Everest, Bond counts Vinson Massif in Antarctica and Denali in Alaska as her favourite peaks to have scaled. The motivation for these extreme physical challenges comes from her profound love of adventure.
"Memories from just lying on a beach can merge into one," she says. "But an adventure – where things can go wrong, and you have to challenge or push yourself – you will talk about for the rest of your life."
Despite the toil and tribulations of her mountain expeditions, Bond, now 50, considers being a mother as the toughest life challenge she has ever taken on.
"Motherhood makes Everest easy," she tells the South China Morning Post via a video call from her home on The Peak. "With kids, you're dealing with another person, so you don't know what you're getting."
Bond, the mother of a 14-year-old daughter, adds: "It's been a different type of challenge, because with mountain climbing, you know what to expect – misery, cold and hardship. With kids, it's a roller coaster. One day it's amazing, and another day, not so much. It's a rewarding but emotionally fraught journey."
Parenting is especially tricky in today's world, too. "It is a very different environment to when I was growing up – I was playing outdoors a lot and wasn't on a device the whole time. More importantly, experiences then weren't all recorded on social media," Bond says. Her own childhood was spent largely in Singapore and Indonesia before her family moved to Hong Kong. Her father, Sir John Bond, served as group chairman of HSBC and was knighted in 1999 for his services to the banking industry.
But whether in motherhood or mountaineering, what keeps Bond going can perhaps be attributed to the slew of life mantras that she holds dear. "I have so many mottoes," she says, chuckling. Not surprisingly, many of them are steeped in positivity, such as "I would rather live a day as a lion than my whole life as a sheep", and "Life is either a daring adventure or nothing at all".
Another of her inspirational reminders is: "Only those who are not afraid to push will ever see how far they can go". This was written on the side of Bond's tent during her Everest expedition years ago.
Bond doesn't just preach these supercharged motivational quotes – she continually subscribes to them in her life, as is evident in her daily routine. Up at the break of dawn, she is usually finished with all her workouts – which can include mountain biking and, at times, even wakesurfing – by 9am. "I just want to live my life to its fullest," she says.
Those activities have kept Bond moving and pushing her physical limits while her global expeditions are on hold amid the Covid-19 pandemic. She wistfully recalls her last proper adventure, which took place in 2019 – a four-day, 100km trek across the Drakensberg mountain range in South Africa, where she helped lead 100 people as part of an expedition organised by Just Challenge that raised funds for the agency's charity partner, Laureus Sport for Good.
"The work I do with Laureus Sport for Good is perfect for me – I get to spread my love for the outdoors and adventure, inspire others to get out of their comfort zone, and raise money for charity at the same time," she says. "I think it's important to give back to society and have a larger purpose when you're achieving a goal."
If not for the pandemic, the Just Challenge team would have done another fundraising trek in New Zealand as well as Patagonia in South America, according to Bond.
It is no wonder she has been described as an "adventurer" and a "philanthropist" in the countless articles written about her. But she has sometimes been given another label that she finds contentious – "socialite".
Bond says: "I think it's a derogatory term, to be honest. It implies that you're just vacuous and frivolous." That being said, she doesn't let the tag ruffle her feathers. "If people want to call me that, it doesn't bother me. Of course I like to go out and have fun sometimes – I wouldn't be normal if I didn't."
But she usually has other, more important, things to do – including setting a good example for her teen daughter to follow. Bond considers herself a "tiger mum", but only when it comes to sports. "I think sports are so important for young people," she says. "They release the correct endorphins to make you happy and keep you in shape."
Ultimately, Bond just wants to ensure her daughter grows up to be "a kind, morally good person", she says, adding: "I want to try and inspire her."