How Victoria Harbour's red-sailed junk boat serves as iconic reminder of Hong Kong's heritage
Dukling – a wooden, 65-year-old former fishing boat – remains last original antique vessel still sailing in local waters
City's skyline has changed dramatically as it develops into global financial hub, says ship captain Kwok Wah-hei
In Partnership With:
Hong Kong Tourism Board
The iconic three red sails and wooden hull of the Dukling – the only original antique Chinese junk boat still cruising off the coast of Hong Kong – remain a familiar sight on the skyscraper-flanked waters of Victoria Harbour.
Originally built to fish the seas off the coast of Hong Kong in 1955, the restored vessel, which was given a new lease in life in 2015 when it began offering harbour cruises, serves as a vivid reminder of the vibrant city's humble origins as a fishing village and its journey of rapid development into an international financial centre.
Dukling's operations rely heavily on its 60-year-old captain, Hongkonger Kwok Wah-hei, who has more than three decades of experience as a seaman.
"We point out places of interest around Hong Kong," Kwok says. "Tourists often ask questions such as, 'What did the harbour look like in the past?'. We cruise slowly and take our time while explaining its history."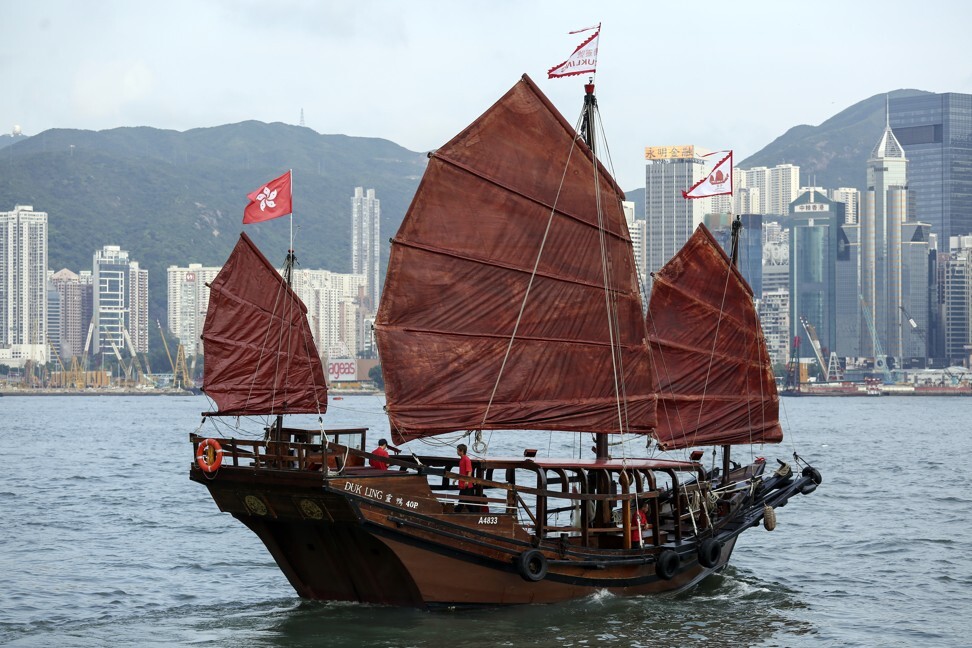 Hong Kong's high-rise skyline
Kwok, who has been sailing around Victoria Harbour for decades, is no stranger to Hong Kong's distinctive skyline.
"There have definitely been dramatic changes [to the view], if you compare it with the old days. Back then, the harbour was much wider. Now it's been narrowed by at least one-third because of land reclamation on both sides."
Official Lands Department records from February show that the total area of land reclamation along Victoria Harbour covers more than 20 square km (7.5 square miles) – about a quarter of the size of Hong Kong Island. This extra land has been crucial to Hong Kong's successful economic evolution as it has accommodated 70 per cent of the city's commercial activities, officials say.
Many of the latest additions to the city's skyline, such as Central's observation wheel and the International Commerce Centre in West Kowloon, were built on reclaimed land.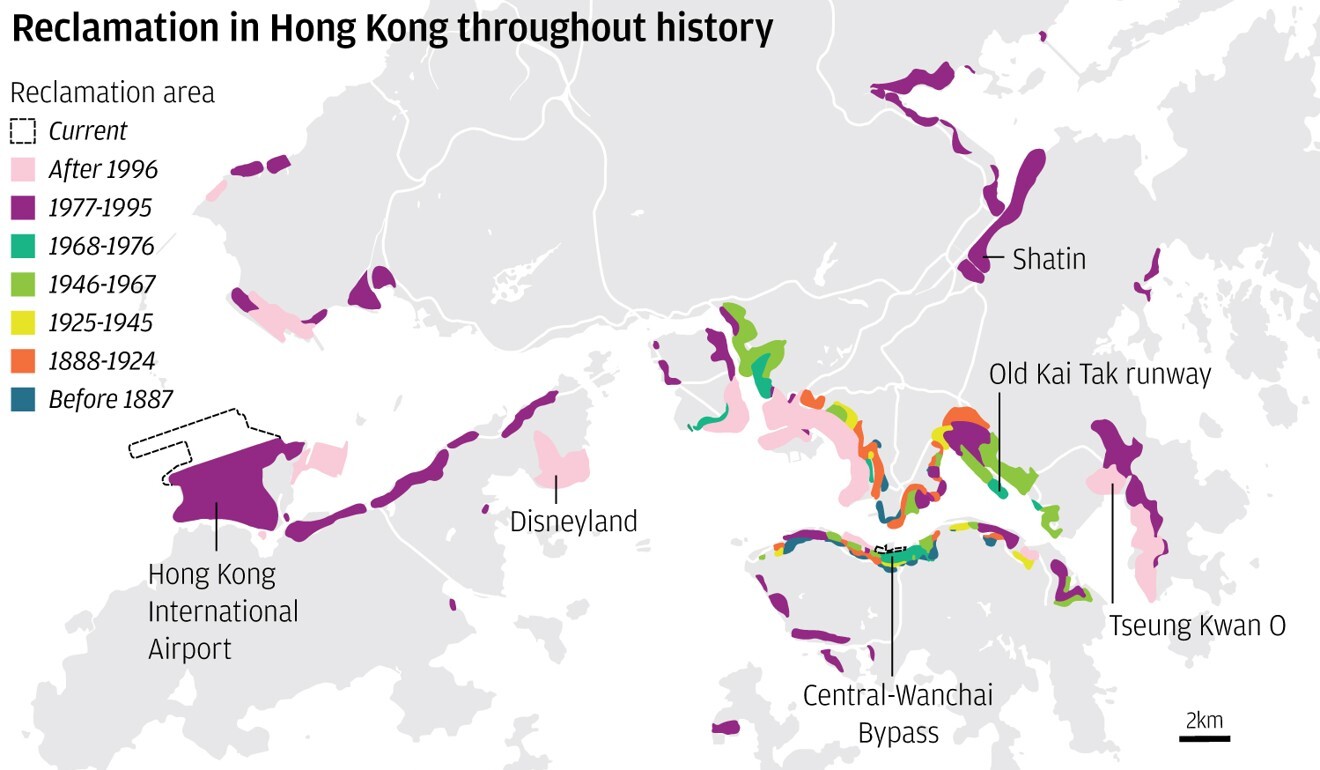 Kwok says one of the most noticeable changes has been to Causeway Bay Typhoon Shelter. Previously, Kellett Island – a small island on Victoria Harbour – was located offshore. But after the completion of the Cross Harbour Tunnel in 1972, it was linked to the rest of Causeway Bay.
The site of the former Kai Tak Airport – which ended operations in 1998 when the current Hong Kong International Airport opened in Chek Lap Kok – has also seen great changes.
"There were no tall skyscrapers near the old airport when it was in use," Kwok says. "Now, there are many new skyscrapers and a cruise terminal has been built on the original runway."
Although many Hongkongers may be familiar with the city's dramatic buildings, he says viewing the iconic skyline from out on the water provides a unique experience.
"The perspective is different on a boat," Kwok says. "You get a 360-degree view of the city, and this makes the view come to life.
"For example, if you look at the Hong Kong Convention and Exhibition Centre when on land, it might simply look like a tarp tent shelter. But looking at it from on a moving boat, it takes on a new shape, as you notice how it resembles a turtle or eagle against the backdrop of green mountains and blue sky."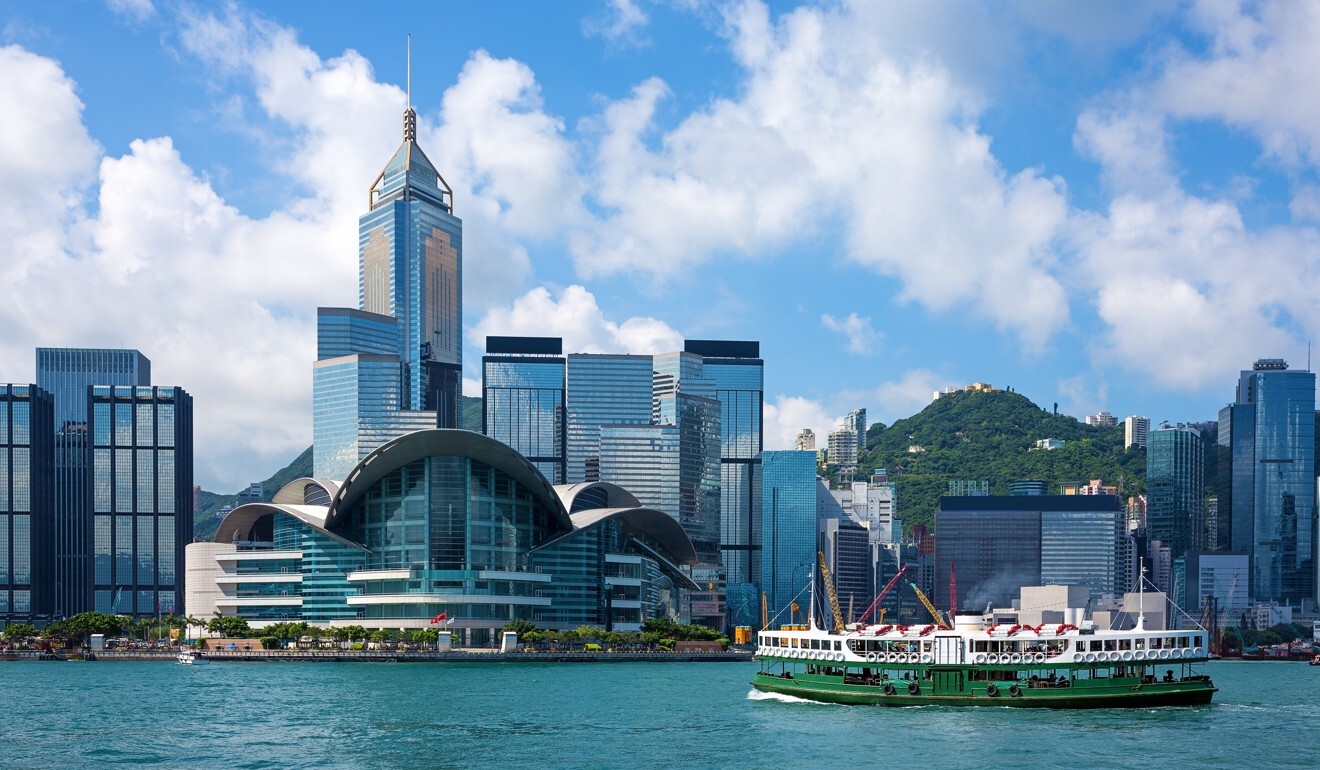 Remembering the old days
Before Hong Kong became an international financial centre, it was a thriving industrial powerhouse with a sizeable fishing industry.
Kwok followed his father into the profession – often spending days far from land searching for the best catches.
He says steering Dukling today reminds him of the old days – when the junks were not equipped with motor engines and equipment, such as radar or GPS satellite-based navigation. Instead, sailors had to rely on experience, maps, and their sails to harness the power of the winds as they criss-crossed Hong Kong's seas.
Dukling still remains true to its traditional fishing culture, including a statue of Mazu – a Chinese sea goddess – on its lower deck and a giant wooden steering wheel. Kwok says 75 per cent of the remaining wood is from Dukling's maiden voyage 65 years ago.
He says he enjoys telling people about the heritage of the fishing junks, which local fishermen called "shrimp boats", and how Dukling was transformed into a passenger vessel.
"When people see her sailing against the backdrop of the modern city skyline, she keeps the memories of Hong Kong's heritage alive – the contrast between old and new could not be greater," he says.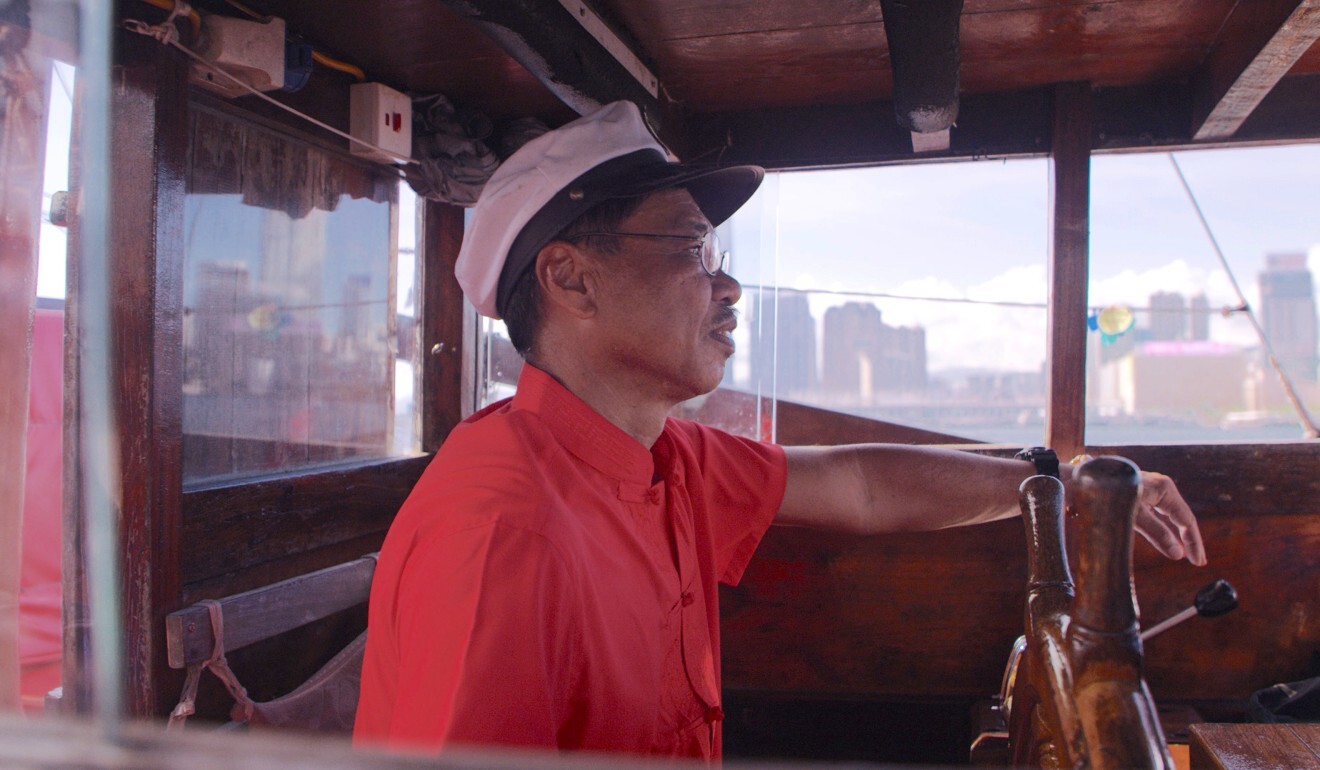 Best way to savour Hong Kong's skyline
One dramatic way to enjoy the skyline is during A Symphony of Lights – the city's colourful nightly laser show, which illuminates the buildings and night sky on both sides of the harbour.
"On the sea, you get a panoramic view of the skyline – of Tsim Sha Tsui, Wan Chai and Central – when all the lasers shoot up the sky," Kwok says. "It is quite magical – everyone loves the music and cheers during the show.
"It is also incredibly beautiful to view the sunset from the boat out on Victoria Harbour. On a clear day, the western sky lights up into a brilliant orange-red, which contrasts with the blue from the east, which is very colourful and creates an amazing photo opportunity."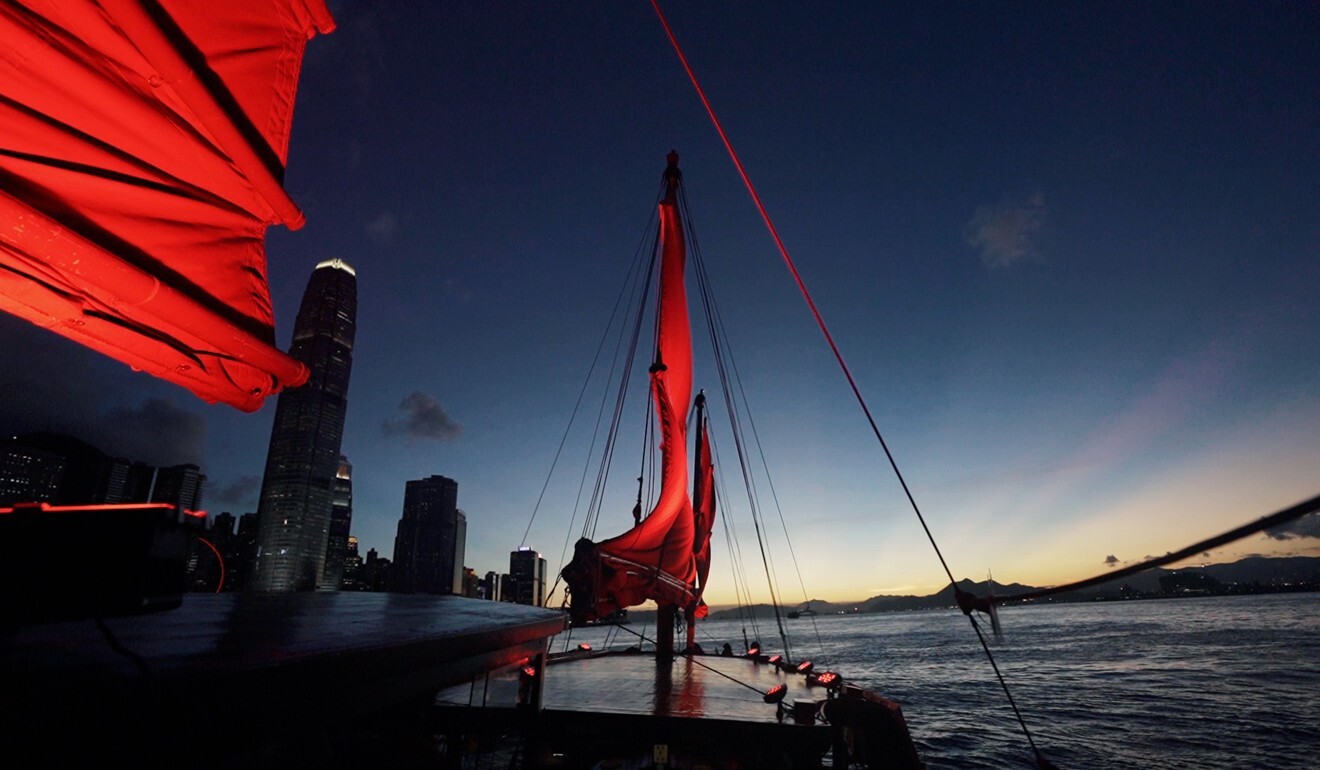 While the landscape may have changed, Kwok says it has always remained an important part of Hong Kong's collective memory.
"Victoria Harbour, to old folks like me, used to hold much nostalgic value," he says. "Its history was the story of fishermen like myself.
"Nowadays, it is a lot more prosperous. Hong Kong has a lot more lights, skyscrapers, and everything has changed. Perhaps you can call it a 'bustling beauty' now."
Explore Hong Kong's skyline from past to present
Hong Kong has one of the most impressive skylines in the world. But our urban fabric comprises more than simply skyscrapers. Tong lau, or low-rise "shophouses" dating from the mid-19th century, form a vital part of our history and landscape. Here are some noteworthy city-centre buildings, both high and low, you may have missed.
HSBC Main Building
Renowned English architect Norman Foster has attributed his international success to the revolutionary HSBC Main Building – once the world's most expensive building. Its lifts feature technology used in Nasa's space programme.
City Hall
Often overshadowed by its swanky neighbours, City Hall – designed by British architects Ron Phillips and Alan Fitch in 1956 – remains one of the city's best examples of modern architecture. The iconic complex was the city's first public art and cultural centre.
Jardine House
Once the tallest building in Hong Kong, the 52-storey Jardine House has been known mostly for its futuristic circular windows and law firm occupants. But this summer the transformed basement became the hottest food court in Central, BaseHall.
Crafts on Peel
Follow the black and white neon sign on Peel Street to find the grooviest new kid on the block: Crafts on Peel. The non-profit creative space combines founder Yama Chan's love for the city's walk-up buildings and traditional crafts.
The Gough Street-Kau U Fong Quarter
The eclectic mix of buildings in the Gough Street-Kau U Fong area is an attraction in itself. At sunset, head to the alley behind Kau U Fong to Godenya, an award-winning saké-pairing omakase restaurant.
30 Houses
Hidden in a nook behind bustling SoHo is a tong lau cluster named "30 Houses". These post-war buildings welcomed a crop of small shops in recent years, including Chez Trente, a bar and gallery where artists, musicians, writers and art lovers gather.
Yuen Kat Lam's
This red and green building, named after the more than 130-year-old Chinese herbal tea brand, Yuen Kat Lam's, is still owned by the Yuen family. In recent years, the seventh-generation owner has modernised the business by offering pre-packaged herbal tea.
Monsieur CHATTÉ
French businessman Jean Yves Chatté opened his original French wine and grocery shop along Bonham Strand in 2008, but the shop recently moved a mere 40 metres (130 feet) away. Monsieur CHATTÉ's signature foie gras – made using a recipe passed down from generations – was originally sold in the family's first charcuterie shop near Paris in 1949.
The recommended itinerary was adapted from, and first published in, the Hong Kong Tourism Board "Holiday at Home" campaign, which was created to inspire and encourage Hongkongers to discover the city's hidden treasures. Please keep social distancing regulations in mind. For more detailed guides and tips, visit HolidayHK.com.