How Hong Kong has re-energised its iconic electric trams for the 21st century
Hong Kong Tramways – in service on Hong Kong Island since 1904 – operates 165 trams, which together carry about 200,000 daily passengers
Fleet's modern trams have added hi-tech innovations and upgraded, energy-saving features to ensure they stay relevant as city transport
In Partnership With:
Hong Kong Tourism Board
Trundling its way back and forth along the northern edge of Hong Kong Island – flanked by rows of modern skyscrapers and surrounded by the never-ending traffic – is a historic form of public transport that has witnessed the city's transformation for more than a century.
The Hong Kong Tramways – which started serving generations of Hongkongers in 1904 – form an integral part of the city's heritage. The 165-strong fleet comprises one of the world's few remaining double-decker trams, the company says.
One of the regular passengers is 45-year-old Frenchman Cyril Aubin, the company's managing director, who takes a tram every morning from his home in Wan Chai to the tram depot in Sai Wan. "It's a part of my daily routine," he says.
Riding on the tram across different districts has allowed him to appreciate Hong Kong Island's diversity and vibrancy – where the Wan Chai's buzzy stalls, Central's sparkling high-rises and Sheung Wan's many dried seafood stores happily coexist alongside one another.
"What I really enjoy [on the tram] in the morning is that I can observe the city just coming to life – people delivering goods and setting up stores – preparing everything for Hong Kong life to start," he says.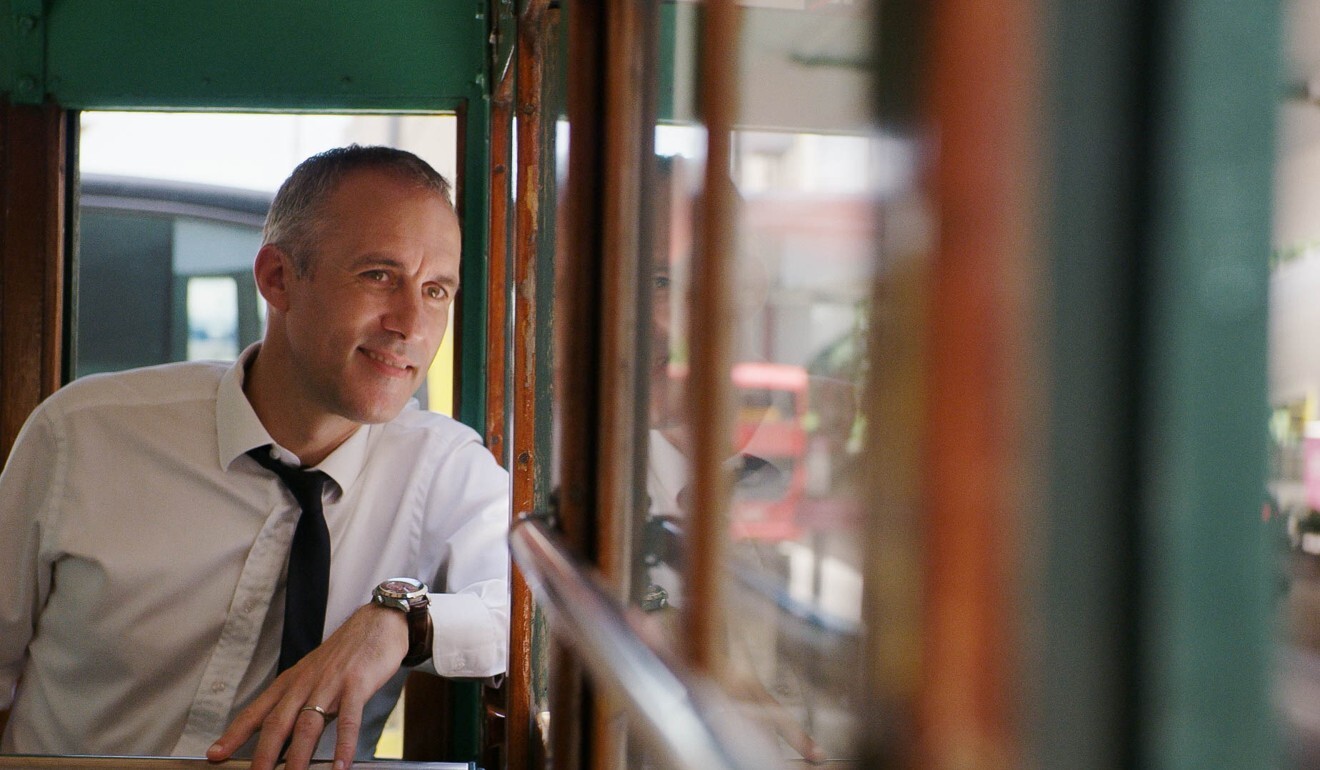 Hong Kong's collective memory
The Frenchman, who moved to Hong Kong in 2016, is no stranger to managing tramway systems. The trained architect was running France's mass transit systems for more than a decade. In his previous job, he launched five new tram lines within two years in Paris.
"I [feel] that trams are really an amazing means of transport," he says. "They are very useful and convenient for the people because the stations are very close to each other.
Since 2009, Hong Kong's tramway system has been operated by a joint venture between RATP Dev and Transdev – two French-based public transport companies.
While some people may have initially wondered if overseas operators could understand the tram's local appeal, Aubin says his company is fully aware of its cultural symbolism.
"I have always valued this very iconic and heritage tram," he says, adding that his goal has always been to retain the tram's heritage while ensuring it achieves sustainable growth.
Throughout the century, the "ding dings" – which got their name because of the chiming warning sound they make when they are on the move – have remained one of the most accessible transports.
Nowadays, they carry an average of 200,000 passengers a day between Kennedy Town and Shau Kei Wan on the island.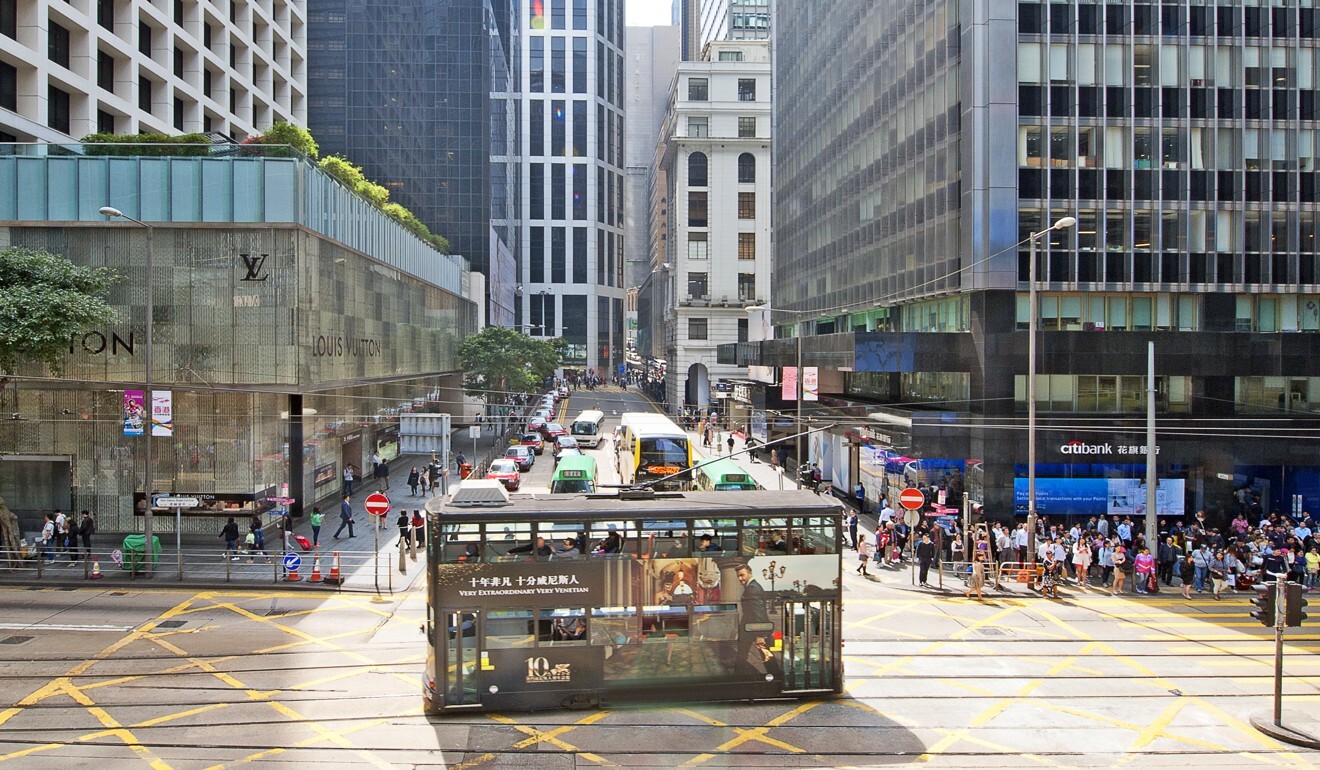 Aubin says the trams have also partly retained their Hong Kong spirit because they are fully maintained in the city: "Not many people know that our Whitty Street Depot is the only manufacturing plant on Hong Kong Island," he says.
Because of the tram company's long history, many overseas manufacturers have already stopped supplying it with components. Therefore, the refurbishment work is carried out locally.
"All the amazing work is done by [local] carpenters and electricians for the people," Aubin says. "We are really doing magic every day."
Reinvention for next century
Ensuring the tram service remains competitive has been a key issue, as more efficient means of transport, such as buses and trains, have threatened its future.
In 2015, one retired town planner even
submitted a proposal
to take the trams off the roads in Central – arguing that they moved too slowly and caused traffic congestion.
While the proposal was ultimately rejected, it highlighted the importance of trams staying relevant to the needs of modern Hong Kong.
Aubin says that while trams are a tourist attraction, the real challenge has been to ensure that everyday commuters keep riding on them.
"Our vision is to make it a really functional public transport system," he says. "We wish to keep this iconic image, but also change and evolve the technology on board."
To enhance comfort, passenger seats in the modern trams have been redesigned with more handrails, while electronic panels have been installed to provide information about the next stop. Real-time positioning system is also available to offer anticipated arrival times.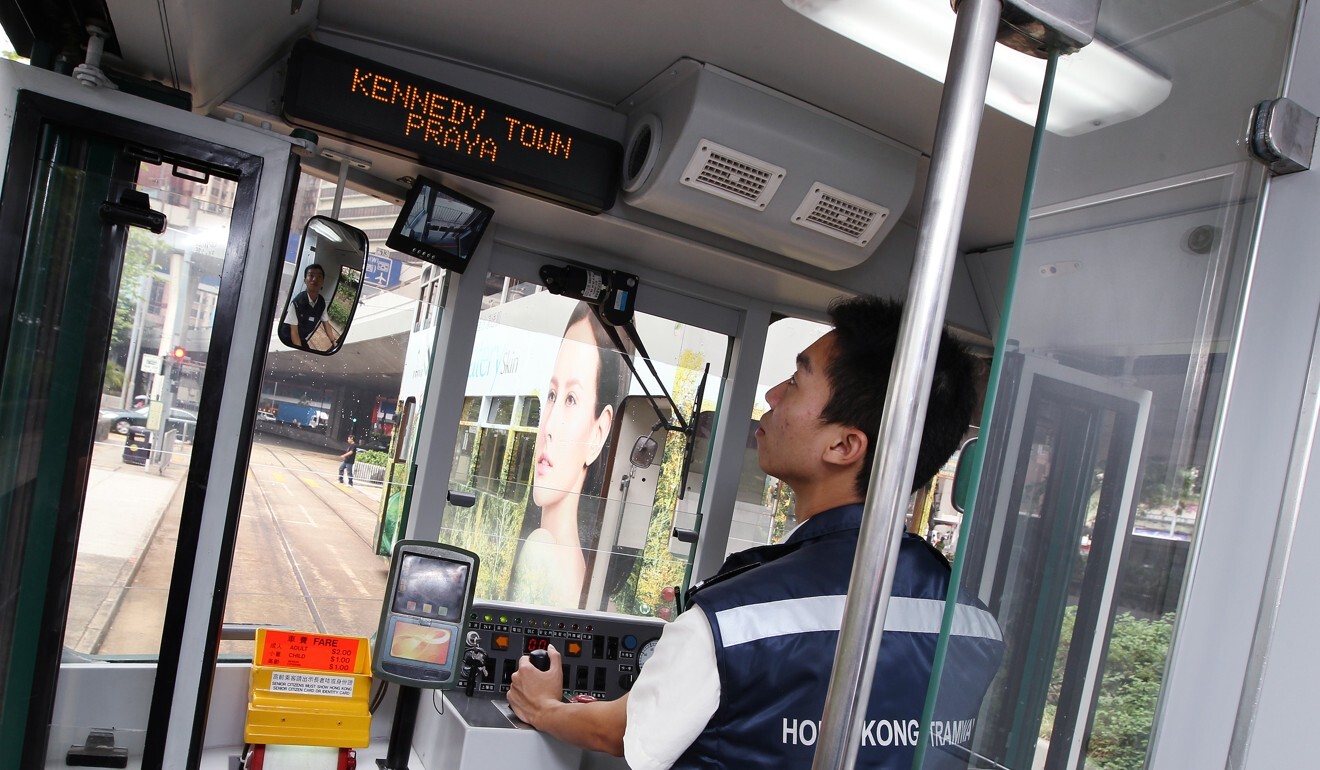 Reducing energy consumption is another key objective under Aubin's leadership. The latest trams are now equipped with regenerative braking – where the kinetic energy normally lost when a motor brakes can be recovered and stored in batteries for future use.
"If you compare with 10 or 20 years ago, the tram is now much more smart and intelligent with all the computer systems on board," Aubin says.
Witness to city's transformation
The smooth operation of a tram also depends heavily on the work of its motormen, such as Luk Man-wai, a veteran driver with 15 years of experience. "It is a [form of] public transport that has a strong human connection," he says.
He says working as a motorman has been fulfilling as he is responsible for driving on different routes each day.
"I have witnessed vast changes in the city," he says. "There were many factories and warehouses in Sai Wan, but most of them have been torn down and replaced by residential buildings and hotels."
Aubin says the tram's accessibility and leisurely travel speed provide a good perspective for Hongkongers to appreciate and rediscover the city.
"When you ride the tram on the upper deck, you can really observe and feel the city, because the route is very close to the [different] neighbourhoods," he says.
"I especially love it when the tram crosses into the Chun Yeung street market," he says, because the market's small, tarpaulin-covered stalls selling tea and fresh produce are representative of Hong Kong's diversity.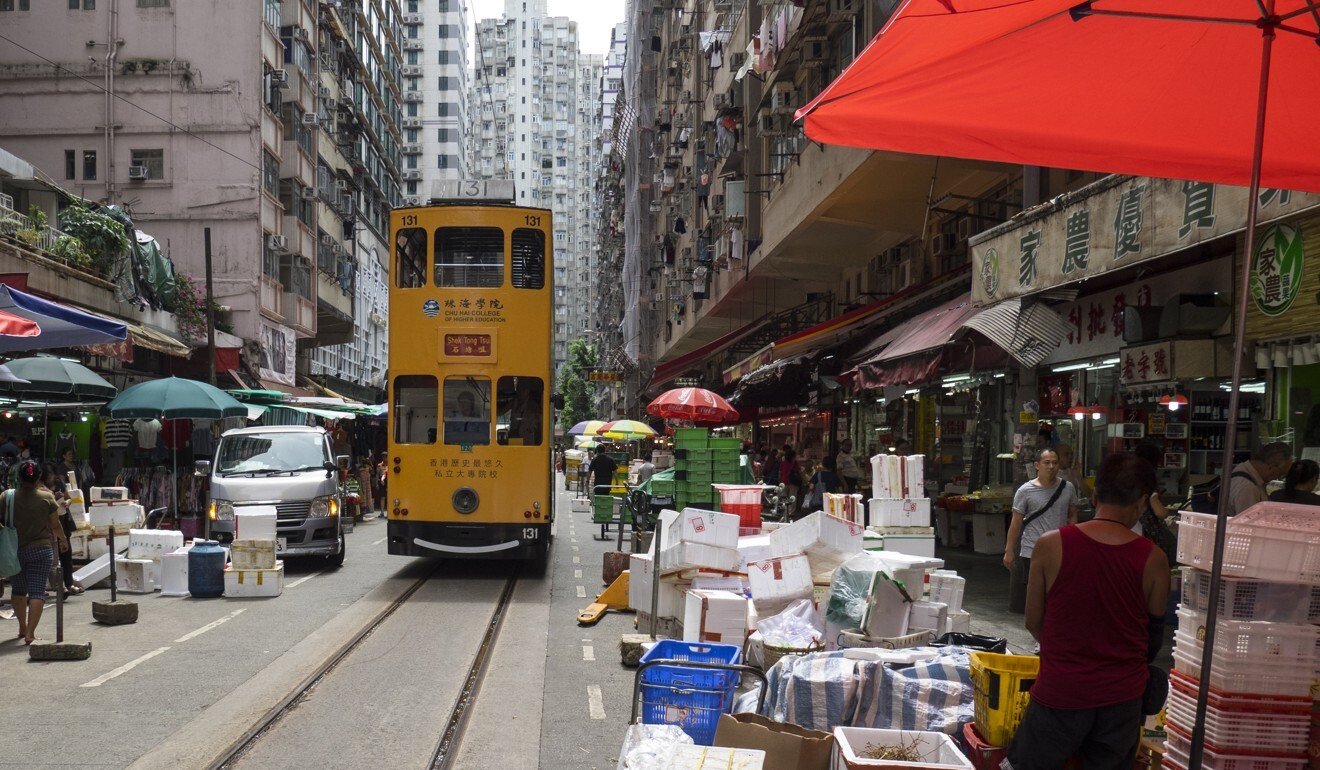 Aubin is also optimistic that the iconic trams will continue to serve the city. "The future of the tram is quite obvious: it will stay here for probably another century," he says.
His company has already teamed up with a local university to enhance performance through the use of big data. "We are going to have more in-depth insights about our operations, such as using artificial intelligence to improve tram dispatching," he says.
However, he says it is important to strike the right balance between introducing changes and staying true to the traditions of old Hong Kong.
"At the moment, everyone speaks about smart cities, which is great," he says. "But if Hong Kong can also keep this heritage, it will provide an amazing contrast and bring values to the city."
Cultural gems along the Tin Hau to Wan Chai 'ding ding' route
Riding the iconic 'ding ding' is a wonderful way to take in views of Hong Kong Island's urban landscape. Here are some cultural attractions that can be found within walking distance of the tram stops along the Tin Hau to Wan Chai route.
Red Incense Burner Summit
In the early 1800s, Hong Kong Island has a different name ― Hung Heung Lo, or Red Incense Burner. Legend says that a red incense burner was seen mysteriously floating in the sea. Seeing this as a message from God, villagers built a temple in the area, now Tin Hau Temple, and named the 230-metre hill near the temple Red Incense Burner Summit.
Tuve
The cool, industrial-style design hotel, Tuve, sits between Wing Hing Street and Lau Li Street tram stops. Its minimalist, moody ambience was inspired by photographer Kim Høltermand's snaps of Sweden's fog-swathed Lake Tuve. Occasionally, the hotel holds art exhibitions in its public areas too!
Saint Mary's Church
Saint Mary's is an episcopal church founded in 1911, as a chapel for destitute women. Redesigned in 1937 by architects Chau Lu-Nin and Richard Lee in the Chinese Renaissance architectural style, it combines elements of Chinese and European design. Take a short four-minute walk from the Causeway Bay Terminus to view its ornate Chinese pillars and stained-glass windows.
Tung Lin Kok Yuen
The little-known Buddhist nunnery and school, Tung Lin Kok Yuen ― home to around 30 nuns and devotees ― lies close to Happy Valley Terminus. Founded by Lady Clara Lin Kok, wife of renowned Hong Kong philanthropist Sir Robert Ho Tung, it is open to the public and houses Chinese-style couplets written by well-known Buddhists, a collection of calligraphy, and religious images and antiques that survived the Japanese occupation.
F11 Photographic Museum 
Around the corner from Tung Lin Koh Yuen is F11 Photographic Museum, a three-storey, 1930s art deco building showcasing exhibits, rare camera equipment and nearly 1,500 photo books. The private museum, which will thrill photography buffs, was founded by Douglas So, chairman of the Antiquities Advisory Board, who is a keen photographer and heritage conservationist.
The Han Li
Hong Kong earned the nickname 'Fragrant Harbour' because it was once one of the world's largest incense exporters. You'll find the charming little shop called The Han Li, where you can buy aromatic incense products and join a mindfulness workshop to learn more about traditional Chinese incense culture, across the street from Wan Chai's Tonnochy tram stop.
Pak Tai Temple
Blink and you might miss Pak Tai Temple ― a monument and temple dedicated to the Northern Emperor deity Pak Tai built by Wan Chai residents in 1863. Take an 11-minute walk from O'Brien Road tram stop to view murals of life from a bygone era as well as a three-metre-tall Pak Tai statue, which is about 400 years old.
Star Street Precinct
For a mini vacation, take a five-minute walk from Arsenal Street tram stop to Star Street Precinct ― an area around Three Pacific Place. Home to a selection of home-grown lifestyle stores and restaurants, Star Street Precinct is a vibrant cultural melting pot that attracts the city's most fashionable and creative. Pop into Monocle's bureau/shop for stylish bric-a-brac, Kapok ― a design-focused fashion and lifestyle store ― and Odd One Out, a graphic arts and printmaking gallery space.
Kee Wah Studio
Not far from Star Street Precinct is Kee Wah Studio ― a co-baking space run by Kee Wah, the acclaimed Hong Kong bakery brand founded in 1938. Its studio offers baking workshops, where you can learn how to make traditional Chinese pastries, such as Kee Wah's popular egg tarts and wife cakes, and a parent and child pastry-making class ― a great family activity.
The recommended itinerary was adapted from, and first published in, the Hong Kong Tourism Board "Holiday at Home" campaign, which was created to inspire and encourage Hongkongers to discover the city's hidden treasures. Please keep social distancing regulations in mind. For more detailed guides and tips, visit HolidayHK.com.