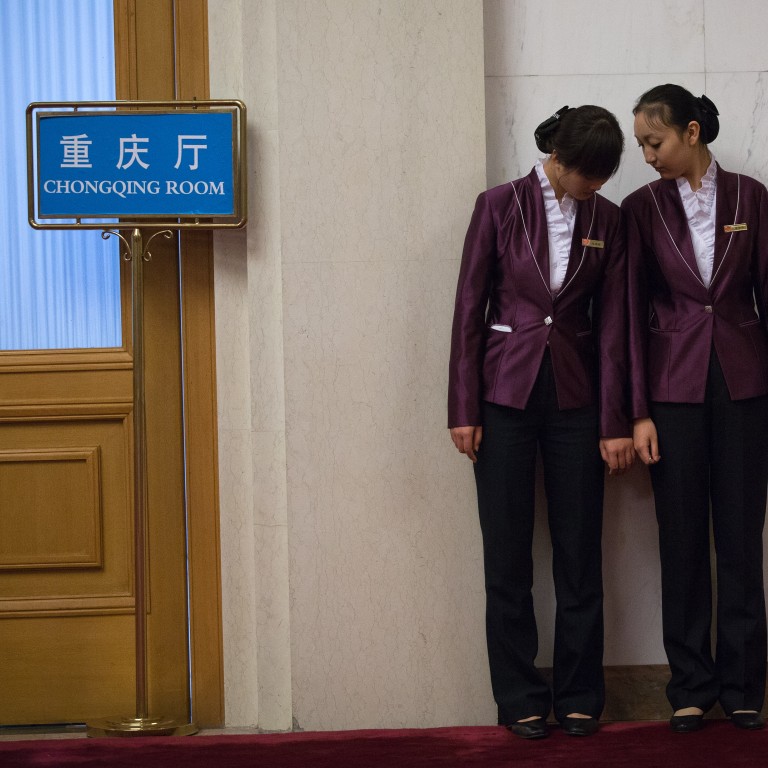 Opinion
The Power Shift
by SCMP Reporters
The Power Shift
by SCMP Reporters
Live updates: Day 2 of the 18th Communist Party Congress
Updated at 4:30pm
Brother Li leaves
Li Keming, left, deputy director of the State Tobacco Monopoly Administration and brother of vice premier Li Keqiang, listens intently in a group meeting. 
Li Keming was recently in the news when Bloomberg
quoted a report by Brookings Institution
 as saying that he should be removed from his position as a top official in China's tobacco industry to avoid conflicts of interest with his brother, who currently overseas public health. 
Apparently aware of the pressure and media interest, Li Keming left abruptly halfway through the meeting, took off his name tag and refused to answer any questions. 
Updated at 4:15
Zhu Xiaodan, deputy governor of Guangdong Province, said the provincial government intends to push ahead plans to achieve full mutual access between service industries in Guangdong, Hong Kong and Macau.
The plans include opening up more service sectors in the Guangdong market to players from Hong Kong and Macau, and making it easier for service industry professionals from the two cities to work in Guangdong, he said.
Updated at 3:40pm
Understatement of the day
"Generally, both party secretaries are very good. But Secretary Zhang has done better in terms of improving people's lives, and enjoys a lot of popularity." 
Upcated at 2:50pm
Another politican in high spirits today is Shanghai party chief
Yu Zhengshen
g, who
by most estimates
will likely be promtoed to the Politburo Standing Committee, the party's 7-seat top power club.
Yu was all smiles when he walked into the Great Hall of the People for the afternoon's group meetings, and didn't stop smiling when asked about his potential promotion.
"It is not convenient to answer this question now", he said. 
Updated at 2:20pm
Wang Yilin, chairman of state-owned oil giant CNOOC (
0883.HK
, NYSE: CEO), has good news to share:
CNOOC is confident to complete the

US$15.1b acquisition of Canadian oil firm Nexen

 by the end of the year
CNOOC has discovered a "very large natural gas field" in waters off Yinggehai in Hainan Province, and is awaiting government approval before making announcements
The head of another big oil firm, Chairman Jiang Jiemin of PetroChina (
0857.HK
 NYSE:PTR), said consumers in Hong Kong would soon be able to benefit from China's West-East Gas Pipeline project. A branch line in the project, a 70-km submarine line leading from Shenzhen to Hong Kong, would be completed and ready to use by the end of the year, he said. 
Jiang denied China would experience another natural gas shortage for the rest of the year. Beijing may increase gas imports from central Asia and other sources, and ration or turn off major industrial users if necessary to cope with a potential sharp increase in household gas consumption, he said. 
Updated at 2pm
Inner Mongolia's Hu Chunhua dances around sharp questions 
Hu Chunhua
, party chief for the region of Inner Mongolia and a rising star in the party's top ranks, paused for a full five seconds when faced with a loaded question about the way he deals with unrest on his turf. 
Q: How do you respond to comments that you take a soft approach when dealing with "mass incidents"?
H: The media may tend to put a lable on what I do. But when dealing with these incidents, we do what we should. No doubt we will take some forceful measures while dealing with mass incidents. We are tough when we should. After these measures are taken, when we find no more problems, we will release all those [people who have been arrested or detained] that should be released. There is no fixed soft or hard approach. I think that's a oversimplification.  
Hu circumvented questions about whether he would move to the top party post in Guangdong, where Wang Yang presides now, and also dodged questions about economic development. 
Updated at 10:40am
Hu Wenming, congress delegate and chairman of China State Shipbuilding Corporation, calls for a stronger, better-equipped Chinese Navy. 
"We have an enormous shortfall in naval equipment compared with neighbouring nations, and are seriously under-equipped in our efforts to protect our maritime interests."
Updated at 10:00am
True to his famed straight-talking, no-nonsense style, Guangdong chief Wang Yang rebuked one of his underlings, Shenzhen city party chief Wang Rong, after the latter delivered a dull, 30-minute speech at the group discussion. 
"All speeches must be kept under 10 minutes," Wang said, "or I will step in."
Updated at 9:30 am
Despite
recent speculation
that he may not make the Politiburo Standing Committee, the party's top power club, Guangdong party chief
Wang Yang
 appeared to be in good spirits during a group discussion of the Guangdong delegation on Friday. Facing a bursting conference hall of delegates and journalists, he smiled broadly and showed off the newly decorated Guangdong Hall in the Great Hall of the People, where the meeting took place.